Bankim Chandra Chatterjee
by Wikipedia
Accessed: 4/29/21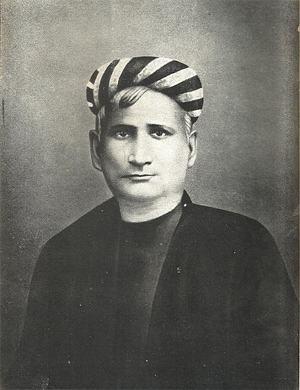 Bankim Chandra Chattapadhyay
Native name: বঙ্কিমচন্দ্র চট্টোপাধ্যায়
Born: 27 June 1838, Naihati, Bengal Presidency, British India (present-day West Bengal, India)
Died: 8 April 1894 (aged 55), Calcutta, Bengal Presidency, British India (now Kolkata, West Bengal, India)
Occupation: Writer, poet, novelist, essayist, journalist, government official
Language: Bengali, English
Alma mater: University of Calcutta
Literary movement: Bengal Renaissance
Notable works: Durgeshnandini; Kapalkundala; Devi Chaudhurani; Ananda Math; "Vishabriksha"; Vande Mataram"
Bankim Chandra Chatterjee or Bankim Chandra Chattopadhyay, CBE[citation needed] CIE (27 June 1838[1]–8 April 1894)[2] was an Indian novelist, poet and journalist.[3] He was the composer of Vande Mataram, originally in Sanskrit, personifying India as a mother goddess and inspiring activists during the Indian Independence Movement. Chattopadhyay wrote fourteen novels and many serious, serio-comic, satirical, scientific and critical treatises in Bengali. He is known as Sahitya Samrat (Emperor of Literature) in Bengali.
Biography
Chattopadhyay is widely regarded as a key figure in literary renaissance of Bengal as well as the broader Indian subcontinent.[3] Some of his writings, including novels, essays, and commentaries, were a breakaway from traditional verse-oriented Indian writings, a and provided an inspiration for authors across India.[3]
Chattopadhyay was born in the village of Kanthalpara in the town of North 24 Parganas, Naihati, in an orthodox Bengali Brahmin family, the youngest of three brothers, to Yadav Chandra Chattopadhyaya and Durgadebi. His ancestors hailed from Deshmukho village in Hooghly District.[4] His father, a government official, went on to become the Deputy Collector of Midnapur. One of his brothers, Sanjib Chandra Chattopadhyay was also a novelist and is known for his book "Palamau". Bankim Chandra and his elder brother both went to Hooghly Collegiate School (then Governmental Zilla School), where he wrote his first poem. He was educated at the Hooghly Mohsin College and later at Presidency College, Kolkata, graduating with a degree in Arts in 1858. He later attended the University of Calcutta and was one of two candidates who passed the final exam to become the school's first graduates.[5] He later obtained a degree in Law in 1869. Following his father's footsteps, Bankimchandra joined the Subordinate Executive Service. In 1858, he was appointed a Deputy Magistrate (the same type of position held by his father) of Jessore. After merging of the services in 1863, he went on to become Deputy Magistrate & Deputy Collector, retiring from government service in 1891. His years at work were replete with incidents that brought him into conflict with the colonial government. He was, however, made a Companion of the Most Eminent Order of the Indian Empire (CMEOIE) in 1894.[6] He also received the title of Rai Bahadur in 1891.
Literary career
Chattopadhyay's earliest publications were in Ishwar Chandra Gupta's weekly newspaper Sangbad Prabhakar.[7] He began his literary career as a writer of verse before turning to fiction. His first attempt was a novel in Bengali submitted for a declared prize. He did not win and the novelette was never published. His first fiction to appear in print was the English novel Rajmohan's Wife.[8] Durgeshnondini, his first Bengali romance and the first ever novel in Bengali, was published in 1865.[9]
One of the many novels of Chattopadhyay that are entitled to be termed as historical fiction is Rajsimha (1881, rewritten and enlarged 1893). Anandamath (The Abbey of Bliss, 1882) is a political novel which depicts a Sannyasi (Hindu ascetic) army fighting a British force. The book calls for the rise of Indian nationalism. The novel was also the source of the song Vande Mataram (I worship my Motherland for she truly is my mother) which, set to music by Rabindranath Tagore, was taken up by many Indian nationalists, and is now the National Song of India. The plot of the novel is loosely set on the Sannyasi Rebellion. He imagined untrained Sannyasi soldiers fighting and defeated the highly experienced British Army; ultimately, however, he accepted that the British could not be defeated. [10] The novel first appeared in serial form in Bangadarshan, the literary magazine that Chattopadhyay founded in 1872. Vande Mataram became prominent during the Swadeshi movement, which was sparked by Lord Curzon's attempt to partition Bengal into a Hindu majority West and Muslim majority East. Drawing from the Shakti tradition of Bengali Hindus, Chattopadhyay personified India as a Mother Goddess known as Bharat Mata, which gave the song a Hindu undertone.[11]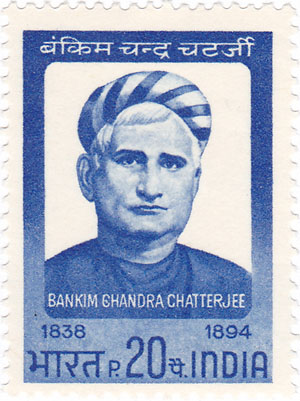 Bankim Chandra Chatterjee on a 1969 stamp of India
Chattopadhyay's commentary on the Bhagavad Gita was published eight years after his death and contained his comments up to the 19th Verse of Chapter 4.[12]
Quotes
• Once Ramakrishna Paramahansa Deb, playing on the meaning of Bankim (Bent A Little), asked him what it was that had bent him. Bankim Chandra jokingly replied that it was the kick from the Englishman's shoe for he was a well-known critic of the British government.
• After the Vishabriksha (The Poison Tree) was published in 1873, the magazine, Punch wrote:
"...You ought to read the Poison Tree
of Bankim Chandra Chatterjee."[13]
Bibliography

Fiction
• Durgeshnandini (March 1865)
• Kapalkundala (1866)
• Mrinalini (1869)
• Vishabriksha (The Poison Tree, 1873)
• Indira (1873, revised 1893)
• Jugalanguriya (1874)
• Radharani (1876, enlarged 1893)
• Chandrasekhar (1875)[14]
• Kamalakanter Daptar (From the Desk of Kamlakanta, 1875)
• Rajani(1877)
• Krishnakanter Uil (Krishnakanta's Will, 1878)
• Rajsimha (1882)
• Anandamath (1882)
• Devi Chaudhurani (1884)
• Kamalakanta (1885)
• Sitaram (March 1887)
• Muchiram Gurer Jivancharita (The Life of Muchiram Gur)
Religious Commentaries
• Krishna Charitra (Life of Krishna, 1886)
• Dharmatattva (Principles of Religion, 1888)
• Devatattva (Principles of Divinity, Published Posthumously)
• Srimadvagavat Gita, a Commentary on the Bhagavad Gita (1902 – Published Posthumously)
Poetry Collections
• Lalita O Manas (1858)
Essays
• Lok Rahasya (Essays on Society, 1874, enlarged 1888)
• Bijnan Rahasya (Essays on Science, 1875)
• Bichitra Prabandha (Assorted Essays), Vol 1 (1876) and Vol 2 (1892)
• Samya (Equality, 1879)
Chattopadhyay's first novel was an English one, Rajmohan's Wife (1864) and he also started writing his religious and philosophical essays in English.
References
1. "History & Heritage". north24parganas.gov.in. Archived from the original on 1 November 2017. Retrieved 27 June 2018.
2. Merriam-Webster's Encyclopedia of Literature. Merriam-Webster. 1995. p. 231. ISBN 978-0-87779-042-6.
3. Staff writer. "Bankim Chandra: The First Prominent Bengali Novelist", The Daily Star, 30 June 2011
4. Chattopadhyay, Sachishchandra, Bankim-Jibani, 1952, Pustak Bipani, p 9
5. Islam, Sirajul (2012). "Chattopadhyay, Bankimchandra". In Islam, Sirajul; Jamal, Ahmed A. (eds.). Banglapedia: National Encyclopedia of Bangladesh (Second ed.). Asiatic Society of Bangladesh.
6. "Bankimchandra Chattopadhyay – Penguin Books India". Archived from the original on 28 November 2011. Retrieved 26 January 2012.
7. Bankim Chandra Chattopadhyay (Chatterjee), from BengalOnline.
8. Mukherjee, Meenakshi (1 January 2002). Early Novels in India. Sahitya Akademi. ISBN 9788126013425.
9. "Literary lion - Bankim Chandra Chattopadhyay: The Statesman Notebook". The Statesman. 8 July 2019. Retrieved 29 January 2021.
10. "किसकी वंदना है वंदे मातरम – Navbharat Times". Navbharat Times. 28 January 2012. Retrieved 11 February 2018.
11. Mazumdar, Aurobindo (2007). Vande Mataram and Islam. Mittal Publications. ISBN 9788183241595.
12. Minor, Robert (1986) Modern Indian Interpreters of the Bhagavad Gita. State University of NY press. ISBN 0-88706-298-9
13. Lemon, Mark; Mayhew, Henry; Taylor, Tom; Brooks, Shirley; Burnand, Sir Francis Cowley; Seaman, Sir Owen (1885). "London Charivari". Punch Publications Limited.
14.
https://bn.wikisource.org/wiki/%E0%A6%A ... 8%E0%A7%A6
Further reading
• Ujjal Kumar Majumdar: Bankim Chandra Chattopadhyay: His Contribution to Indian Life and Culture. Calcutta: The Asiatic Society, 2000. ISBN 81-7236-098-3.
• Walter Ruben: Indische Romane. Eine ideologische Untersuchung. Vol. 1: Einige Romane Bankim Chattopadhyays iund Ranbindranath Tagore. Berlin: Akademie Verlag, 1964. (German)
• Bhabatosh Chatterjee, Editor: Bankimchandra Chatterjee: Essays in Perspective (Sahitya Akademi, New Delhi) 1994.
External links
• Media related to Bankim Chandra Chattopadhyay at Wikimedia Commons
• Quotations related to Bankim Chandra Chatterjee at Wikiquote
Wikisource has the text of the 1911 Encyclopædia Britannica article Chatterji, Bankim Chandra .
• Works by Bankim Chandra Chatterji at Project Gutenberg
• Works by or about Bankim Chandra Chatterjee at Internet Archive