Part 1 of 10
Important Facts regarding the East India Company's Affairs in Bengal, from the Year 1752 to 1760. This Treatise Contains an Exact State of the Company's Revenues in that Settlement; With Copies of several very interesting Letters Showing Particularly, The Real Causes Which Drew on the Presidency of Bengal the Dreadful Catastrophe of the Year 1767; and Vindicating the Character of Mr. Holwell From Many Scandalous Aspersions Unjustly Thrown Out Against Him, in an Anonymous Pamphlet, Published March 6th, 1764, Entitled, "Reflections on the Present State of Our East-India Affairs."
from India Tracts
by Mr. J.Z. Holwell, and Friends.
The Second Edition, Revised and Corrected, with Additions.
1767
CONTAINING:
I. An Address to the Proprietors of East-India stock; setting forth, the unavoidable Necessity, and real Motives, for the Revolution in Bengal, 1760.
II. A Refutation of a Letter from certain Gentlemen of the Council at Bengal, to the Honorable the Secret Committee.
III. Important Facts regarding the East India Company's Affairs in Bengal, from the Years 1752 to 1760, with Copies of several very interesting Letters.
IV. A Narrative of the deplorable Deaths of the English Gentlemen who were suffocated in the Black Hole in Fort William, at Calcutta, June 1756.
V. A Defense of Mr. Vansittart's Conduct.
ILLUSTRATED WITH: A FRONTISPIECE, representing the Monument erected at Calcutta, in Memory of the Sufferers in the Black Hole Prison.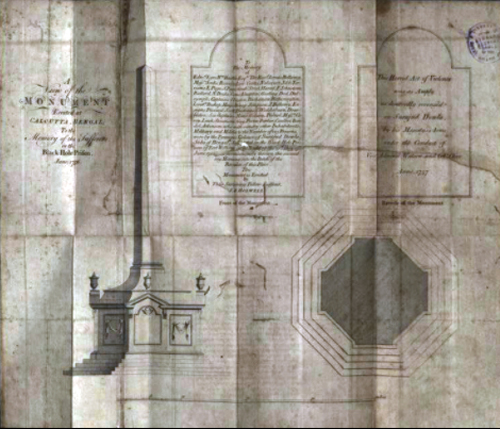 A View of the Monument. This Horrid Act of Violence was as Amply as deservedly revenged on Surajud Dowwla, by his Majesty's Arms, under the Conduct of Vice Admiral Watson and Col! Clive. Anno, 1757.
TO SIR WILLIAM BAKER, Knt., WILLIAM MABBOT, Esqr. and JOHN PAYNE, Esqr.
GENTLEMEN,
THE following small Tracts, in consequence of unprovoked injuries, were hastily thrown together, during the late clamorous disputes between Directors, Proprietors, and Candidates for the management of East-India affairs at home and abroad.-- How they came to be so hastily produced, and as hastily published, it seems requisite I should explain a little more at large.
At the beginning of these intestine broils, I was determined to avoid engaging on either side; and, to shun solicitation, I disposed of all the stock I stood possessed of', without retaining as much as might entitle me to a single vote; so truly desirous I was to enjoy in quiet that peaceful retirement, I had dearly purchased at the expense of so many difficulties, miseries, and heavy misfortunes as fell to my lot, while in the service of the Company.
Such, I say, were my resolutions, to which I should most strictly have adhered, if I had not found my character first indirectly, afterwards openly attacked, by the basest calumnies which were levelled against me in a manner, sudden, unmerited and unexpected.
UNDER these circumstances, there was a necessity of speaking for myself, and, which was still more unpleasing, I found myself likewise constrained to enter upon my vindication without delay. -- The pungency of these accusations -- the precipitancy of the times, and a disposition to take every thing for granted that was not immediately refuted; obliged me not only to dispatch them as quickly as was possible, but also to produce them in like hurry to the public eye.
IT was from these accidents, which I could not either foresee or avoid, that they came into the world not so well digested, and with much less accuracy, than the candid part of mankind have a right to expect in every production that claims their consideration, and is submitted to their judgment.
To the same causes I may very justly refer those errors of the press, which were in some of them so numerous as scarce to to leave the sense intelligible; to say nothing of other mistakes in orthography and diction, all arising from the utter impossibility of allowing me time requisite to revise and correct the proof sheets.
IT is from a just sense of these involuntary imperfections, that I have been led to review, to reform, and to cast into somewhat a different shape, these little pieces, that were thus exposed; and to render them still clearer and more satisfactory, I have added some other Tracts, which, however reasonable, I had not the leisure to prepare, and which, from my observing the obscurity arising from their Omission, I conceived it my duty to add as soon as opportunity would permit.
My narrative of the fatal catastrophe at Calcutta, and that unexampled scene of horror to which so many subjects of Great Britain were exposed in the prison of the Black-Hole, has so close a connection with one of the pieces that precede it, has scarce to require an apology for reprinting it in this edition; prefixing, as a frontispiece to the Volume, a Print of the Monument which I erected, at my own expense, to the memory of those unhappy sufferers.
MANY, if not most of the matters contained in these sheets, are to you, Gentlemen, very well known, as having been often the subject of your deliberations; and, therefore, to whom could I so properly address them as to yourselves? -- Two of you first incited my endeavors, and directed my labors for the Company's interest. -- Mr. Payne, with the same distinguished zeal, encouraged and supported them; a zeal truly disinterested, for I was a stranger to you all; so that you could have no motive to the favor you bestowed, and the protection you so generously afforded me, except the warm and pure regard which you ever showed, rather than professed, for that respectable body, whose concerns were then committed to your care.
You have, Gentlemen, frequently done me the honor to say, I did not disgrace your patronage, or disappoint your favorable expectations: to me this was the most ample reward -- but I could not help thinking there yet remained something due on my part; and that I ought to attempt the justifying your choice to the knowing, the ingenuous, and the judicious world.
This became more especially incumbent on me, when I found Envy and Malice arraign the character of him, whom you had espoused, and whom you had so long honored with your friendship. -- This, I thought, I could not better effect than by publishing the following Pieces.
WITH all possible submission, I lay them in their new dress before you, as thereby I am favoured with what I have long and ardently wished, an opportunity of giving this public testimony of a grateful heart, for the many and repeated proofs I have received of your respectable patronage.
I am, GENTLEMEN, Your most obliged, and most obedient humble servant,
J.Z. HOLWELL.
Mount Felix, Walton upon Thames, July 3, 1764.
***
Explanation of Certain Persian and Moorish Terms in the Following Sheets.
A.
Amdanny and Russtanny: Imports and Exports.
Arzgee: A Peitition.
Arzdasht: Idem.
Assammees: Dealers in different Branches of Trade.
B.
Banka Bazar: Formerly the Ostend Factory.
Begum: Princess, meaning without Care.
Buxey: A Paymaster of Troops.
Buckserrias: Foot-Soldiers whose common Arms are Sword and Target only.
C.
Chowkeys: Guards at the Stars, or Landing-places.
Chinam: Lime.
Cossid: A Foot-messenger, or Post.
Chubdaar: An Usher.
Cooley: A Porter.
Chout: A Fourth Part.
A Coss, or Corse: A Measure from two Miles to two Miles and Half.
A Corore of Rupees: An hundred Lack, or one Million Sterling.
D.
Dewan: King's Treasurer.
Dewanny: Superintendancy over the Royal Revenues.
Dussutary: An Impost of ten per Cent.
Durbar: Court or Council, and sometimes a Levee only.
Decoyt: A Robber.
Dummadah: A River.
F.
Fowzdar: A Military Officer.
G.
Gomastah: Factor or Agent.
Gwallers: Carriers of Palanquins.
Gunge: Grain Market.
H.
Hackeries: Carts or Coaches drawn by Oxen.
Harkarahs: Spies.
J.
John Nagore: A Village so called.
Jaggemaut: The Gentoo Pagoda.
Jemmautdaar: An Officer of the same Rank with the Roman Centurion.
M.
Mackulka: An Obligation with a Penalty annexed.
Moonskee: A Persian Secretary.
Musnud: Throne.
Moories: Writers.
Maund: A gross Weight between 70 and 80 Pounds.
N.
Negrai: A new Settlement at one of the Pegu Islands.
Nobut: A Drum, a mark of Royalty assumed by the Subahas of Bengal.
P.
Perwannah: An Order or Command, sometimes a Grant.
Purranea: In the Province of Bengal; a Nabobship subordinate to the Suba.
Phirmaund: A Royal Mandate, or Grant.
Pykes: Officers relative to the Service of the Lands.
Ponsways: Guard-Boats.
Podor or Shreff: A Money-changer.
Peons: Infantry.
Pottahs: Grants.
Pondary, Foorea: Farmers distinct Allowances on Grain at the Gunge.
R.
Rumnah: District for the Royal Game.
S.
Seer, Chetac, Maund: Forty Seer is one Maund, and sixteen Chetac one Seer.
T.
Telinga: The Carnatic Country on the Coast of Coromandel.
Tanksal: A Mint for Coinage.
Tanners and Buzbudgea: Forts on the River Ganges.
Tunkabs: Assignments upon Lands.
Tuzsaconna, Ginanah: Wardrobe and Seraglio.
V.
Vaqueel: English Agent or Resident at the Nabob's Court.
Vizerut: The Grant for the Visiership.
W.
Wazeed: A considerable Mahometan Merchant who resided at Houghley upon the Ganges.
Z.
Zemin: Ground; Zemindary; Relative to Lands.
***
An Address To the Proprietors of East India Stock; Setting Forth the Unavoidable Necessity and Real Motives for the Revolution in Bengal, in 1760.
by John Zephaniah Holwell, Esq.
**********************
Mr. Holwell's Refutation of a Letter from certain Gentlemen of the Council at Bengal, to the Honorable the Secret Committee. Serving As a Supplement to His Address to the Proprietors of East-India Stock.
**********************
Important Facts regarding the East India Company's Affairs in Bengal, from the Year 1752 to 1760. This Treatise Contains an Exact State of the Company's Revenues in that Settlement; With Copies of several very interesting Letters Showing Particularly, The Real Causes Which Drew on the Presidency of Bengal the Dreadful Catastrophe of the Year 1767; and Vindicating the Character of Mr. Holwell From Many Scandalous Aspersions Unjustly Thrown Out Against Him, in an Anonymous Pamphlet, Published March 6th, 1764, Entitled, "Reflections on the Present State of Our East-India Affairs."
To the Proprietors of East-India Stock, and The Public.
The anonymous Pamphlet
, published Tuesday the 6th of March 1764, under the title of "Reflection on the present State of our East-India Affairs," being plainly calculated to answer the purpose of a day only; it should seem hardly worthy your notice: nor indeed should we have thought it worth ours, did it not afford us a favorable opportunity of laying open some material facts, which we think claim your attention, and will deserve your thanks.
The title-page of
this Pamphlet says it is wrote "By a Gentleman long resident in India;"
but surely no Gentleman could fall so much below that character, as this anonymous author does, in low personal abuse and scurrility; though the obvious venom of the heart that dictates through the whole, will defend against its influence and intended impressions. -- We rather think, from the mixed style, that this production is the joint efforts of two small geniuses; the one, pert, coxcomical, affecting wit and metaphor; the other, of meager, dusky aspect, stalking forth with pompous diction! sounding epithets! long-winded, metaphorical bombast! and tedious declamations! -- From the bilious complexion of this Shakespeare's Cassius, what can flow, but envy, rancor, and bitterest reflection? Whether these things clubbed their geniuses, or transfused each to other his spirit for this paltry talk, is not very material; -- none but they, or such-like, could surely be capable of such a performance.
Whatever may have been the Author's intention by the exordium, labored progress, and conclusion of
this anonymous Pamphlet
, the whole of this unconnected piece seems huddled together, more particularly to introduce the personal attack in the center; against this attack we shall chiefly raise our batteries, -- previously demolishing some of their scattered out-works, (unsupported by each other) as they fall in our way, and intercept our march.
The false and scandalous lights which
Anonymous
throws on the motives that induced Col. Clive's successor to form some change in the political state at Bengal, are so fully confuted in that Gentleman's Address to you, that nothing more is wanted here, to enforce conviction to honest impartiality. The partial and malicious are not to be convinced by facts or argument; indeed it makes not for their present purpose to own it, though they are: To these we do not write. These are hardy enough to charge this Gentleman (page 37) with forming a scheme to depose Mhir Jaffier, in favor of Mhir Cossim, "almost as soon as he came to power;" though he has proved, beyond contradiction, that he supported Mhir Jaffier with spirit and perseverance, as long as there was a remaining possibility of doing it, almost to the ruin of your affairs; so tenacious was he of the treaty subsisting between the English and Mhir Jaffier, even though he had violated every article of it, in effect, by the single step of bringing the Dutch troops into his dominions. This Gentleman has also undeniably proved, that his views for the Company's benefit extended much higher than the system of "Nabob changing," which, he saw, could produce no solid and lasting advantage, either to the Company or the Provinces. And he has likewise demonstrated, that he had neither any hand in, nor intention, or wish, to depose Mhir Jaffier in favor of Mhir Cossim; but on the contrary, took every precaution, which his then scanty power gave him, for the security of the dignity, person, and property of the former, however little he deserved it.
The partisans of Mhir Jaffier have very studiously evaded owning the charge against him, of bringing in the Dutch forces, foreseeing that would silence every attempt urged in justification of him; but here truth and conscience for once steps in between them and their machinations, and makes them unwarily give up the point, in the following words, page 30, "He was not unacquainted with the designs of the Dutch, and would not have been sorry to have seen an European force introduced into his dominions, to prove a check on the power of those, likely to become his masters instead of his allies. However, his deep respect and awe of Colonel Clive, prevented his acting openly upon this occasion." Here, let it be also remarked, that these partisans, in page 19, set forth, that "This Nabob was supported with honor by his maker, so long as he continued in India." The battle of Plassey gave this man the Subaship in June, 1757. In October, 1758, or thereabouts, he must have planned his iniquitous scheme with the Dutch; as about this time a small vessel was dispatched express to Batavia, and our armament for the Southward was on its departure. That the Dutch would have meditated a scheme of this kind, without the encouragement and participation of the Suba, no one in his senses can believe.

Here we see this man hardly established in his government, planning to destroy and countermine that power which raised him

; and this without any shadow of complaint against us, for he had been supported with honor. His being only acquainted with the designs of the Dutch, without communicating those designs to us, his allies, was virtually a breach and violation of that whole treaty he had so solemnly entered into. That he did not act openly on this occasion, was owing only to his fears, and the deepest treachery both to the Dutch and us. If the Dutch had proved successful in the river, and on the plains of Bederra, we should soon have felt the effects of his open conduct, and not an individual of the colony had escaped slaughter. Let it be remembered too, that by Col. Clive's orders, Coja Wazzeed (a man of family, character, and rank) was taken prisoner, on his passage from Moorshadabad to Chinsura, brought under a strong guard to Fort William, imprisoned there, and died under his confinement. So extraordinary a step would want justification, had not the Colonel received the fullest proof and conviction, that this man (though a pretended friend to the English) was the negotiator with the Suba, on the part of the Dutch, in the treaty for bringing in their forces.
In short, let the whole of this transaction be viewed in any light whatever, it would, if these partisans had a grain of modesty and candor among them, utterly silence every plea they have urged in his defense, and pretended commiseration for his misfortunes, thrown out at this period only to answer a poor unworthy purpose.
Page 31 of this Pamphlet exhibits the following: "
The superiority of this extraordinary genius, (Col. Clive) predominated so far over that of the Nabob, that when he quitted India, he left this Prince in such a state of dependence, and the affairs of the English in such an exalted and powerful situation, that even the Kites and Owls that followed, had it in their power to gorge themselves with that prey (M. J.) which being beat down, was at the mercy of, though spared by, this generous Eagle."
-- Oh! metaphor! how art thou tortured! how art thou prostituted! Let us examine a little what mercy this poor prey found, and how spared, by this generous Eagle? It is confessed, page 19, "that Mhir Jaffier distributed among his new allies all the treasures of his predecessor, and mortgaged two of his richest provinces to them, for the payment of a farther sum," besides "large tracts of land to the Company;" the rents of which were first paid by the Company to him, and subsequently given to this generous Eagle. Such was the mercy he found, and thus was he spared.
It may be said this Eagle raised the game, and had a right to beat it down as low as he pleased. Suppose it so; let us see the consequences.
Mhir Jaffier, thus stripped, had better never been born, or at least never raised to this dignity; for having no treasures of his own, and but small present resources from the revenues of his country, the foundation was here laid of all his future misfortunes. His supplies not being equal to the support of his extravagancies, the pay of his troops, and other absolutely-necessary calls of his government, and he finding himself incapable of relinquishing or retrenching his licentious expenses, his affairs fell into that state of ruin and confusion so justly painted by Mr. Holwell in his Address.
So that (to pursue this notable metaphor) you see, after all, if the poor Kites and Owls that followed this generous Eagle had been an hungered, there was nothing left for them to gorge, but the bare bones of the prey.
With regard to the exalted and powerful situation of the Company's affairs, as pompously recited in the foregoing quotation, the real fact stands thus: When Col. Clive left Bengal, your Treasury was at a very low ebb, and further supplies cut off, before he was well out of the river; but of this you have been sufficiently informed in the Address above referred to. And as to "Col. Clive's extraordinary genius predominating so far above that of the Nabob's," we think Mhir Jaffier's introduction of the Dutch forces affords no proof of it.
Leaving the other parts of this Pamphlet to the plain and natural conclusions and sentiments of the Public, we proceed, pursuant to our Titlepage, in our promised justification, from materials left with us by this Gentleman on his last departure for India, and others transmitted by him after his arrival there; in the course of which many important circumstances and facts will occur, worthy your consideration, which will throw a new light on some interesting periods in your affairs, and at the same time manifest and illustrate the great and eminent services this Gentleman has rendered you; services so striking, that, though they never obtained common justice or gratitude, from your Court of Directors at home, yet gained him the public thanks of your Bengal Presidency on your behalf, even after he was superseded in the government of your affairs.
This Pamphlet is not the only instance of party rage, whereby this Gentleman has been basely traduced
, and by some even of those in your Direction, who had set their hands to higher encomiums on Mr. Holwell's integrity and abilities, than had ever before been bestowed on any one in your service, and without any the least shadow of cause to impeach his conduct, or alter these favorable sentiments of him.
Mr. Holwell himself disdains a reply to the several low attacks, made by malice and envy on his reputation: but on us his friends, it is incumbent, and we hope hereby to atone for our neglect of not doing it long ago
, and own our obligation to
this anonymous Writer
, for giving us so favorable an opportunity.
To clear up, and explain many passages, touching men and things, we think it necessary to introduce our defense, with an account of the disputes in Leadenhall-street,
at the latter end of the year 1757, and beginning of 1758; when this Gentleman unhappily (for himself) became the object of contention between two parties in your Court of Directors, and fell a sacrifice to the perseverance of his (and we may truly say your) friends.
This just detail was then drawn up by one, minutely acquainted with the concealed, as well as open springs of action at that period, in manner following:
***
NARRATIVE of the Domestic Wars in Leadenhall-Street, from October 1757, to the 20th of April, 1758
Like Homer, and other recorders of battles, we will begin with a list of the combatants; it will save some trouble in the course of the engagement.
Messrs. PAYNE, Chairman.
2 Burrow
3 Jones
4 John Raymond
5 Sir James Creed
6 Saunders
7 Western
8 Jones
9 Browne
10 Dorrien
11 Stevens
12 Manship
13 Hadley
14 Chambers
15 Impey
16 Sullivan, Deputy
17 Godrrey
18 Plant
19 Dudley
20 Savage
21 Tullie
22 Gough
23 Phipps
24. Rous
It was not without much previous debate, heat, and animosity, that
the above Gentlemen came unanimously into a scheme for the government of Bengal, by a rotation of four, to wit, Messrs. Watts, Manningham, Becher, and Holwell.
The plan was designed as a temporary expedient only, until further advices from Calcutta; the Hardwick carried out these determinations, signed by the whole court, under date the 11th of November, 1757, and harmony seemed again to be established. A general reform of the settlement of
Fort William
was next taken into consideration, planned and adjusted at various meetings, consisting only of the two chairs, Mr. Holwell and the Secretary. During these operations,
Discord again began to exert her influence
; and entering the breasts of the Bombay faction, who she knew were ripe for her purpose, urged them to move and insist that another Gentleman should be appointed to succeed to the rotation of four, in case of death or absence. The Bombay faction, consisting of the Deputy Chair, and the eight immediately following him on the above list, (acting under their General L--w) carried their point in the Committee of Correspondence, by a majority of 6 to 3, Sir James Creed and Governor Saunders being absent. The next Court-day Mr. Payne brought the affair before a full court, where the resolution of the Correspondence was over-ruled by a majority of 15 to 9, as being not only contrary to the determinations unanimously signed to by the Hardwick, but also to the very principle and motives, which urged those determinations. From this hour Peace took her flight from Leadenhall-street, Civil War took place, and Discord reigned with uninterrupted sway.
This defeat of the minority was far from discouraging them. They now, under the auspices of their General, (who was most active behind the curtain) planned a stroke at the rotation itself, which they intended to execute at the next Quarterly General Court; but
advices of the revolution in favor of Jaffier Aly Cawn arriving about this time
, gave them a plausible opportunity to attempt abolishing the rotation in the Court of Directors, without waiting for the Quarterly General Court. Accordingly, when
the Court of Directors met to confer on the advices they had received of the revolution, and unanimously determined to make a compliment of the government of Bengal to Col. Clive during his residence in India
, the Bombay faction moved, "that
the important change in their affairs at Bengal, made the expedient of the rotation no longer needful
, but that Mr. Watts should be appointed to succeed the Colonel."
The majority of 15 (as they stand prior on the list) urged on the contrary, "that as the change regarded the situation of their affairs only, without any sufficient proofs transmitted to them, that gave any more favorable impression of individuals in their service, they judged it premature to make as yet any further alterations in the government of Bengal, the same causes still subsisting which first urged the expedient of the rotation."
This difference of views and sentiments occasioned debates to run to the most violent heights, in the course of which the majority lost all regard to decency and manners; to put a stop to which the Chairman put the question, "Whether Col. Clive should be appointed to the government of Bengal, and the rotation of 4 take place on his absence, as before appointed?" On this, fresh feuds arose; the Bombay faction insisting that the question should be divided. This was opposed by the Chairman, and brought on the previous question, which being put, it was carried against a division of the question 15 to 9. On this the minority no longer observed any measures; Messrs. Sullivan, Godfrey, Phipps, and Plant, quitted the Court, and the rest of the faction refused to ballot.
The majority however proceeded to business, and unanimously appointed the Colonel to the government, and the rotation to take place on his absence.
The general letter containing this resolution, and the other general reform of the settlement, was signed the eighth of March, by the 15 only, the minority refusing to sign.
The faction, not a whit dismayed at these repeated defeats, "but, like Anteus, gathering strength from blows," had now recourse to their expedient of the Quarterly General Court, and began to beat up for volunteers amongst the Proprietors. Their General took up his residence, in a manner, for many days in the city, and went about begging single votes, in which he was most industriously followed by his Mirmidons; whilst the majority of 15, conscious of the propriety and integrity of their own conduct, made it a point not to speak to a Proprietor on the subject: A maxim (in politics) founded on a false principle; for when a body of men in power are conscious of the rectitude of their intentions, in any measure adopted for the good of the community, it is incumbent on them to secure that measure by every means possible. This error in judgment of the majority, gave the greatest advantage to the minority. The majority likewise rested in a false security, that a Quarterly General Court, which was not summoned on special affairs, could not go into any matters, but what were regularly brought before them and specified in their summons, the same having no precedent, and being contrary to all propriety, as well as the established laws of the Court; in which, however, they found themselves mistaken. Thus the minority came to the Quarterly Court fully prepared, and with their united force; whilst the majority came totally unprepared, and without any force at all.
Here it is necessary to recite a circumstance, which greatly favored this attempt of the minority. The rotation was as little relished by the bulk of the Proprietors, without knowing why, or wherefore, as by themselves: It was (as before hinted) with much difficulty that the Bombay faction were brought to assent to it at first, and they were now determined to abolish it, though, with it, they abolished the power, and every effectual authority of a Court of Directors.
The indefatigable activity of the minority, and inactivity of the majority, produced each their adequate effects at the Quarterly Court. The usual business and forms over, Mr. Law began the attack by an invective against the rotation, as being a strange, motley, many-headed monster, in which he was seconded by Mr. Phipps, supported by Mr. P. Godfrey, in a written speech, which he desired permission to read.
The Chairman, in a short, but strong speech, urged "The irregularity of the Quarterly Court's entering into special affairs, for which they were not summoned; and that a procedure of this kind must have fatal consequences, and end in the utter subversion of the government of the Company's affairs; that the Court of Directors, not suspecting such unprecedented attempts, were not prepared to lay before the Court the reasons which moved them to adopt the expedient now objected to. That the Proprietors had a right to demand a General Court, which he was ready to summon on the shortest warning, and that such their reasons should then be submitted to their consideration."
When the Chairman had ended his speech, Mr. Alexander Hume took up the same side of the question, and moved to adjourn; in which he was seconded by Sir Alexander Grant and a few others, and the question for adjournment being put, it was carried in the negative almost unanimously, but with unheard of clamor and indecency.
They then proceeded, in the same temper, to demand the questions should be put, "Whether the rotation of four should be abolished, and the government of Bengal be conducted by a single Governor and Council as heretofore?" And both questions were in like manner carried in the affirmative, Mr. Law and the Court declaring, it was not their intention to interfere in the appointment of such Governor and Council, which they left entirely to the choice of the Court of Directors; and with this gracious indulgence the Quarterly Court broke up: and the minority, as they thought, gained a complete triumph.
Thus a measure adopted and assented to at the beginning by the whole Court of Directors, and subsequently supported and confirmed by a majority of fifteen, became condemned and abolished, from the minds of the Proprietors being poisoned by every artful insinuation against it, without once hearing a single reason or plea in its defense.
The Minority, notwithstanding their triumph at the Quarterly Court, apprehensive they should gain little by it, whilst the majority of the Court of Directors were against them, began to work with other tools; and agreed to make any concession to Mr. Payne and his friends, provided they would relinquish the single point of Mr. Holwell's having a share in the government of Bengal: It was proposed that he should have rank next to Mr. Becher, with the Chiefship of Cossimbuzar; be one of the Select Committee, and have any emoluments appointed for him, that himself or friends would desire; or if these were not acceptable, that he should be sent to Bombay to succeed Mr. Bourchier, or be appointed Deputy-governor of Fort St. David, and to succeed next to Mr. Orme, who was appointed to succeed Mr. Pigot.

These alternatives were at different times intimated to Mr. Payne and the Majority, (the first before the rotation was fixed, the others after it was abolished) who were steadfast in this reply, "That however Mr. Holwell's services and sufferings merited the notice of the Company, the real interest of their affairs was their first object, and not Mr. Holwell's emoluments: That his abilities would be of more use to the Company at Bengal than elsewhere; and that the exigencies of their affairs required his having a share in the government of them."
The Majority of fifteen, thinking themselves most injuriously treated by the Minority, and proceedings of the quarterly general Court, were loud in their resentments; and having resolved on a plan for their future conduct, the Chairman summoned a full Court for the appointment of a successor to Colonel Clive, to meet on the 23d of March. The Minority, in the meantime, were assiduous to take off a sufficient number of the Majority, and thought they had succeeded.
It is not difficult to conceive in what temper the Court met. As soon as the Chairman had opened the cause of their meeting, the merits of their servants at Bengal became the subject of debate, and much altercation ensued, not worth reciting. Mr. Peter Godfrey moved, that their servants should be balloted for according to their ranks in the service, beginning with Mr. Watts; in which he was seconded by Mr. Sullivan, and some others of the Minority. This motion was opposed by Mr. Robert Jones, or Mr. Jones Raymond, (which we cannot recollect) who moved that Mr. Holwell should be first balloted for. Both motions being seconded, brought on the previous question, which was carried in favor of the last motion. Accordingly
they proceeded to the ballot, and Mr. Holwell was elected to succeed Colonel Clive in the government of Bengal, fifteen to nine.
This proved a thunderbolt to the Minority, who now found that their violences had promoted, in a higher degree, the very man they had so much labored to debase. The Deputy Chairman, with the rest of the Minority, made a motion as if they intended to quit the Court; but the former being requested by the Chairman to suspend his resolution and judgment, produced the following letters, which Mr. Holwell had sent into Court to him.