Part 1 of 2
A Refutation of a Letter from certain Gentlemen of the Council at Bengal, to the Honorable the Secret Committee.
from India Tracts
by Mr. J.Z. Holwell, and Friends.
The Second Edition, Revised and Corrected, with Additions.
1767
CONTAINING:
I. An Address to the Proprietors of East-India stock; setting forth, the unavoidable Necessity, and real Motives, for the Revolution in Bengal, 1760.
II. A Refutation of a Letter from certain Gentlemen of the Council at Bengal, to the Honorable the Secret Committee.
III. Important Facts regarding the East India Company's Affairs in Bengal, from the Years 1752 to 1760, with Copies of several very interesting Letters.
IV. A Narrative of the deplorable Deaths of the English Gentlemen who were suffocated in the Black Hole in Fort William, at Calcutta, June 1756.
V. A Defense of Mr. Vansittart's Conduct.
ILLUSTRATED WITH: A FRONTISPIECE, representing the Monument erected at Calcutta, in Memory of the Sufferers in the Black Hole Prison.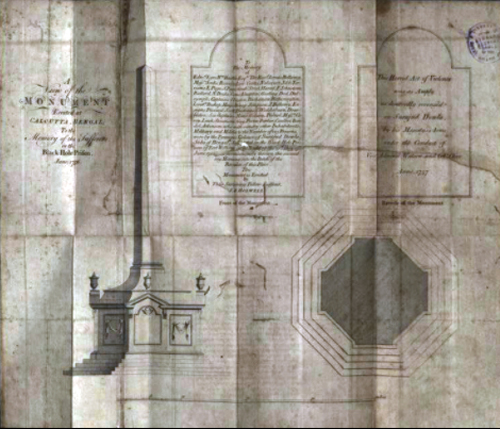 A View of the Monument. This Horrid Act of Violence was as Amply as deservedly revenged on Surajud Dowwla, by his Majesty's Arms, under the Conduct of Vice Admiral Watson and Col! Clive. Anno, 1757.
TO SIR WILLIAM BAKER, Knt., WILLIAM MABBOT, Esqr. and JOHN PAYNE, Esqr.
GENTLEMEN,
THE following small Tracts, in consequence of unprovoked injuries, were hastily thrown together, during the late clamorous disputes between Directors, Proprietors, and Candidates for the management of East-India affairs at home and abroad.-- How they came to be so hastily produced, and as hastily published, it seems requisite I should explain a little more at large.
At the beginning of these intestine broils, I was determined to avoid engaging on either side; and, to shun solicitation, I disposed of all the stock I stood possessed of', without retaining as much as might entitle me to a single vote; so truly desirous I was to enjoy in quiet that peaceful retirement, I had dearly purchased at the expense of so many difficulties, miseries, and heavy misfortunes as fell to my lot, while in the service of the Company.
Such, I say, were my resolutions, to which I should most strictly have adhered, if I had not found my character first indirectly, afterwards openly attacked, by the basest calumnies which were levelled against me in a manner, sudden, unmerited and unexpected.
UNDER these circumstances, there was a necessity of speaking for myself, and, which was still more unpleasing, I found myself likewise constrained to enter upon my vindication without delay. -- The pungency of these accusations -- the precipitancy of the times, and a disposition to take every thing for granted that was not immediately refuted; obliged me not only to dispatch them as quickly as was possible, but also to produce them in like hurry to the public eye.
IT was from these accidents, which I could not either foresee or avoid, that they came into the world not so well digested, and with much less accuracy, than the candid part of mankind have a right to expect in every production that claims their consideration, and is submitted to their judgment.
To the same causes I may very justly refer those errors of the press, which were in some of them so numerous as scarce to to leave the sense intelligible; to say nothing of other mistakes in orthography and diction, all arising from the utter impossibility of allowing me time requisite to revise and correct the proof sheets.
IT is from a just sense of these involuntary imperfections, that I have been led to review, to reform, and to cast into somewhat a different shape, these little pieces, that were thus exposed; and to render them still clearer and more satisfactory, I have added some other Tracts, which, however reasonable, I had not the leisure to prepare, and which, from my observing the obscurity arising from their Omission, I conceived it my duty to add as soon as opportunity would permit.
My narrative of the fatal catastrophe at Calcutta, and that unexampled scene of horror to which so many subjects of Great Britain were exposed in the prison of the Black-Hole, has so close a connection with one of the pieces that precede it, has scarce to require an apology for reprinting it in this edition; prefixing, as a frontispiece to the Volume, a Print of the Monument which I erected, at my own expense, to the memory of those unhappy sufferers.
MANY, if not most of the matters contained in these sheets, are to you, Gentlemen, very well known, as having been often the subject of your deliberations; and, therefore, to whom could I so properly address them as to yourselves? -- Two of you first incited my endeavors, and directed my labors for the Company's interest. -- Mr. Payne, with the same distinguished zeal, encouraged and supported them; a zeal truly disinterested, for I was a stranger to you all; so that you could have no motive to the favor you bestowed, and the protection you so generously afforded me, except the warm and pure regard which you ever showed, rather than professed, for that respectable body, whose concerns were then committed to your care.
You have, Gentlemen, frequently done me the honor to say, I did not disgrace your patronage, or disappoint your favorable expectations: to me this was the most ample reward -- but I could not help thinking there yet remained something due on my part; and that I ought to attempt the justifying your choice to the knowing, the ingenuous, and the judicious world.
This became more especially incumbent on me, when I found Envy and Malice arraign the character of him, whom you had espoused, and whom you had so long honored with your friendship. -- This, I thought, I could not better effect than by publishing the following Pieces.
WITH all possible submission, I lay them in their new dress before you, as thereby I am favoured with what I have long and ardently wished, an opportunity of giving this public testimony of a grateful heart, for the many and repeated proofs I have received of your respectable patronage.
I am, GENTLEMEN, Your most obliged, and most obedient humble servant,
J.Z. HOLWELL.
Mount Felix, Walton upon Thames, July 3, 1764.
***
Explanation of Certain Persian and Moorish Terms in the Following Sheets.
A.
Amdanny and Russtanny: Imports and Exports.
Arzgee: A Peitition.
Arzdasht: Idem.
Assammees: Dealers in different Branches of Trade.
B.
Banka Bazar: Formerly the Ostend Factory.
Begum: Princess, meaning without Care.
Buxey: A Paymaster of Troops.
Buckserrias: Foot-Soldiers whose common Arms are Sword and Target only.
C.
Chowkeys: Guards at the Stars, or Landing-places.
Chinam: Lime.
Cossid: A Foot-messenger, or Post.
Chubdaar: An Usher.
Cooley: A Porter.
Chout: A Fourth Part.
A Coss, or Corse: A Measure from two Miles to two Miles and Half.
A Corore of Rupees: An hundred Lack, or one Million Sterling.
D.
Dewan: King's Treasurer.
Dewanny: Superintendancy over the Royal Revenues.
Dussutary: An Impost of ten per Cent.
Durbar: Court or Council, and sometimes a Levee only.
Decoyt: A Robber.
Dummadah: A River.
F.
Fowzdar: A Military Officer.
G.
Gomastah: Factor or Agent.
Gwallers: Carriers of Palanquins.
Gunge: Grain Market.
H.
Hackeries: Carts or Coaches drawn by Oxen.
Harkarahs: Spies.
J.
John Nagore: A Village so called.
Jaggemaut: The Gentoo Pagoda.
Jemmautdaar: An Officer of the same Rank with the Roman Centurion.
M.
Mackulka: An Obligation with a Penalty annexed.
Moonskee: A Persian Secretary.
Musnud: Throne.
Moories: Writers.
Maund: A gross Weight between 70 and 80 Pounds.
N.
Negrai: A new Settlement at one of the Pegu Islands.
Nobut: A Drum, a mark of Royalty assumed by the Subahas of Bengal.
P.
Perwannah: An Order or Command, sometimes a Grant.
Purranea: In the Province of Bengal; a Nabobship subordinate to the Suba.
Phirmaund: A Royal Mandate, or Grant.
Pykes: Officers relative to the Service of the Lands.
Ponsways: Guard-Boats.
Podor or Shreff: A Money-changer.
Peons: Infantry.
Pottahs: Grants.
Pondary, Foorea: Farmers distinct Allowances on Grain at the Gunge.
R.
Rumnah: District for the Royal Game.
S.
Seer, Chetac, Maund: Forty Seer is one Maund, and sixteen Chetac one Seer.
T.
Telinga: The Carnatic Country on the Coast of Coromandel.
Tanksal: A Mint for Coinage.
Tanners and Buzbudgea: Forts on the River Ganges.
Tunkabs: Assignments upon Lands.
Tuzsaconna, Ginanah: Wardrobe and Seraglio.
V.
Vaqueel: English Agent or Resident at the Nabob's Court.
Vizerut: The Grant for the Visiership.
W.
Wazeed: A considerable Mahometan Merchant who resided at Houghley upon the Ganges.
Z.
Zemin: Ground; Zemindary; Relative to Lands.
***
An Address To the Proprietors of East India Stock; Setting Forth the Unavoidable Necessity and Real Motives for the Revolution in Bengal, in 1760.
by John Zephaniah Holwell, Esq.
**********************
Mr. Holwell's Refutation of a Letter from certain Gentlemen of the Council at Bengal, to the Honorable the Secret Committee. Serving As a Supplement to His Address to the Proprietors of East-India Stock.
To The Honorable The Secret Committee For Affairs of the Honorable United Company of Merchants of England Trading to the East-Indies.
by Eyre Coote; P. Amyatt; John Carnac; W. Ellis; S. Batson; H. Verelst
Fort William
March 11, 1762
With Answers by J.Z. Holwell
Honorable Sirs,
1. It gives us the greatest concern to be obliged to address you, in the manner we are now under the necessity of doing; but as we have publicly declared our dissent from the late revolution in the kingdom of Bengal, and expressed our entire disapprobation of the measures pursued consequent thereto; it is our duty to acquaint you with our reasons for having differed in opinion from the gentlemen who were accessory to that revolution, lest ill-minded people should represent our opposition as a faction, instead of owing its rise, as it really does, to our strict regard to what we think conducive to the honor of our country, and the interests of our employers. Had the whole Board been consulted, we dare assert, this measure would have been rejected by the majority; and we humbly refer to you, whether the opinion of every member thereof ought not to have been taken by the president, before he ventured upon so bold a step as the subversion of a government.
Refutation

1. It is very manifest, these gentlemen could be under no concern at all, upon this occasion; because they knew they were under no necessity of addressing the Secret Committee in this clandestine manner, the Board of Calcutta being always open for every remonstrance of their servants; through which channel they are conveyed to their honorable employers at home: but these gentlemen were sensible, that if this regular and usual method had been taken, it could not come home without a vindication annexed, which would have rendered this performance invalid, and have frustrated all the expectations they had from it; imagining some stain, from the dirt they throw at the revolution of 1760, must stick when there were none at hand to wipe it off. The ill-judged zeal of their friends in giving it to the Public, is a step was never intended by the Compilers; they flattered themselves it might possibly operate in the dark, but if it ever saw the light, they knew it was open to detection and confutation in all its parts. Here let it be remarked, that Messrs. Vansittart, Caillaud, Holwell, Sumner, and McGuire, were not only a majority of the Committee but of the Council also. Pray was the Council consulted in the revolution of 1757? We say -- No. -- Nor had they any right to expect it; for they could not be capable judges. -- Nor were there any public objections made to this revolution at the board, before Messrs. Amyatt and Ellis took their seats, and Major Carnac was returned to the settlement.
2. You were informed, last year, of the surprising revolution in favor of Mir Mahommed Cossim Aly Chan, which would necessarily be represented in the most favorable light, by the gentlemen who promoted it. But whatever judgment you may have been led to entertain of the measure, from their account of it, we cannot but think you will judge as ill of it as we do, when you are truly informed of the circumstances with which it was attended, the manner in which it was executed, and the steps that have been since taken to support it: Of these we will give you as succinct an account as possible.
Refutation.

2. The gentlemen who promoted that revolution stood in no need of false coloring to recommend it. The whole chain of events, which made the measure (of divesting Mhir Jaffier of power to do greater ills) indispensably necessary, were minutely transmitted to the Court of Directors: they examined, they saw the necessity, they approved, and showed a needful and just resentment to those who rose in opposition to it.
3. At a time, when there was not the least appearance of a rupture or disgust between us and the Nabob Jaffier Aly Chan; on the contrary, a friendship and harmony subsisted; Mir Cossim Chan, his son-in-law, came down to Calcutta, on some pretense or other, to visit Mr. Vansittart; and having stayed a short time, he returned to Morshedabad. A few days after Mir Cossim's departure, Mr. Vansittart went up to Morshedabad, on the pretence of a visit to the Nabob. Colonel Caillaud, with a party of two hundred Europeans and some Seapoys, attended him; who, to remove the suspicion which such a force would have necessarily occasioned, it was pretended were going up to Patna, to reinforce the army there. When Mr. Vansittart arrived at Moradbaug, the Nabob paid him two visits, at the last of which Mr. Vansittart, without any previous notice of his intentions, gave him the three letters, mentioned in consultation of the 10th of November, 1760; of which copies have been transmitted you. The abruptness with which these letters were presented him, one close upon the other, and the unexpected proposals contained in them, terrified the Nabob, and he was entirely at a loss how to act, but desired time to consider on what was to be done. Mr. Vansittart, seeing his perplexity, strongly insisted on his immediately naming some person, from among his relations, to take charge of the Subaship; and very particularly recommended Cossim Aly Chan, who was sent for, and the Nabob was desired to stay till he came; but Cossim Aly Chan delayed so long, and the Nabob was in such anxiety of mind, and so desirous to be released from the visit, being greatly fatigued, that Mr. Vansittart was obliged, in order to save appearances, to suffer his departure to the palace, after having detained him much longer than his inclination. That night and the day following passed in concerting measures with Cossim Aly Chan, how to put in execution the plan before agreed on in Calcutta; a treaty having been signed for this purpose, in September, 1760, while Cossim Ay Chan was down here. In consequence of these deliberations, our troops clandestinely crossed the river, the next night, under Colonel Caillaud, and being joined by Cossim Aly Chan and his party, surrounded the Nabob's palace. A letter from Mr. Vansittart was sent in to the Nabob, demanding his immediate compliance with what had been proposed to him; to which the Nabob returned for answer, "That such usage was what he never expected from the English; that whilst a force was at his gates, he would enter into no terms; and that it was his desire our troops might be returned to Moradbaug." A message was then sent, informing the Nabob, that if he did not directly comply, they should be obliged to storm the palace. Astonished and terrified by this menace, he opened the gates, exclaiming, "That he was betrayed; that the English were guilty of perjury and breach of faith; that he perceived their designs against his government; that he had friends enough to hazard at least one battle in his defence; but although no oaths were sacred enough to bind the English, yet as he had sworn to be their faithful friend, he would never swerve from his engagement, and rather suffer death than draw his sword against them." So suspicious was he of being sold, that, "He desired to know what sum of money Cossim Aly Chan was to give for the Subaship, and he would give half as much more to be continued: he hoped, however, if they intended to dethrone him, they would not leave him to the mercy of his-son-in-law, from whom he feared the worst, but rather wished, they would carry him from the city, and give him a place of safety in Calcutta." This last request of the Nabob's, the effect of his fear and despair, was immediately laid hold of, and construed in the light of a voluntary resignation. Accordingly, our troops took possession of the palace, Mir Cossim Chan was raised to the Musnud; and the old Nabob was hurried into a boat, with a few of his women and necessaries, and sent away to Calcutta, in a manner wholly unworthy of the high rank he had so lately held; as is also the scanty subsistence allowed him here by his successor.
Answer.

3. With regard to this detail of the revolution; we refer to Mr. Vansittart's Memorial, published in a late Address to the Proprietors; by a candid comparing one with the other, you will be capable of judging which has the greatest appearance of truth and probability.
4. Thus was Jaffier Aly Chan deposed, in breach of a treaty sounded upon the most solemn oaths, and in violation of the national faith. A Prince of whose friendship and attachment you have had many signal proofs; in whose cause our arms have, with much honor, been employed; and by a firm adherence to whom, the English had acquired, throughout the whole country, so universal a character of fidelity and constancy, that the most perfect confidence was placed by the natives in them.
Answer.

4. The misrepresentations of this paragraph, see fully confuted in the said Address.
5. The advantages to be reaped by the Company, from the revolution, were, the grant of the Zamindarries of Burduan, Midnapoor, and Chittagong; the payment of the balance due from Nabob Jaffier Aly Chan; with a present of five lack of rupees from Cossim Aly Chan, towards defraying the expenses of the war against the French, on the coast of Coromandel. Of these, Mr. Vansittart, on his return to Calcutta, acquainted the Board; and, at the same time, in justification of his proceedings, laid before them a memorial; copies of which were transmitted to you, by the ships of the last season.
Answer.

See the articles of the treaty in the Address.
6. This memorial is introduced with a list of crimes laid to Jaffier Aly Chan's charge; which, to those unacquainted with the Eastern governments, will appear deserving of the highest resentment from a civilized nation. Yet such is the state of politics in every Asiatic court, that, through the apprehensions of the Sovereign, and the intrigues and artifices of the great men about him, instances of cruelty and oppression are but too frequent; and even the most beloved among them are too much to be taxed with committing, or at least conniving at, acts of violence; but it should be considered, that many of these are done by persons in power, without their knowledge; and that, as there are no regular punishments for criminals of station, and who may be so powerful that it would be dangerous proceeding openly against them, recourse is often had to the dagger or poison to punish the guilty. This was the case in most of the instances alleged against Jaffier Aly Chan; none of which show greater proofs of cruelty, than that which Cossim Aly Chan discovered when, being in possession of the palace, he was desirous of making the first act of his power the assassination of Jaffier Aly Chan therein, and was very much displeased, when he found we intended to give him protection at Calcutta. Since his accession to the Subadary, we could produce to you numberless instances of his extortions and cruelties, but that it would run us into an exorbitant length; and he seems to have made the more immediate objects of his ill usage, those who have been the most avowed friends of the English. We shall only particularise Ramnarain, whom dispossessed of the Nabobship of Patna, in which it was always thought sound policy in us to support him, on account of his approved faith: and he now keeps him in irons, till he has been fleeced to the utmost, when there is no doubt he will be dispatched. Most, if not all those who espoused the English interest, have been laid under the heaviest contributions, and many have died under the force of torture to exact money from them; others have been either basely murdered, or (which is a common practice among Gentoos) unable to survive the loss of honor, have made away with themselves.
Refutation.

6. Suppose this to be the case in most Asiatic states, which we believe may be true; is it not equally true that most of Mhir Jaffier's cruelties were carried into execution from the confidence he had in our protection? And shall we not blush for this protection being granted to him so long? Surely if we do not, we ought; for in the truest sense, his cruelties were our own. As to Cossim Aly Khan's being desirous of assassinating Mhir Jaffier, it is a charge we much doubt the truth of, as we never before heard the fact mentioned. But that Mhir Jaffier made two attempts to murder Mhir Cossim, was a truth well known, and never even doubted; therefore supposing this charge to be really true, we will not say revenge and resentment will justify the desire he is said to express; but surely it will bear some extenuation, when the provocation is considered. Touching Rajah Ram Narain, the address before referred to will show, that Mhir Jaffier had resolved to remove that officer from the government of Patna, (as a person not trustworthy, nor equal to so great a charge) long before Mhir Cossim had any power or influence at the Durbar, it is very well known that Ram Narain was in treaty to deliver the city of Patna to the Shaw Zadda, when Col. Clive's extraordinary forced marches prevented him, and saved the city and the province. With respect to Cossim Aly Khan's putting him in irons, it is very well known that for some years he had rendered no account of the revenues of the provinces of Bahar, on which head Mhir Jaffier often complained to Mr. Holwell, who believes Col. Clive received complaints of the same kind from him, before he left India. These gentlemen know nothing is more common than to put an officer of the revenues in irons, until he delivers in his accounts; nothing further being meant by it than that he should not escape with his embezzlements. That he was not trustworthy, nor equal to that post, will appear from this very striking circumstance: That when Col. Clive was on his departure, he strongly recommended Mhir Cossim to Mr. Holwell's protection, and at the same time mentioning his distrust of Ram Narain, told Mr. Holwell that Mhir Cosstm was the man whom he ought to put into the government of Patna. The rest of the accusations against Mhir Cossim in this paragraph are vague and general, and without one single instance of proof; consequently unworthy notice.
7. It is insinuated in the memorial, that the Nabob's avarice and cruelty had made him the detestation of all good men, and that he was in the hands of bad ministers, under whose mal-administration the country was greatly oppressed: as an instance whereof, the scarcity of grain in the city is produced. To these ministers are ascribed the great difficulties the Nabob labored under, for want of money to answer the expenses of the government, and to pay the army, rendered mutinous for want of their arrears; besides which intestine danger, the provinces were threatened with an invasion by the Shahzadah with a powerful army, and several of the Rajahs and Zamindars, were on the point of revolting, to encounter all which there was nothing but a disaffected army. Mr. Vansittart appeals to every bystander for the truth of these facts, and of the imminent peril to which the country was exposed; he declares his intentions were only to remove the bad ministers, for which purpose he carried up with him the party of Europeans and Seapoys. He proceeds to set forth the manner in which the old Nabob was removed from the government, and Cossim Aly Chan raised. He says, People in general were pleased with the revolution and makes a merit of its being effected without the least disturbance in the city, or a drop of blood spilt. He concludes with representing the anxiety the Nabob expressed to get from the city, through fear of Cossim Aly Chan; and observes, that he appeared pretty easy and reconciled to the loss of his power, which he owned to be rather a burden than a pleasure, and too much for his abilities to manage since the death of his son: and that the enjoyment of the rest of his days in security, under the English protection, seemed to be the chief object of his wishes.
Answer.

7. See Mr. Vansittart's Memorial, and the proofs in various parts of the address in support of it.
8. It is very natural for any person who takes an uncommon step, to endeavor to vindicate himself by the most specious arguments, and the most plausible reasoning he can devise; and nothing less could be expected from Mr. Vansittart, after having brought about so unprecedented a revolution. He has told his story with all the aggravations the nature of it would admit: notwithstanding which, we do not imagine the reasons he has given in support of so violent a measure will prove satisfactory to the world. He takes great pains to blacken Mhir Jaffier's character, in order to prejudice men's minds against him; and lays great stress upon the scarcity of grain in the city; but we apprehend Mr. Vansittart does not judge so harshly from that circumstance, after what he himself experienced last year; for notwithstanding all the care, we are not to doubt, he has taken, grain was never known so scarce in Calcutta before, insomuch that numbers daily perished.
Answer.

8. Not worthy any particular notice.
9. Want of money was the great difficulty the Nabob labored under, but this did not proceed from any fault of his, but from the distracted state in which the country had been ever since Colonel Clive's departure; so that a very small part of the revenues came into his treasury. The Burdwan and Nuddea countries were assigned over to the Company for the payment of the Nabob's debt. [1] Midnapoor, the grontier to the southwest, was over-run by the Marattas; [2] Beerboon, and other Zamindaries, with the province of Purea, under Kuddum Hossein Chan, were affected towards the Shahzadah, who had under contribution the whole province of Bahar, except the city of Patna and a small district round it. Chittagong, the eastern barrier, did little more than defend itself against the incursions of the Muggs, inhabitants of Aracan, who used every year to come into Bengal for plunder. There remained only the Dacca province, the districts round Morshedabad, the Radshy and Dinagepoor countries, to supply the immense expense of the war. And here lay the Nabob's distress, that with one fourth part, if so much, of the accustomed revenues, he was obliged to maintain an army greater than any Nabob did before him; and the English army was not the least considerable part of the burthen; for trusting most to them, he paid them first; [3] which preference was the cause of discontent to the country troops. And though the force we had in the field, against an enemy whom Colonel Clive had, but a very short time before, drove out of the country, far exceeded those the Colonel had with him, yet no material advantage was gained over them, but the country was over-run and ravaged by them, and by frequent marches and counter-marches, our own armies became as destructive as those of the invaders. [4] No wonder then at the perilous condition to which Mhir Jaffier was reduced; to extricate him from which, it behoved us to exert our utmost abilities; instead whereof, he was treated with the greatest indignity by us, and basely turned out of his government.
Answers.

9. 1. And were-obstructed in the receipts of them by every artifice and finesse in Mhir Jaffier's power.

2. To what was this owing, but Jaffier Khan's irresolution and pusillanimity? -- See the Address.

3. How he paid them, see the Address. --

4. The sole cause very well known to these Gentlemen, to wit, defection, cowardice and treachery in Mhir Jaffier and his son, set forth in the Address in three remarkable instances, in any of which, a period might have been put to the troubles, as well as distresses of himself, his allies and his country.
10. To remove bad Counsellors from a Prince is certainly meritorious; but it does not seem to us that any thing was ever designed against the Nabob's ministers; on the contrary, that the sole intent was to displace the Nabob himself, is pretty evident, by the treaty before-mentioned, made in Calcutta. [1] Had there been the least attempt to convince him in a friendly manner of any errors in his administration, or of the necessity of dismissing from his presence those who ill-advised him, it is not to be doubted that he would have hearkened to reason. That he was not obstinate against good advice, may be concluded from the extraordinary influence which Colonel Clive had over him; in proof whereof we need only call to mind how violently he was incensed against Rajah Ram Narrain, and Roy Dulub; yet the Colonel, by gentle methods, without having recourse to any other force than that of persuasion, perfectly reconciled him to the former, and obtained his permission for the latter to reside at Calcutta, and bring thither with him his family and effects.
Answer.

10. 1. See the treaty in the Address, by which it will be pretty evident it never was intended to displace him, but to divest him only of power to bring on the entire ruin of the country -- and us his allies. --
11. The people in general, very far from being pleased with the revolution, (as alleged in the Memorial) were extremely dissatisfied thereat. Had Cossim Aly Chan been before in esteem among them, or possessed any share of influence or power, they might perhaps have overlooked the circumstance of his rise, and a series of popular actions might in time have reconciled them to the usurpation. But he was despised and disliked before he came to the Musnud, and his behavior since has been so oppressive and tyrannical, that it could not fail confirming the public hatred of him.
Refutation.

11. This man who is said to be in no esteem, but despised and hated, had a Nabobship in the province, was deemed worthy of the Subah's daughter, and by Colonel Clive of the government of Patna; and surely we may, without any offence to these Gentlemen, say that Colonel Clive was a superior judge in this matter. On the whole, we may justly say, the insinuations thrown out in this paragraph are without foundation, and reflect more dishonor on the authors themselves, than on Mhir Cossim.
12. The little disturbance at Morshedabad upon the occasion, proceeded from the apprehensions all degrees of people were under, from so large a force being brought into the city in the dead of night; and Mhir Jaffier, no ways suspicious of the faith of the English, had taken no precautions for his own security. Such is the superiority of our arms, and so great the dread of our forces in this country, that had we gone openly to work, we should have met with little or no difficulty; which renders our having proceeded by stealth and treachery the more inexcusable: and we are truly sorry to have occasion to observe, that the means by which this measure was brought about, have thrown an indelible stain upon our national character, and injured us as much in the opinion of the natives, as it has of all the European colonies in this part of the world.
Answer.

12. Let Mr. Vansittart's Memorial reply to this.