Part 1 of 4
An Address to the Proprietors of East-India stock; setting forth, the unavoidable Necessity, and real Motives, for the Revolution in Bengal
from India Tracts
by Mr. J.Z. Holwell, and Friends.
The Second Edition, Revised and Corrected, with Additions.
1767
CONTAINING:
I. An Address to the Proprietors of East-India stock; setting forth, the unavoidable Necessity, and real Motives, for the Revolution in Bengal, 1760.
II. A Refutation of a Letter from certain Gentlemen of the Council at Bengal, to the Honorable the Secret Committee.
III. Important Facts regarding the East India Company's Affairs in Bengal, from the Years 1752 to 1760, with Copies of several very interesting Letters.
IV. A Narrative of the deplorable Deaths of the English Gentlemen who were suffocated in the Black Hole in Fort William, at Calcutta, June 1756.
V. A Defense of Mr. Vansittart's Conduct.
ILLUSTRATED WITH: A FRONTISPIECE, representing the Monument erected at Calcutta, in Memory of the Sufferers in the Black Hole Prison.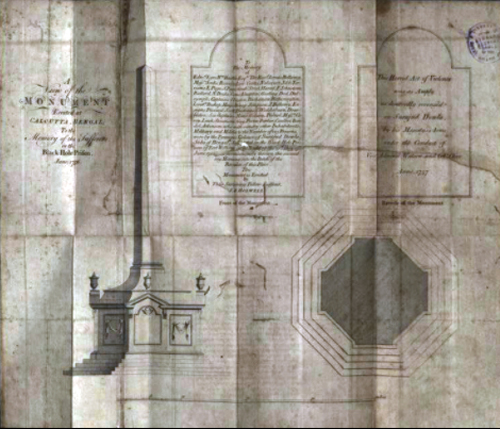 A View of the Monument. This Horrid Act of Violence was as Amply as deservedly revenged on Surajud Dowwla, by his Majesty's Arms, under the Conduct of Vice Admiral Watson and Col! Clive. Anno, 1757.
TO SIR WILLIAM BAKER, Knt., WILLIAM MABBOT, Esqr. and JOHN PAYNE, Esqr.
GENTLEMEN,
THE following small Tracts, in consequence of unprovoked injuries, were hastily thrown together, during the late clamorous disputes between Directors, Proprietors, and Candidates for the management of East-India affairs at home and abroad.-- How they came to be so hastily produced, and as hastily published, it seems requisite I should explain a little more at large.
At the beginning of these intestine broils, I was determined to avoid engaging on either side; and, to shun solicitation, I disposed of all the stock I stood possessed of', without retaining as much as might entitle me to a single vote; so truly desirous I was to enjoy in quiet that peaceful retirement, I had dearly purchased at the expense of so many difficulties, miseries, and heavy misfortunes as fell to my lot, while in the service of the Company.
Such, I say, were my resolutions, to which I should most strictly have adhered, if I had not found my character first indirectly, afterwards openly attacked, by the basest calumnies which were levelled against me in a manner, sudden, unmerited and unexpected.
UNDER these circumstances, there was a necessity of speaking for myself, and, which was still more unpleasing, I found myself likewise constrained to enter upon my vindication without delay. -- The pungency of these accusations -- the precipitancy of the times, and a disposition to take every thing for granted that was not immediately refuted; obliged me not only to dispatch them as quickly as was possible, but also to produce them in like hurry to the public eye.
IT was from these accidents, which I could not either foresee or avoid, that they came into the world not so well digested, and with much less accuracy, than the candid part of mankind have a right to expect in every production that claims their consideration, and is submitted to their judgment.
To the same causes I may very justly refer those errors of the press, which were in some of them so numerous as scarce to to leave the sense intelligible; to say nothing of other mistakes in orthography and diction, all arising from the utter impossibility of allowing me time requisite to revise and correct the proof sheets.
IT is from a just sense of these involuntary imperfections, that I have been led to review, to reform, and to cast into somewhat a different shape, these little pieces, that were thus exposed; and to render them still clearer and more satisfactory, I have added some other Tracts, which, however reasonable, I had not the leisure to prepare, and which, from my observing the obscurity arising from their Omission, I conceived it my duty to add as soon as opportunity would permit.
My narrative of the fatal catastrophe at Calcutta, and that unexampled scene of horror to which so many subjects of Great Britain were exposed in the prison of the Black-Hole, has so close a connection with one of the pieces that precede it, has scarce to require an apology for reprinting it in this edition; prefixing, as a frontispiece to the Volume, a Print of the Monument which I erected, at my own expense, to the memory of those unhappy sufferers.
MANY, if not most of the matters contained in these sheets, are to you, Gentlemen, very well known, as having been often the subject of your deliberations; and, therefore, to whom could I so properly address them as to yourselves? -- Two of you first incited my endeavors, and directed my labors for the Company's interest. -- Mr. Payne, with the same distinguished zeal, encouraged and supported them; a zeal truly disinterested, for I was a stranger to you all; so that you could have no motive to the favor you bestowed, and the protection you so generously afforded me, except the warm and pure regard which you ever showed, rather than professed, for that respectable body, whose concerns were then committed to your care.
You have, Gentlemen, frequently done me the honor to say, I did not disgrace your patronage, or disappoint your favorable expectations: to me this was the most ample reward -- but I could not help thinking there yet remained something due on my part; and that I ought to attempt the justifying your choice to the knowing, the ingenuous, and the judicious world.
This became more especially incumbent on me, when I found Envy and Malice arraign the character of him, whom you had espoused, and whom you had so long honored with your friendship. -- This, I thought, I could not better effect than by publishing the following Pieces.
WITH all possible submission, I lay them in their new dress before you, as thereby I am favoured with what I have long and ardently wished, an opportunity of giving this public testimony of a grateful heart, for the many and repeated proofs I have received of your respectable patronage.
I am, GENTLEMEN, Your most obliged, and most obedient humble servant,
J.Z. HOLWELL.
Mount Felix, Walton upon Thames, July 3, 1764.
***
Explanation of Certain Persian and Moorish Terms in the Following Sheets.
A.
Amdanny and Russtanny: Imports and Exports.
Arzgee: A Peitition.
Arzdasht: Idem.
Assammees: Dealers in different Branches of Trade.
B.
Banka Bazar: Formerly the Ostend Factory.
Begum: Princess, meaning without Care.
Buxey: A Paymaster of Troops.
Buckserrias: Foot-Soldiers whose common Arms are Sword and Target only.
C.
Chowkeys: Guards at the Stars, or Landing-places.
Chinam: Lime.
Cossid: A Foot-messenger, or Post.
Chubdaar: An Usher.
Cooley: A Porter.
Chout: A Fourth Part.
A Coss, or Corse: A Measure from two Miles to two Miles and Half.
A Corore of Rupees: An hundred Lack, or one Million Sterling.
D.
Dewan: King's Treasurer.
Dewanny: Superintendancy over the Royal Revenues.
Dussutary: An Impost of ten per Cent.
Durbar: Court or Council, and sometimes a Levee only.
Decoyt: A Robber.
Dummadah: A River.
F.
Fowzdar: A Military Officer.
G.
Gomastah: Factor or Agent.
Gwallers: Carriers of Palanquins.
Gunge: Grain Market.
H.
Hackeries: Carts or Coaches drawn by Oxen.
Harkarahs: Spies.
J.
John Nagore: A Village so called.
Jaggemaut: The Gentoo Pagoda.
Jemmautdaar: An Officer of the same Rank with the Roman Centurion.
M.
Mackulka: An Obligation with a Penalty annexed.
Moonskee: A Persian Secretary.
Musnud: Throne.
Moories: Writers.
Maund: A gross Weight between 70 and 80 Pounds.
N.
Negrai: A new Settlement at one of the Pegu Islands.
Nobut: A Drum, a mark of Royalty assumed by the Subahas of Bengal.
P.
Perwannah: An Order or Command, sometimes a Grant.
Purranea: In the Province of Bengal; a Nabobship subordinate to the Suba.
Phirmaund: A Royal Mandate, or Grant.
Pykes: Officers relative to the Service of the Lands.
Ponsways: Guard-Boats.
Podor or Shreff: A Money-changer.
Peons: Infantry.
Pottahs: Grants.
Pondary, Foorea: Farmers distinct Allowances on Grain at the Gunge.
R.
Rumnah: District for the Royal Game.
S.
Seer, Chetac, Maund: Forty Seer is one Maund, and sixteen Chetac one Seer.
T.
Telinga: The Carnatic Country on the Coast of Coromandel.
Tanksal: A Mint for Coinage.
Tanners and Buzbudgea: Forts on the River Ganges.
Tunkabs: Assignments upon Lands.
Tuzsaconna, Ginanah: Wardrobe and Seraglio.
V.
Vaqueel: English Agent or Resident at the Nabob's Court.
Vizerut: The Grant for the Visiership.
W.
Wazeed: A considerable Mahometan Merchant who resided at Houghley upon the Ganges.
Z.
Zemin: Ground; Zemindary; Relative to Lands.
***
An Address to the Proprietors of East-India stock; Setting Forth the Unavoidable Necessity and Real Motives for the Revolution in Bengal, 1760
by John Zephaniah Holwell, Esq;
An Address to the Proprietors of East India Stock
Gentlemen and Ladies,
I know not any body of people in the kingdom so much to be pitied, or so deservedly the object of attention, at this period, as yourselves: strangers to the secret springs and workings of the great machine you are embarked in, you must be also strangers to the nature of its defects, and incapable of applying proper remedies to its irregular, and consequently destructive motions.
Those entrusted with the conduct of your concerns at home, distracted and divided in their councils; your Agents abroad, in the same unhappy divisions and animosities; a general Court at hand, where it is to be feared, not one in a hundred of you will be able to form any clear idea of the matters to be discussed: What salutary effects then can be expected from its resolutions, in your present uninformed state?
I will not begin so endless a work as the investigating, from their original source, the various combined causes, which gave rise to these dissensions, as it would answer no one useful purpose at present: an honest indignation, and true regard for the welfare of the Company provokes my pen, to rescue you from impressions, the best and most sensible are sometimes liable to, from misrepresentation, artful invective, plausible, specious, though fallacious argument, and cruel insinuation; enough of these are, at this particular juncture, thrown out to amuse and blind you, by some no better acquainted with the subjects they write and speak on, than most of yourselves.
The productions of paltry scribblers are below mine, and every gentleman's notice, (such as appeared in a late evening paper) but when men of sense, virtue and character, and others who have possessed high and distinguished stations and emoluments in your service, join the cry, and help to keep up and increase this anarchy in your affairs, it is time to guard you, not only against the venom of their pens, but their tongues also; for, from them there may be danger.
That your affairs have been brought to the brink of ruin, is most certain, and possibly by this time (though God forbid) you may not have a foot of land, nor a rupee of property, in the three Provinces of Bengal; a dismal and alarming prospect. -- The question is, What is the real and more immediate cause of this melancholy situation? If you hearken to the present torrent of abuse, you will be told, the revolution which deposed Mhir Jaffier Aly Khan, and set up his son-in-law, Kossim Aly Khan, in the year 1760, is stained with unparalleled infamy, and is the cause of every subsequent mischief to you: you are further told, this change will be explained to you from the most undoubted authority, and unanswerable arguments: but nothing of this kind yet appears to enlighten you.
From another quarter you are informed, your Court of Directors are culpable. -- Those who shoot in the dark, may fire boldly indeed, not being immediately liable to discovery; but then they may be sometimes liable to mistake their aim -- the charge against them is couched in the following terms: "Your Court of Directors at home, pleased with the present advantages, never examined the means by which they were obtained, or whence the necessities arose that were pleaded in excuse of the revolution."-- I should be grieved you could imagine I am set down to form an apology for the whole conduct of your Court of Directors -- Far be it from me -- but as I know their judgment on, and sanction given to this revolution, were the result of mature examination, both as to the means, and necessities that produced it, it would be dishonest in me not to say so; and I will venture to pronounce, that before I close this Address to you, yourselves will acquit them of this charge, and be convinced their conduct, as to this particular transaction, was strictly consistent, not only with your interest, but honor -- nor will I doubt, but this revolution will, in the sequel, reflect honor and credit on every one of your servants who had a part in it.
To vindicate the revolution of 1760, is the task I now impose upon myself, not only for your information, (though I confess that to be a moving, and at this time a very essential consideration) but also in justification of myself, who, it is very well known, had so large a share in it, and in defense of one of the best and most capable servants you ever had abroad. Justice to his merits exacts this testimony from me, though he succeeded me in the government of your presidency of Bengal -- I conceive Mr. Vansittart's character, on this occasion, injuriously traduced; he is not here to vindicate himself; it is therefore incumbent on me (who only can) to do it; the more especially, because if any just censure lies against him, on account of this revolution, it is owing to the representations laid before him by me, touching the state of the Company's affairs at the period he came to the government.
Previous to laying proofs and vouchers before you, it will not be amiss, to say what I tend to prove. I therefore set out with these positions: First, That the distressed situation of your affairs, as well as impending ruin of the provinces, made it unavoidably necessary to divest Mhir Jaffier Aly Khan of power to do greater mischiefs, as by a series of maladministration and cruelties he had well nigh brought himself, his family, the provinces, and the Company, to destruction; so that it became a reproach to the English name and arms to support his tyrannic government any longer. Secondly, That Mhir Jaffier Aly Khan was guilty of a breach of every article of the offensive and defensive treaty made with him in the year 1757, when he was by us promoted to the Subaship of Bengal -- Thirdly, That your honor, and the honor of the nation, remain inviolate, and stand unimpeached by this revolution, though the contrary has been so industriously insinuated.
This contest is reducible to a very narrow compass. -- lf the deposing Mhir Jaffier Aly Khan was a just and necessary measure, every subsequent opposition to it must be wrong, and highly detrimental to your interest, trade, and possessions; on the contrary, if you deem the deposing Mhir Jaffier Aly Khan, an unjust and unnecessary measure, the restoring him must be right, in the eye of strict justice, provided such restoration is so circumstanced, as to be brought about without the manifest hazard of ruin to your affairs. On this we join issue, and proceed to our proofs. In order to which, a short introduction to facts will be needful.
In August 1760, Henry Vansittart, Esq; arrived at Fort William, Bengal, and received the government. Your affairs, as well as the state of the Provinces, being in a most ruinous, intricate, and disjointed situation, Mr. Holwell thought it an indispensable duty on him, to draw up such a clear representation of these matters as should afford that gentleman an immediate general idea of our political state at that period -- which he accordingly did, in the following terms, introduced by a short address to your secret Committee.
To the Honorable HENRY VANSITTART, Esq; &c. Members of the Select Committee.
Honorable Sir and Sirs,
As my health, and the consideration of other circumstances, will soon oblige me to request permission of the Board to resign the service, I beg leave, previous to that step, to accompany this short address with such remarks and memorials, as may convey to the Honorable the President, (so lately arrived among you) a knowledge of the present state and situation of the Company's affairs, as they stand connected with, or are dependent on, the country government of Bengal.
I have the Honor to be, &c.
J.Z.H.
Memorial.
To form a judgment of the present state of things at Bengal, it will be needful to have a retrospect to the late revolution of the year 1757, when necessity, and a just resentment for the most cruel injuries, obliged us to enter on a plan to deprive Surajud Dowla of his government, which was accordingly done, and Mhir Mahomet Jaffier Aly Khan, fixed by us at the head of the provinces, on certain conditions, and under a treaty of alliance, offensive and defensive.
A short space fully proved how unworthy the family thus raised to the Subaship were: the conditions of the treaty could not be obtained from the Suba, without, in a manner, being extorted from him; and by a thousand shifts and evasions, it was plain, no single article would ever have been complied with had the Suba been invested with sufficient power to prevent it, or could he have divested himself of his own fears and apprehensions from our resentment.
Tunka's on the lands were, however, granted for payment of the stipulated sums, at stated times, by which the Roy Royen, (or Collector of the Revenues) and the Dewans, Mutsoodies, &c. (dependents of that office) with every harpy employed in the Zemindary or lands, became our implacable enemies; and consequently,
A party was soon raised at the Durbar, headed by the Suba's son Mhiran, and Raja Raage Bullob, who were daily planning schemes to shake off their dependence on the English, and continually urging to the Suba, that until this was effected, his government was nominal only. The Suba, something irritated, by the protection given to Raja Doolub, and weak and irresolute in himself, fell too soon into these sentiments.
The first step taken to accomplish this scheme of independence, was, to assassinate and cut off, under one pretence or another, every minister and officer at the Durbar, whom they knew were attached to the English: to this purpose, Coju Haady, and Cossim Aly Khan, first and second Buxey, were assassinated in November and December 1758. After many attempts made on the persons of Rheim Khan and Golam Shaw, his uncle and brother, they were at last obliged to seek an asylum with the Shaw Zadda, 1759. Roy Doolub's son and four brothers were proscribed, on no other cause, but his known inviolable attachment to us; this family would have fallen a sacrifice had they not been rescued out of the Suba's hands by force of arms. Omhir Beg Khan would, from the same cause, have suffered the same fate, had he not given his solemn engagement to quit the kingdom, which he accordingly did, in a miserable state of health, and lived only to arrive at Bussorah.
The next project of the Durbar, appeared (by every subsequent concurring circumstance) to be a secret negotiation with the Dutch, for transporting troops from Batavia into these provinces, that with their united force a stop might be put to the power of the English. This scheme was conducted by Raja Raage Bullob, on the part of the Suba, and by Fookru Toojaar Khan (better known by the name of Coja Wazeed) on the part of the Dutch, about October or November 1758, the period when the Decan expedition took place under Colonel Forde, and your garrisons were much reduced.
Soon after the provinces were invaded by the Shaw Zadda, (undoubted heir to the Mogul empire) on the side of Patna, and Colonel Clive, with the English troops and Seapoys, joined the Suba and his army, and by forced marches preserved Rajah Ramnaran (Nabob of Patna) steady in his duty, and arrived just in time to save that city and province, and drive the Prince beyond the river Kurrumnassa, and brought the Budgepoore, &c. countries under subjection.
The Prince, more than once, wrote to the Colonel, offering any terms for the Company and himself, on condition the English would quit the Suba, and join his arms; but the Colonel, thinking it incompatible with our treaty of alliance, gave the Prince no encouragement.
At the end of the campaign, in June 1759, the Colonel returned to us; and about the same time, the Suba and young Nabob Mhiran arrived at Muxadabad: both, now, with full conviction of our firm attachment to his government and family, and of our religious regard to treaties. What sense they retained of these obligations, and how long, will appear by and by.
The Suba and his son, thinking themselves now better established in the government, and screened by such a powerful support as our arms, set no bounds to their cruelties, oppressions, and exactions from those who had any thing to be plundered of; and these barely received a check, from the frequent and severe remonstrances of Colonel Clive to the Suba, on a conduct, which he foretold him, must, from the general detestation of his people, end in the destruction of himself, family, and country. -- His troops clamorous for their pay, whilst the Suba, in place of appropriating the sums he had acquired, by repeated assassinations, to the just demands of his Jummautdars and troops, lavished the same in boundless extravagancies.
About the latter end of July 1759, the young Nabob arrived in Calcutta, on a pretended visit to the Colonel; but the real design was, to negotiate, if possible, the surrender of Roy Doollub, and two or three other articles, given him in charge by his father; such as, giving up the Tunka lands on security, -- borrowing a large sum of money: -- but in these the son proving unsuccessful, a member of the Board and Select Committee, was, at his desire, sent to accompany him to the city, to reconcile the Suba to the negatives his son had met with at Calcutta, and at the same time to intimate to him the advice we had received, that a large armament was sitting out at Batavia, destined for Bengal, and to know his resolution, in case that force arrived in the river.
He was not to be reconciled to the refusals his son had met with, but determined to try his own power, and declared his intention to visit the Colonel himself in September, (which he did, but with no more success) he seemed to make light of the intelligence touching the Dutch armament, and not to give much credit to it, though he discovered great perplexity; however, he wrote a letter to the Colonel, demanding our assistance, by virtue of the treaty of alliance, in case the Dutch troops came into the river.
The armament from Batavia arrived during his visit at Calcutta; his stay after that was short, his mind seemed much embarrassed, and his whole subsequent conduct gave most undoubted proofs, that the Dutch force was arrived at his invitation; that such were the sentiments of Colonel Clive and his Council, appears from the narrative of our contest with the Dutch, November 1759, transmitted to the Court of Directors, and to our several Admirals: a perusal of this narrative will convince the impartial, that the Suba's behavior on this occasion, was a most flagitious breach of the treaty of alliance; and that no terms whatever should have been preserved with him after such treachery and ingratitude; to which we may add, by way of illustration, the subsequent farces carried on between the Nabobs and the Dutch, even until the month of July 1760, as set forth in the several letters between Mr. Holwell and the Resident at Morad-Baag, on this subject, to which I refer; where it will appear most manifest, that the Suba's real intentions never were to oppose these people, though he was from time to time calling upon us, and demanding assistance, by virtue of the treaty of alliance subsisting between him and the English: -- witness the private orders and instructions given to his son-in-law, Mhir Mahomet Cossim Aly Khan, so opposite to the public orders given to amuse and deceive us, when he was sent down to demolish the new works at Chinsura, the apparent delay in which drew much censure upon that General, until the truth was known.
In the beginning of the year 1760, the Shaw Zadda invaded the provinces again, with a force more respectable than in the preceding one, both in troops and commanders, by the revolt of Comgar Khan, Golam Shaw, Rheim Khan, and others; the Suba, by this time, having made himself and family so universally hated, that we may justly say, there was hardly a man in the province that did not wish success to the Prince.
Colonel Clive resigned the government early in February 1760, about which time the Morattors entered the province from the southward, and penetrated Burdomaan country, making a considerable diversion in favor of the Prince; the Suba demanded a body of our troops, Seapoys and field artillery, for defense of his country, to join his army under the command of Mhir Cossim Aly Khan; which were granted: -- but here the service expected, and intended by this united force, was entirely frustrated, by the pusillanimous and contradictory orders from the Suba to that General, which ended at last in Commanding him to advance towards Cutwah, for the defense of the city, in place of ordering him to march to the southward, against the Morattors, to drive them out of the country; and this in opposition to the strongest remonstrances made against it, by Mr. Holwell and Mhir Cossim Aly Khan: thus the country fell a prey to the Morattors, and a total stop was put to the collection of our Tunkas, on which was our dependence and expectation, for the service of the year. (Vid. Military Correspondence, Feb. and Mar. 1760.)
Our troops, under command of Major Caillaud, in conjunction with the Suba's army, commanded by his son Mhiran, had taken the field some time before Colonel Clive's departure for Europe, and shaped their rout towards Patna, whilst the Suba remained in the neighborhood of Rajamaal, a check upon Cuddeim Hossein Khan, Nabob of Purnea.
A regular and particular detail of the transactions of this laborious campaign, will not be expected here, as the progress of it will present itself in the course of the military correspondence, laid before the Select Committee; therefore general remarks on the success, effects, and probable consequences, will suffice.
This campaign, like the former ones, produced no definitive action, or stroke, to lay the least foundation of peace to the provinces: in the course of it, three morally sure, and important opportunities, were lost by the cowardice of both Nabobs. -- The first, when Mhiran refused to join Major Caillaud with his horse, in the immediate pursuit of the Prince, when defeated near Patna. -- The second, when the Suba refused to comply with the Major's request and demand, to cross his horse over Burdomaan river, to attack the Prince, when united with Subabut, the Morattor general. -- And the third, when in the last pursuit of Cuddeim Hossein Khan, the young Nabob refused to lead or detach his horse to the Major's assistance, by which a general action might have been brought on; but on the contrary, kept himself encamped above a mile in the Major's rear, as if his intentions were to leave our troops, without horse, a sacrifice to the enemy.
On the near approach of the Major to Patna, he received a Phirmaund from the Prince, of which he advised the Board, and promised to forward a copy; but no wonder that, in the course of so extraordinary and fatiguing a campaign, it should escape his memory. -- On the Shaw Zadda's arrival in the Bierboheen country, (after the unexpected march he formed upon his defeat near Patna) the President received intelligence that the Suba had actually a Vackeel in his camp; and that he was negotiating a separate treaty for himself. This appeared to have so dangerous a tendency, that any means were eligible to obtain the truth.
The late President, by a third hand, caused Assud Jumma Khan, Raja of Bierboheen, and his uncle Comgar Khan, to be wrote to, on this subject of the Suba's Vackeel and treaty. -- This soon produced a Phirmaund from the Prince, enclosing copy of the Suba's Arzdasht. The President made no reply to the Phirmaund, but returned a short one to Comgar Khan's letter, (which accompanied the Phirmaund) intimating, that copies were of little validity, where originals were in being.
A few days before the Prince began his retreat from the hills, the President received a second Phirmaund from him, enclosing original Arzdasht from the Suba. -- All that can be said for or against belief being given either to the authenticity of the copy or the original, will appear on the face of the correspondence, in two letters from the President to the Major, under dates the 22d and 24th of last April, and to Mr. Hastings the Resident at Morad-baag, the 20th of the same month: to these, we may further remark, that if they were forgeries, they have yet corroborating signatures of truth; and the whole tenor of the Suba's conduct most exactly tallies with the terms of the Arzdasht (or petition). But to resume the course of the campaign to the present time.
Patna is relieved and secured for the present -- Cuddeim Hossein Khan is deposed from his government of Purnea, and drove out of the country, but with all his treasure and valuable effects, to the reproach and infamy of the young Nabob's memory; so that after the rains he will easily join the Prince, with the essential sinews of war, money, the only thing he stands in need of to enable him to harass the provinces five years longer.
The young Nabob is taken off by lightening, -- and our troops are gone into quarters, after having done as much or more than could have been expected from men so wretchedly supported, by those for whose preservation they endured every distress and fatigue, and braved variety of deaths. --
The Prince has found means to preserve himself and forces, a footing on this side the Sone, and in the neighborhood of Patna: it is said, Comgar Khan has forsaken the cause of the Prince, which appears most improbable; not only on account that he has no other chance for reimbursing himself, but perseverance; but also, because we have undoubted intelligence that 3000 of his troops have joined his nephew, Assud Jumma Khan, who has thrown off his allegiance to the Suba. -- These troops are certainly lodged, to make an early and important diversion, at the opening of the next campaign, by entering the Burdomaan country as soon as the Prince begins to be in motion to the northward; and thus our supplies from thence will be again cut off, and the Company's affairs reduced to the last extremity of distress, unless the approaching ships of the season relieve us, or the whole Tunka's on those lands be collected during the rains. -- The latter is hardly possible, and the former carries very little probability with it -- The last proposal from the Suba, to pay our balances, and resume his lands, is devoutly to be wished, but it is to be feared he has no meaning in it.
The various reasons urged against supporting the present government longer, on the plan we have been sometime pursuing, to the heavy injury of the Company, with various expedients to rescue them from their manifest approaching ruin, are set forth at large, in the military correspondence -- in letters from the President to Major Caillaud, under dates the 24th and 25th of May, and 14th of June, and 3d of July; -- to Mr. Amyat, under dates the 25th and 30th of May, and 1st July; -- to Mr. Hastings, under dates the 24th of May, and 30th of June, and 5th and 8th July.
The sudden death of the young Nabob, if made a proper use of, seems to point out a middle way, if things are not gone too far already, to admit any other alternative than divesting this family from the government altogether. -- Vide the President's letter to Mr. Hastings, of the 16th July, and to Major Caillaud, of the 26th, on the subject of a successor to the young Nabob's posts. --
J. Z. H.
The foregoing Memorial, we believe, would carry sufficient conviction with it, to establish our three positions, were we to go no farther: -- the facts there stated are faithfully recited, and without exaggeration: if they are not, we are open to detection, from one side or other of the present division in the Court of Directors; there are leading members, in both parties, who can have recourse to the face of their records of consultations and committee proceedings.
As the several charges laid against Mhir Jaffier Aly Khan, in this Memorial, may, by being too much divided, not appear so clear and intelligible as we could wish, though sufficiently so for whom it was then drawn; we shall, for your more ready comprehension, throw the whole into a regular connection as follows: -- That, very soon after his advancement, he resolved to reduce that power which raised him to wealth and princely grandeur. -- That, in order to effect it, he began (by base assassinations, or other methods) to cut off, and drive out of the Provinces, every officer and person of importance whom he had the least cause to surmise favored our interest, or were attached to us. -- That he had been scarce seated in his government, when he entered into a secret negotiation with the Dutch, to introduce an armament in the Provinces, to counteract and destroy our power and influence; -- a measure as wicked as foolish. -- That he was guilty of the deepest deceit and treachery towards us, his benefactors and allies, in repeated instances. -- That, whilst our officers and troops were suffering every distress, and hazard of their lives, in defense of him, his son, and country, our commander in chief was basely and treacherously deserted, at three different periods, by father and son. -- That he meditated a separate, secret, treaty with the Shaw Zadda, and offered to sacrifice us to the Prince, but was not (happily for us) believed, or heard. -- That the whole term of his government was an uniform chain of cruelty, tyranny and oppression. -- That (over and above what is charged against him in the Memorial) he meditated, and was near carrying into execution, an infamous secret treaty with the Morattors, which would have proved the total destruction of the country, if it had not been timely prevented. -- That he threw every possible lett and hindrance in our way, in the collection of our Tunka's. -- That he encouraged, and winked at, the obstructions given to the free currency of our Calcutta Sicca's; by which, at times, the Company suffered heavy losses. --
Each of these charges is a violation of that treaty, which put Mhir Jaffier Aly Khan in possession of a government of more value than many kingdoms of Europe, supported by us at the expense of our blood, until it became a scandal and reproach to our name and nation. -- But it is time we proceed to other proofs than bare assertions: These we shall take from the correspondence so often referred to; and if, in the several vouchers we exhibit to you, some parts of your affairs should be laid more open than you, or rather your Court of Directors, with -- the necessity must plead our apology; faithfully assuring you, that we will only touch on such matters as may be absolutely requisite to support our charge.
Governor Clive departing for Europe the 8th of February, 1760, Mr. Holwell succeeded by his rank to the government; the established committee entrusted with the conduct of all political occurrences, with the country government, consisted of the President, Peter Amyatt, Esq; Major Caillaud, W. B. Sumner, Esq; and W. Macguire, Esq. The Major and Mr. Amyatt absent, the one in the field, the other chief at Patna.-- We shall open our proofs with a letter from the President to the Major, and that gentleman's answer, as the correspondence between Mr. Holwell and Major Caillaud was only on public affairs, which having long ceased to be of a secret nature, we think we cannot be justly accused of any breach of propriety in publishing any part of that correspondence which the public information calls for; especially, as whatever we shall produce from this quarter, will redound to that gentleman's honor.
To John Caillaud, Esq'
Fort William, the 15th of February, 1760.
Sir,
I congratulate your success in the reduction of Cuddiem Hossein Khan, the particulars of which I received from the Nabob, and dispatched them immediately to the Colonel, though fear too late for his receiving that satisfaction: he was a good deal anxious on this head, as he feared it might have been the cause of delaying your advance towards Rajah Ramnarain.
Subut at the head of about 3000 horse and a few foot, has advanced as far as Midnapore, and given a general alarm to the country; they demanded their chout; if they come with further views, their designs are not yet manifested. -- Rumor, without any foundation, says, that Roy Doolub has encouraged their march; be it so or not, I have thought it necessary to have a more than usual watchful eye over him at this juncture. -- I have wrote the Nabob on the subject of the Subut's advance; and gave it him as my opinion, that as he has now nothing to apprehend from Purnea, he should return to his capital. -- If you judge the service to the northward will admit of such a step, you will enforce it. Your correspondence will ever afford a real pleasure to him, who is with much esteem, Sir,
Your most obedient humble Servant,
J. Z. H.
To the Honorable J. Z. Holwell, Esq; President and Governor of Fort William
Camp Sbabsadapore, Feb. 27, 1760. H
Sir,
I been honored with your obliging favor of the 15th instant; you may be assured of finding in me a punctual correspondent, both from inclination and duty. T
The part of your letter, Sir, with regard to Roy Doolub, I have answered fully in the general letter which accompanies this. -- I should have first wrote on the subject, had you not prevented me; and am almost convinced, that, on further examination, we shall find that both your suspicions and mine are true and just: indeed the Letter to the Shaw Zadda, of which I send the copy, would be quite sufficient to condemn him, were it not that there is a possibility of its being formed by the Nabob on purpose; who is, from principle, very capable of doing that, or any other infamous action to gain his ends. -- I shall, however, suspend my judgment, until your examination is over. -- The precautions you have taken were highly judicious; for though the proofs against him may not, on trial, appear so clear as we could with for our satisfaction; yet he is still a person to be suspected, and of consequence cannot be too narrowly or strictly watched.
Your opinion, with regard to the Nabob's return to the Capital, agreed perfectly with mine; I had advised him to that step before the receipt of your letter, and have since enforced it on your judgment: -- he may easily, if he pleases, put an end to this beginning of trouble, if he will pursue the proper methods, and pay them their chout; but indeed, so dilatory is his conduct in every respect, and particularly where payments of money are to be made, that I suppose he will put it off, until they come with such a force as will oblige him to it, but that not until they have done as much damage to the country as will amount to double their tribute regularly paid.
The more I see of the Nabob, the more I am convinced, that he must be ruined in spite of all our endeavors, if he doth not alter his present measures. -- He is neither loved nor feared by his troops or his people; he neglects securing the one by the badness of his payments, and he wants spirit and steadiness to command the other. -- As no one knows him better than you, Sir, no one is more proper to give him the necessary advice on the occasion; nor can you too forcibly or frequently represent to him, the fatal consequences, if he persists in his folly. Believe me, Sir, with truth and respect,
Your obedient and obliged humble Servant,
J.C.
Our reason for introducing the first of these letters is for sake of the reply, and to do honor to the good sense and penetration of that gentleman; who could so early, and on so short an intercourse with him, form a consummate judgment of that weak and infatuated man; in which he had cause to be confirmed, day by day. -- We have only further to remark, on the subject of this letter, that on the strictest examination into the supposed letter of Roy Doolub to the Shaw Zadda, said to be intercepted by the Suba's Harkarahs, (or spys) it was proved a palpable forgery of the Suba, to get him delivered into his hands; hoping thereby to get the plunder of a Corore of Rnpees. -- An attempt similar to this, he made in Colonel Clive's time, against the same person, but was shamefully detected; and sure, none but him could ever have thought of it again.
To Mr. Warren Hastings, Resident at Morad Baag.
Fort William, 22d Feb. 1760.
Sir,
I wrote the Nabob's Harkarahs last night, and this morning received your favor of the 18th, and observed, by the Nabob's repeated anxieties concerning Subut, that his intelligence on that head is very imperfect; it is true he has possessed himself of Midnapore, but as yet there appears not the least foundation for his supposed advance to the city: -- He himself remains at Midnapore, some of his people are advanced to Chundercona, and a very few to Bowannypore, but not a man of his one foot to the northward of that place: if he ever had any design of marching to the city, the advance of our troops to join Cossim Aly Khan, and my putting Roy Doolub under an arrest, may probably have put a stop to it, though it never appeared to me he had forces with him equal to such an attempt. -- Things thus circumstanced, I must differ from you in opinion touching Cossim Aly Khan's march to the city with our troops; as it appears to me more eligible, that he throws himself between them and the city at as great a distance from the latter as possible, by which step he will have it in his power, either to march down and force Subut to quit Midnapore, or retreat towards the city at last; but it is very clear to me, Subut will withdraw as soon as Cossim Aly Khan begins his march. -- I am, Sir,
Your most obedient Servant,
J. Z. H.