Part 1 of 2
Oswald Mosley
by John Simkin (
john@spartacus-educational.com
)
© September 1997 (updated August 2014).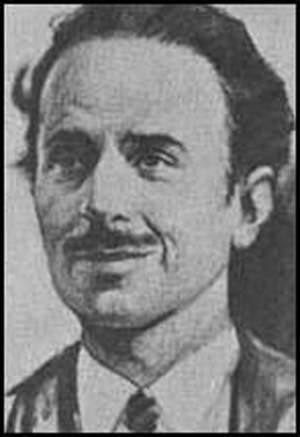 Oswald Mosley
Oswald Mosley, the eldest of the three sons of Sir Oswald Mosley (1874–1928), who succeeded to the baronetcy in 1915, and his wife, Maud Mosley (1874–1950), was born on 16th November 1896. According to his biographer, Robert Skidelsky: "When Mosley was five Maud Mosley obtained a judicial separation from her husband on account of the latter's infidelities and possibly also to protect Tom, as she called her eldest son, from his father's bullying. Thereafter his childhood was divided between his mother's modest house near her family home in Shropshire and the massive neo-Gothic pile of Rolleston Hall... Mosley adored his mother and his paternal grandfather, who in turn worshipped him. To his mother, a pious, fiercely loyal woman, he was a substitute for an absent husband."
At the age of nine he was sent away to West Down, a small preparatory school. Four years later he entered Winchester College. An excellent sportsman he was trained to box and fence by two ex-army NCOs. At fifteen he won the public schools' fencing championship in both foil and sabre. He was less successful with his academic work but one of his teachers recalled that he had a "wonderful imagination and could write a first-class essay".
Oswald Mosley and the First World War
In January 1914 Oswald Mosley became an officer cadet at Sandhurst, which he entered as an officer cadet. He was a high-spirited student and one night after getting drunk he fought a fellow cadet that resulted in him breaking his right ankle. On the outbreak of the First World War he was commissioned in the 16th Lancers, a cavalry regiment. However, later that year he volunteered for the Royal Flying Corps, and by Christmas 1914 was flying as an observer over enemy lines.
Oswald Mosley gained his pilot's certificate, but showing off before his mother at Shoreham Airport in May 1915 he crashed his plane and broke his right ankle for a second time. He now returned to the Western Front as a soldier. The waterlogged trenches caused problems for his injured ankle and he was sent home for an operation, which saved his leg but left him with a permanent limp. In October 1916, it was decided that he was not fit enough for front-line duty and for the rest of the war did desk work.
Oswald Mosley in the House of Commons
Mosley became the youngest MP in the House of Commons after winning Harrow for the Conservative Party in the 1918 General Election. According to Jim Wilson: "Mosley had emerged from the war a dashing figure, much in demand by political hostesses, with a barely disguised contempt for what he regarded as middle-class morality; blandly describing his well-known pursuit of married women as flushing the covers." Stanley Baldwin, a fellow Tory MP, commented: "He's a cad and a wrong'un and they will find out."
In 1920 he married Cynthia Curzon, the daughter of Lord Curzon of Kedleston, the daughter of the former Viceroy of India. Mosley had numerous affairs, including relationships with his wife's younger sister Alexandra Metcalfe (1904-1995), and with their stepmother, Grace Curzon (1879-1958). Robert Skidelsky has pointed out: "Their wedding at the Chapel Royal, St James's Street, was attended by George V and Queen Mary. Their life together started on a high note of mutual passion which was not, however, sustained. Cimmie, as she was always known, was an idealistic, emotional, not very clever woman, who idolized her husband, and wanted to be adored and cherished in return. Mosley's love for her was genuine, and fervently expressed in letters full of baby talk, written in an illegible hand. But he was incapable of fidelity, resented her minding about his love affairs, and he abused her in public for what he saw as her simplicities."
Oswald Mosley joins the Labour Party
Oswald Mosley held Harrow as an independent in the general elections of 1922 and 1923, though with declining majorities. The second of the elections led to the formation of the first Labour government under Ramsay MacDonald. On 27th March 1924 Mosley applied to join the Labour Party. He fought Ladywood, in the general election of October 1924, being narrowly defeated by the incumbent, Neville Chamberlain. He was returned to parliament as MP for Smethwick, in a by-election in December 1926.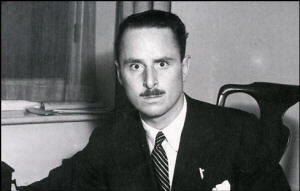 Oswald Mosley
In October 1927 Mosley was elected to the National Executive Committee of the Labour Party. He was now one of the leading figures in the party. David Low remarked that "Mosley was young, energetic, capable and an excellent speaker." Aneurin Bevan thought he was a potential leader of the party. Jennie Lee agreed that Mosley had ability but believed he was a deeply flawed individual: "Another bright light in this 1929 Parliament was Sir Oswald Mosley. He had a fatal flaw in his character, on overwhelming arrogance and an unshakable conviction that he was born to rule."
1929 General Election
When Ramsay MacDonald formed his Labour Government after the 1929 General Election, he appointed Mosley as Chancellor of the Duchy of Lancaster. In January 1930 Mosley proposed a programme that he believed would help deal with growing unemployment in Britain. Based on the ideas of John Maynard Keynes he suggested stimulating foreign trade, directing industrial policy, and using public funds to promote industrial expansion.
According to David Marquand: "It made three main assertions - that the machinery of government should be drastically overhauled, that unemployment could be radically reduced by a public-works programme on the lines advocated by Keynes and the Liberal Party, and that long-term economic reconstruction required a mobilisation of national resources on a larger scale than has yet been contemplated. The existing administrative structure, Mosley argued, was hopelessly inadequate. What was needed was a new department, under the direct control of the prime minister, consisting of an executive committee of ministers and a secretariat of civil servants, assisted by a permanent staff of economists and an advisory council of outside experts."
Ramsay MacDonald passed the Mosley Memorandum to a committee consisting of Philip Snowden, Tom Shaw, Arthur Greenwood and Margaret Bondfield. The committee reported back on 1st May. Mosley's administrative proposals, the committee claimed "cut at the root of the individual responsibilities of Ministers, the special responsibility of the Chancellor of the Exchequer in the sphere of finance, and the collective responsibility of the Cabinet to Parliament". The Snowden Report went onto argue that state action to reduce unemployment was highly dangerous. To go further than current government policy "would be to plunge the country into ruin".
MacDonald recorded in his diary what happened when Oswald Mosley heard the news about his proposals on 19th May: "Mosley came to see me... had to see me urgently: informed me he was to resign. I reasoned with him and got him to hold his decision over till we had further conversations. Went down to Cabinet Room late for meeting. Soon in difficulties. Mosley would get away from practical work into speculative experiments. Very bad impression. Thomas light, inconsistent but pushful and resourceful; others overwhelmed and Mosley on the verge of being offensively vain in himself."
Economic Crisis
At a meeting of Labour MPs took place on 21st May where Oswald Mosley outlined his proposals. This included the provision of old-age pensions at sixty, the raising of the school-leaving age and an expansion in the road programme. Arthur Henderson appealed to Mosley to withdraw his motion so that his proposals could be discussed in detail at later meetings. Mosley insisted on putting his motion to the vote and was beaten by 210 to 29.
In a debate in the House of Commons on 28th May 1930, MacDonald argued that the rise in unemployment was caused by factors outside the government's control. The public disagreed and the Labour Party suffered several by-election defeats. MacDonald wrote in his diary that the "party is showing signs of panic". He added that "Mosley is hard at work capturing the party".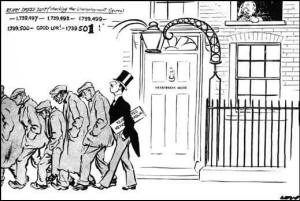 David Low commented on Mosley resigning in May, 1930
Jennie Lee pointed out: "He (Mosley) had a fatal flaw in his character, on overwhelming arrogance and an unshakable conviction that he was born to rule, drove him on to the criminal folly of donning a black shirt and surrounding himself with a band of bullyboys, and so becoming a pathetic imitation Hitler, doomed to political impotence for the rest of his life."
Oswald Mosley and the British Union of Fascists
In 1931 Mosley founded the New Party. Supporters included John Strachey, Cyril Joad, William Joyce, Mary Richardson, John Becket and Harold Nicholson, but in the 1931 General Election none of the New Party's candidates were elected. In January 1932 Mosley met Benito Mussolini in Italy. Mosley was impressed by Mussolini's achievements and when he returned to England he disbanded the New Party and replaced it with the British Union of Fascists.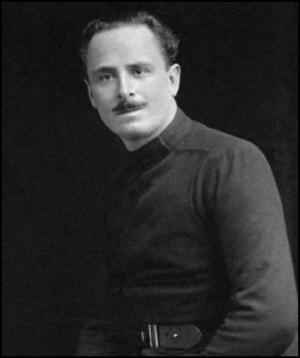 Oswald Mosley in 1932
The British Union of Fascists was strongly anti-communist and argued for a programme of economic revival based on government spending and protectionism. Mary Richardson later commented: "I was first attracted to the Blackshirts because I saw in them the courage, the action, the loyalty, the gift of service, and the ability to serve which I had known in the suffrage movement".
Success in Worthing
Charles Bentinck Budd was elected to the Worthing Town Council as a member of the BUF in October 1933. The national press reported that Worthing was the first town in the country to elect a Fascist councillor. Worthing was now described as the "Munich of the South". Oswald Mosley announced that Budd was the BUF Administration Officer for Sussex . On Friday 1st December 1933, the BUF held its first public meeting in Worthing in the Old Town Hall. According to the author of Storm Tide: Worthing 1933-1939 (2008): "It was crowded to capacity, with the several rows of seats normally reserved for municipal dignitaries and magistrates now occupied by forbidding, youthful men arrived in black Fascist uniforms, in company with several equally young women dressed in black blouses and grey skirts."
On 4th January, 1934, Budd reported that over 150 people in Worthing had joined the British Union of Fascists. He claimed that the greatest intake had come from increasingly disaffected Conservatives. The Weekly Fascist News described the growth in membership as "phenomenal". Budd also announced that local communists had broken into his offices at 27 Marine Parade and stolen 96 BUF badges, together with cigarettes and £2.2s.8d in cash. However, soon afterwards the police arrested Cyril Mitchell of 16 Leigh Road, Broadwater. Mitchell, who admitted the offence, was in fact a young Blackshirt, who had broken into the offices after a night out in the pub. He told the police, "something came over me… I had too much beer".
The mayor of Worthing, Harry Duffield, the leader of the Conservative Party in the town, was most favourably impressed with the Blackshirts and congratulated them on the disciplined way they had marched through the streets of Worthing. He reported that employers in the town had written to him giving their support for the British Union of Fascists. They had "no objection to their employees wearing the black shirt even at work; and such public spirited action on their part was much appreciated."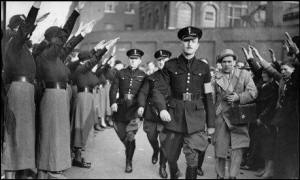 Oswald Mosley and the Blackshirts.
On 26th January, 1934, William Joyce, the deputy leader of the BUF, addressed a public meeting at the Pier Pavilion. Over 900 people turned up to hear Joyce speak. In his speech he pledged to free British industry from foreigners, "be they Hebrew or any other form of alien." Joyce ended his two-hour speech with: "Reclaim what is your own in the fullness of Fascist victory!"
It was announced that Charles Bentinck Budd had arranged for Oswald Mosley and William Joyce to address a meeting at the Pavilion on 9th October, 1934. The venue was packed with fascist supporters. The meeting was disrupted when a few hecklers were ejected by hefty East End bouncers. Mosley, however, continued his speech undaunted, telling his audience that Britain's enemies would have to be deported: "We were assaulted by the vilest mob you ever saw in the streets of London - little East End Jews, straight from Poland. Are you really going to blame us for throwing them out?"
At the close of the proceedings the main body of uniformed Fascists, led by Joyce, emerged from the Pavilion on to the Esplanade. It was estimated that there were 2,000 people waiting outside. The crowd surged forward and several fights began. A ninety-six-year-old woman, Doreen Hodgkins, was struck on the head by a Blackshirt before being escorted away. When the Blackshirts retreated inside, the crowd began to chant: "Poor old Mosley's got the wind up!"
The author of Storm Tide: Worthing 1933-1939 (2008) has pointed out: "By this time all nineteen available members of the Borough's police force had been called out, and through their combined efforts a lane through the crowd was forced open from the Pavilion steps across the Esplanade to Marine Parade. But as Joyce and his re-formed black-shirted cohort passed along it they were constantly barracked and jostled; while the sudden appearance of Sir Oswald himself, together with the bodyguards of his Defence Force, led to a further outbreak of scuffles on the Esplanade as large numbers of spectators eagerly closed in upon him. One Blackshirt was knocked to the ground and there were shouts for Sir Oswald to be thrown into the sea... Despite such imprecations, however, the mood of the majority remained largely good-natured: most people, prompted by curiosity and awe, simply wanting to get a closer, more proper, look at such a famous yet notorious figure. But Sir Oswald, clearly out of countenance and feeling menaced, at once ordered his tough, battle-hardened bodyguards - all of imposing physique and, like their leader, towering over the policemen on duty - to close ranks and adopt their fighting stance which, unsurprisingly, as all were trained boxers, had been modelled on, and closely resembled, that of a prize fighter."
Chris Hare, the author of Historic Worthing (2008) has argued: "Mosley, accompanied by William Joyce, left the Pavilion and, protected by a large body of blackshirts, crossed over the road to Barnes's cafe in the Arcade. Stones and rotten vegetables were soon crashing through the windows of the cafe. Boys were observed firing peashooters at the beleaguered Fascists, while some youths were taking aim with air rifles. Meanwhile a group of young men climbed onto the roof of the Arcade and dislodged a large piece of masonry, which plummeted to earth through the arcade, landing only feet away from the Fascist leader. Things were getting too hot for the Fascists, who made a run for it, up the Arcade into Montague Street, then into South Street. Their intention was presumably to reach either their headquarters in Ann Street, or The Fountain in South Street, known as a 'Fascist pub', but they were ambushed on the corner of Warwick Street by local youths. Hearing the row, more Fascists hurried down from the Fountain to go to Mosley's aid. Fights broke out, bodies were slung against shop windows, and startled residents threw open their windows to see a seething mass of entangled bodies desperately struggling for control of the junction between South Street and Warwick Street."
Superintendent Bristow later claimed that a crowd of about 400 people attempted to stop the Blackshirts from getting to their headquarters. A series of fights took place and several people were injured. Francis Skilton, a solicitor's clerk who had left his home at 30 Normandy Road to post a letter at the Central Post Office in Chapel Road, and got caught up in the fighting. A witness, John Birts, later told the police that Skilton had been "savagely attacked by at least three Blackshirts." It was not until 11.00 p.m. that the police managed to clear the area.
Anti-Semitism
By 1934 Mosley was expressing strong anti-Semitic views and provocative marches through Jewish districts in London led to riots. The passing of the 1936 Public Order Act that made the wearing of political uniforms and private armies illegal, using threatening and abusive words a criminal offence, and gave the Home Secretary the powers to ban marches, completely undermined the activities of the BUF.
Mosley attracted members from other right-wing groups such as the British Fascisti, National Fascists and the Imperial Fascist League. By 1934 the BUF was able to establish its own drinking clubs and football teams. The BUF also gained the support of Lord Rothermere and the Daily Mail. Rothermere wrote an article, Hurrah for the Blackshirts, on 22nd January, 1934, in which he praised Mosley for his "sound, commonsense, Conservative doctrine". Rothermere added: "Timid alarmists all this week have been whimpering that the rapid growth in numbers of the British Blackshirts is preparing the way for a system of rulership by means of steel whips and concentration camps. Very few of these panic-mongers have any personal knowledge of the countries that are already under Blackshirt government. The notion that a permanent reign of terror exists there has been evolved entirely from their own morbid imaginations, fed by sensational propaganda from opponents of the party now in power. As a purely British organization, the Blackshirts will respect those principles of tolerance which are traditional in British politics. They have no prejudice either of class or race. Their recruits are drawn from all social grades and every political party. Young men may join the British Union of Fascists by writing to the Headquarters, King's Road, Chelsea, London, S.W."
According to a MI5 report in 1934 the BUF had between 35,000 and 40,000 active members. It also said that senior service officers and prominent businessmen had joined the party. The Conservative Party became concerned about losing members to the BUF. One of their MPs, Colonel Thomas Moore, wrote in the Daily Mail on 25th April 1934: "Surely there cannot be any fundamental difference of outlook between the Blackshirts and their parents, the Conservatives?"
Lord Rothermere and Oswald Mosley
The London Evening News, another newspaper owned by Lord Rothermere, found a more popular and subtle way of supporting the Blackshirts. It obtained 500 seats for a BUF rally at the Royal Albert Hall and offered them as prizes to readers who sent in the most convincing reasons why they liked the Blackshirts. Another title owned by Rothermere, The Sunday Dispatch, even sponsored a Blackshirt beauty competition to find the most attractive BUF supporter. Not enough attractive women entered and the contest was declared void.
David Low heard Mosley speak at a meeting in London: "Mosley spoke effectively at great length. Delivery excellent, matter reckless. Interruptions began, but no dissenting voice got beyond half a dozen sentences before three or four bullies almost literally jumped on him, bashed him and lugged him out. Two such incidents happened near me. An honest looking blue-eyed student type rose and shouted indignantly Hitler means war! whereupon he was given the complete treatment."
Mosley appointed William Joyce as the party full-time Propaganda Director. Joyce, along with Mosley and Mick Clarke, were the organisations three main public speakers. On 7th June, 1934, the British Union of Fascists held a large rally at Olympia. About 500 anti-fascists including Vera Brittain, Richard Sheppard and Aldous Huxley, managed to get inside the hall. When they began heckling Oswald Mosley they were attacked by 1,000 black-shirted stewards. Several of the protesters were badly beaten by the fascists.
Margaret Storm Jameson pointed out in The Daily Telegraph: "A young woman carried past me by five Blackshirts, her clothes half torn off and her mouth and nose closed by the large hand of one; her head was forced back by the pressure and she must have been in considerable pain. I mention her especially since I have seen a reference to the delicacy with which women interrupters were left to women Blackshirts. This is merely untrue... Why train decent young men to indulge in such peculiarly nasty brutality?"
The Daily Mail continued to give its support to the fascists. George Ward Price wrote about anti-fascist demonstrators at a meeting of the National Union of Fascists on 8th June, 1934: "If the Blackshirts movement had any need of justification, the Red Hooligans who savagely and systematically tried to wreck Sir Oswald Mosley's huge and magnificently successful meeting at Olympia last night would have supplied it. They got what they deserved. Olympia has been the scene of many assemblies and many great fights, but never had it offered the spectacle of so many fights mixed up with a meeting."
Collin Brooks, was a journalist who worked for Lord Rothermere at the The Sunday Dispatch. He also attended the the rally at Olympia. Brooks wrote in his diary: "He mounted to the high platform and gave the salute - a figure so high and so remote in that huge place that he looked like a doll from Marks and Spencer's penny bazaar. He then began - and alas the speakers hadn't properly tuned in and every word was mangled. Not that it mattered - for then began the Roman circus. The first interrupter raised his voice to shout some interjection.The mob of storm troopers hurled itself at him. He was battered and biffed and hashed and dragged out - while the tentative sympathisers all about him, many of whom were rolled down and trodden on, grew sick and began to think of escape. From that moment it was a shambles. Free fights all over the show. The Fascist technique is really the most brutal thing I have ever seen, which is saving something. There is no pause to hear what the interrupter is saying: there is no tap on the shoulder and a request to leave quietly: there is only the mass assault. Once a man's arms are pinioned his face is common property to all adjacent punchers." Brooks also commented that one of his "party had gone there very sympathetic to the fascists and very anti-Red". As they left the meeting he said "My God, if ifs to be a choice between the Reds and these toughs, I'm all for the Reds".
MI5 also reported to the Home Office that the rally would have a negative impact on the future of the National Union of Fascists: "It is becoming increasingly clear that at Olympia Mosley suffered a check which is likely to prove decisive. He suffered it, not at the hands of the Communists who staged the provocations and now claim the victory; but at the hands of Conservative MPs, the Conservative press and all those organs of public opinion which made him abandon the policy of using his Defence Force to overwhelm interrupters."
In July, 1934 Lord Rothermere suddenly withdrew his support for Oswald Mosley. The historian, James Pool, the author of Who Financed Hitler: The Secret Funding of Hitler's Rise to Power (1979), argues: "The rumor on Fleet Street was that the Daily Mail's Jewish advertisers had threatened to place their adds in a different paper if Rothermere continued the profascist campaign." Pool points out that sometime after this, Rothermere met with Hitler at the Berghof and told how the "Jews cut off his complete revenue from advertising" and compelled him to "toe the line." Hitler later recalled Rothermere telling him that it was "quite impossible at short notice to take any effective countermeasures."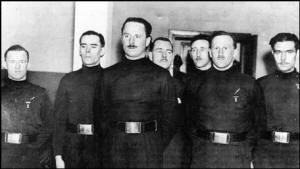 Oswald Mosley with members of the British Union of Fascists
Oswald Mosley began an affair with Diana Mitford, the daughter of the 2nd Baron Redesdale, one of Mosley's wealthy supporters. Diana left her husband but Mosley refused to desert his wife. It was not until Cynthia Curzon died of peritonitis, that Mosley agreed to marry Diana. In October 1936, Diana and Mosley were secretly married in the house of Nazi propaganda minister Joseph Goebbels. Adolf Hitler was one of only six guests at the ceremony. While in Nazi Germany Diana talked to Hitler about the possibility of establishing a pro-Nazi radio station in Britain.
Second World War
The outbreak of the Second World War further reduced support for the British Union of Fascists. On 18th December 1939, the police raided the flat of Norah Elam where they found documents suggesting that she had been taking part in secret meetings of right-wing groups. A letter from Oswald Mosley stated that "Mrs Elam had his full confidence, and was entitled to do what she thought fit in the interests of the movement on her own responsibility." On 23rd January 1940, Norah was arrested and interrogated him in order to establish whether her handling of BUF funds had been illegal or improper.
A MI5 report suggested that it was suspicious that Norah Elam had been placed in charge of BUF funds. Mosley told Special Branch detectives: "As regards the money paid to Mrs Elam we have nothing to be ashamed of and nothing to conceal. When war became imminent we had to be prepared for any eventually. There might have been an air raid, our headquarters might have been smashed by a mob, I myself was expecting to be assassinated. I may tell you quite frankly that I took certain precautions. It was necessary then for us to disperse the funds in case anything should happen to headquarters or the leaders. Mrs. Elam therefore took charge of part of our funds for a short period before and after the declaration of war. There was nothing illegal or improper about this."
Oswald Mosley Imprisoned
On 22nd May 1940 the British government announced the imposition of Defence Regulation 18B. This legislation gave the Home Secretary the right to imprison without trial anybody he believed likely to "endanger the safety of the realm". The following day, Mosley was arrested. Over the next few days other prominent figures in the BUF were imprisoned. On the 30th May the BUF was dissolved and its publications were banned.
Mosley and his wife received privileged treatment while in prison. Winston Churchill granted permission for the couple to live in a small house inside Holloway Prison. They were given a small garden where they could sunbathe and grow their own vegetables. They were even allowed to employ fellow prisoners as servants.
In November 1943, Herbert Morrison controversially decided to order the Mosleys to be released from prison. There were large-scale protests and even Diana's sister, Jessica Mitford, described the decision as "a slap in the face of anti-fascists in every country and a direct betrayal of those who have died for the cause of anti-fascism."
Post-War Oswald Mosley
After the war Mosley and Diana Mosley established Euphorion Books in an attempt to publish the work of right-wing authors. In 1947 Mosley formed the Union Movement which advocated British integration in Europe and an end to commonwealth immigration. The couple left England in 1949 and after a period in Ireland settled in France where they lived close to their friends, the Duke of Windsor and Wallis Simpson.
Mosley was unsuccessful in his two attempts to enter the House of Commons for Kensington North (1959) and Shoreditch & Finsbury (1966). As Robert Skidelsky has pointed out: "After the war Mosley started a Union Movement dedicated to creating a united Europe. But the idea had little resonance, coming from that tainted source. In the 1950s he attacked coloured immigration into Britain. He stood as Union Movement candidate for North Kensington in the general election of 1959, losing his deposit; a second intervention at Shoreditch and Finsbury in 1966 fared even worse... In his last years he suffered from Parkinson's disease."
Oswald Mosley died on 3rd December 1980.