Green Illusions: The Dirty Secrets of Clean Energy and the Future of Environmentalism
by Ozzie Zehner
University of Nebraska Press, 2012
© 2012 by Ozzie Zehner
NOTICE: THIS WORK MAY BE PROTECTED BY COPYRIGHT
YOU ARE REQUIRED TO READ

THE COPYRIGHT NOTICE AT THIS LINK

BEFORE YOU READ THE FOLLOWING WORK, THAT IS AVAILABLE SOLELY FOR PRIVATE STUDY, SCHOLARSHIP OR RESEARCH PURSUANT TO 17 U.S.C. SECTION 107 AND 108. IN THE EVENT THAT THE LIBRARY DETERMINES THAT UNLAWFUL COPYING OF THIS WORK HAS OCCURRED, THE LIBRARY HAS THE RIGHT TO BLOCK THE I.P. ADDRESS AT WHICH THE UNLAWFUL COPYING APPEARED TO HAVE OCCURRED. THANK YOU FOR RESPECTING THE RIGHTS OF COPYRIGHT OWNERS.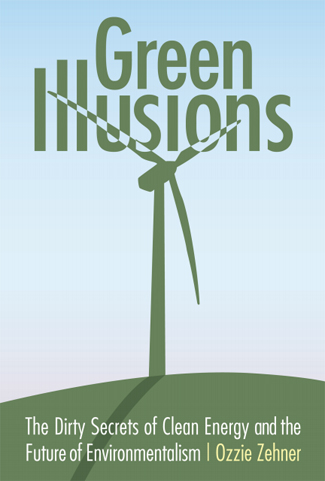 "In this terrific book, Ozzie Zehner explains why most current approaches to the world's gathering climate and energy crises are not only misguided but actually counterproductive. We fool ourselves in innumerable ways, and Zehner is especially good at untangling sloppy thinking. Yet Green Illusions is not a litany of despair. It's full of hope—which is different from false hope, and which requires readers with open, skeptical minds."

— David Owen, author of Green Metropolis

"Think the answer to global warming lies in solar panels, wind turbines, and biofuels? Think again. . . . In this thought-provoking and deeply researched critique of popular 'green' solutions, Zehner makes a convincing case that such alternatives won't solve our energy problems; in fact, they could make matters even worse."

—Susan Freinkel, author of Plastic: A Toxic Love Story

"There is no obvious competing or comparable book. . . . Green Illusions has the same potential to sound a wake-up call in the energy arena as was observed with Silent Spring in the environment, and Fast Food Nation in the food system."

—Charles Francis, former director of the Center for Sustainable Agriculture Systems at the University of Nebraska

"This is one of those books that you read with a yellow marker and end up highlighting most of it."

—David Ochsner, University of Texas at Austin
Contents:
• List of Illustrations
o 1. Solar system challenges
o 2. An imposing scale
o 3. Road infiltrates a rainforest
o 4. Mississippi River dead zone
o 5. Entering Hanford
o 6. A four-story-high radioactive soufflé
o 7. In the wake of Chernobyl
o 8. Flaring tap
o 9. Reclaiming
o 10. Prioritizing bicycle traffic
• List of Figures
o 1. California solar system costs
o 2. Solar module costs do not follow Moore's law
o 3. Fussy wind
o 4. Five days of sun
o 5. U.S. capacity factors by source
o 6. Secret U.S. government document ornl–341
o 7. Clean coal's lackluster potential
o 8. Media activity during oil shock
o 9. Incongruent power plays
o 10. Congruent power plays
o 11. Global world population
o 12. Differences in teen pregnancy and abortion
o 13. Similarity in first sexual experience
o 14. American food marketing to children
o 15. GDP versus well-being
o 16. Trips by walking and bicycling
o 17. Walking and bicycling among seniors
o 18. U.S. energy flows
o 19. Passive solar strategies
o Table: The present and future of environmentalism
• Acknowledgments
• Introduction: Unraveling the Spectacle
• Part I: Seductive Futures
1. Solar Cells and Other Fairy Tales
2. Wind Power's Flurry of Limitations
3. Biofuels and the Politics of Big Corn
4. The Nuclear-Military-Industrial Risk Complex
5. The Hydrogen Zombie
6. Conjuring Clean Coal
7. Hydropower, Hybrids, and Other Hydras
• Part II: From Here to There
1. The Alternative-Energy Fetish
2. The First Step
o Part III: The Future of Environmentalism
1. Women's Rights
2. Improving Consumption
3. The Architecture of Community
4. Efficiency Culture
5. Asking Questions
• Epilogue: A Grander Narrative?
• Resources for Future Environmentalists
• Notes
• Index
[I]ndividual sacrifices don't hold tremendous potential in the larger scheme of things since corporations, the government, and the military leave the largest energy footprints.

-- Green Illusions: The Dirty Secrets of Clean Energy and the Future of Environmentalism, by Ozzie Zehner