PART 1 OF 2
Why Do We Watch Television Violence?: Argentine Field Research

TATIANA MERLO-FLORES
Violence in television programs and its repercussion on children have been the subject of extensive research.
Opinions in the debate range from those who consider that the screen is a mirror of social reality to those who believe the effects of violence to be devastating, particularly for children and adolescents. The former tend to justify it, while the latter would like to do away with it.
Social reality deserves a complex analysis; when humans are at stake one cannot jump to conclusions. This paralyzing complexity often results in a third position where everything is seen as relative and where the relation that both children and adolescents establish with television is thought to depend on their family and social environment, on their personal characteristics, etc., something which has come to be known as 'mediating variables'.
Though true, this should not prevent us from finding the unifying variables and the relations that enable us to understand and explain in order to transform.
When faced with the problem of children's relations to TV, these three approaches can hardly provide feasible answers for those responsible for children or for media production; we seem to be at a dead end.
For over twenty years, I have carried out field research, by combining systematically quantitative and qualitative methodologies while working with psychological techniques so as to approach the problem also from the unconscious level. Here I will briefly present some of the angles of analysis and the findings of various works, where scales, rates and similar variables were used to enable comparisons throughout time and different samples.
The findings show the need to focus on the TV problem from two different overlapping and simultaneous levels:
• A general more inclusive level, leaving practically nobody out, related to the conversation contents, the subjects that television introduces in public debate, in society and in our everyday life.
• A second level in which program contents act as compensatory mechanisms arising when there is some type of deficiency -- either individual or social.
At the first level, both children and adolescents draw elements from the language, fashion style, social or relational issues to communicate, thus conforming to a television subculture. Television here has a socially leveling function by providing children with a common language enabling them to share a common experience: television.
A work carried out on a sample of 2,000 children from urban areas (Merlo-Flores, 1980) showed that all children watch television, even those that do not own a set, since they go over to their friends' homes. The most curious finding was that they report to each other whatever they have not been able to watch. Television programming has become the unavoidable subject of conversation. Those unable to follow it are left out as if living in a foreign country. It is interesting to observe how children manage to avoid this.
It is easy to watch how children play, talk, get angry or show affection for each other, through elements drawn from television. One of those elements, perhaps the most repetitive, is that of aggression. Whether good or bad, heroes or bandits, cartoon, science fiction or real characters, they all show that violence is the quickest, most efficient, clean and consequence-free way to solve problems and to attain objectives. It has been repeated ad nauseam that children imitate what they see on TV. When carrying out experimental studies researchers sit with a number of children to watch films containing violence, and with others to watch similar films without aggressive content, in order to observe their immediate behaviors. They are looking for the obvious: imitation.
Television with its load of institutionalized violence, gives children and youngsters "permission" to use it. A message is conveyed together with the way of decoding it, violence is a "legitimate" means. Aggression has grown into a new communication code, particularly for the youngest. But does this mean that children become aggressive? Not necessarily so.
This getting used to violence brings about a greater aggression in the usual way of communicating, but does not modify the structure of children's personality, making them violent. Those children who already are aggressive by temperament or due to family, social or individual problems, select and integrate violent elements from television, while children with what may be deemed a "normal" load of aggression may watch the same program and choose the same character for identification, yet, unlike their more aggressive peers, do not select or integrate violent elements.
Here the second level related to the compensation for deficiencies and needs comes into play. Both social groups and people project their problems, their needs or wants into what they select and integrate from TV. There is enough evidence to affirm that this material also can be used as a projective social and individual test, since it contributes not only to the knowledge of the specific deficiency but also to the knowledge of the specific compensatory mechanism used.
Following the more or less permanent traces left by this process is of fundamental importance, for evident research findings state that children's relationships to media violence depend on the load of aggression with which they approach the screen. Obviously long and short term consequences will differ.
Here working with the relation between children and television becomes essential, taking into account particularly the simultaneous and overlapping levels of analysis.
My hypothesis is that although children with an aggressive personality structure, while watching TV initially reach a catharsis, [1] in the long run this adds potential to their violent traits by reinforcing them. Moreover, they will have learned multiple alternative ways of manifesting aggression and of justifying it as a legitimate means to reach their objectives.
On the other hand, children who do not present an aggressive personality structure learn to communicate via violent codes (ways of speaking, "playing," etc.), consistent with the level of imitation; these children not only do not modify their personality structure but in the long run this familiarity with aggression as a code of communication makes them afraid. These are the adults that visualize the world as hostile.
About fifteen years ago, I started a research work as an attempt to confirm the well known hypothesis that violence increases aggressive behavior in children: Television as Compensatory for Needs (Merlo-Flores, Usandivaras and Rey, 1983). Knowing children's personality traits, particularly in terms of the degree of aggression, seemed to me of fundamental importance. Therefore I worked with Dr. Raul Usandivaras, an Internationally well known psychiatrist, who carried out various studies regarding projective tests as diagnosis tools. The qualitative methodology applied was designed so as to take into account children's environment and the bonds established therein. In 1994, I repeated the work keeping the methodology, the school and the age group constant (Merlo-Flores, 1995).
Important research findings
The most important findings from this research work are:
• Identification with television models only takes place in the presence of family conflicts.
• The television content selected and integrated is only used as a compensatory mechanism by children or youngsters suffering from some kind of want.
• This compensation does not necessarily take place through programs most often seen or commented on by children but through their favorite characters.
• The child unconsciously selects and integrates those specific elements precisely consistent with his problems. All children presenting difficulties in their family ties identify themselves with leading TV characters.
• Though the same character or person may be selected by a great number of children, each one of them will only select or integrate that trait which makes up for his specific need.
• Children with similar problems will draw from different characters similar compensatory elements.
• A careful analysis of what and how they select and integrate contents will enable us to deal with this material as a projective test; thus we can unveil not only the need but also the actual compensatory mechanism used, an aspect which standard psychological tests fail to show.
• These findings are valid both at personal and social levels. The needs and wants of significant groups in our society are projected into the selected and integrated television material. Here we may speak of a projective social test.
• In both cases television plays a similar role to that of dreams.
• Violence presented by television is used as a code of communication; this does not necessarily mean that inner personality structures will be modified.
• Violence is selected and integrated specifically through the target characters of a projective identification.
• Violence on television is only selected and integrated by children showing aggressive traits as seen in the analysis of the projective tests.
• Even when identified with an aggressive character, children with a "normal" degree of aggression for their age neither select or integrate their aggressive traits.
• Violence drawn from television, whenever manifest aggression is seen in a child, acts as a means of attaining a catharsis. [1]
These findings are only a close synthesis of what, in the fashion of a hypothesis, is to be demonstrated in this chapter.
Case study
The purpose of the following work is to delve into the deeper unconscious aspects that lead us to prefer certain television characters and programs; to analyze the material selected, the reasons for its selection and the use made of the material; and, finally, to establish the relation between one's own aggression and violence as featured in television characters and programs.
Methodological aspects
Approximately ten hours work was spent on each child. The techniques used for gathering information were:
1) A battery of psychological tests:
a) drawing a person's body
b) drawing a person of the other sex
c) drawing an animal
d) writing a story with the chosen animal
e) drawing a family in action
f) three free subject drawings in color
g) writing a story using one or all free drawings
The basic aim was to determine aggression, identification and family ties.
2) A questionnaire on the use of television.
The questionnaire was designed as an open interview on a number of subjects in a guide. It included the following questions:
1. What programs do you like best?
2. What do you like about these programs?
3. Which is your favorite character?
4. What do you like about him?
5. Would you like to be like him?
6. In what way?
7. What for?
8. Would you like to be like him when you grow up?
9. In what way?
10. What program do you like the least?
11. Why?
12. What character do you like the least?
13. Why?
14. Do you discuss TV programs with your friends?
15. Which programs?
16. What do you talk about?
17. Do you play things you see on TV?
18. What do you play?
19. With whom?
20. Where?
21. What other games do you like to play?
22. What sports do you play?
23. How often?
24. Where?
25. With whom?
26. If a child comes up to you and calls you names, what do you do?
27. If you were a grown up and a thief broke into your home, what would you do?
28: How many hours a day do you watch TV?
3) Children's life history as told by parents.
The usual model for interviews was used to draw up the guide, adding a few supplementary questions regarding parents knowledge of their children's TV habits.
Procedures of analysis
Once the information was gathered, the results of the projective tests were handed to a psychiatrist (Dr. Usandivaras) for interpretation. He was asked to pinpoint the topics he considered highly relevant for the study:
• aggression
• identification with one's own sex
• role identification
• family ties
Questionnaires and life histories were studied by analyzing the same items simultaneously. With regard to children's preferences special attention was given to the outstanding ones checking for coincidences, or the lack of them, with family and personality traits. Before knowing the results of the psychological study, an individual analysis was carried out for each case.
Therefore, initially, the analysis of the material gathered took place separately: the tests on the one hand, and the questionnaires and stories, on the other, only to match the results at a second stage.
Schematic analysis of relations between variables
Four variables of manifest behavior associated with television were selected:
• conversation
• selection of aggressive elements from the screen: mention of deaths, shootings, fist blows, etc.
• games
• character identification
Three family and personality variables were derived from the psychological study:
• family ties
• identification
• aggression
The variables Conversation, Games and Identification stand in the analysis of the material gathered as more clearly manifesting the degree of apprehension and internalization of television patterns by children (variable justification).
The psychological study was based on the variables known as Family Ties, Identification and Aggression; the choice was part of an effort to detect their implication concerning greater or lesser receptivity to television violence as manifest in behavior.
Conversation deals with the use children make of television content as a subject of conversation with their peers. It could be discussed either within or outside school. In the first case it is considered a superficial manifestation possibly conditioned by the environment. The second case implies a personal choice to discuss television subjects. This first variable itself is consistent with the level of apprehension.
Games refer to the use made by children of television contents in their games. The importance of this variable with regard to the world of children can never be overemphasized. It is also interesting to see here whether these games take place exclusively within the school environment. Although also related to the apprehension level, this variable is manifest to a greater degree as the child here not only airs the subject but also incorporates it into his activity.
Identification with the character is said to exist whenever the child expresses his/ her wish to be, either at present or in the future, like the chosen television character. Here we are at the internalization level, for the identification responds to the individual's innermost personality traits. Let us not forget that personality itself is gradually formed through a series of identifications.
The personal and family variables were selected in order to determine a) the presence or absence of problems in family ties as probable cause of a greater assimilation of television violence; b) whether aggression as a personality trait was affected by the internalization of violent patterns drawn from television; and c) if an adequate identification with their own sex served as a cause concomitant in the integration of such patterns.
Although these variables, being specifically psychological, are dealt with as such by specialists carrying out the analysis, when describing the way they were gathered and processed our definitions will be operational.
Aggression means as manifest in tests on aggressive attitudes (in as far as it deviates, one way or the other, from the adequate discharge usually corresponding to the age).
Identification refers to the adequate or inadequate identification with sex and roles. Sexual identification refers to the degree of adjustment between the biological sex and the perception of belonging to the same sex. Identity is constructed by means of different integrated models and is defined by relationships. Understanding this basic trait can possibly be related to the assimilation of violent behavioral patterns.
Family ties was assigned great importance since previous works have indicated a relation between parental image, communication, etc., and certain preferences in children's choices of television programs. A deeper analysis of the reasons for possible conflicts is not as relevant for the study as the particular way in which the child perceives the relationship with the family group. It is common knowledge that what often appears as a conflict situation, feelings of abandonment or fantasies of being slighted by the family group can be modified by adequate treatment or simply outgrow. This makes the findings valid only for the moment the test is carried out, so precautions were taken to have both the interview conducted and the test taken on the same day.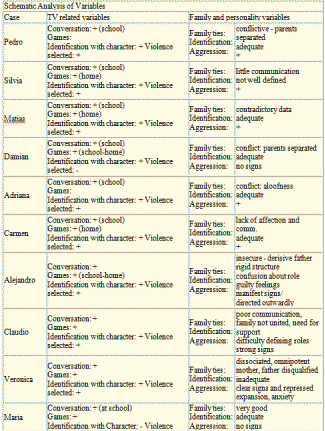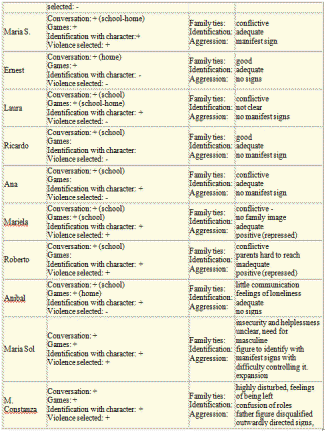 This schematic study shows:
• All children discuss television based subjects: this is what is known as using television as a common frame of reference. Thus, TV acts as a socially leveling factor, enabling children's access and use of a single code of communication.
• Children's identification with a television character was always present whenever problems in the family ties were found. 85% of the children sampled had some type of family conflict.
• In all cases with good family ties identification by the child with the television character was not found.
• Although 66% of children's games include elements or issues drawn from the television programs, no element link with personality variables was found. Even so it may be considered as part of the shared frame of reference.
• Sexual and role identification is adequate in most of the children (58%). The 42% showing inadequate sexual and role identification show difficulties in their family ties and an "identification with television characters".
• In the tests, 66% of children show signs of aggression, this trait being again associated with family conflicts. All members of this group show an identification with television characters. However, not all children who identify themselves with a character have aggressive traits.
• Preference arises as the variable determining the use made by children of the television programs. Practically all children watch programs because other children do, yet, identification is only found in those who prefer the program.
• Children presenting signs of aggression select the violent traits from their favorite characters and programs.
• Fifteen years later similarities and differences among the various variables studied became evident. Results regarding the degree of aggression and the selection of violent screen elements remain 100% constant in both studies. When the first work was carried out, the proportion of children with a good sexual and role identification stood at 80%. In the 1994 research work this had changed dramatically -- only 20% children showed a good identification. Although generalizations based on qualitative work are not possible, I still want to point out the fact that in many family drawings the mother received preferential place and size, often aggressive ones, while the father figure appeared as much smaller.
Television as a means of compensating for personal wants -- some comparative examples
We will now compare similar cases in order to specify and clarify the relation between them.
Ricardo and Matias
Two children with very different personality traits, Ricardo and Matias, prefer the same characters with supernatural powers. In the tests Ricardo showed a correct sexual identification and no signs of aggression; his family ties are good; according to his mother he is afraid of being alone. He watches [TV] an average 6 hours a day, but never with his mother.
Matias, on the other hand, shows evident signs of aggression in all his drawings and presents a correct identification; yet, through the life history as told by the mother, the female figure appears as dominant in the family. The child is with his mother "at all times" except during school hours; she watches "every" television program with him. According to Matias he watches TV between 6-1/2 to 8 hours a day, is afraid of darkness and of being alone. Both children have professional parents.
Let us turn to what each of these children states about his favorite character: Matias chooses an imaginary character with powers; he likes the violence about him, "I would like to be like him when I grow up". He discusses his favorite programs with friends and, at home, usually makes believe that he is one of theses characters ("I like him and the way he lies"), imitating everything they do, "particularly the strength". This child not only identifies himself with the character but he plays this game at home where he is not conditioned to do so as he would, for example, be at school where friends may choose television subjects to play.
Ricardo chooses the same character "for the good he does", but admits he "wouldn't like to be like him at all". He discusses with friends what he watches on TV, they talk about "its production and the science fiction elements in it", in other words, about factors we may regard as incidental. He does not mention the character as an element in his conversation. As for playing TV subjects, he admits doing it: he mentions football, that is to say, he does choose a game specifically drawn from television, but a popular sport also broadcast on TV.
Although both children watch TV for many hours and have chosen the same character, there is an obvious difference between them: Ricardo neither identifies himself with any character trait in particular, nor draws from any of them for his games; namely, he uses the entertaining aspects and the subjects for his conversation. This means that we are at an apprehension level: the child draws from TV at a superficial level. At this level television acts as a means of social leveling conveying the patterns, theme, and language serving to conform a frame of reference where everyone shares a common experience.
In Matias, identification with the character can be clearly seen by the way it is integrated with his games and conversation; what Matias looks for in the character responds to some characteristics in his personality. He needs a powerful and fearful figure to identify with and thus possibly channel his great aggression, transferring his fear to others by becoming the frightening character. Here we face a selective and integrating process responding to deep personality traits that upset his normal development.
Pedro and Santiago
Let us now study two children with similar problems that have also picked the same character: Pedro and Santiago are the only children in the sample whose parents are separated. None has a clear idea of the situation in the family and from the life history told by their mothers they appear as introverted and afraid of being alone. Pedro is a child who shows his aggression and suffers almost total loss of sight in one eye. Santiago's drawings and stories, on the other hand, show no signs of aggression.
Both pick Joe, a character from the Bonanza series, as their favorite character and identify themselves with him. Santiago likes everything about him, he wants to be like him even as a grown up, "to ride on horseback alone around the country", but does not refer to any aggressive character trait. Pedro also wants to be like him, yet he repeatedly points out his wish to be a "good shot" and talks about guns, shooting and fighting with pleasure.
The aggressive child thus chooses a character for those aspects, while the other prefers other behavioral traits. Pedro's eyesight problem no doubt is the reason for the great importance he attaches to being a good shot. Once again we see here the possible need of a masculine model being compensated whereas the interesting projection of a physical problem like the loss of eyesight is also observed.
Adriana and Mariela
Adriana and Mariela both seek "joy" on television. In the tests both girls present a satisfactory identification with their sex but have feelings of abandonment and isolation. Mariela does not even draw other family members, which is very unusual in a test, although understandable when knowing her parents' attitude towards her. She is left alone most of the day and expected to perform most household chores which are usually a mother's task.
Both Mariela and Adriana's parents have high school education and work outside the home. The choice of joyful characters becomes these girls' defense against sadness and anger. Mariela picks the female entertainer of children's programs (Xuxa) as the character she wants to be like when she grows up, so that she can be "joyful". Adriana chooses another children's program entertainer; she wants to be like her now and in the future "to be happier", "because she is always cheerful". They also choose cartoons because they make them laugh.
Special interest was given these two cases and Dr. Usandivaras was consulted. He commented on how the search for joy as a means of denial and compensation, by turning repressed aggression into kindness, acts as a defense mechanism against depression caused by intense feelings of abandonment. We see here a similar conflictive situation and the same defense mechanism: the search for joy as denial and compensation of the repression. Yet the characters expressing it and being identified with are quite different. Once again television appears to be acting as a compensatory mechanism that may also be thought of as an oniric function, a sort of daydreaming used to attain psychological balance.
Maria and Silvia
Let us now compare Maria and Silvia who chose the same character: a police woman. In her tests Maria shows signs of aggressive discharge, an adequate identification and some difficulties in her family ties (fantasies of being left out). She spends most of the day with her three brothers. As for her parents, they report that Maria plays and talks with her mother (she keeps nothing from her) but does not watch television with her, while the father watches in the evening and occasionally at noon.
Silvia shows clear signs of aggression in her tests, particularly in the oversized manly female figure. As for the relationship with her family there are signs of little communication. Silvia, unlike Maria, has a younger sister she is friendly and protective towards, though dominant. Her parents say that Silvia tends to become irritable, still they do not know what causes it, and that she does not discuss her affairs. If ever she discusses anything it is about family issues and she does it with her mother. Although Silvia is all day with her, there is no mention of sharing any activities either with her or with the father who comes for dinner. There is only mention of her relationship with the sister she plays and fights with, and whom she favors as company.
Let us see now why each of these girls choose as her favorite character the police woman. Maria picks her because she is "strong and powerful". She likes her because "she is always the best, she hides, stands for other people and always wins". Maria admits talking about police women and playing this with brothers and sisters (a game in which the boys are being persecuted). She feels identified with them: "I would like to be like them, because if anyone should attack my parents I could defend them. I can also jump and climb quite high. When I grow up I want to be like them, to be strong."
Instead Silvia chooses the police woman because she "goes into action; I would like to be like her in everything when I grow up ... to save people ...". At home with her sister she plays that she is a police woman and has powers. Strangely she chooses a program she is "not allowed to see but I see it anyway for I go to bed very late".
Both girls choose the same character to compensate for similar wants. Maria seeks to stand out and differentiate herself in a family group she feels excluded from (being excluded generates aggression). Thus, the search for a successful female figure combines channeled aggression (being a police woman) with recognition. Silvia, on the other hand, by identifying herself with the police woman seeks to get into action as an overreaction to a family that does not seem aware of her position in it.
Ricardo and Ana
A particular case is that of the twins, Ricardo and Ana, children of professional parents. The father is a psychiatrist and the mother a social worker though not working. The family gets together on weekends, holidays and Wednesday evenings.
Ricardo shows no sign of aggression in his tests. His sex identification is adequate and there does not seem to be any problems in his relation with his family (roles are well defined). He shares most of the time with both mother and sister, whom he plays, talks, and also fights with. His only fear is loneliness. He shares a bedroom with his sister and never watches television with his parents.
Ana, on the contrary, is dominant and protective of Ricardo. According to their parents, she prefers to imitate actions of strong women with powers. She seems to fear nothing and is quite an extrovert, affectionate and cheerful. Usually talkative, particularly with her mother, she sometimes watches television with her father. Which are their television choices? Ricardo enjoys programs with "science fiction", as his parents also agree. His favorite character is Robocop because of all the things he can do, "though I wouldn't like to be like him at all". He discusses the making of films with his friends. He does not play this character or any other subject drawn from TV. Apparently television only provides him entertainment as the test data also confirm. As for Ana, she prefers Hunter's partner, a police woman, "because she likes it when she runs after someone". She wants to be like her both now and when she grows up; if she were like her she would run races and beat her. In this case we can appreciate how consistent with their personal characteristics and family ties the different use that the two children, of the same age and family, make of television. Ricardo seems well integrated in the family, showing no signs of aggression or lack of identity. Therefore television becomes a mere entertainment while, at the same, keeping its socializing function. Ana, instead, needs to discriminate herself from her twin brother and gain a position in her family. By identifying herself with a police woman she can, as a woman, gain recognition from her successful father and siblings, coming out as a winner before them.
This case is particularly interesting in that it presents two children within the same family environment, where the differentiation for television receptivity is given by emotional needs consistent with individual psychological processes.
Carmen and Veronica
We turn now to the case of Carmen and Veronica. The program chosen as favorite is Pa, a soap opera presenting the relationship of a widower with his three daughters. Carmen is a girl with signs of repressed aggression as a defense against the environment in her tests; she has an adequate identification but family problems (lack of communication, a feared paternal figure and a need to remain secluded from the family). She has two brothers, one older and one younger. The father is a university graduate with a hierarchical position at work. His mother, a housewife, has grammar school studies. The family gets together in the evenings, Saturdays and Sundays. Carmen spends most of the time with her mother and shows a dominant attitude toward her brothers. She is an extrovert and very sociable. "She likes to stay overnight at the houses of friends she hardly knows."
Veronica presents clear signs of aggression and repressed expansion, identity problems (confusion, she is embarrassed when it comes to feminine parts of her body), and highly dissociated family ties: a disqualified paternal figure and an omnipotent mother. Both her parents are professionals, he is a physician and she is a lawyer, "although I do not have a practice so that I can take care of the girls". She has a younger sister and her pregnancy reportedly cost her mother "blood, sweat and tears". It should be noted that this pregnancy followed a miscarriage. According to her mother, Veronica confides in her, she loves girls and is very tidy: "she washes her butt, she is a darling, feminine, her closet is unbelievable ... nobody would say she is 9, she does not sit with her legs astride". The mother states she has been teaching her all this to bring her up as she was: respectful, feminine, having good manners and habits. When referring to the programs she watches, she says "we watch".
Let us compare the common choice made by these girls. Carmen chooses Pa because they are fun as a family, just as Friends will be friends and The Simpsons. She states watching television is her "favorite pastime," and she usually discusses "with cousins and friends what we watch." She rejects programs as Zorro and Incredible Hulk for "they are for men".
Veronica, instead, says she "adores Pa" and went to see the play. She constantly compares each character with her own family. She identifies herself with the daughters, who "sometimes get along with their Dad and sometimes don't". She wants to be like her mother: "she is like me, a woman" and adds "I want to be a doctor like my Dad".
The same program allows for different projections. For Carmen Pa stands as the ideal family: exciting, with a loving and rewarding father. This family compensates for her feelings of being left out and the lack of communication within her own family environment, the same feelings that make her wish to be permanently away from home. On the other hand, the program provides Veronica an important frame of reference regarding the father and the feminine roles. The father in Pa is a clear figure with a predominant position in the family as opposed to the disqualified image of her father. In this fictive family the mother is absent, making room for a somewhat different meeting space for both father and daughters -- as opposed to the omnipotent role played by Veronica's mother that gives no chance for individualization. Obviously for both girls Pa stands as the ideal family, the one they dream of to compensate for the actual difficulties with their own.
Conclusion
From the comparisons of the projective tests run with children, from their answers on TV subjects, and from the life histories as told by parents, a clear association arises between character traits, seen in the psychological study, and what the child manifests about TV through language, games and particularly identification, or lack of it, with the characters portrayed in the media.
On the one hand, it might be said that the child uses and needs those "patterns", language, contents, etc., to communicate with his peers, by using the same television language, sharing experiences that, though not their own, are common to all of them. That is why we see some children who hardly watch television or talk about it at home, discussing the subject at school.
In this sense, TV can be said to act as an element of social leveling, since it conveys a unique message that may be shared by all, making children feel on an equal standing through the same shared knowledge they use to communicate. This is the most general aspect of the learning carried out by the child by means of television. It is also the shallowest, for the elements being used are incidental and the process takes place, unconsciously, without any manifest intention of learning. This subtle learning, by reading "between the lines", may affect speech, gestures, attitudes, general habits and in the long run, the culture.
Thus, we are concerned to see that there is no child whose intellectual, emotional and spiritual life is not directly affected by this television "sub-culture", competing to a greater or lesser extent with traditional socializing agents. Most children spend more time in the company of the television than at school or with their parents.
We can also talk about a deeper training carried out by television contents. This responds to the various psychological or personal needs of children who no longer draw from incidental aspects of the television subjects, but from actual characters they identify with to different extents. They want to be like them, today and in the future, that is, they are taken as life models.
These characters respond to different compensatory traits of their own personal complex of problems, favoring defense mechanisms of either denial or idealization before feelings of loneliness and anxiety, mishandled aggression or even physical problems. In this sense we can no longer speak of only grasping the television message but also, in certain cases, of a process of identification.
Identification is a selective process; it responds to deep personal needs and therefore it can be inferred that influence takes place to a much greater extent at an individual level. Emotions, basic needs for affection, are satisfied through daydreaming in front of the television.
As seen in these findings, children learn from television; they either use the message, the issues, the language or its style, and not only in their conversation but often in their games as well. It is their own common frame of reference conforming to a child subculture, both new and unknown to the adult at the same time.
Since children cannot possibly watch everything TV has to offer, whether for parental decision, lack of time, or whatever, it is interesting to observe how they manage to get to know, usually through friends, about the programs exclusively for adult audiences and off-limits for them. This is important because in a way it means everything on TV can enter into the children's world.
As for the deep internalization of television patterns (identification), the elements apparently accounting for this selective individual receptivity to a single TV message are those of needs, particularly when referring to the family.
All children with some kind of conflict in the family identify themselves with television characters. However, those children with a good relationship with their families do not and only use TV as the subject of conversation and games with their peers. Moreover, the closer a child is to what we may call normal or carefree, the more incidental and superficial the aspects he draws from TV, generally only to use them in his conversations.
Learning is carried our in two stages: imitation and identification. When beginning, learning comes through imitation; when faced with deeper wants, identification takes place. What goes on as this reality is imitated? Is it an open door to "magic thought"?
McLuhan (1987) states that TV conveys highly active and participant experience; the child is always actually the associate TV producer. The mosaic quality and the little information characteristic of image triggers a "warm" or "highly participative" effect. "Any information obtained must be completed by the observer". According to McLuhan's hypothesis, children complete whatever television has to offer with their own reality.
Following the findings of the research work, it could be said that whenever reality is unsatisfactory, children complete it with elements they select and integrate from TV. This selection and integration of favorite characters and programs may serve as projective tests providing elements never available from any psychological test so far, for these may show their needs, but not the compensating mechanism appearing clearly in the use that children make of television.
It is important that we ask ourselves here which consequences may arise in children who are exposed to a programming whose only aim is consumption, lacking profound awareness of the formative and socializing role it fulfils.
The choice of programs reflecting a social reality
There is a trend in every research where age is taken into account with regard to program choices -- the older the person the greater the selection of adult programs. It follows that children's preferences also change as they grow older: from those typically for children to more adult subjects. This apparently obvious relation was confirmed in the above-mentioned research work, when both variables were crossed regardless of children's social levels (see Table 1a).
After applying the statistical test of X2, the result as a measure of significance was 189.8, a value which for a 5% risk level generously exceeds the value required to confirm the interdependence between studied variables.
The chart depicts clear trends: Interest in programs with themes for children, particularly cartoons, slowly decreases as viewers grow. This does not mean they do not watch them, only they do not prefer them. An interesting case is that of educational programs, that is, those designed to teach. Only 10% of all children chose them, a trend which rises up to the ages of 11 and 12.The trend reverses as the children become 13 and older.
If we take into account the characteristics of this group, as shown in the descriptive analysis, we see once more the close relation between reality as lived by the child and the use he makes of television. Naturally, programs dealing with adult issues are increasingly preferred as children get older, which is only natural since the real world is where they should learn to live. To adapt better, they are supposed to know about these realities.
Table 1a. Children's Program Preferences by Age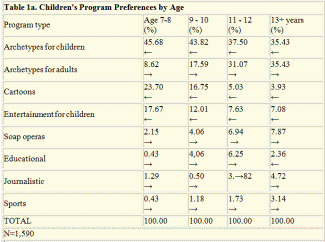 These trends are more clearly marked when regrouping the information:
Table 1b. Children's Program Preferences by Age (regrouped data chart)
To determine the statistical significance of the age/program relation, X2 was again applied. The result 135.7 (critical independence value 12.59) shows a strong relation between the two variables.
Why do we want to stress such an obvious relation? Simply because when considering both variables and taking the children's different social background into account, the relation is no longer obvious. Once again, the social background stands as the clue for understanding both the relation and the influence that television has on children.
The most important findings from such an analysis are:
• As children get older the preference for children's programs decreases while there is a growing interest in adult issues. This relation was clearly proven statistically significant among children from the social levels A, B and C, that is, those living in a high and medium level socio-cultural environment.
• However, children at level 0, that is, those living in slums, conventillos and orphan boarding schools, still prefer children's programs regardless of age.
These findings are absolutely consistent with the results of the case study which shows how children with problems of loneliness or abandonment turn strictly to children's programs. In other words, the deeper the problem or the greater the want, the more likely its resolution is sought through a more general or undefined compensation achieved through mechanisms we might call primary, such as the search for joy or regression. These children do not find a way out of their problems, not even through compensating mechanisms ... they simply flee. Isn't this the same reason teenagers give for using drugs?
• This trend, marked and therefore easier to see in this group of children, is also found among children with serious problems regardless of their social status.
The same conclusion is reached by advertising professionals when using segmentations based on psychographic methods. Aiming at the most "vulnerable", they study vulnerability types based on more basic needs. Hard variables as sex, age, educational or economic level are no longer used when considering the population; the new research technologies group persons according to the so-called "soft variables", dealing precisely with deep private needs and wants.
Further results are:
• Children from the middle social levels show the greatest diversity of interests. This becomes evident in that they include as preferred choices or options every one of thirteen program categories used in the study. Children from higher and lower levels chose only half the options.
• Younger children obviously have fewer interests, as observed in every group. Still, those from the middle class present the widest variety of program types as choices, that is, they are open to various possibilities.
• It is also remarkable that in the lowest social level group (0) younger children (7 and 8 years old) choose a comparatively higher percentage of adult programs, as compared with children from other levels.
Findings, as they build up and are analyzed with regard to the different aspects related to the development and adaptation of children, show how reality is projected into the selection and integration of television contents. They also show that this selection and integration will depend, from a psychological perspective, on the individual needs of the child, and from a sociological perspective on "soft variables", which allow a segmentation and grouping of children, youngsters and adults according to their needs or wants.
Television as a compensation for social wants
Findings obtained on an individual level are also valid for the different groups conforming to our society. The Vals or Risk segmentation used in publicity, where the population is grouped according to the so called "soft variables" or "the deepest and most powerful individual needs", is also valid when studying children in relation to the product "television".
To be honest with ourselves we will have to acknowledge that television programming is just a product, and children its potential consumers. This, at least, is a fact in most countries where there are no other criteria than the exclusively commercial one, when it comes to program selection. No matter in which light we choose to see it -- some programs may aim higher than others, but if the rating is not high enough to compete with other broadcasting stations, the program is discontinued.
People's needs may be said to provide the stimuli ruling behavior and, by this means, they stand as the root of the functioning of both society and the culture.
The most outstanding and active of man's psychic needs is perhaps the emotional response to others. In a modern city, the individual finds reciprocal interaction easier in formal terms, without having to evoke emotional responses. In this situation his or her psychic need remains unsatisfied. S/he is actually caught in a feeling of loneliness and isolation, which is more depressing than genuine solitude, for we all know what it is like to be alone in a crowd. A person's need for favorable responses stands as the main stimulus for sociably acceptable behavior.
When our children and youngsters turn to television, they do not do so, as it is usually (and easily) said, for entertainment or information; rather they are desperately seeking to learn what they must be like to elicit a favorable response from others, and not to be alone. "Experience determines a subject's behavior. But this, in turn, derives from the contact with the environment in which he lives. Therefore, to understand both individual personality and general personality, it is indispensable to know the environment" (Ralph Linton).
If we limit our study to the number of hours a child or youngster spends daily before TV and the use they make of the contents in their conversations and games with their peers, we cannot but wonder if the "television environment" is the ruling environment in their lives.
Who do they "communicate" with most -- their parents or the television? Who do they turn to when feeling lonely? And when they do not know how to behave to gain acceptance? Which are the never questioned and globally accepted ideal social models for identification?
The individual use of television by the child or the youngster can be generally applied to our society groups. This use is not restrained to the time lapsed between switching on and off the set; rather it dynamically permeates everyday reality.
When taking into account the prevailing psychic, affective and cultural needs in our child and teenage population, they are found to match similar trends in the use made of the television. No matter which program they draw the elements from in order to achieve social adaptation, what identifies them is the use of a common means, television, for attaining their ends.
Thus, groups with similar traits, for example, children or adolescents with problems of loneliness, abandonment and frustrations, will find on television the outlet for those situations they are unable to cope with by watching programs of a neat cut for children: cartoons or entertainment programs for children.
Others, with the possibility of getting out of a very low cultural and social level through their intellectual capacity, as shown in their school performance, spend the greater number of hours before the screen as compared with their social group. They claim they do so to learn ... yet no one chooses didactic programs (Merlo-Flores, 1996a)!
There are also those with a poor identification with their parents. The only resource they turn to for models is television. Today, unlike in the past, no child will choose a teacher or an uncle as model. Whenever an adequate identification is lacking, the screen magically solves the situation by presenting heroes who never die, who everybody knows and accepts.
To find the clue to the interpretation of the television and child relationship process, children and adolescent populations must be considered as grouped according to their most imperious needs regarding their adaptation, development and, basically, their acceptance by others.