Regulations and Measures

Regulations and Measures Concerning Visual Media and Child Protection: An Overview of Europe, North America, Australia and Japan
COMPILED BY TITTI FORSSLUND
When trying to make a compilation of regulations on visual media and child protection, I found the problem highlighted on the agenda in many countries all over the world. Laws and regulations are being amended, declarations are written and various measures are being tried out. The most regulated media are the cinema and national television (whereas satellite television channels often are outside national or regional control). Measures for the protection of minors in relation to the new electronic and digital media are discussed or under way. The protection of children against harmful media content most frequently concerns gratuitous violence, sex and coarse language (and child pornography). In this overview concerning visual media, advertising is not included.
I will present some examples of regulations and measures in Europe, the USA, Canada, Australia and Japan. The overview is far from complete, but only a first draft. It is mostly based on earlier documents and compilations, complemented with a few personal contacts. Therefore, many data are lacking, and corrections, comments, additions, and extensions are most welcome for a future, more comprehensive overview.
Regulations
Apart from legislation, in the area of protecting children from being exposed to harmful media content, there are various systems:
• Regulatory authorities, including certain obligations concerning the portrayal of violence and indecency among the licensing conditions.
• Recommendations, e. g., the Council of Europe recommendation, a politically but not legally binding measure on the portrayal of violence in the electronic media.
• The industries' self-regulation, codes of conduct and internal guidelines, elaborated by individual broadcasting companies or by associations of broadcasters, e.g., the European Broadcasting Union's (EBU's) Guidelines for Programmes when Dealing with the Portrayal of Violence, [1] the Canadian Association of Broadcasters Voluntary Code regarding Violence in Television Programming, [2] and the Japanese public service broadcaster NHK's Standards of Domestic Broadcast Programmes. [3]
Definition of children
When talking about children and protection of minors the definition varies. The UN Convention on the Rights of the Child -- ratified by all nations but the USA and Somalia (1997) -- is valid for children below the age of eighteen.
In Canada, "children" in the Rules for Children's Programming refers to persons under 12 years of age. [4] In Australia "children" refers to people younger than 14 years of age, in Japan programming for children means up to about 15 years. The Netherlands, France and Belgium define a "minor" as a person under the age of 16, Germany and the United Kingdom as a person under 18.
General broadcast policies and child protection
The United Nations Committee on the Rights of the Child, discussing "the child and the media" in 1996, identified three main areas, which were further considered in a Working Group in April, 1997: Child Participation in the Media, Protection of the Child against Harmful Influences through the Media, and Respect for the Integrity of the Child in Media Reporting (see the second article by Thomas Hammarberg in the first section of this book). Among the recommendations were:
6. Constructive Agreements with Media Companies to Protect Children against Harmful Influences: Facts should be gathered about various attempts of voluntary agreements with media companies on positive measures such as not broadcasting violent programmes during certain hours, clear presentations before programmes about their content and the development of technical device -- like 'V-chips' -- to help consumers to bloc out certain types of programmes. Likewise, experiences of voluntary ethical standards and mechanisms to encourage respect for them should be assembled and evaluated; this should include an analysis of the effectiveness of existing Codes of Conduct, professional guidelines, Press Councils, Broadcast Councils, Press Ombudsmen and similar bodies.
Many European countries, both eastern and western, within and outside the European Union, refer to the EU directive Television without Frontiers, adopted in 1989 and amended in 1997. The new directive provides for a set of rules concerning protection of minors: [5]
Article 22:

1. Member States shall take appropriate measures to ensure that television broadcasts by broadcasters under their jurisdiction do not include any programmes which might seriously impair the physical, mental or moral development of minors, in particular programmes that involve pornography or gratuitous violence.

2. The measures provided for in paragraph 1 shall also extend to other programmes which are likely to impair the physical, mental or moral development of minors, except where it is ensured, by selecting the time of the broadcast or by any technical measure, that minors in the area of transmission will not normally hear or see such broadcasts.

3. Furthermore, when such programmes are broadcast in unencoded form Member States shall ensure that they are preceded by an acoustic warning or are identified by the presence of a visual symbol throughout their duration.

Article 22 a:

Member States shall ensure that broadcasts do not contain any incitement to hatred on grounds of race, sex, religion or nationality.
Article 22 b states, among other things, that the Commission within one year shall carry out an investigation of the possible advantages and drawbacks of further measures with a view of facilitating the control exercised by parents or guardians over the programmes that minors may watch.
Further, The European Convention on Transfrontier Television documents the responsibilities of the broadcaster in Article 7: [6]
1. All items of programme services, as concerns their presentation and content, shall respect the dignity of the human being and the fundamental rights of others. In particular, they shall not:

a. be indecent and in particular contain pornography;

b. give undue prominence to violence or be likely to incite to racial hatred.

2. All items of programme services which are likely to impair the physical, mental or moral development of children and adolescents shall not be scheduled when, because of the time of transmission and reception, they are likely to watch them.

3. The broadcaster shall ensure that news fairly presents facts and events and encourage the free formation of opinions.
In Australia, the Broadcasting Services Act from 1992, sets objectives for television and radio broadcasting services. One of the objects of the Act is
to ensure that providers of broadcasting services place a high priority on the protection of children from exposure to programme material which may be harmful to them.
In Canada, five guiding principles underlying the approach of the Canadian Radiotelevision and Telecommunications Commission (CRTC), an independent organisation established by the Broadcasting Act, are identified: [7]
1. Abandon an ideological, legalistic and therefore combative approach in favour of a co-operative strategy recognising TV violence as a major mental-health problem for children.

2. Adopt the goal of protecting children, not censoring adults, in order to strike a reasonable balance between the right to freedom of expression and the right of children to a healthy childhood.

3. Stick to a focused agenda on gratuitous or glamorised violence, not diffusing efforts by adding sex, foul language, family values, specific feminist concerns or other distinct, more controversial issues.

4. Bring all players to the table -- broadcasters, advertisers, producers, parents, teachers, psychiatrists and the regulator.

5. Have both a short-term and long-term perspective.
In Japan the Broadcasts Law requires broadcasters to establish standards for programming and to set up consultative committees to ensure that programmes satisfy the stated standards. The public service broadcaster NHK states in its Standards of Domestic Programming: [8]
Under no circumstances shall acts of violence be permitted. ( ) Human life shall not be treated with contempt and neither shall the act of suicide be glorified. ( ) Criminals shall not be portrayed attractively and acts of crime shall not be treated with approval (...).
From the United States I cannot find any direct policy statement on violence in television. There is a general ban on child pornography (as elsewhere) and obscene material, operating at both Federal and State level. The ban on obscene material applies essentially to sex-related photographic and video material. But the First Amendment (constitutional principle of freedom of speech) can also be applied to speeches inciting hatred or discrimination, provided that they do not constitute an immediate danger to people or goods. [9]
"The FCC is not interested in influencing, or even knowing, the content or viewpoint of any programming", said former Chairman Hunt of the Federal Communications Commission [10] in his speech at a conference on Children and Television in 1997. However, in the Telecommunications Act of 1996, TV manufacturers are required to incorporate the V-chip in the sets, which is combined with a rating system made by the broadcasters (see under the headline "V-chip" below).
In Canada, there is a public worry about the massive influx of American programmes delivered via cable, which cannot be stopped from entering Canadian homes. In the USA broadcasters set the standards, and any government intervention to control violent contents is frowned upon. [11]
Measures

Ratings/classification
All kinds of measures to prevent children from exposure to certain media products require some kind of classification of the media product, be it television programmes, films, videos, computer games, etc. This is a crucial issue; the criteria for classification varies and the systems of classification differ among countries, within countries and between various media.
Descriptive classifications, indicating the content of individual programmes rather than giving a recommendation of the age of the child who should see it, is being asked for in many countries, whereas so far the age rating is the most common. In the USA, research indicates that recommendations for movies like "PG-13: Parents Strongly Cautioned" and "R: Restricted" may run the risk of attracting younger viewers instead of discouraging them. [12] The former X-symbol for ratings of pornographic movies in the USA is nowadays sometimes used as a promotion tool. [13]
Since some kind of classification/rating system is always used as a base for other measures, I do not, in the tables of measures in different countries below, explicitly mention rating/classification.
To understand the tables, I here make a first review of the measures, illustrated by examples:
Scheduling: time, watershed
"Scheduling" means that TV programmes, promotion materials, etc., which are classified as unsuitable to children, are broadcast "later" in the evening (often called a "watershed"). This "later", when children are not supposed to watch television, varies, however, between 19.15 and 24.00. Also varying is the age of the children who should not watch television after a certain time. Ages mentioned are from up to 12 years to up to 18 years (Irving & Tadros, 1996, 1997). Examples:
after 19.15 Bosnia and Herzegovina (after Bedtime story 19.00-19.15)

after 20.00 Switzerland (16 years following cinema rules, 18 years after 23.00); UK

after 20.30 Australia (15 years)

after 21.00 Canada (12 years); Ireland (15 years); Netherlands (16 years); Denmark; Finland; Sweden

after 21.30 Greece

after 22.00 Germany (16 years, 18 years after 23.00); Latvia; Slovak Republic; Spain; USA

after 22.30 France (16 years)

after 23.00 Albania (14 years); Italy (14 years); Bulgaria; Poland; Romania

after 24.00 Macedonia
Age limits
Age limits for television programmes are not often explicitly stated. The contrary is the case for film and video shown in public -- for these media age limits or the similar are stated in most countries included in this overview. There are also often age limits for video rental or purchase, and in some countries for computer/video games and other audio-visual media.
Advice: oral or written consumer advice
In Australia, for example, with M- or MA-rated programmes (M = mature, A = adult) on television, there are cautionary messages under the letter symbol on the screen with some detail of why the programme has been rated M or MA: "depicts violence", "contains coarse language", "depicts sexual scenes", etc. [14] The written script is accompanied by a voice over, saying the same thing.
Advisories are also broadcast by the public service broadcaster TVO in Canada at the beginning and "if necessary at appropriate intervals" during each programme containing violence. [15]
In Austria, as another example, the public service broadcaster ORF provides printed television guides with advice for parents on the suitability of programmes for young viewers. [16]
In Poland, the broadcasters are required to inform viewers or listeners of the nature of the programme, when advertising the programme and just before transmission. This information should specify that the programme may negatively affect the psychological, emotional or physical development of children and teenagers, according to the National Broadcasting Council, Act on Radio and Television. [17]
In Romania, Article 2 of the National Audio-visual Council Directives underpins the risk of the "forbidden-fruit-effect", requiring the announcements for "adult" programmes be adopted to protective measures for minors and that they "must not be accompanied by commentary liable to heighten their interest in viewing these programmes". [18]
Warning: acoustic or visual warnings
An acoustic warning before the start of an unsuitable television programme, and/or a visual symbol throughout its duration is used in a few countries. Warnings are also presented in the timetable/schedule.
France, for instance, has adopted a warning system overseen by the Audiovisual Superior Council. A green circle symbolises programmes containing certain scenes which could be harmful to young children; an orange triangle is used for films not allowed to children under 12 years of age and to caution audiences; a red square is used to indicate adult-only programming. [19]
In Italy, Channel 5 uses a similar "traffic light" signalling system: green for family, yellow for parental guidance, while red indicates that the show is not suitable for children. [20]
In Canada, viewer advisories are provided for at the beginning of and during the first hour of programmes containing "scenes of violence intended for adult audiences". [21]
Labelling
Concerning video cassettes, CD-ROM's and other audio-visual material in, for example, Germany, the classification must be clearly indicated on the cassette jacket as well as on the object itself. Items that have not been classified or have been classified as "18 and over" may not be offered to children and young people in any way. [22]
Descriptive information about violence, sex and language in programming, similar to food labelling, which provides information about food ingredients without commenting on who should or should not eat those ingredients, is recommended in a report by Joel Federman (1996). [23]
V-Chip
The anti-violence "V-chip" is a microchip, which can be incorporated in a television set, a cable selector or a decoder. It reads the classification code of each programme that is rated. The viewer can programme the chip to block the signal of programmes with a classification which exceeds the level considered acceptable. For example, if the viewer selects level 3, then levels 4, 5 and above will not appear on the screen.
This technology was developed by Professor Tim Collings at Simon Fraser University, Vancouver, Canada, and is now being tried out in the USA and Canada. In the United States the Telecommunication Act was amended in 1996 to require TV manufacturers to incorporate the anti-violence chip into their products from 1998. Since 1996, the industries involved have been working on the introduction of a programme classification and encoding system which the V-chip can decode and which began being implemented in January 1997.
As there is a high percentage of U.S. programming in Canada, the Canadian Broadcast Standards Council states that for a V-chip based rating system to be a truly effective tool for parents in Canada, it must be applied also to U.S. services and non-Canadian cable services distributed in Canada.
The U.S. kind of rating system has been criticised for its diversity and lack of specificity of content and for its risks to increase rather than reduce children's exposure to harmful programming. Earlier research indicated that children were more eager to see a movie labelled "PG-13: Parents Strongly Cautioned" and "R: Restricted", than a movie labelled more by content, e.g., "mild violence" and "graphic violence". [24]
In July of 1997, as a result of intense pressure from parents, child advocacy organisations and members of Congress, the U.S. television industry agreed to modify its rating system to add letters to the age-based system. The letters indicate whether the rating level was due to sex, violence, coarse language or sexual dialogue. The amended ratings were implemented in October of 1997. All major networks except NBC are using the amended rating system. [25]
In Canada the Action Group on Violence on Television (AGVOT), a group representing the broadcast industry, has developed a classification system for the English language broadcasters in Canada, currently being considered by the Canadian Radio-television and Telecommunications Commission (CRTC). In August 1997 AGVOT unveiled the graphic icons which are used to identify the ratings on screen and in TV listing publications. The French language programmers in Canada will use their own established ratings systems, as had been agreed to by the CRTC. [26]
In Europe the V-chip technology is under consideration and it is obvious that there will not be an easy task to develop a rating system that all countries can agree upon.
Outright prohibitions
Several countries also have outright prohibitions on certain material in all media:
• material containing incitement to hatred, discrimination or violence
• obscene material
• material contrary to sound morals and indecent material
• material detrimental to human dignity
• child pornography, either generally defined (obscenity, indecency, etc.) or specifically defined (child pornography, protection of children against sexual abuse, etc.).
On the current agenda

The Internet
The European Commission is drafting a "Communication" (COM (96) 483) and a proposal for a Council Recommendation on Illegal and Harmful Content on the Internet. Illegal material, such as child pornography, falls under existing laws and can be punished accordingly. As part of this work, the Commission has launched a "discussion forum" on the Internet, "to encourage networking of organisations and individuals actively establishing measures to ensure the protection of minors and human dignity in audio-visual and information services". The forum can be reached on the Internet at europa.eu.int/en/comm/dg10/avpolicy/forum/index.html. [27]
In Norway, the Norwegian Ombudsman for Children and Save the Children have initiated a project with the aim of identifying pedophile networks. Everyone can report about web-sites, ftp-servers, chat channels, etc., relating to child pornography or pedophile activity. The information will be passed on to the Norwegian police, who co-operates with Interpol. [28]
Need for media education
Many different aspects of media education are relevant to the protection of minors and human dignity in the new media services. Schools still need to provide more encouragement for the acquisition of skills in the use of all kinds of media. Measures to improve parental awareness and information as to the various types of harm to which their children may be exposed are an inevitable corollary to their increasing level of responsibility.
Need for research
When reading about a South African research study on children's emotional responses to television, which shows that half of the surveyed children are made unhappy and uncomfortable by children's programmes aimed specifically at them, [29] and about British research which establishes that programmes that provoke negative emotional responses are diverse and unpredictable, [30] I would like to argue for more empirical research on children's reception of media. There is a lot to learn for parents, teachers, broadcasters, media producers and distributors -- and for politicians.
Tables

The measures "Scheduling", "Age limits", "Advice", "Warning", "Labelling" and "V-chip" for various audio-visual media, as well as the "outright prohibitions" will now be included in tables for different countries. Additional comments are sometimes made.

For the fifteen countries in the European Union (EU) in Table 1 (page 342), the information in the first column of the table emanates from a study commissioned by the EU Commission. [31] Much of the information in the other columns in the tables for the European countries is gathered from Joan Irving and Connie Tadros (1996) Creating a Space for Children. Volume 1. Children's Film and Television in EV-countries and (1997) Creating a Space for Children. Volume 2. Children's Film and Television in Central and Eastern Europe, International Centre of Films for Children and Young People (CIFEJ) Montreal. These and other sources are referred to in the footnotes.

For western European countries outside the European Union, there are fewer sources. A blank square in Table 2 (page 346) means that I have no information -- not necessarily that there is no relevant measure. Table 3 (page 347) comprises measures in Australia, Canada, Japan and the USA Table 4 (page 350) for measures in eastern European countries is the most scarcely documented table.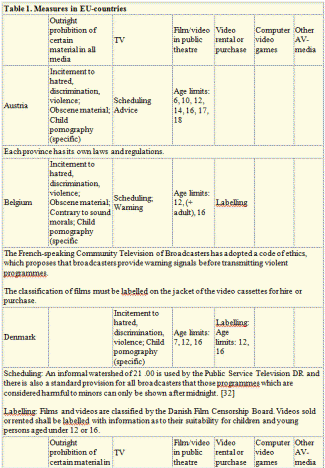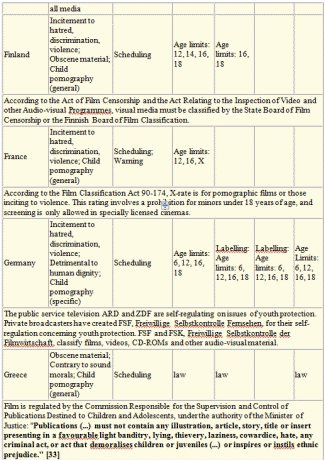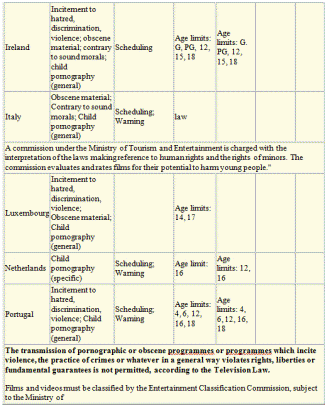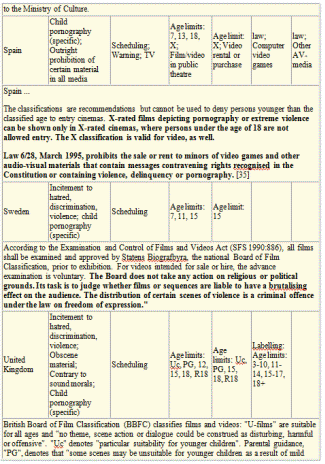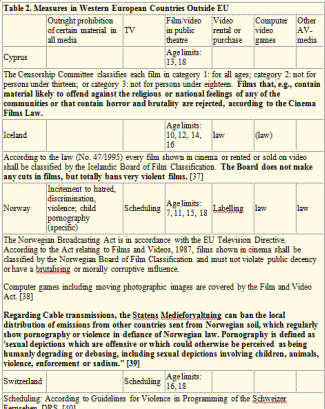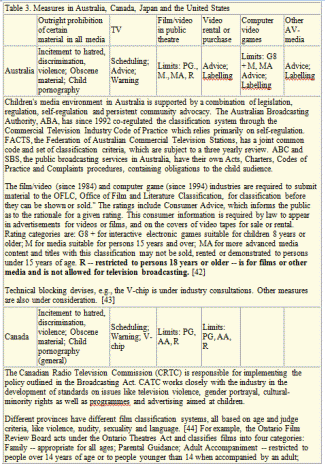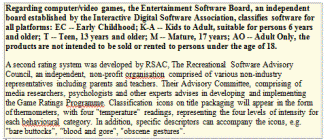 Table 4. Measures in Eastern European Countries
For the former eastern European countries, less information is documented. The information in Table 4 is gathered from Joan Irving and Connie Tadros (1997) Creating a Space for Children -- Volume 2. Children's Film and Television in Central and Eastern Europe, The International Centre of Films for Children and Young People (CIFEJ). Montreal.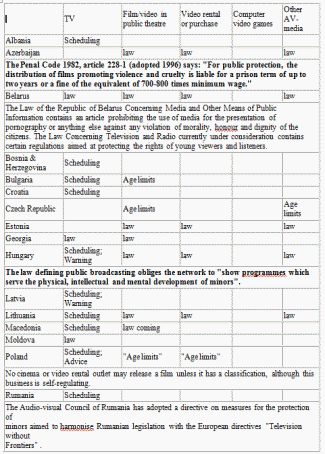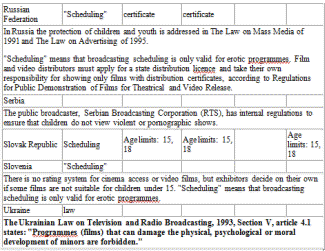 Notes
1. These EBU Guidelines are reproduced after the article.
2. Canadian Association of Broadcasters, 1993.
3. Kodaira, 1996.
4. Canadian Association of Broadcasters Voluntary Code regarding Violence in Television
Programming.
5. The new "Television without Frontiers" Directive. Internet, November, 1997.
6. News on Children and Violence on the Screen, Vol. 1, No. 1-2, 1997.
7. Caron & Jolicoeur, 1996.
8. Kodaira, 1996.
9. Green Paper on the Protection of Minors ... , 1997.
10. Hundt, 1997.
11. Flagan, 1992.
12. Trotta, 1997.
13. Control Examination and Censorship of Films, 1993.
14. Barrie McMahon, e-mail, November, 1997. See also table 3 including Australia.
15. TVOntario, 1996.
16. Irving & Tadros, 1996.
17. Irving & Tadros, 1997.
18. ibid.
19. von Feilirzen, 1997.
20. Irving & Tadros, 1996.
21. Canadian Broadcast Standards Council, 1997.
22. Irving & Tadros, 1996.
23. Trotta, 1997.
24. Cantor, 1997.
25. Cantor, Joanne, e-mail, December, 1997.
26. Media Awareness Network. Internet, December, 1997.
27. Celsing, 1997a, 1997b.
28. Waage & Aasli, 1997.
29. Ramsden, 1997.
30. ibid.
31. ibid.
32. ACT, Association of Commercial Television in Europe.
33. Irving & Tadros, 1996.
34. ibid.
35. ibid.
36. Film Censorship in Sweden. The National Board of Film Censors.
37. Icelandic Board of Film Classification.
38. The Norwegian Government's campaign ... , 1995.
39. Statens Filmtilsyn, Oslo, 1996.
40. DRS, Prakrischer Richtlinien fur die Programmierung.
41. Biggins, 1997.
42. Federman, 1996.
43. Young Media Australia, 1997.
44. Caron & Jolicoeur, 1996.
45. ibid.
46. Kodaira, 1996.
47. Green Paper on the Protection of Minors ..., 1997.
48. Oeda, 1996.
49. Green Paper on the Protection of Minors ... , 1997.
50. Federman, 1996.
51. ibid.
References
ACT, Association of Commercial Television in Europe (undated) Appendix IV: A survey of broadcasting regulation in Europe. (Enclosed to a letter to the Clearinghouse in September, 1997.)
Ageback, Ann Katrin (1995) Discourse in Hollywood (in Swedish). Stockholm: Valdsskildringsrader, nr 7.
Biggins, Barbara (1997) Cuts & Clips: Censorship and Classification the Australian Way. Young Media Australia.
Buckingham, David (J1997) Moving Images. Undemanding Children's Emotional Responses to Screen Violence. News on Children and Violence on the Screen, Vol. 1, No. 3.
Cantor, Joanne (1997) Critique of the New Rating System for United States Television. News on Children and Violence on the Screen, Vol. I, No. 1-2.
Caron, Andre H. & Jolicoeur, Annie (1996) Systemized Summary of Canadian Regulation Concerning Children and the Audiovisual Industry. Centre de recherche en droir public, Faculte de droit, Universite de Montreal.
CBSC, Canadian Broadcast Standards Council (1993) Canadian Private Broadcasters Voluntary Code Regarding Violence in Television. Internet, November, 1997.
Celsing, Anna (1997a) European Media Measures under Consideration. News on Children and Violence on the Screen, Vol. 1, No. 1•2.
Celsing, Anna (1997b) European Policy News on TV and Internet. News on Children and Violence on the Screen, Vol. 1, No. 3.
CRTC, Canadian Radio Television Commission. Internet, November 1997.
Control, Examination and Censorship of Films (in Swedish) (1993) Stockholm: Valdsskildringsradet, nr 6.
Federman, Joel (1996) Media Ratings: Design, Use and Consequences. Mediascope, Inc.
von Feilitzen, Cecilia (1997) Optimism in France. News on Children and Violence on the Screen, Vol. 1, No. 1-2.
Film Censorship in Sweden. Stockholm: The National Board of Film Censors.
Flagan, Frances (1992) CRTC, Planning and Development Research. Summary of two CRTC reports on television and violence.
Green Paper on the Protection of Minors and Human Dignity in Audiovisual and Information Services. EU (COM(96)483). Internet, November, 1997.
Hundt, Reed E. (1997) Getting better all the time. Speech to the Annenberg Public Policy Centre's 2nd Annual Conference on Children and Television, Washington, D.C., June 9.
Irving, Joan & Tadros, Connie (1996) Creating a Space for Children. Volume 1. Children's Film and Television in EU Countries. Montreal: The International Centre of Films for Children and Young People (CIFEJ).
Irving, Joan & Tadros, Connie (1997) Creating a Space for Children. Volume 2. Children's Film and Television in Central and Eastern Europe. Montreal: The International Centre of Films for Children and Young People (CIFEJ).
Kodaira, Sachiko (1996) Television for Children in Japan: The Broadcasting System and Programming Characteristics. Tokyo: NHK Broadcasting Culture Research Institute.
News on Children and Violence on the Screen, Vol. 1, No. 1-2, 3, 1997.
Norwegian Government's Campaign to Combat Violence in the Visual Media (1995). Oslo.
Oeda, Shigeaki (1996) Brief Synopsis of our Organisation, EIRIN, Japan.
Ramsden, Noreen (1997) What Makes You Unhappy When You Watch Television? Survey Carried Out among Children in South Africa. News on Children and Violence on the Screen, Vol. 1, No. 3.
SF DRS Gewaltdarstellung im fiktionalen Program men von SF DRS, e-mail from Beny Kiser, 31 Oktober, 1997.
Trotta, Laurie (1997) Television Ratings Should Describe Not Judge Programs. News on Children and Violence on the Screen, Vol. 1. No. 1-2.
TVOntario (1996) Policy on Violence in Programming. Approved by the TVOntario Board of Directors. June 20, 1996.
Violence in the Media -- a global problem (in Swedish), Flodet, Nr. 15 1996. Valdsskildringsradet.
Waage, Trond & Aasli, Jeanette (1997) Child Pornography on the Net. News on Children and Violence on the Screen. Vol. 1. No. 1-2.
Young Media Australia (I997) Ministerial Committee Inquiry into the Portrayal of Violence in the Electronic Media. Implementation of Decisions.
http://www.nanou.com.au/yma/viol.html
THE EUROPEAN BROADCASTING UNION'S GUIDELINES FOR PROGRAMMES WHEN DEALING WITH THE PORTRAYAL OF VIOLENCE

1. WATERSHED
Programme-makers and schedulers should always take into account the transmission time of their programme when considering matters of content.
Scenes of violence may well make a programme inappropriate for an early placing because of its unsuitability for viewing by children.
In order to avoid any confusion in this matter by the viewing public in general, and parents in particular, there should be a clearly understood watershed at an appropriate time during evening viewing, before which all programmes should be suitable for audiences consisting of a high proportion of children. Parents must accept that responsibility for what their children watch after the watershed lies in large measure with them.
2. NEWS AND FACTUAL PROGRAMMES
News and information broadcasts have of necessity to deal on a daily basis with social conflicts in which violence can be a part. The audience should not, and cannot, be protected from this everyday occurrence. Actual violence is acceptable in news programmes as broadcasters have a duty to show factual violence in the world, but the negativity of such acts should be stressed.
News should and will shock viewers at times. With some news stories a sense of shock is part of a full human understanding of what has happened, but care should be taken never to discomfort viewers gratuitously by over-indulgence. The more often viewers are shocked, the more it will take to shock them.
One person's shock is another person's news or art. Thus, a decision in this field means striking a balance between the current social consensus on what is acceptable and the broadcaster's duty to reflect reality as he or she sees it.
In particular, the human dignity of the victim as well as those also affected must not be offended and their personal rights must be respected. Violence in factual programmes should not be so prominent or commonplace as to become sanitized. The public cannot be shielded from the violence which happens daily in the world, but it must be portrayed in the most sensitive way possible.
The degree of violence in news programmes must be essential to the integrity of the programme; care should be taken in the choice of material depending on the time of day at which bulletins are broadcast.
3. FICTIONAL AND ENTERTAINMENT PROGRAMMES
Television drama must be able to reflect important issues truthfully, and violence is part of both nature and society. Drama on television involves the collaboration of many different skills and creative talents. In any collaboration there must be editorial judgement.
Since conflict and its associated violence are somewhat ingrained human traits, they are often made the central component in fictional and entertainment programmes. What is crucial is that the reasons for the existence of violence in the treatment should be portrayed in a plausible manner and violence should not be used in a purely unprovoked manner to entertain and as a way of maximizing the audience.
Gratuitous violence must be proscribed. The more intense the violence, the greater should be the distancing from reality. The aim should be how little violence is necessary without undue dramatic compromise.
The effects of portraying violence are heavily dependent on the form this presentation takes and the dramatic context. Particular care must therefore be taken with realistic presentations with which the viewer may more easily identify. Details of violence and aggressive behaviour which invite imitation should be avoided.
Portrayals which trivialize, or indeed glorify, the use of violence, whether physical or psychological, and which present violence as a means of overcoming conflicts, should also be avoided at all costs. It is important that in addition to the causes of violence their destructive consequences should also be shown, and that the use of violence as a way of solving problems should be portrayed critically. Not all violence is physical. Non-physical violence can also be upsetting and shocking, especially to children. This is an important area where particular care should be taken, as is the portrayal of sadistic violence.
Scheduling of fictional and entertainment programmes containing violent scenes is important and adequate warning must be given.
4. PROGRAMME ACQUISITIONS
Acquired programmes should conform to normal editorial policy.
Violence in distant settings can be relatively less shocking, disturbing or liable to dangerous imitation.
Broadcasters, however, are committed to the vigilant exercise of control; acquisitions should be abandoned if they are incapable of being adapted or edited to conform to guidelines.
Broadcasters will need to ensure the right to edit overtly violent acquisitions before transmission.
Accurate description in promotional material is essential.
5. PROGRAMMES FOR CHILDREN AND YOUNG PEOPLE
Children and young people can be particularly sensitive to violence and brutality. Generally speaking, those rules valid for the totality of the public should be applied in a much stricter manner at times when the audience is more particularly made up of children and adolescents.
Programmes aimed at children should treat the portrayal of violence, both physical and non-physical, with particular caution. Special care should be exercised and careful scheduling is necessary.
In programme choices, programmes should be preferred which propound a positive attitude to life, human values, and non-violence.
Young children do not fully understand the subtleties of good and bad and will readily commit themselves to one side in a conflict. Violence as an easy way of resolving conflict should be avoided. Care should be taken with domestic violence, both physical and verbal. The danger of imitation should always be borne in mind.
When portraying conflicts and violence it should be taken into account that young children are less able to perceive television programmes in their entirety than adults, that they align themselves much more powerfully to individual, visual surface appeal and only gradually become able to differentiate between central and peripheral aspects. Children identify with characters on an emotional level more readily than adults and the corresponding reactions such as fear are stronger and last longer.
The same rules apply to fantasy as to realistic dramas. Care should be taken not to cause anxiety and undesirable tension nor to incite aggressive behaviour.
In news reports, attention should be given to the likely impact, particularly on children viewing alone, of coverage of violence and its consequences.
Programme-makers should clearly understand that moral attitudes and values only emerge gradually throughout childhood, so children and young people are easier to influence than adults.
Programmes should take care therefore not to undermine the moral development of minors.
6. PROGRAMME TRAILS AND SIGNPOSTING
Programmes containing scenes of violence may be required to be preceded by a detailed warning announcement, but overuse of warnings can render them ineffective. They should not be used as disclaimers against the programmes that follow.
Prudence must be exercised in respect of promotional material and the transmission time of a trail must always be borne in mind.
Trails should honestly reflect the type of programmes being trailed.
Violence as a means of promotion of programmes should not be permitted. Taking violent scenes arbitrarily out of context may shock viewers unfairly.
It may be legitimate to let viewers know if the film or programme being trailed does contain violent scenes, but there is a fine line between effective description and exploitative come-on.
7. ADVERTISING
Advertising should not use violence as a means to sell a product nor as an incitement to violent behaviour. Since children up to a certain age are far less able than adults to recognize the intentions of advertising, and to judge it critically, they are therefore open to influence to a greater extent. Advertising should not exploit the weaknesses of young consumers by using either fear or violence.
The Children's Television Charter

Assessing the Feasibility of Global Consensus for Television Policy

JOANNE M. LISOSKY
It is no good having fine ideas and fine ideals, unless you can make them stick. -- Anna Home, Head of Children's Programmes, Television, BBC, referring to the Children's Television Charter (World Summit on Television and Children, Melbourne, 1995)
Speakers from around the world met in London in March 1998 for the Second World Summit on Television for Children. One of the primary aims of the Summit was to evaluate and assess the impact of the Children's Television Charter that was first publicly discussed at the World Summit on Television and Children in Melbourne in 1995. This Charter marks a unique step in global policy-making, but the question remains as to whether it is possible to reach consensus on a policy that will possess the "teeth" to make a difference while being universally applicable to various nations.
Due to publication deadlines, it is unknown at the time of writing this article what occurred at the Second World Summit in London, but the outcome was, no doubt, similar to what happened in Melbourne in 1995 when the Charter was first discussed. At that time, numerous advocates from many nations offered suggestions to augment and improve the Charter. Issues like advertising exploitation, cultural perspectives, and government subsidies for children's programming were discussed in a special session by over twenty participants from Malaysia, Canada, Britain, Australia, France, Vietnam, as well as other countries. Consensus emerged that there was a need for this ambitious universal policy. But gaps occurred in the chorus on several of the mentioned issues. However, there appeared to be one area where global convergence had been broached. In this Summit session and throughout the 1990s, many nations have addressed the need, and several have introduced legislation, to mitigate the influence of television violence. While the 1980s were characterized by a trend toward deregulation and a detachment from traditional public service obligations, the 1990s have been marked by an increase in global attention toward the control of violent television content (Hoffmann-Riem, 1996).
In fact, many countries have been engaged in discussions about media violence since (at least) the 1940s. A number of basic questions were pursued which led to a large-scale government inquiry in the United States in the 1960s. By the 1970s, children's television advocates vociferously questioned violent images on television and their impact on impressionable children. More recently, the television violence debate has escalated in several nations. Organizations like the Action Group on Violence on Television in Canada, the Council on Media Violence in Sweden, and the UNESCO International Clearinghouse on Children and Violence on the Screen, sponsored by UNESCO and the Swedish government, have emerged to promote research and discussion about the issue of media violence. Discussions surrounding violent television content have ultimately led to questions of government's role in regulating the medium and the messages.
Debates focusing on the proper role of any government in implementing policies for controlling violence on television have been heated and riddled with controversy in recent years. Rules and regulations concerning the proliferation of unsavory media images have undergone a series of revisions over the last twenty years in nearly every nation in the world. Balancing the needs of the broadcast industry, the duties of the broadcast regulators and a unique set of cultural, economic and political values in a country have resulted in distinct national policies regarding the control of television violence. However, while many nations agree on the need to control violence on television, strategies to enact this control have been unique in each nation.
In research comparing children's television regulations in Australia, Canada and the United States (Lisosky, 1997), it was posited that national broadcast policies are founded on the evolution of factors within each nation. By peeling away the fundamental factors that influence controls over violent television content, certain criteria emerge, generally characterized as systemic, ideological, economic and political. More specifically, whether the national broadcast system was originally based on a social responsibility or private enterprise model provides an example of a systemic factor that will influence television policy regarding the control of violent programming. How a nation protects freedom of expression or the degree to which a society may be willing to allow the government to constrain the television industry, serves as examples of ideological factors observed in every nation debating the control of violence on television. The balance of power among a nation's regulatory agency, industry lobbying groups and citizen advocates demonstrates the fluctuation in political factors that influence media policy. Finally, how each nation defines violence or violent programming will have a strong impact on the regulatory strategies that are developed to mitigate this programming. These fundamental factors exist in some manner in all nations struggling to formulate a children's television policy. Each critical criterion can, thus, serve as a salient point to assess the possibility of a global consensus.
For that reason, any comprehensive, global policy designed to address the issue of regulating violent programming will need to be cognizant of the distinct factors that have influenced policy debates for individual societies. In order to design universal policies that may address normative standards for television violence or any other issue, examination of the criteria that have influenced the debates and subsequent policies among several nations would serve to inform the policy makers. Moreover, observing alternative solutions to common problems affords the broad vista needed to make informed judgments about the present status and future prospects of global policies.
One way to observe these diverse strategies is to examine multinational responses to a single television series. During the 1990s, an internationally-syndicated program attracted the attention of citizens, governments and broadcast policy-makers around the world and demonstrated how different nations responded to the same television content. The incident focused on the U.S. series, Mighty Morphin Power Rangers (Lisosky, in press). In the mid-1990s, the series was broadcast in over 30 countries and subsequently found itself in real-life battles with regulatory agencies, and in some cases private citizens, because of its perceived violent content.
Nations' different responses to Mighty Morphin Power Rangers
Ironically, the program itself was a morphin, with much of the action footage lifted from a long-running Japanese television program, Jyu Rangah. Reportedly, much of the original Japanese violence was toned down for the U.S. audience (Cody, 1994).
A number of countries that acquired the Mighty Morphin Power Rangers (MMPR) series from the Los Angeles based Saban Entertainment in the 1990s, found that the program was not compatible with national regulations or cultural norms regarding televised violence. For example, in England, a mild public outcry ensued when a four-year-old was karate-style kicked by a playmate imitating the Power Rangers (Orvice, 1994). This led the Royal Society for the Prevention of Accidents to issue a warning that the series was "extremely dangerous".
Other European nations responded to the MMPR with more severe action. In October, 1994, a young girl's brutal killing by teenage boys in Norway fueled public debate over the causes of violence in Scandinavian society. In response, MMPR was immediately taken off the air. The ban was temporary, however, and the program returned.
Earlier in 1994, Television New Zealand (TVNZ) pulled the MMPR off the air on the advice of the Broadcast Standards Authority, a statutory broadcast watchdog group ("TVNZ Dumps ... ", 1994). The Authority had reacted to complaints from a citizen advocacy group. Even though TVNZ had edited out some of the violent confrontations and the network had added pro-social public service announcements to the conclusion of each program, the Authority claimed that these changes were not enough.
Also in 1994, the Canadian Broadcast Standards Council (CBSC), ruled that MMPR, estimated to be the most popular children's television show in Canada, was too violent for Canadian television (Lacey, 1994). The CBSC had been spurred to review the MMPR by the complaints from two Canadian parents. The CBSC unanimously agreed that the program contravened several articles of the industry's Voluntary Code Regarding Violence. As a result, a youth cable channel, YTV, canceled MMPR and the Montreal-based French TVA network dropped the series. Subsequently, Global Television, a commercial satellite network and part of Can West Global, requested permission from the program's producers, Saban International, to alter the program to conform to Canadian criteria (Farnsworth, 1994). After a year of editing the violent content, Can West dropped the series as well.
In January 1995, the Power Rangers came under attack from the German Society for the Protection of Children. The Society called for the program to be banned for excessive violence due primarily to complaints by German kindergarten teachers who charged that the program promoted child nightmares (Kindred, 1995).
Authorities in Malaysia banned the popular children's program in December 1995 in a dispute over its title. The Deputy Home Minister said that the title words "Mighty Morphin" may cause children to associate the characters with the drug morphine, leading them to believe that "the drug could make them strong like the characters in the show" ("Mighty Morphins ... ", 1995).
After reviewing three episodes of MMPR in 1995, the Australian Broadcasting Authority (ABA) stated that two episodes of the series contained scenes that did not comply with the general audience classification that was originally given the series (ABA, 1995). The network airing the series in Australia was allowed to continue to screen the Power Rangers during children's viewing time, as long as certain scenes were edited out.
In contrast to these national responses, U.S. reactions to the program were remarkably positive. In 1994, Parenting Magazine named MMPR as one of the ten best children's television programs on the air. In addition, newly elected Speaker of the U.S. House of Representatives, Newt Gingrich, shook hands with the Power Rangers in 1994 and remarked that he was a Power Ranger ("Nightline ... ", 1995).
Children's Television Charter -- the first step
These responses to the MMPR series demonstrate the range of television violence policies and illustrate how various nations find unique strategies to address the issue. Distinctions are found in the rationale for controlling the violent images as well as the strategies employed to mitigate the violent content. This example also illustrates that while consensus exists among most nations about the need to attend to the violent content on television, policies on how to control violent content may not be converging. Granted, some recent strategies have what appears to be universal appeal. Many nations have embraced actions like sanctioned media literacy programs, watershed stipulations, industry self-regulation, content ratings and the V-chip as strategies to tone down violent content. However, these approaches are not endorsed universally and have differing outcomes when implemented in different countries. For example, many agree that in order to control the dissemination of violent television content, broadcasters should adhere to watershed stipulations. Critics, however, claim that these time, place and manner restrictions merely allow broadcasters more freedom to air extremely violent programming during late evening hours. Moreover, critics of the V-chip suggest that this technological advancement relieves broadcasters of any responsibility in scheduling violent programming.
While children may be watching the same television programming around the world, strategies for regulating television content are not universal. The MMPR example as well as other research (Lisosky, 1997), show that policies to mitigate unsavory content are closely aligned with cultural factors. Thus, it is suggested, to make the ideas and ideals of The Children's Television Charter stick, it will be necessary to discuss and assess more than current policies. Any broad-reaching global policy may need to first examine the historic, systemic, ideological, economic and political factors that influenced the development of television policies across several nations to assess the possibility of convergence.
Finally, in their quest to develop a universally acceptable policy for children's television with teeth, and one devised to adhere to the UN Convention on the Rights of the Child, the designers of the Children's Television Charter may have another looming problem. This problem is analogous to the elephant in the parlor everyone strains to ignore. While the UN Convention on the Rights of the Child is the most widely accepted human rights instrument ever, protecting the rights of approximately two billion children worldwide, it has not yet been ratified or acceded by the United Stares. As a result, the impact of the Children's Television Charter may turn out to be, as Janet Holmes a Court of the Australian Children's Television Foundation suggested at the World Summit in Melbourne, "the rest of the world against America -- not because we're anti-American, but because we are pro-Aboriginal, pro-Filipino, pro-Pole, and for the rest of the children in the world" (transcript from recordings made at the World Summit, 1995).
Despite the struggle to find consensus and the lack of U.S. participation in the UN Convention, the developers of the Children's Television Charter should nor be dissuaded from pursuing a comprehensive policy. Children will continue to watch television, in some cases -- like the Mighty Morphin Power Rangers -- the same television programming around the world. As a result, it will become increasingly necessary for policy-makers to find the balance of social responsibility of broadcasters not only from within each country but among various nations. The Children's Television Charter is the first step in this arduous process to seek global consensus for the sake of all children.
References
Australian Broadcasting Authority (I995) Investigation Report: "Mighty Morphin Power Rangers" G Classification.
Cody, J. (1994, June 10) Power Rangers take on the whole world. Wall Street Journal, p. B3(E).
Farnsworth, C. H. (1994, November 11) Zap! Children's Ninja show ruled alien to Canadian culture. New York Times News Service.
Hoffmann-Riem, W. (1996) Regulating media. New York: Guilford Press.
Kindred, J. (1995, January 28) Critics say a popular children's TV series shows excessive violence. Deutsche Presse-Agentur. NEXIS.
Lacey, L. (1994, November 2) Power Rangers suffers body blow to programming. The Globe and Mail, p. A15.
Lisosky, J .M. (1997) Controlling Children's Channels: Comparing Children's Television Regulations in Australia, Canada and the United States. Doctoral Dissertation, University of Washington, USA.
Lisosky, J.M. (in press) Battling Standards Worldwide -- "Mighty Morphin Power Rangers" fight for their lives. In Yahya R. Kamalipour (Ed.) U.S. Image Around the World. State University of New York Press.
"Mighty Morphins" regarded as too violent (1994, November 5). The Straits Times (Singapore), p. 9.
Orvice, V. (1994, October 19) Copycat dangers of the Power Rangers: Outcry over children's TV heroes after your fan is hurt. Daily Mail, p. 3.
Transcripts from the World Summit on Television and Children (1995, March) Melbourne. TVNZ dumps "The Mighty Morphin Power Rangers" (1994, August 25). Dominion, p. 1, 364.