Seduction of the Innocent
by Fredric Wertham, M.D.
© 1953, 1954, by Fredric Wertham
New material copyright © 2004 by James E. Reibman
NOTICE: THIS WORK MAY BE PROTECTED BY COPYRIGHT
YOU ARE REQUIRED TO READ

THE COPYRIGHT NOTICE AT THIS LINK

BEFORE YOU READ THE FOLLOWING WORK, THAT IS AVAILABLE SOLELY FOR PRIVATE STUDY, SCHOLARSHIP OR RESEARCH PURSUANT TO 17 U.S.C. SECTION 107 AND 108. IN THE EVENT THAT THE LIBRARY DETERMINES THAT UNLAWFUL COPYING OF THIS WORK HAS OCCURRED, THE LIBRARY HAS THE RIGHT TO BLOCK THE I.P. ADDRESS AT WHICH THE UNLAWFUL COPYING APPEARED TO HAVE OCCURRED. THANK YOU FOR RESPECTING THE RIGHTS OF COPYRIGHT OWNERS.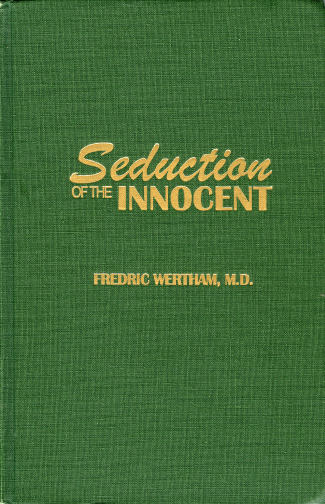 Table of Contents:
Introduction, by James E. Reibman
Publisher's Note To The Original Edition
Author's Note
1.
"Such Trivia As Comic Books": Introducing the Subject
2.
"You Always Have To Slug 'Em": What Are Crime Comic Books?
3.
The Road To The Child: Methods of Examination
4.
The Wrong Twist: The Effects of Comic Books on the Child
5.
Retooling for Illiteracy: The Influence of Comic Books on Reading
6.
Design For Delinquency: The Contribution of Crime Comic Books To Juvenile Delinquency
7.
"I Want To Be A Sex Maniac!": Comic Books And The Psychosexual Development Of Children
8.
"Bumps and Bulges": Advertising in Comic Books
9.
The Experts For The Defense: The Scientific Promotion Of Comic Books
10.
The Upas Tree: Making And Makers Of Comic Books
11.
Murder In Dawson Creek: The Comic Books Abroad
12.
The Devil's Allies: The Struggle Against The Comic-Book Industry
13.
Homicide At Home: Television And The Child
14.
The Triumph Of Dr. Payn: Comic Books Today And The Future
Whenever there is any court action stemming from comic books the question of what is in comic books does not come up at all. The industry relies then on the constitutional guarantee of free speech. It draws people's attention away from the real issue and veils the business in an idealistic haze. The framers of the Constitution and its amendments would certainly be surprised if they knew that these guarantees are used to sell to children stories with pictures in which men prowl the streets and dismember beautiful girls. The industry regards selling books to children as its prerogative, that is to say as a right to be exercised without external control. To use constitutional rights against progressive legislation is of course an old story. Theodore Roosevelt encountered it when he campaigned for pure food laws.

In these assertions of freedom in the case of comic books, just the opposite is concealed. "We are allowing ourselves," said Virgilia Peterson, "in the name of free speech (oh, fatal misuse of a high principle) to be bamboozled into buying or letting our children buy the worst propaganda on the market. It is a tyranny by a handful of unscrupulous people. It is as much a tyranny as any other on the face of the earth."...

It is a widely held fallacy that civil liberties are endangered or could be curtailed via children's books. But freedom to publish crime comics has nothing to do with civil liberties. It is a perversion of the very idea of civil liberties. It has been said that if comic books for children were censored on account of their violence "you couldn't have a picture of Lincoln's assassination in a textbook." Would that be such a calamity? There are many other pictures of Lincoln's time and life that would be far more instructive. But the whole inference is wrong, in any case. A picture of Lincoln's assassination would be incidental to a book expounding larger themes. In crime comic books, murder, violence and rape are the theme....

When closely scrutinized, the objections to some form of control of comic books turn out to be what are psychologically called rationalizations. They rationalize the desire to leave everything as it is. The very newspaper, the New York Herald Tribune, which pioneered in comic-book critique, said editorially later: "Censorship cannot be set up in this one field without undermining essential safeguards in other fields." The example of Canada alone, and of Sweden and other countries, has shown how spurious this argument is. A committee set up by comic-book publishers stated at their first meeting that censorship is an "illegal method." That certainly confuses things. An editorial in the New York Times entitled "Comic Book Censorship" says on the one hand: "We think the comic books have, on the whole, had an injurious effect on children and in various ways"; but goes on to say: "Public opinion will succeed in making the reforms needed. To wait for that to happen is far less dangerous than to abridge freedom of the right to publish." How long are we supposed to wait? We have now waited for over a decade -- and right now there are more and worse crime comic books than ever before. And would the forbidding of mad killers and rapers and torturers for children abridge the freedom of the Times to publish anything it wants to? Why should a newspaper that stands for the principle of publishing what is "fit to print" make itself the champion of those who publish what is unfit to print? ...

A century ago boys and girls of five and up had to work as chimney sweepers. They got skin diseases from the soot. The proposal was made that the practice of sending children up chimneys be stopped. You can well imagine what their employers would have answered if they had had the benefit of the type of experts the comic-book industry has now. They would have said that only those children who are predisposed get skin diseases, that it is the children's fault if they want to satisfy their need of motility by going up chimneys, that children who don't go up chimneys get skin diseases, too, and besides what better outlet for aggressive instincts is there than to climb up chimneys and do battle with soot? There being no such experts then, the Earl of Lauderdale stated that if something were done for the children by law through an Act of Parliament, private initiative for being benevolent and helping children would be affected and would disappear. And the Religious Tract Society joined in the anti-reform movement and urged these stunted and sick children to wash well on Saturdays, attend Sunday School and read the Bible: "Thus you will be happy little sweeps." It took the British Parliament ninety years to control this legally....

Whenever you hear a public discussion of comic books, you will hear sooner or later an advocate of the industry say with a triumphant smile, "Comic books are here to stay." I do not believe it. Someday parents will realize that comic books are not a necessary evil "which, but their children's end, naught can remove." I am convinced that in some way or other the democratic process will assert itself and crime comic books will go, and with them all they stand for and all that sustains them. But before they can tackle Superman, Dr. Payn, and all their myriad incarnations, people will have to learn that it is a distorted idea to think that democracy means giving good and evil an equal chance at expression. We must learn that freedom is not something that one can have, but is something that one must do.

--

Seduction of the Innocent, by Fredric Wertham, M.D.