Stop Teaching Our Kids to Kill: A Call to Action Against TV, Movie & Video Game Violence
by Lt. Col. Dave Grossman and Gloria DeGaetano
© 1999 by Dave Grossman and Gloria DeGaetano
NOTICE: THIS WORK MAY BE PROTECTED BY COPYRIGHT
YOU ARE REQUIRED TO READ

THE COPYRIGHT NOTICE AT THIS LINK

BEFORE YOU READ THE FOLLOWING WORK, THAT IS AVAILABLE SOLELY FOR PRIVATE STUDY, SCHOLARSHIP OR RESEARCH PURSUANT TO 17 U.S.C. SECTION 107 AND 108. IN THE EVENT THAT THE LIBRARY DETERMINES THAT UNLAWFUL COPYING OF THIS WORK HAS OCCURRED, THE LIBRARY HAS THE RIGHT TO BLOCK THE I.P. ADDRESS AT WHICH THE UNLAWFUL COPYING APPEARED TO HAVE OCCURRED. THANK YOU FOR RESPECTING THE RIGHTS OF COPYRIGHT OWNERS.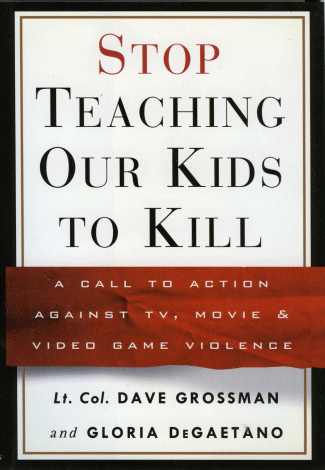 TO THE CHILDREN OF THE WORLD AND TO THE SURVIVAL OF THEIR INNOCENCE
Table of Contents:
•
Inside Cover
•
Acknowledgments
•
Introduction
• "Observations from Jonesboro, Arkansas," by Lt. Col. Dave Grossman
• "Paying Attention to the Evidence," by Gloria DeGaetano
•
1. It's a Violent World After All
•
2. Not Just a "Toaster with Pictures"
•
3. Pretending to Be Freddy Krueger
•
4. "It's Important to Feel Something When You Kill"
•
5. Don't Just Stand There ... Do Something!
•
Resources
o A Definition of Media Violence
o Voices of Concern About On-screen Violence
o A Chronology of Major Findings, Statements, and Actions on Media Violence, 1952-1999
o Where to Voice Your Concerns
o Media Literacy and Violence Prevention Organizaitons
•
Notes
•
Selected Bibliography
•
Index
There is something quite disturbing about the kind of violence we are seeing in the schoolyards these days -- it's intense. There's a rage out there that wasn't there a few decades ago, and children are settling their differences in scary ways. We weren't shocked to hear that at Columbine High School in Littleton, Colorado, there are preps, jocks, nerds, outsiders -- groups of different kids, some popular, some not; some well adjusted, some less so. It's always been that way. Not so great for the kids on the outside, the ones who get picked on and bullied; but they didn't tend to respond to that treatment by killing their classmates and teachers, as Eric Harris and Dylan Klebold did. What has changed enough to cause this? Of course, the world has changed much in the last half-century, but it's hard to identify those factors that would lead to such behavior. Some blame it on increased access to guns. Such access is never a good thing, but we're missing the point if we blame guns; the availability of guns has been a constant factor in the violence equation in the United States. The question we should be asking is why kids want to pick up weapons in the first place. Others blame the decay of societal values. Again, not a good thing for any of us but hardly enough of a reason to explain why children are killing in cold blood. If you run down all the possible factors, the myriad explanations, you will come to rest at one thing: the TV, movies, media, and video games that our kids are spending inordinate amounts of their time with. If you ask what's really changed, that's it -- and we all know it. Over the last forty years, slowly, gradually, we have increased the levels of graphic violent imagery on our TVs, in our movies, and at our video arcades. And we have done so under the veil of acceptability. We have put younger and younger children in front of screens depicting horrific violence, and we have done little to address the effects it has had and will continue to have on them.

***

THE DEBATE SHOULD be over by now. Scientific evidence overwhelmingly supports media violence as a major, significant factor contributing to real-life violence in our society.

***

By 1981, the rate of real-life violence had risen to the level where it was finally being identified as a public health issue. Dr. Brandon Centerwall, M.D., an epidemiologist, was asked to help start the violence research program at the National Centers for Disease Control in Atlanta, Georgia. A central issue confronting the research team was the doubling of the murder rate in the United States since the 1950s. That the rate had doubled was indisputable. The question was, why?

Dr. Centerwall approached this as a question of epidemiology, searching through rigorous statistical analysis for the causes of the "epidemic of violence." He considered every possibility that any research evidence had ever suggested might reasonably be a cause, including changes in urbanization and economic conditions; the effect of the post-World War II baby boom; trends in alcohol abuse, capital punishment, and civil unrest; changes in the availability of firearms; and television. Television was included as part of the array. It was not considered more likely to provide an explanation than any of the other proposed candidates.

Over seven years of research, first at the Centers for Disease Control and later at the University of Washington, Dr. Centerwall gathered statistical data and tested the various factors to see if a causal relationship with the rising level of violence could be identified. One by one, as the research evolved, factors were eliminated for significant causal relationships. Yet each time the television hypothesis was subjected to the testing, it quite stubbornly refused to be eliminated. As each of the other candidates dropped away, television slowly moved to front and center.

After testing rigorously for confounding cross-relationships with other possible causes, the conclusion was inescapable. And the process of arriving at the epidemiological conclusion was so gradual that, in Dr. Centerwall's words, "There never was a moment of 'Aha!' It simply happened."

After painstaking testing all over the world, Dr. Centerwall blew the roof off the subject by stating that if "television technology had never been developed, there would today be 10,000 fewer murders each year in the United States, 70,000 fewer rapes, and 700,000 fewer injurious assaults."

***

A recent study examining 2,380 major movie releases from 1988 to 1997 indicates that the film industry produced 17.4 times more R-rated than G-rated films, yet G-rated films produced 8.35 times more profits per film than R-rated movies. PG-rated movies were second in profits, followed by R-rated, then NC-17 movies.

If the film industry is profit-driven, what drives the making of the R-rated violent films? If the TV industry has spent millions of dollars on their own studies demonstrating the validity of the scientific research, why do they continue to increase violence levels? Why is it that the broadcast industry is not following the very guidelines they themselves established? How can there even be any more argument when everyone in the industry agrees that thirty-second television commercials change adult behavior? If rapidly moving images and inane jingles flashed on a small two-dimensional screen can get adults to do things, why would violent images watched for hours on screens large and small have no impact on the behaviors of children and teens?...

As a result of all this undeniable research, many experts and organizations with moral and social responsibility for children's welfare have issued strong statements over the years. When organizations representing all of America's doctors, all of her psychiatrists, and millions of parents, call upon an industry to change (i.e., reduce violence on the public airwaves), and then that industry does exactly the opposite (i.e., increases the violence), this can be viewed as nothing short of complete and total contempt for the people of the United States.

***

[T]elevision violence poses the greatest risk if there are repeated acts using a conventional weapon, if violence is put into a humorous context, or if it is morally justified in some way.

***

When a young child sees somebody being shot, stabbed, raped, brutalized, degraded, or murdered on TV, to them it is as though it is actually happening. Imagine children of three, four, or five watching "splatter" movies in which they spend sixty minutes learning to relate to a cast of characters and then in the last sixty minutes of the movie they watch helplessly as their newfound friends are hunted down and brutally murdered. This is the moral and psychological equivalent of introducing a child to a group of new friends, letting them play with those friends, and then butchering them in front the child. And this happens to many children again and again throughout their early development.

***

Instead of learning to put the emotional reactions within a thoughtful context, instead of struggling to make sense out of the sensational and find some way to understand what is happening, kids cheer, boo, whistle, yell, and continue to promote a hyped feeling state. The thinking function has taken a vacation.

***

A real -- and the newest -- concern we have with our children's exposure to violent video games is what the devices teach them physically. The mechanical, interactive quality of a "First Person Shooter" game like Doom or 007 Golden Eye makes it so much more dangerous to society than images on a television screen, however violent. "Why?" we are constantly asked. "It's a game. It may be violent and it's probably better our children weren't exposed to it, but ... " Well, it's a lot more than that. Certain types of these "games" are actually killing simulators, and they teach our kids to kill, much the same way the astronauts on Apollo 11 learned how to fly to the moon without ever leaving the ground. Believe it or not, simulators can be that good....

A horrific development in this is that rather than just stopping with their intended target, these kids keep firing -- and a simple grudge turns into a mass murder. The point is, these games are indeed affecting our children and we can't hide behind the myriad other excuses when kids "go off." Because when they do, they do so in all the ways these games train them -- to kill every living person in front of them until they run out of bullets or run out of targets. That results in a lot of dead bodies.

Michael Carneal, the fourteen-year-old boy who walked into a Paducah school and opened fire on a prayer group meeting that was breaking up, never moved his feet during his rampage. He never fired far to the right or left, never far up or down. He simply fired once at everything that popped up on his "screen." It is not natural to fire once at each target. The normal, almost universal, response is to fire at a target until it drops and then move on to the next target. This is the defensive reaction that will save our lives, the human instinctual reaction -- eliminate the threat quickly. Not to shoot once and then go on to another target before the first threat has been eliminated. But most video games teach you to fire at each target only once, hitting as many targets as you can as fast as you can in order to rack up a high score. And many video games give bonus effects for head shots. It's awful to note that of Michael Carneal's eight shots he had eight hits, all head and upper torso, three dead and one paralyzed. And this from a kid who, prior to stealing that gun, had never shot a real handgun in his life!

In South Carolina a boy named Wesley Schafer had put hundreds of dollars into point-and-shoot video games. One day he and a buddy of his decided it would be fun to rob the local convenience store. They walked in and Schafer pointed a .38 caliber pistol at the clerk's head. The clerk turned to look at him, and the defendant shot reflexively from a range of about six feet. The bullet hit the clerk right between the eyes and killed him. Afterward, police asked the boy what had happened and why he'd done it. Killing the clerk clearly was not part of their plan -- it was being videotaped from six different directions. Schafer responded, with great anguish and confusion, "I don't know; it was a mistake; it wasn't supposed to happen." Stimulus-response.

***

The Duke Nukem series provides a good current example of just how gruesome and explicit the violence of the home video games has recently become. In this popular "shooter" game, the player is behind a weapon of choice, shooting everything in sight to get to the next level in order to shoot everything in sight. The "shooter," Duke, who is controlled by the player and looks somewhat like the Terminator, moves through pornography shops, where he finds posters of scantily clad women he can use for target practice. In advanced levels, bonus points are awarded for the murder of female prostitutes, women who are usually naked. Duke often encounters defenseless, bound women, some of whom are even conveniently tied to columns and plead, "Kill me, kill me."

A game called Postal takes the horror one step further. The user gets to "go postal" and receives points for killing as many innocent victims as possible while they beg for mercy. Likewise Redneck Rampage, where you can do the same with farm animals and farmers. The latest technology permits you to scan pictures of your fellow students and teachers from your high school yearbook and "morph" them onto the faces of the people you kill.

***

Children and teens both need to be continually reminded that those who are feeling small, afraid, weak, and helpless are often the first to resort to violence.

***

For your own sake, pick up a gaming magazine like PC Gamer and check out the ads. See what you're up against: "Gratuitous Violence Is 200 Times Faster with a D-Link Network"; "No Cure. No Hope. Only Death"; "Destroying Your Enemies Isn't Enough ... You Must Devour Their Souls."

-- Stop Teaching Our Kids to Kill: A Call to Action Against TV, Movie & Video Game Violence, by Lt. Col. Dave Grossman and Gloria DeGaetano