Feminists and the Clinton Question
by Gloria Steinem
The New York Times
The Opinion Pages
March 22, 1998
NOTICE: THIS WORK MAY BE PROTECTED BY COPYRIGHT
YOU ARE REQUIRED TO READ

THE COPYRIGHT NOTICE AT THIS LINK

BEFORE YOU READ THE FOLLOWING WORK, THAT IS AVAILABLE SOLELY FOR PRIVATE STUDY, SCHOLARSHIP OR RESEARCH PURSUANT TO 17 U.S.C. SECTION 107 AND 108. IN THE EVENT THAT THE LIBRARY DETERMINES THAT UNLAWFUL COPYING OF THIS WORK HAS OCCURRED, THE LIBRARY HAS THE RIGHT TO BLOCK THE I.P. ADDRESS AT WHICH THE UNLAWFUL COPYING APPEARED TO HAVE OCCURRED. THANK YOU FOR RESPECTING THE RIGHTS OF COPYRIGHT OWNERS.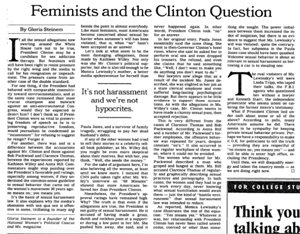 If all the sexual allegations now swirling around the White House turn out to be true, President Clinton may be a candidate for sex addiction therapy. But feminists will still have been right to resist pressure by the right wing and the media to call for his resignation or impeachment. The pressure came from another case of the double standard.
For one thing, if the President had behaved with comparable insensitivity toward environmentalists, and at the same time remained their most crucial champion and bulwark against an anti-environmental Congress, would they be expected to desert him? I don't think so. If President Clinton were as vital to preserving freedom of speech as he is to preserving reproductive freedom, would journalists be condemned as inconsistent" for refusing to suggest he resign? Forget it.
For another, there was and is a difference between the accusations against Mr. Clinton and those against Bob Packwood and Clarence Thomas, between the experiences reported by
Kathleen Willey
and Anita Hill. Commentators might stop puzzling over the President's favorable poll ratings, especially among women, if they understood the common-sense guideline to sexual behavior that came out of the women's movement 30 years ago: no means no; yes means yes.
It's the basis of sexual harassment law. It also explains why the media's obsession with sex qua sex is offensive to some, titillating to many and beside the point to almost everybody. Like most feminists, most Americans become concerned about sexual behavior when someone's will has been violated; that is, when "no" hasn't been accepted as an answer.
Let's look at what seem to be the most damaging allegations, those made by Kathleen Willey.
He can tell that something is wrong. I am on the verge of tears. My adrenaline has gotten the better of me and I am trembling. He greets me with a hug. I know -- he hugs everyone. But at this moment, it is sincere and just what I need. A flurry wells up in my stomach, a mixed rush of fear and solace, all raw, all at the surface. He is my friend -- the most powerful man I know, the most powerful many anyone knows. Surely he can help me, give me some hope, maybe a job, anything to help me out of this crisis. A hug is a good start. Then he looks into my face, into my eyes.

"What's going on?"

"I just really need to talk with you about something," I start to explain as we sit at his desk. "I've got some real problems." I have helped him for a long time, worked for him, supported him when other people didn't. I figure a relationship like that goes both ways, and I don't think twice about asking him for help. But I don't want to cry in front of him, and I try not to let go of the tears. "I don't know what will happen with Ed and me. He's gotten himself into real financial problems and we need help."

"I can see how upset you are," he said. "Would you like a cup of coffee?"

"Oh, yeah, okay."

"Well, come on," he says. "Let's go back to my kitchen."

He opens a side door that's discreetly integrated in the paneling of the office wall, and I follow him through it into a narrow hallway. There's a small bathroom on the right and just past it, a little galley kitchen. A steward starts to ask what we would like but he is quickly dismissed and we are alone.

"I will fix you a cup of coffee," he says. "Decaf?"

"No, high test."

We stand in the hallway for a minute or two. He pulls down a Starbucks cup and pours my coffee into it, mentioning that he only takes decaf.

"How do you like it?"

"Um, cream."

He hands me my cup. My hands are shaking and I worry about spilling, so I quickly taste the coffee.

"Come on back here to my study," he says, "where it's easier to talk."

I follow him through a narrow hallway into his private study. He rests on the back of a chair while I stand, leaning against the doorjamb. At six feet two, he is a big man, but half-sitting he no longer towers above me and we are at eye level with each other. It's subtle, yet I wonder if he knows that this makes me feel a little more at ease. Still, I tremble. Holding the full cup of coffee, my hands are shaking. I think, Now just calm down! I grip the warm mug to steady myself.

"I can tell you are really upset," he says, looking at his watch. "Are you okay? Tell me more about what's going on."

"I'm frightened," I said. "And worried about my family and where this is going to all end."

My voice trembles as I quickly tell him about my crisis, passing over the details. I have a serious problem. I don't know what's going to happen with my husband. I don't know if we're going to get divorced, and I don't know what's going to happen to us. I only know that Ed is in trouble, owes a lot of money, and I have to do something. I am scared to death. I've got to rise to the occasion. I have not had a paying job in twenty years, but my volunteer days are over.

I've got face time with a very powerful friend who only has a few moments for me, so I'm going to make the most of it. Tears well up in my eyes. I try to maintain my dignity. I don't want to lose it in his office. I just need him to point me in the right direction. That's basically how I look at it. I want him to know that times are bad and this is very serious. With all this desperation and nervous energy, I run my mouth for five or ten minutes. He looks at his watch again. His assistant said he would see me before a three o'clock meeting, and I cam in at about two forty-five, so I should finish talking and get out of his way. "I hope you can give me assistance because I desperately need a job. Please, send me anywhere."

"We'll see what we can do."

But my coworkers wanted me to tell him about some office problems, so I tag them on as an aside. "And you really need to know this too," I add. Still on the verge of tears, I think talking about work will help me to level out the conversation and distract me from my panic. "The office is just chaos. It's a mess. There's no protocol, no rhyme or reason, no organization. There's no language code, and it's very inappropriate." Finally, I conclude, "You really need to do something about that." I know it's nervy of me to tell him what to do. But that's just who I am!

Again he looks at his watch. I'm not paying much attention to the time but I know it's close to three o'clock and time to leave. We move back into the small hallway. I set my coffee cup on a shelf to steady myself again.

He promises to help.

There is a loud knock beyond the door from the outer office, and an assistant calls out, "It's time for your meeting!"

He ignores this. He doesn't say anything, not one word. I'm thinking, How can he ignore this? But he does not answer at all. He doesn't even say "Give me a minute," or "Hold on." Why don't they just come in? What must they think if he doesn't answer?

Again he looks at his watch. Obviously, he's trying to show me he needs to get to that meeting, so I should go.

"Well," I say, "I'll be going."

"No, you don't have to rush."

"But you have an important meeting here, and I know you have a lot to do that's more important."

"No, it's all right."

But again he looks at the watch. I think that contradicts his words and my time is up. "Okay, well, I'm open to any possible job, and I could go anywhere," I conclude. "I've taken enough of your time, so I should leave."

The assistant beyond the door resumes knocking. "You're late!"

Somebody's got to move to the door here, and obviously it's not going to be him. You'd think it would be him -- or that somebody would come through the door and say, "Okay, it is time to move along." Yet there's no such person. Instead, he looks at the watch. It crosses my mind: Why does he keep looking at that watch if he's not going to usher me out?

The assistant bangs on the door again. I decide to ease myself out of there.

"Well, thank you for listening. I'd better go, and if you could help me, I'd really appreciate it." I retrieve my coffee cup. I have no idea why, just that I was so full of distracted, nervous energy. I move to the door and head back toward his office. He follows me and moves closer. I turn around and he is right next to me, but it's a narrow hallway, so I don't really feel like he's crowding me. I finish the conversation, "So, you know, whatever you can do for me ..."

"I'm so sorry this is happening to you."

He reaches around to hug me but I'm holding my coffee cup at my waist, with both hands. He presses into the cup between us.

"I'm going to spill my coffee."

He takes the cup and puts it on a shelf, then gives me a big hug. But this hug lasts a little longer than a hug should. I pull back. All of a sudden, his hands are in my hair and around the back of my neck. What the hell? And then he kisses me on my mouth. Somehow, before I know it, I'm backed up in the corner by the little bathroom, against the wall behind his office. I am trying to maintain my space but he's all over me, just all over me. And all I can think is, What the hell is he doing?

I try to twist away. He is a foot taller than I am and nearly double my weight. I can barely think. What do I do? He is my friend, my boss. He is a very powerful man. And I am trying to be a lady.

"What are you doing?" I finally manage.

"I've wanted to do this since the first time I laid eyes on you."

I am totally unprepared for this. I have been off on this other plane -- terrified for my husband, for my family, for our future -- and he says, "I've wanted to do this ..."

What?

He takes my hand and places it on his genitals, on his erection -- perhaps to show me how much he's "always wanted to do this." What is he doing? I am shocked! I yank my hand away but he is forceful. He is all hands -- just all hands. His hand goes up my skirt, he touches me everywhere, pressing up against me and kissing me. His face is red, literally beet red. It is as though this bizarre scene gives him a different kind of rush.

My mind is racing. I should slap him. That would shake it out of him. Can I slap him? I don't know if I can slap him! I'm pinned in the corner against the bathroom door and the wall, and his hands are all over me, up my skirt, over my blouse. I think he is trying to unhook me ...

"Aren't you afraid that somebody's going to walk in here?" This should give him pause.

He doesn't miss a step. "No. No, I'm not."

"What if your wife or daughter walks in here?"

"I know where they are," he says, "all the time."

The aide outside the office is frantic, banging on the door and yelling from the other side, "You're late for your three o'clock meeting." But the assistant doesn't come in. Why doesn't he come in? Where is everybody? Where is that steward? What about security? Why doesn't someone come in?

I realize why they don't come in. They've been told to stay out. Oh, God! I've got to get out of here! I just have to get to that door. I have to get out!

-- Target: Caught in the Crosshairs of Bill and Hillary Clinton, by Kathleen Willey
Not only was she Mr. Clinton's political supporter, but she is also old enough to be
Monica Lewinsky
's mother, a better media spokeswoman for herself than Paula Jones, and a survivor of family tragedy, struggling to pay her dead husband's debts.
It's not harassment and we're not hypocrites.
If any of the other women had tried to sell their stories to a celebrity tell-all book publisher, as Ms. Willey did, you might be even more skeptical about their motives. But with her, you think, "Well, she needs the money."
It took a while but the news crews eventually abandoned the house in Midlothian and swarmed my cottage at the end of the mile-long dirt road. Most of the reporters stayed up on the road and never passed the "No Trespassing" signs on to my gravel driveway.

But one afternoon, in the high heat of a humid August, I had all my windows open when the dogs heard a noise outside and started barking. I was upstairs in the guest bedroom and I got down on the floor below the window and peeked outside. My beautiful German shepherd, Tess, was lying next to me. We saw a man standing on the gravel driveway across from my yard, smoking a cigarette. He came down to my front door and knocked. I didn't answer. He banged on the door and walked around to the kitchen and banged on that door as well. "Hello? Hello!" He smoked one cigarette after another. He must have thought someone was home since my car was parked in the driveway, so he persisted. But I didn't want to talk, so Tess and I just watched him. Finally, he left the side of my house, walked along my walkway and up the steps to where my car was parked and lingered there. Tess and I walked out onto my front porch. I held her collar. He was twenty-five or thirty feet from us. I asked him what he wanted and he said he wanted to talk to me.

"Who are you?"

He said he had been sent to get my story and asked if I would talk to him.

"I have nothing to say to you," I said. "Did you see the 'No Trespassing' sign at the top of my driveway?"

"I really need a story," he said.

"Well, I really need you to leave."

"My editor is going to be real mad if I don't come back with a story," he pleaded.

"Really," I said with more urgency in my voice, "you need to leave. This dog is trained to attack on command and if I were you I would just turn around very, very quietly and go away."

He finally turned and started to tiptoe on up my driveway. "And take your cigarette butts with you," I added. "She doesn't like them, either!"

So, before long, they all knew where I was and they knew my phone number too. My phone started to ring and it didn't stop. Everybody wanted me to talk. The tabloids called and told Dan me I could name my price. They were talking about obscene amounts of money. A product of Catholic guilt, I thought only one thing: I cannot do that!

Of course, I could have used the money. Here I was, still in the middle of the lawsuits with judgments against me, still afraid I was going to lose my house. And with everything I went through, I racked up legal bills. What's more, with my notoriety, it was harder than ever to find a job. Though I eventually gave a few interviews to try to clear my name, I never made a dime doing them because reputable reporters do not pay for stories.

When the story first broke, the White House denied that I had ever worked there. How could they think they could just say things like that and get away with it? These things are all documented. Of course in the Clinton White House such documents often disappeared, but I was a White House volunteer for years and I had a pass. Hounded by the press, Clinton finally had to acknowledge that he knew me. "Yeah, I kind of remember her," he said. "She was always real nice." It went from that to, "Oh, yeah, I guess she was in the Oval Office."

A reporter asked a question about me and it was the most bizarre experience to be sitting on my sofa and watching her ask whether "Kathleen Willey" was a potential witness in the Jones case. I thought, This is weird. This is really weird! And then I watched as Clinton froze and glared at her while answering her question. "There was a request to be left alone and not harassed" -- by me, incidentally! -- "and we're just trying to honor it." [8]

My mailbox was up at the top of my little hill, where my driveway met the road, and I walked up there every day to get my mail. Invariably, somebody was waiting to pounce on me, so I didn't even pick up my mail, but turned around and came home. Sometimes I even sneaked up there in the middle of the night to get my mail, which made me nervous. One Friday, at five in the afternoon, there was a knock on the door. I opened it to see my mail carrier standing there with a post-hole digger.

"How about I move your mailbox down here, closer to the house?" he offered.

I couldn't believe it. "But then you'll have to drive down here to bring my mail and turn around," I said. "It'll be a pain in the neck."

"I don't mind," he said. "I really don't care."

That Friday night, he moved my mailbox for me. That's how nice some people are.

Some people.

The day after Drudge ran the story, Dan called. "Well, you're going to be in the Enquirer," he said. "You got sold out."

"Julie Steele?" I said.

And he said, "Julie Steele."

I knew. I just knew it.

Julie was my best friend of twenty years. That's how desperate she was for money. She had mortgaged her house, had a baby, couldn't get a job, and was in a real financial bind. And David Kendall, a fop who represented Clinton, also just happened to represent the National Enquirer at that time. With a streak of luck -- and no doubt a little help from her friends -- Julie sold my story to the Enquirer. The article, published on August 19, 1997, called me a conniving woman who was obsessed with Clinton. Without naming Julie Steele, it said I launched my scheme when Isikoff asked me about the incident and I called Julie, asking her to lie to him. Supposedly, I had come up with the story in order to sell a novel with the same plot, and I allegedly felt that "snaring Clinton in a real-life romantic disgrace would generate huge public interest in the book." [9] This is the only time Julie expressed this book concept. But it did come up again in 1998, when Uncle Bob accused me of seeking publicity to promote another book -- this time a nonfiction account. (For the record, this is the first book I have ever written and I am doing so only to tell what I know about Hillary Clinton because I believe it is relevant to her presidential bid.)

Julie had wanted to sell this story to Isikoff but Newsweek doesn't pay for stories. Julie, of course, found out that the Enquirer does. Only days after my story broke, they arranged an all-expenses-paid trip to Palm Beach, Florida, for Julie with her grown daughter and her son, Adam, who was seven. The tabloid put them up at a posh resort, The Breakers, and bought the photo and her story. Julie sold me out for ten thousand dollars. Later, Time magazine also bought Julie's story for another $5,500. That's what our friendship was worth to Julie -- fifteen grand.

The sad thing is that Julie had asked for the picture of me with the president so that she could put it in Adam's room when he was just a baby. After I gave her the photo, she hung it in her kitchen and it stayed there for years. It was never for her son. And it was that picture that I had given to Julie as a gift for her child that she sold to the Enquirer.

-- Target: Caught in the Crosshairs of Bill and Hillary Clinton, by Kathleen Willey
For the sake of argument here, I'm also believing all the women, at least until we know more. I noticed that CNN polls taken right after Ms. Willey's interview on "60 Minutes" showed that more Americans believed her than President Clinton.
Nonetheless, the President's approval ratings have remained high. Why? The truth is that even if the allegations are true, the President is not guilty of sexual harassment. He is accused of having made a gross, dumb and reckless pass at a supporter during a low point in her life. She pushed him away, she said, and it never happened again. In other words, President Clinton took "no" for an answer.
In her original story,
Paula Jones
essentially said the same thing. She went to then-Governor Clinton's hotel room, where she said he asked her to perform oral sex and even dropped his trousers. She refused, and even she claims that he said something like, "Well, I don't want to make you do anything you don't want to do."
Her lawyers now allege that as a result of the incident Ms. Jones described, she was slighted in her job as a state clerical employee and even suffered long-lasting psychological damage. But there appears to be little evidence to support those accusations. As with the allegations in Ms. Willey's case, Mr. Clinton seems to have made a clumsy sexual pass, then accepted rejection.
PAULA JONES'S DEPOSITION WHICH THREW A PRESIDENT INTO CRISIS

We talked for a few minutes. Mr. Clinton asked me about my job. He told me that Dave Harrington (who at that time was in charge of the AIDC) was his 'good friend'.

Mr. Clinton then unexpectedly reached over to me, took my hand, and pulled me toward him, so that our bodies were close to each other. I removed my hand from his and retreated several feet.

Mr. Clinton approached me again, saying 'I love the way your hair flows down your back' and 'I love your curves.'

While saying these things, Mr. Clinton put his hand on my leg and started sliding his hand toward my pelvic area. I did not consent to him doing this. He also bent down to kiss me on the neck, but I would not let him do so.

I exclaimed, 'What are you doing?' and escaped from Mr. Clinton's reach by walking away from him. I was extremely upset and confused and I did not know what to do. I tried to distract Mr. Clinton by asking him about his wife and her activities, and I sat down at the end of the sofa nearest the door.

Mr. Clinton then walked over to the sofa, lowered his trousers and underwear, exposed his penis (which was erect) and told me to 'kiss it'.

I was horrified by this. I jumped up from the couch and told Mr. Clinton that I had to go, saying something to the effect that I had to get back to the registration desk. Mr. Clinton, while fondling his penis, said: 'Well, I don't want to make you do anything you don't want to do.'

Mr. Clinton then stood up, pulled up his pants and said: 'If you get in trouble for leaving work, have Dave call me immediately and I'll take care of it.'

As I left the room, Mr. Clinton detained me momentarily, looked sternly at me and said: 'You are smart. Let's keep this between ourselves.'
This is very different from the cases of Clarence Thomas and Bob Packwood. According to Anita Hill and a number of Mr. Packwood's former employees, the offensive behavior was repeated for years, despite constant "no's." It also occurred in the regular workplace of these women, where it could not be avoided.
The women who worked for Mr. Packwood described a man who groped and lunged at them. Ms. Hill accused Clarence Thomas of regularly and graphically describing sexual practices and pornography. In both cases, the women said they had to go to work ever day, never knowing what sexual humiliation would await them – just the kind of "hostile environment" that sexual harassment law was intended to reduce.
As reported,
Monica Lewinsky's case illustrates the rest of the equation
: "Yes means yes." Whatever it was, her relationship with President Clinton has never been called unwelcome, coerced or other than something she sought. The power imbalance between them increased the index of suspicion, but there is no evidence to suggest that Ms. Lewinsky's will was violated; quite the contrary. In fact, her subpoena in the Paula Jones case should have been quashed. Welcome sexual behavior is about as relevant to sexual harassment as borrowing a car is to stealing one.
And when the story broke in January, 1998, it broke online. It was the first time the traditional news was usurped by the Internet for a major news story.

A click that reverberated around the world. What that meant for me personally was that overnight I went from being a completely private figure to a publicly humiliated one worldwide. I was Patient Zero of losing a personal reputation on a global scale almost instantaneously.

This rush to judgment enabled by technology led to mobs of virtual stone-throwers.

Granted, it was before social media, but people could still comment online, email stories, and of course email cruel jokes.

News sources plastered photos of me all over to sell newspapers, banner ads online, and to keep people tuned to the TV.

Do you recall a particular image of me, say, wearing a beret?

[Laughter]

Now I admit I made mistakes, especially wearing that beret. [Laughs] But the attention and judgment I received, not the story, but that I personally received, was unprecedented.

I was branded as a tramp, tart, slut, whore, bimbo, and of course, "that woman." I was seen by many, but actually known by few.

And I get it! It was easy to forget that that woman was dimensional, had a soul, and was once unbroken.

When this happened to me 17 years ago, there was no name for it. Now we call it cyberbullying and online harassment.

-- Monica Lewinsky (TED Talks), by Monica Lewinsky
The real violators of Ms. Lewinsky's will were Linda Tripp, who taped their talks, the F.B.I. agents who questioned her without a lawyer and Kenneth Starr, the independent prosecutor who seems intent on tailoring the former intern's testimony.
What if President Clinton lied under oath about some or all of the above? According to polls, many Americans assume he did. There seems to be sympathy for keeping private sexual behavior private. Perhaps we have a responsibility to make it O.K. for politicians to tell the truth – providing they are respectful of "no means no; yes means yes" – and still be able to enter high office, including the Presidency.
Until then, we will disqualify energy and talent the country needs – as we are doing right now.
Gloria Steinem is a founder of the National Women's Political Caucus and Ms. magazine.