CIVIC AROUSAL, ADDRESSED TO THE CITIZENS OF AMERICA
by Ralph Nader
© 2004 Ralph Nader
NOTICE: THIS WORK MAY BE PROTECTED BY COPYRIGHT
YOU ARE REQUIRED TO READ

THE COPYRIGHT NOTICE AT THIS LINK

BEFORE YOU READ THE FOLLOWING WORK, THAT IS AVAILABLE SOLELY FOR PRIVATE STUDY, SCHOLARSHIP OR RESEARCH PURSUANT TO 17 U.S.C. SECTION 107 AND 108. IN THE EVENT THAT THE LIBRARY DETERMINES THAT UNLAWFUL COPYING OF THIS WORK HAS OCCURRED, THE LIBRARY HAS THE RIGHT TO BLOCK THE I.P. ADDRESS AT WHICH THE UNLAWFUL COPYING APPEARED TO HAVE OCCURRED. THANK YOU FOR RESPECTING THE RIGHTS OF COPYRIGHT OWNERS.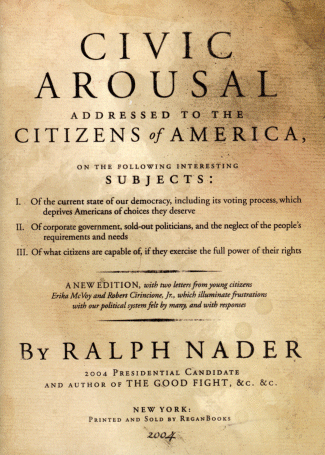 CIVIC AROUSAL
ADDRESSED TO THE CITIZENS OF AMERICA
ON THE FOLLOWING INTERESTING SUBJECTS:
I. Of the current state of our democracy, including its voting process, which deprives Americans of choices they deserve
II. Of corporate government, sold-out politicians, and the neglect of the people's requirements and needs
III. Of what citizens are capable of, if they exercise the full power of their rights
A NEW EDITION, with two letters from young citizens Erika McVoy and Robert Cirincione, Jr., which illuminate frustrations with our political system felt by many, and with responses
By RALPH NADER
2004 PRESIDENTIAL CANDIDATE
AND AUTHOR OF THE GOOD FIGHT, &c. &c.
NEW YORK: PRINTED AND SOLD BY REGANBOOKS
2004
________________________________________
August 23, 2004
Dear Mr. Nader,
I don't have anything nasty to say to you. I think you're a good man trying to do an impossible job. It is because of this that I am writing to you.
I have lived in Florida for all of my twenty-seven years, including (obviously) the disaster that was the 2000 presidential election. During that debacle, I actually lived in Tallahassee, so I got to see firsthand the nastiness and media frenzy and party polarization and so-called "activism" that we all remember so well. At the time, I must admit I was angry at Nader voters, because it did seem to me that people who voted for you could have voted for a member of the two-party system and made things go more smoothly for the candidate I favored. In retrospect, however, and as we face another presidential campaign and election cycle, my feelings are different.
I am not writing to tell you whether to run again or not. I'm a waitress: what do I know about campaigns and elections? I am writing you because I face another cycle of the same stories and the same faces and the same attitudes I've witnessed since I first registered to vote ten years ago. I am writing you because you have intentionally kept yourself outside of the two-party system and have stood for what you believe in and have sought votes from the people who are tired of the ways things are done. I am tired of the ways things are NOT done. I am tired of wanting money for education to go to students instead of administrators. I am tired of wanting to focus on the needs of my country and my fellow citizens and seeing attention given, instead, to international issues that DO NOT -- regardless of the assertions of either party -- affect the daily lives of people living here, voting here, paying taxes here. I am tired of knowing that something different must be done and yet voting within a system that guarantees -- no matter whether "liberals" or "conservatives" are "in power" -- that nothing new will happen, nothing will ever change.
What frustrated me the most about your campaign in 2000 was that I knew smart, active, dedicated people who were voting for you, and yet I couldn't, because I knew it didn't matter if I voted for you. Voting outside of the two-party system seems like a waste of a vote, because you and other candidates outside of the majority do not have the exposure or the support to win elections. However, voting within the two-party system is equally a waste of a vote because neither Democrats nor Republicans will say or do what needs to be said and done to bring about real change in the world. I have only been registered to vote for ten years, and I have only voted a handful of times in my life, and already I am tired of it. I want to speed through this election cycle and submit my will to whomever will be elected (or reelected) next, because in a system as corrupt as ours, what difference does any of it make? And at the same time, I am disappointed in myself for the defeatism I feel.
My question is not whether you will run again or not. Personally, I don't really care whether you do. My question, really, is HOW can we change the way things are done? To whom do I write? To whom do I complain? To whom do I speak? Even people who once cared about change are now too entrenched in the system to see beyond it, and the rest -- well, they either have too much money or not enough. I don't want to vote next year. I don't want there to be a President or a Legislature. I want them all to go away, to start from scratch. I am bored and frustrated with the same language and the same policies and the same problems.
This is a funny thing. You, yourself, are the closest "rebel" to the middle stage, and it is only because of this closeness to the American center that I have even heard of you, that CNN even bothered with you years ago. And this is why I'm writing. You come the closest to being them.
What should I do?
I suppose, in the end, none of the politics matter. I hope, finally, that you are just a good man. And that no matter what happens with the rest of the mess you continue to be so.
Sincerely,
Erika McVoy
Tallahassee, Florida
________________________________________
September 15, 2004
Dear Erika McVoy:
Your message reached me in a swarm of e-mails but it stood out with its thoughtfulness and honesty. You ask the important questions of yourself and others. You would like to demand more of the political system -- captive and indentured as it is to powerful interests -- but "defeatism" you feel renders you unable to demand more from yourself.
Although I must say that you have a special rhythm in the way you express yourself, what you are conveying are sensibilities and disdains that young people have felt throughout many past generations both here and in other countries as well. Given the vast gaps between where we are and where we could be as a society and as a culture, your frustration is understandable as are your questions: "How can we change the way things are done? To whom do I write? To whom do I complain? To whom do I speak? What should I do?"
When I was your age, out of Law School and studying why the auto companies made cars in ways that let millions of Americans die or be injured because the manufacturers refused to place simple safety systems in these vehicles, I asked the same questions of many people in state and federal government, in traffic safety circles, even of the auto companies themselves. They gave me many answers and nonanswers and, strange as it may seem, I found the latter the most motivating. Then I realized that the questions similar to those you presented had to be asked to one more person: myself, and in the most insistent manner, the most relentless "don't let go" manner.
Over two thousand years ago, Heraclitus, an ancient Greek philosopher, said that "character is destiny." I'll add four more words: "and personality is decisive." Those two works-in-progress -- one's character and one's personality -- create the bedrock off which to bounce your questions. Without such introspection, we will always be wandering in the wilderness, wondering and shrugging and questioning, without a compass. Cynicism -- another word for rejection followed by withdrawal -- will thwart skepticism -- another word for doubt followed by resurgence. How do we find the right direction? First, we must decide to look for it. But isn't that what many achievements in life entail?
As a waitress, you interact for short amounts of time with many different people, which means you make fast appraisals and have quick reactions. Over time this kind of feedback becomes a skill. Watching your customers process their reactions to the menu -- regardless of age -- lets you see how even the small indecisions or impulses by eaters reflects anxieties, knowledge, dependencies, and tastes that flow from their character and personality. Choices for harm instead of for benefit can have over time serious consequences for health, obesity, and disease.
I grew up working in my parents' restaurant opposite a sprawling textile mill in Winsted, Connecticut, learning various jobs in the kitchen, behind the counter, and at the tables. It was such a valuable experience. Serving and conversing with such varieties of customers -- factory workers, jurors, clerks, salespeople, vacationers, artisans, retirees and families with small children -- gave me many windows to look through. When these customers spoke of their occupations or hobbies, they often exuded confidence and self-reliance. But when their talk turned to "politics," their tones changed. They expressed a range of differing opinions, but also dollops of cynicism, powerlessness, and absence of self-confidence that they could do something about public woes, corruption, stupidity, and overlooked necessities.
I marveled at their strength when they spoke about their own tragedies and hard times, and the ways they adjusted or overcame these adversities. I also marveled at how this fortitude seemed to disappear when the topics turned to their civic life and public concerns. In this arena, they couldn't seem to muster much effort or drive for change. I couldn't understand it. Raising their children, responding to a prolonged illness in the family, making a living, and their other daily challenges were so much tougher than being a modestly active and consistent citizen in their community and country.
For years I would ask myself why their priorities fell this way. There are many explanations, of course, but one that stayed with me was one I experienced in school. Even before television and its distractions, children knew little about the history of their community, received little practical civic education to connect their classrooms with the conditions in which they lived, and, in my father's words, were taught to believe rather than to think.
Still, all in all, giving up on oneself as a public citizen is an internally reversible state of affairs. Willing yourself toward civic activism is made easier by a developed awareness of injustice, without which one can scarcely command a sense of justice. They are frames of reference for one another.
Reaching this awareness requires clearing out two tendencies that seem all too widespread -- believing everything put forth by out flattering leaders (successful propaganda) and believing nothing. Both reactions have something in common -- they allow one to go through life without thinking.
Thinking about the pursuit of justice, which is the road to the pursuit of happiness, can become a pleasant experience. "Justice," Senator Daniel Webster said some 160 years ago, is "the great work of man on earth."
How did the better of our forebears confront the pervasive wrongdoing tolerated by the political systems of their day? Put yourself for a moment in the shoes of those early Americans who started four major social justice movements in the nineteenth century -- the abolitionist, women's suffrage, trade union and farmer -- populist progressive revolts. It started with the perception of suffering, humiliation, and deprivation. Then it moved to a realization that such abuses and exclusions were not ordained. Citizens began talking with one another. Conversations start change -- with two or four or eight people -- neighbors, friends, coworkers, relatives. Talk leads to solidarities, a feeling that one is not alone, that people can exchange motivations, ideas, and strengths with one another. This is how civic personalities begin to develop -- in small groups brought together around common causes.
As Maggie Kuhn, the phenomenal organizer of the elderly in the seventies and eighties, used to exhort, "Do at least one outrageous thing every day." How important is civic personality? Let's not underestimate -- it's critical. A person with a driven civic spirit does not get discouraged, feels resilient in learning from past mistakes and defeats, emerges smarter, stronger, and more strategic than before. A civic personality does not hog credit for acts of progress, but instead bends in the other direction of giving credit to others (including elected officials who crave recognition and deserve it, should they do the right thing). A civic personality keeps reading, thinking, and becoming more civically secure in herself to bring more neighbors and friends into the civic life. Our country's history demonstrates that almost all of the great and small social justice movements started with citizens putting out the call that something should or should not be done in the name of fairness. More often than not such moves took courage and sometimes outright bravery. Take for example the organizing of trade unions, perpetuated in the heat of company-hired goons generating mayhem and havoc against the workers and their families around the steel mills, the coal mines, and the auto plants years ago.
Intensifying one's civic personality requires civic motivation, which can be nourished endlessly by the example of others past and present. You may have heard of Granny D from New Hampshire who at age eighty-nine ignored her arthritis, went to the Rose Bowl on January 1, 1999, and then WALKED across the entire United States to Washington, D.C., under her banner of campaign finance reform. She was determined to educate everyone and every media outlet she encountered on the way that dirty money in politics was a cancer inside our democracy and was blocking many improvements for people and their country. It was amazing. When she arrived in Washington, Congress knew about her and some members met her on her arrival. She symbolized what my mother meant when she gave her children those marvelous words: "Determination puts your dreams on wheels." So almost four years later, what is Granny D doing? She is still pressing for public financing of public elections. This time she is a authentic civic celebrity getting media attention. She doesn't give up.
There was the Peace Pilgrim who gave up all her worldly belongings and walked from community to community speaking for peace and finding other peace advocates. Highway after highway she journeyed until she lost her life when a car struck her. Today her adherents, galvanized by her moral example, continue her critically important work.
There was Lois Gibbs, a working-class mother and homemaker in Niagara Falls, who noticed health problems with her children and similar ones with neighborhood children in their Niagara Falls, New York, housing project. It turned out that the neighborhood was built on toxic waste-soaked land. An uproar ensued. Companies and public officials were berated. Ms. Gibbs -- never an active citizen -- emerged as a community leader, and with others, fought for their children's lives against an unseen, invisible seepage of silent chemical violence. Lois Gibbs and her neighbors received compensation for their homes and got out of there. Last year she marked the twenty-fifth anniversary of the Love Canal crisis at her Center for Health, Environment and Justice in Falls Church, Virginia, where for many years she has organized and helped thousands of community groups confronted with toxic wastes endangering their families. "Our daily work is with people in tears," says Lois. Yet the Center's biennial convention celebrates victory after victory by ordinary people who accomplished extraordinary results. Isn't that what the American people at their best have accomplished when they arouse themselves to work for just outcomes?
What we rarely learn in our history classes is how a little effort by the people has gone a long way for the people. Growing up feeling that we do not count and that no one is listening to us breeds a mistaken sense that it takes huge mobilizations to make change. Well, for some objectives that is a correct assumption; but for many important changes, it takes a lot less citizen energy than many people realize. In 1993, during the White House-Congressional struggle over health insurance, I don't think there were fifty full-time organizers working the Congressional districts on behalf of universal health insurance -- a proposal sent, and rejected by Congress fifty-five years ago by President Harry Truman. It lost then and a far weaker bill lost in 1994. Imagine if there were two thousand full-time field organizers instead -- not that big a number, given the stakes and support by labor unions and elderly groups. Then the 120 House members who already supported full Medicare for all likely would have found their majority there and in the Senate.
So if we decide to put some time into our civic responsibilities, work up our civic motivation, begin conversations with others similarly inclined or with citizen groups already established, our civic personality takes hold and the joys of seeking justice grow to make our daily routines less daily.
You wrote that you lived in Tallahassee "during the debacle" of the 2000 campaign. Then you know that the Secretary of State Katherine Harris, with the approval of Governor Jeb Bush, set out to disenfranchise tens of thousands of Floridians who were likely to vote Democratic. In one of her forays, her office hired a company that erroneously labeled 50,000 people as ex-felons and ineligible to vote. One problem: they were not felons. Oops, so sorry. But no one was fined, prosecuted, or otherwise reprimanded for taking away these Floridians' constitutional right to vote. That alone would have won Gore the election, quite apart from the other even larger electoral shenanigans attributed to the Republicans who ran the state government. Now assume in 1999 -- and the clues were already observable -- a group of citizens in Tallahassee formed a watchdog group over Ms. Harris's office, filed Freedom of Information requests, called the media, maybe even found a pro bono lawyer or law professor to expose in a court of law what was going on. This could have been done as a good government civic club with very part-time efforts.
Of course, this initiative would have been more likely had the schools there taught civic skills -- such as how and why to use the state's Freedom of Information Act to get government documents, contracts and files. The schools pridefully teach or try to teach students computer skills, accounting skills, and other business management skills like marketing and public relations. And yet they seem oblivious to teaching youngsters civic skills, such as how to organize, where to get information relevant to social improvements, the ways and means of getting media and putting on press conferences, the preparation of voting records of legislators in clear, understandable formats, the development of stamina and many other know-hows and know-whos. Still, we can't fully blame inadequate education: people have shown again and again that if they have the desire, they can learn these skills as they take on an injustice or push an available solution. Someday an entrepreneur will start a nationwide cluster of storefronts teaching citizen-skill seminars.
There was one part of your letter which -- taken out of the context from the rest of your observations -- could suggest that you're considering dropping out of voting altogether. I refer to your feeling that voting is a waste because the two parties won't "bring about real change," and a third-party candidate (under the present system which I called rigged against small parties) won't get the exposure or support to win. You add "in a system as corrupt as ours, what difference does any of it make?" and then you chide yourself "for the defeatism I feel." You're right at the end -- defeatism is disappointing and must be viewed personally as unacceptable. What justice we've received thus far has been because enough of our forebears rejected defeatism and rook on the wrongdoers, the excluders and the naysayers.
Ani DiFranco said to me in 2000 that for her, "inaction is not an option." Inaction or "surrender" has let many bad situations and brutalities continue to spread without challenge. Apathy creates lots of space for the rascals, for the greedy to fill and take over. Apathy allows bad things to happen and signals that worse things will be encouraged to occur in the future. So it is with not voting. I've always believed that the only wasted vote is the vote for someone you do not believe in. Voting for small parties or candidates who you think well of helps expand such efforts for good ideas, higher visions, and brighter strategies before and after election day. What would nature be like if seeds were not given a chance to sprout? We know what business is like when small business is not given a chance to take on the big boys. Why is it in politics we cannot recognize where reform and regeneration come from -- almost always from outside challenges or jolts?
In our rigged two-party monopoly, third parties or independent candidates do not usually win, but what they do is push the agendas, bring new energies for new leadership along, build for a future in which the system gets unrigged and true political choices and competitions can freshen the paths to a more just and creative society and world. The mighty Mississippi River starts with a drop of water in northern Minnesota, and that drop joins with other drops, which form a rivulet, which joins with other rivulets to form a brook. From there water fills streams and streams fill small rivers, which fill tributaries, which flow into the mighty Mississippi. That's how our individual civic energies flow into mighty social achievements, protest movements, and transformations.
Make a list of the protections and rights you have in this country. Chances are high that they originated with a few individuals who stirred others, who then organized even more others for the breakthrough. Women's suffrage -- the right to vote for half of all Americans -- was attained nationally in 1919 with the ratification of the 19th Amendment to the Constitution. Organizationally, historians tell us the drive started in a farmhouse in 1846 in Seneca Falls, New York, with six women who, along with many followers, braved insults, abuses, arrests, and assaults before the day was won. How can anyone feel defeated knowing how our forebears turned defeatism into victory through endless profiles of courage and determination? Perhaps because the forces of defeatism are all around us -- explicitly by the power brokers and implicitly by our concessions to that power. After all, half of the American population does not vote in presidential elections.
Let me mention how the two major parties deal with potential challenge and replacement by what is called third party or independent political movements during elections. The stifling domination of the Republican and Democratic parties is based on a whole set of exclusions, starting with the winner-take-all electoral system itself. This system discourages people from voting in part because it has neither instant run-off voting nor proportional representation. It creates the atmosphere for defeatism. It makes voters worry that voting for small party or independent candidates will steal the race from the lesser-of-two-evils candidate belonging to a major party. Underneath this concern about supporting a "spoiler," as third-party candidates are frequently and unfortunately called, lies the belief by millions of nonvoters that politics has nothing to offer them.
In European democracies, there is some form of proportional representation. For example, in Germany when the Greens received over 5 percent of the vote, they were awarded 5 percent of the national Parliament. If they achieved 7 percent of the vote, they would have 7 percent of the parliamentary seats. This threshold is low enough to encourage voters who favor Green Party politics to vote for that Party. In the United States, such voters would be told they are wasting their vote because the winner of the most votes wins it all. Forty-nine percent of the voters get nothing and 51 percent get it all in single member districts -- a convenient adjunct to ensure that one or the other of the major parries wins elections at the local, state, or congressional levels.
Sounds a bit complex until one thinks about it for a minute. The Democrats are constantly whining about the Green Party as a spoiler. There is a simple solution and that is for the Democrats to push for legislation that establishes Instant Runoff Voting (IRV). Though about a quarter of our votes would have gone to Bush, says one exit poll, a larger number (about 40 percent) would have gone to Gore. The rest would not have voted at all. So if there was IRV and voters who voted for me could put down Gore as their second choice or Bush as their second choice, when the votes were tallied and neither Bush nor Gore had a majority, then the second preference votes would be instantly shifted. Since more of my voters would have preferred Gore to Bush, all other variables aside, Gore would have won Florida (though subsequent media-organized Florida statewide recounts had Gore the winner anyway). Nonetheless, the Democratic Party still has not made IRV a priority issue or even come out in favor of it at all. So it makes me wonder whether the Democratic Party really views the Greens as a spoiler or whether it is just indulging in old-fashioned scapegoating so it doesn't have to look inside itself first and foremost to correct its deficiencies and reverse its decays.
Indeed, politicians usually try to co-opt a small parry by reaching out to it after an election to take away some of its issues. The Democrats have not reached out to the Greens in the four years after the election. So degraded has the competition between the two major parties become that there are more and more one-party districts in the House of Representatives and in state legislative districts -- either uncontested Republican or Democratic districts. I read that over 40 percent of state legislative districts have no major party opponent to the incumbent; it may be higher in Florida. We're heading for a country being carved up this way by redistricting or by abandonment. Imagine, voters are supposed to pick the candidates; instead, one major Party or the other in power gets to pick their voters in grotesquely carved-up districts that look like snakes or doodles.
When I was a student I read Erich Fromm's Escape from Freedom, which was about people who retreat from using the freedoms they have and abide by authoritarian rulers and systems. Just before the New Year, I was reading in the New York Times how low the voting turnout in Russia is since the Soviet Union dissolved. Each year it seems to get lower -- depending on the elections, only about one-third of the eligible voters bother to vote and in some local elections even fewer people voted, This in a country that has known tyranny and dictatorship. This in a country that for over a decade has even had a "none of the above" option which lets a voter go to the polls and vote NO -- no confidence in all the candidates.
I mention all this to make the point that we need more freedom and justice in our country, more clean elections, more facilities to band together as workers or consumers or taxpayers. And we need to ask: Why don't we use the freedoms available to us now to achieve those higher levels of democratic politics as if people mattered? Let's take the issue of a livable wage. I don't know what your income is, but unless you work in an expensive hotel or a tourist spot where the tips are generous, it is not likely you're making enough to start looking for a financial planner. Well, there are over forty-five million full-time workers in this country who do not make a livable wage for themselves, much less to support their family -- that is, they make less than $10 gross an hour. And this is before deductions and paying the cost of just getting to work (car, transit, insurance policy, repairs, etc.). All this during a great surge in overall economic growth whose benefits went overwhelmingly to the top 5 percent of the population. Over 100 million Americans are essentially broke, which is why the nation's expert on wealth distribution, Professor Edward Wolff of New York University, can calculate that Bill Gates' financial wealth in the year 2000 was equal to the combined financial wealth of over 100 million Americans. This is not my idea of America the Beautiful.
Now imagine if millions of these workers got rid of just one attitude -- that they are powerless, do not count, and nobody will listen to them if they protest -- and wrote their member of Congress demanding an increase in the minimum wage to what it was in real purchasing power back in 1968. That would make it over $8 an hour. If each one wrote that letter telling their congressional representatives that they are going to talk this up with their friends, publicize their response, and vote accordingly in the next election, the Congress would stand, salute and pass the livable wage law, ending the unchecked exploitation of workers by businesses like Wal-Mart and McDonalds (where their bosses are paid millions of dollars each a year). All it takes to make progress is for workers to start demanding that their voices be heard by their Congress -- in return for their promise to vote accordingly. Sounds easy. Perhaps naive. But it's achievable -- if individuals did their part, like each person in a boat picking up his or her oars. Will they do this without some assurance that others will do likewise to make it matter, to make it happen? Why not, what's the downside? A stamp, an envelope, some word of mouth with fellow workers, make a call to a talk radio station, a meeting, a demand to see your congressional representatives next time they are in your community. Throughout American history, that's how things start -- the more active convince the less active. I remember in the late eighties, no more than 200,000 calls and letters to the House of Representatives, and some talk radio activity, did something almost unheard of in Washington. These people reversed a proposed big congressional pay raise for the boys and girls on Capitol Hill. It stunned the lawmakers -- whadaya know -- the people were watching.
When my siblings and I were youngsters, our father would ask us provocative questions. One day he asked, "what is the most powerful, event-producing force in the world?" We guessed and guessed. His answer: ''Apathy.'' What? "Yes," he said, "apathy, because huge numbers of apathetic citizens, or victims, allow bad guys to create all kinds of problems on the ground -- from dictatorial regimes, to repressed economic conditions to health and safety hazards, to corruption, to wars and so forth." Edmund Burke, the British conservative philosopher around the time of our country's revolution, put it another way -- ''All that is necessary for evil to prevail is for good men to do nothing."
Behind most things that are done right is a wide-awake group of people who have not given up on themselves, who gave themselves a chance to get the changes made, who had a thirst for justice that was very gratifying to them when they quenched it around a certain condition or situation.
People ask me what keeps me going. Hmmm, I think to myself, which answer among the many shall I choose this time? What keeps me going is the valor and example of people over generations and centuries who have discomforted themselves to make a better world for us all. I sometimes imagine them crying out to us, "continue on, carry on, finish the job." Or, looking at the present world, I see so many solutions to hunger, energy, poverty, violence, discrimination, pollution, waste, illiteracy, crime, addictions, commercialism, boredom and many diseases -- solutions too often on the shelf or working only in a few proven places, which are not applied to the festering problems that should sear our consciences and shame us into action. Or doing nothing, surrendering as the alternative to action is simply not in the cards. Or what are we going to say to our descendants when they wonder or ask why we didn't do anything to stop the disintegration of our world, our country, our community? That we were too preoccupied with our favorite television reruns? It comes down to our own self-respect as thinking and doing human beings, who want to leave this planet in some way -- small or large -- better off than it was when we entered it. This, interestingly enough, is the Athenian oath of citizenship over two thousand years ago -- boiled down, of course. So this idea of civic self-respect has been around a long time, but it does need to be renewed in every little head of every child as one essence of both upbringing and education.
Erika McVoy -- I've trespassed on your time, but your heartfelt words are my excuse. As we roll thoughts, doubts, and despairs in our minds, we should resort to communions with other intelligences, other spirits, or the wisdom of the ages through reading. I've always treasured books as just about the best of bargains. Authors labor for months, years, sometimes decades, and we can taste, digest, and relish the results of their work in just a few hours. We live in times where staring at videos and screens consume so many hours of the day (except for eyeball to eyeball jobs like yours). I shouldn't say "we" because I'm writing this on an Underwood manual typewriter, do not watch television very much and avoid most glowing screens. But millions of people would do well to resume the practice of reading -- not just for knowledge per se, but for motivation, for learning not to feel sorry for ourselves or cynically comfortable, given the sacrifices made by people in the past for our benefit today.
There are so many good current books -- not to mention the classics in the social justice movements. They improve and inform our judgments, our conversations with our friends. So impoverished is small talk these days, never mind the shrinking vocabulary of "cool," "you know," "sort of," "kinda," "like" and more "like," that to greet someone and ask "how's your civic life?" instead of "how's your social life?" these days would be considered strange, or bizarre. But why? A "civic life" attends to important issues of well-being, health, safety, freedom, life and death, bigotry, intolerance, pain, anxiety, tedium, fear. Anyone who doubts all this -- and wants concrete examples -- just read the newspaper accounts of the daily afflictions people have to face in their community and the strains and drains that come down on them from the corporate and political powers that be. Not to mention what they pay for but don't feel. For example, experts from the General Accounting Office of the Congress and those at the Department of Health and Human Services and Harvard University estimate that anywhere from $160 billion upwards every year is taken from our health care dollars due to "computerized billing fraud and abuse" by these companies and practitioners who sell health services. That's about enough to cover the uninsured. Consumers don't get billed proportionally for this fraud, but they certainly end up paying for it.
A civic life keeps the mind open for solutions to serious or nagging problems and abuses. Solutions bore a culture like ours; solutions bore the media, they bore people generally, compared to the stories about crimes and sports and the weather. But solutions that relieve pain and anguish and create a better life are not boring when you lead a civic life. You learn how to make solutions exciting and applicable. Traffic safety was certain to produce yawns when it was discussed before 1966. It was so boring it wasn't even studied at engineering universities like MIT even when traffic fatalities were the fourth leading cause of death in our country. By highlighting safety devices and showing with actual auto crash victims how the greed and indifference of the auto executives were causing millions in preventable casualties every year, traffic safety became exciting because it was capable of being improved when before it was viewed fatalistically. The excitement caught the attention of Congress, especially when GM behaved like a clod against its critics and was caught hiring a detective firm to follow me in order to "get some dirt." Laws were passed in 1966 and over a million American lives have been saved, plus many millions of injuries prevented or reduced in severity. The unexpected, the near impossible, begins to happen when people start demanding change. Who else is going to do that? Raising our expectation levels about what we want out of business and government and their unions and universities is the way to start. These changes sometime come incrementally but relentlessly. Who would have thought in 1964 when the first U.S. Surgeon General Report came out linking smoking to cancer that forty years later the once all-powerful tobacco industry would be in retreat, would finally admit the link to cancer of their product, would pay huge sums to states, would be unable to stop the spread of non-smoking areas, and would see their customers shrink from 46 percent of the adult population to under 23 percent at present. That 420,000 Americans die every year from smoking-related diseases was not enough to restrain the cancer industry's lust for profit. Bur what Abraham Lincoln once called "public sentiment" became a mighty wave behind a health movement that is now on the offensive for health, for life.
Look at seat belt usage -- up over 80 percent. Back in the fifties and sixties, people would grimace and guffaw when I would talk about buckling up. The response was almost automatic -- ''American drivers will never buckle up." Well, today they are buckling up and so are their families. Many children and adults are alive today because of the change in attitudes and laws.
When it comes to politics, if people do not think some more, and look at the records of the politicians instead of being lulled with slogans and rhetoric and manipulative symbols, they'll be taken again and again and made to believe it was their independent decision in the voting booth. The late Tony Mazzocchi, a great labor leader and a World War II combat vet, was once asked what had been his greatest disappointment, and he replied: "Why do so many workers vote for politicians who vote against them?" The worst anti-labor, anti-union, anti-job safety, anti-consumer, anti-toxics control, anti-clean money elections are supported by half the workers in this country. Go figure! How can a Wal-Mart worker making $6 or $7 an hour support members of Congress who are opposing raising the minimum wage simply to what it was in purchasing power back in 1968? How can they vote for politicians who in turn vote to stifle opportunities to form a trade union, by not repealing the union-busting laws on the books? You know what my answer is -- people don't give themselves time to see through the lies, the distractions, the phoniness that elect politicians who harm them and allow big business to dominate and plunder. If people do not demand to have a say, they'll pay and pay and pay and so will their children and grandchildren.
Let me drive this point home with regard to our Congress. This national legislature of ours spends about 22 percent of the average working family's income to fund all those federal programs -- half of these dollars now go to bloated military expenditures and wasteful military contract programs. Imagine if someone knocked on your door and said, "Hi, I'm your new neighbor, and I just wanted to let you know I spend 22 percent of your income, have the power to raise your taxes, allow others to toxify your environment, and send young Americans to war. See you later." How would you respond -- "Hey, you're interrupting the second re-run of Cheers?" Or would you say, "Hey, if you've got that much power over my life, you mean a lot to me. Come back here, because I want to mean a lot to you." Well, this neighbor is your member of Congress. So doesn't it make sense to spend a few hours a year, along with your fellow citizens, watching this member and others in Congress? I don't think there are 20,000 Americans outside of politics and lobbying groups who spend over 100 hours a year monitoring the Congress. Imagine what 200,000 people could do if they made this their hobby.
Speaking of hobbies, I'm told there are 15 million birdwatchers in the country, and several million of them take their hobby very seriously with equipment, diaries, and a readiness to hit the road on a moment's notice of some new bird in the region. A few years ago, I recall reading in the papers that a bird native to Europe was sighted in New Jersey for the first time ever. The word zoomed out -- by radio, television, telephone, computer -- and a mad rush to the location ensued. Thousands of people headed to Jersey to see if they could see that bird. Well, that is a nice, healthy, outdoors hobby, certainly one to be enjoyed while there are still different species of birds around. But I was possessed by a musing. What if, oh, what if that bird had flown down to Washington, D.C., and alighted on the Capitol dome of the U.S. Congress, followed by a rush of birders? Imagine if some of them then switched from bird-watching to Congress- watching ... oh well, just dreaming.
Earlier I mentioned some good books but neglected to give their names. How about trying William Grieder's Who Will Tell the People, which led to a PBS TV special. Explore the searing wit and eye-opening facts in Jim Hightower's If the Gods Had Meant Us to Vote, They Would Have Given Us Candidates. A little-known book by the sage of Washington, D.C. (the non-federal part), Sam Smith, titled Why Bother? Getting a Life in a Locked-down Land is all about civic motivation, but it's not set in a lecturing style. He takes the reader all over the place with all kinds of inserted wisdom from all kinds of agitators. This paperback is full of inspiration to stiffen backbones and demand more from our leading politicians, up to their ears in corporate cash, when they tell us in so many condescending words "Shut-up and Shop." Sam Smith gives us a remarkably concise message from Mahatma Gandhi, the great leader of Indian independence through non-violent action. These are what Gandhi called the "seven deadly social sins":
• Politics without principle
• Wealth without work
• Commerce without morality
• Pleasure without conscience
• Education without character
• Science without humanity
• Worship without sacrifice
And I would add "belief without thought" and "respect without self-respect" to this list.
Grieder's book came out in 1993, and it's probably in your local library. The books by Hightower and Smith I'm going to put in the mail to you.
In a refreshing way, your letter, expressing disdain for politics and parties so characteristic of younger generations everywhere, also comes to me unencumbered. You have no fixed mantras that close down thinking, like so many hereditary Republicans and Democrats. I hope to be correct in thinking that your doubtful mind is an open mind -- open to the touch of hope, graced with the breezes of change toward horizons that offer the fulfillment of life's possibilities for the peoples of our finite and beautiful planet. Would you write and tell me if I guessed right?
Best wishes,
Ralph Nader