PART 1 OF 2
Chapter 1: The Sporty Corvair: The "One-Car" Accident
John F. Gordon did not become president of the world's largest manufacturing company by using strong words. But on October 17, 1961, as the keynote speaker before the annual National Safety Congress, the head of General Motors was among friends -- "professionals" from the National Safety Council and other organizations that make up the closely knit traffic safety establishment. Mr. Gordon saw "diversionary forces" undermining safety progress. "The traffic safety field," he declared, "has in recent years been particularly beset by self-styled experts with radical and ill-conceived proposals.... The general thesis of these amateur engineers is that cars could be made virtually foolproof and crashproof, that this is the only practical route to greater safety and that federal regulation of vehicle design is needed. This thesis is, of course, wholly unrealistic. It also is a serious threat to a balanced approach to traffic safety. To begin with, it is completely unrealistic even to talk about a foolproof and crashproof car. This is true because an automobile must still be something that people will want to buy and use..... We can only design into it the greatest degree of safety that is consistent with other essential functional characteristics. Beyond that, we must depend on intelligent use. The suggestion that we abandon hope of teaching drivers to avoid traffic accidents and concentrate on designing cars that will make collisions harmless is a perplexing combination of defeatism and wishful thinking.
Mr. Gordon finished his address, entitled "Safeguarding Safety Progress," amid enthusiastic and confirming applause. It was a rare occasion for a top auto executive to speak about vehicle safety design in any vein, even in an argumentative context of raising and demolishing straw men. The national media gave wide circulation to his criticism of "self-styled experts" and, in subsequent months, General Motors management made sure that every GM dealer received copies of the address to distribute throughout the local community.
Mrs. Rose Pierini did not read about Mr. Gordon's complaints. She was learning to adjust to the loss of her left arm which was severed two months earlier when the 1961 Chevrolet Corvair she was driving turned over on its top just beyond the San Marcos overpass on Hollister Street in Santa Barbara, California. Exactly thirty-four months later, in the same city, General Motors decided to pay Mrs. Pierini $70,000 rather than continue a trial which for three days threatened to expose on the public record one of the greatest acts of industrial irresponsibility in the present century.
Mrs. Pierini's experience with a Corvair going unexpectedly and suddenly out of control was not unique. There simply are too many Corvairs with such inclinations for her case to be singular. What was distinctive about the "accident" was the attempt to find the cause of it on the basis of investigation, instead of resorting to the customary, automatic placing of blame on the driver.
As described by a California Highway Patrol officer, John Bortolozzo, who witnessed the flip-over while motoring in the opposite direction, the Pierini vehicle was traveling about thirty-five miles per hour in a thirty-five mph zone in the right lane headed towards Goleta. He saw the car move towards the right side of the road near the shoulder and then "all of a sudden the vehicle made a sharp cut to the left and swerved over." Bortolozzo testified at the trial that he rushed over to the wreck and saw an arm with a wedding band and wristwatch lying on the ground. Two other men came over quickly and began to help Mrs. Pierini out of the vehicle while trying to stop the torrent of blood gushing forth from the stub of her arm. She was very calm, observed Bortolozzo, only saying that "something went wrong with my steering."
After helping Mrs. Pierini to the ambulance, the officer made a check of the vehicle while it was on its top. He noticed that the left rear tire was deflated because of an air-out. Looking at the road, he noticed some gouge marks made by the metal rim of the left rear tire. He gave his opinion at the trial that the distinctive design features of the Corvair caused it to go out of control and flip over as had other Corvairs in accidents he had investigated. It was during the cross-examination of Officer Bortolozzo by defense lawyers that General Motors decided to settle the case.
Up to this point no engineering experts had been called to testify by plaintiff Pierini, but already the case had been going badly for General Motors. Two members of the respected California Highway Patrol had taken direct aim on the Corvair design. One of them, Charles Hanna, mentioned a confidential circular put out by the highway patrol dealing with handling hazards of certain rear-engine cars, including the Corvair. Hanna, a fourteen-year veteran of the patrol who had investigated over four thousand accidents, testified that "I have had many, many chances to observe accidents involving this type of vehicle. And they all have the same type of pattern."
Mr. James A. Johnson, service manager of Washburn Chevrolet Company, where the Pierini Corvair was purchased, told the court that his company sold an accessory specially designed for the Corvair by a nearby manufacturer. Attached underneath the vehicle to each end of the lower control arms, this accessory reduced excessive caving-in, or tuck-under, of the rear wheels on cornering or other stress situations.
The dealership's proprietor, Shelton B. Washburn, confirmed that as early as 1961 General Motors provided dealers with regular production option 696, which they could sell to Corvair owners. RPO 696 included heavier suspension springs and shock absorbers, a front stabilizer bar, and rear-axle rebound straps to reduce tuck-under. This RPO was a factory installed kit and not openly advertised. It was intended to meet the demands of the most knowledgeable Corvair owners who take their cornering seriously.
Mr. Johnson, in reply to questioning by plaintiffs counsel, stated that he had been at a General Motors training center at Burbank in 1959 to receive instructions and training about the new Corvair model. There, General Motors personnel told him that the differential tire pressures, front and rear, in Corvair automobiles were a critical factor in their stability. There followed these exchanges:
Counsel: Were you instructed by your superiors to tell members of the public that tire pressures on the Corvair were vital, important, crucial, and critical?

Johnson: No.

Counsel: Did you instruct your subordinates to tell members of the public and customers of Washburn Chevrolet that tire pressures on the Corvair were vital, important, crucial, or critical?

Johnson: We didn't tell the public this, no.

Counsel: Is it true that tire pressures on a Corvair are a must: they have got to be just right for the stability of the car?

Johnson: Yes.

Further indications as to how General Motors alerted its dealers are provided in this questioning of Washburn:

Counsel: When did you first learn that you were to sell Corvair automobiles?

Washburn: Oh, it was sometime during the year 1959. I don't recall the exact month.

Counsel: Did General Motors or the Chevrolet division advise you about the engineering of the Corvair at any time before you started selling that car to the public?

Washburn: The only things that I had seen from Chevrolet Motors Division was what we call sales training films which we use, before we have a new car announcement, to train our salesmen. And they had films on the Corvair in it, in this kit which we get every year to train the salesmen on the new product.

Counsel: But there was nothing in the films that you saw about the engineering of the Corvair, was there?

Washburn: No.

Counsel: The Chevrolet division shipped those cars, those Corvairs, to you without giving you any information about the engineering; correct?

Washburn, That is correct.

Counsel: And you started selling those to the public without having any engineering information on the car, true?

Washburn: Yes, yes; well, with the exception of this one school that Mr. Johnson attended.
The plaintiff's case was just warming up. Still to come were the engineering specialists and the reading into the record of depositions of leading GM personnel responsible for the making of the Corvair, from the drafting board to the production line. But then General Motors called a halt and settled. Judge Percy C. Heckendorf appeared as one summarily deprived of a great drama. He told the court: "I am disappointed from your standpoint, members of the jury, that you are not going to be able to see both sides perform and hear their arguments and go into it. It is a real experience and I would love to have heard that."
The notoriety attached to the Corvair would have soiled the General Motors image of product leadership carefully shaped over the years by a superbly managed program of public relations. For a car to have gone on trial and have been struck down by "twelve men good and pure" would have profoundly shaken even this goliath of American industry. And finally, what about the possible spillover into that dreaded chasm, public regulation? What would legislators think-men long nourished on the diet that "it's all because of the nut behind the wheel" -- when court-sanctioned investigations of evidence brought out into the open the facts about an American car that abruptly decides to do the driving for the driver in a wholly untoward manner? Against such prospects of ill omen, the alternative -- pay and delay -- was much more attractive.
Delay can do many things when a large corporation is doing battle with an injured person. The corporation can hang on much longer. Furthermore, the offending Corvairs -- primarily 1960-1963 models -- can only diminish in number with each passing month; the cause of their collisions and waywardness can continue to go undetected by victims, next of kin, accident investigators, and lawyers.
By October 1965, more than one hundred suits alleging instability in the Corvair had been filed around the country. In the summer of 1965, three of them were decided in court. General Motors denied the charges, and instead blamed the accidents involved on driver negligence. In one case brought in Chicago, the trial court, in a default judgment, decided against GM when the company repeatedly failed to comply with court orders to make available test and engineering information on the car. In two other cases (brought in California and Florida), jury verdicts were in favor of the company's argument that the drivers were careless. In none of the three suits, whatever their resolution may be on appeal, did General Motors reveal the technical data and test results that would have placed before the public the full facts about the Corvair.
The Corvair's peculiar friskiness did not escape the notice of the automobile writers and editors who put out those sprightly car magazines that fill shelves in drugstores. To this animated cult of auto lovers, the introduction of the "Waterless Wonder from Willow Run" into a world of automobile design, mired for three decades in the rut of follow- the-crowd compromises, was a dream realized. The Corvair was different. It was the first modern American automobile to offer a swing-axle independent rear suspension with an aluminum, air-cooled engine mounted in the rear. This was news, challenge, and controversy-the combination that makes for good copy and lively reading. Immediately following the car's introduction in September 1959, the articles began pouring forth on the Corvair road tests, on its rear engine placement and its suspension system. By 1963, sports car racer and writer Denise McCluggage could begin an article on Corvair handling idiosyncrasies with words that assumed a knowing familiarity by her auto buff readers: "Seen any Corvairs lately with the back end smashed in? Chances are they weren't run into, but rather ran into something while going backwards. And not in reverse gear, either."
Then Miss McCluggage went on to describe a phenomenon she termed a "sashay through the boonies, back-end first." "The classic Corvair accident is a quick spin in a turn and swoosh! -- off the road backwards. Or, perhaps, if half- corrective measures are applied, the backward motion is arrested, the tires claw at the pavement and the car is sent darting across the road to the other side. In this case there might be some front end damage instead."
Was Miss McCluggage trying to frighten anyone? Not in the least. Such frolics, she confided, were manageable if not avoidable and she went on to develop the "art of driving the Corvair" for the reader's benefit and, perhaps, life. The vehicle's provocative movements were not to be viewed pessimistically as a danger, but merely as a challenge to driving expertise. The Corvair on a sudden detour could be "brought back" before reaching the point of no return, according to the author, given know-how, anticipation and concentration.
Not all this country's ninety-five million drivers, however, could qualify for the Shell 4000 Rally. For the over 99 per cent residuum not in Miss McCluggage's class, the automobile "after-market" entrepreneurs provided other remedies. Hardly had the first Corvair hit the highway in 1959 before an enterprising company in Riverside, California, EMPI, realized the economic opportunity in the Corvair's engineering lack. The company developed, tested and began to sell an accessory rear stabilizer called the EMPI Camber Compensator that was specially designed for installation beneath the rear suspension control arms of Corvairs. Quite simply, it was a bar to help keep the wheels in optimum contact with the roadway.
EMPI advertised broad claims for its device: "keeps wheels on the ground," "designed and engineered to correct oversteer," "increases stability in winds," "reduces body sway," "lowers roll center," "reduces lean on turns," In 1961, EMFI began selling an accessory front anti-sway bar that, it claimed, gave "added stability" and "greatly improved the handling of the Corvair." 'The more significant of the two devices was the rear-end camber compensator. Estimates of its effectiveness in meeting all of EMPI's declared objectives varied, but there was a solid consensus that these objectives defined very real Corvair problems. And there was widespread endorsement that the compensator was a sizable step forward in safety. Sports Car Illustrated, after observing Corvair test runs in 1961, took note of the "irrefutable evidence that the EMFI Camber Compensator does indeed do mum to reduce oversteer and smooth out the unstable rear-end breakaway."
Ocee Ritm, a well-known California auto specialist who has tested and treated almost every Corvair line (thirty-six of them through 1963), states that the camber compensator "limits positive camber [tuck-under of the rear wheels] to a great extent and changes weight transfer characteristics of the car."
EMPI was not the only company offering stabilizing equipment for the Corvair. Several competitors entered the field as the commentary began to build up from the auto magazines. In the area of suspension changes for safety, said Ritch in 1963, the Corvair owner "has more choices than a bull elk in mating season." Ritch might have added, "if he carefully reads the auto magazines." A reader of such magazines who owned a Corvair could well become interested in such equipment after seeing such reports as:
• "The car can be a handful if the driver doesn't understand its peculiarities."
• The rear weight bias and independent springing together "give the car rather unsettling properties at higher speeds, Take cornering, for example, The rear starts to swing outward. The rear tires dig in but the shift in weight places them at rather odd angles relative to the pavement. These angles are great enough to increase steering force and, suddenly, the car is negotiating a tighter curve than intended. The phenomenon of oversteer has intruded into the scene."
• Another problem with the Corvair is "extreme sensitivity to cross winds. If a sudden gust hits the car, it causes the rear to sway rather severely."
Ritch commented in 1963, after three years of empirical research trying to come up with the hest advice and equipment for "the Corvair enthusiasts" (among which Ritch included himself), that "with the Corvair's center of gravity and high roll couple of the suspension, body lean becomes a considerable force acting to tock both wheels under in a cornering attitude. This results in loss of adhesion because of lowered tire surface contact. The sudden breakaway which has been experienced by every Corvair driver comes when a slight irregularity in the surface destroys the small amount of adhesion remaining."
At the Riverside race course in California there is a curve having an increasingly sharp comer and a downhill exit -- all made further unpleasant by a bump just past the apex. "Fortunately," says Ritch, "the approach is relatively slow and there is lots of warning, so in racing it seldom claims any victims. But similar configurations occur in mountainous country, particularly in the Rockies, and, for the stranger, at least, there are no shutoff markers. A Corvair driver could innocently lead-foot it into one of these curves and take up sky-diving, complete with car."
The veteran "car doctor", Bill Corey, working out of his shop in Pasadena, California, has diagnosed the Corvair's ills and puts the "raw" vehicle through an improvement course; then he sells it as the "Corey Corvair." In addition to the usually prescribed treatments for what Corey calls the "Corvair's unconventional handling, to say the least," he recommends stronger shock absorbers and higher quality tires than those offered the ordinary purchaser.
John Fitch, formerly a highly successful racing driver and consultant to General Motors, early saw in the Corvair substantial "leeways for modifications" that would improve the vehicle's performance. His approach was comprehensive. Out of his Lime Rock, Connecticut, workshop has come the Sprint, which is a converted Corvair Monza designed to improve the engine and handling performance. People who like the basic Corvair design but want something better and safer simply have a regular new Corvair delivered to Fitch, who works it over functionally and adds a few appearance extras. In describing the kind of Corvair he turns out, Fitch made it clear what market he was catering to: "I didn't want a race car," he said: "if I did, I'd buy something for that purpose. But I did want to feel more confident when be. hind the wheel that the car would go where I pointed it."
The foregoing comments are made by men who know the Corvair and are enthusiastic about the relative newness of its engineering as far as mass-produced American cars are concerned. They work at the Corvair as a labor of love and their criticisms are made in that framework. These criticisms are serious and are meant to be taken as such by their authors. But critics are not necessarily crusaders. They never indulge in commentary about the kind of engineering and management operations within General Motors which led to such an unsafe vehicle in handling. In the automobile magazine world such commentary is considered poor taste. It may also be indiscreet. One concentrates on the vehicle, not on its makers.
Most of the auto-buff magazines are run on a shoestring with a small group of car-infatuated, articulate people editing or writing the copy. The general tone is laudatory, but to hold their readers, there are substantial amounts of crisp criticism concerning vehicle deficiencies. However, an unwritten rule is that you never "straight-arm" a vehicle or its manufacturer, nor enter the territory of muckraking. To use terms such as "dangerous handling," or "irresponsibility of manufacture" would hit the industry too close to home. Far better to talk about "road adhesion qualities" or "problems of quality control." These magazines need the automobile company advertising, but probably more important, they require the technical assistance of company liaison men for pictorial materials and the loan of cars which they test-drive and write about each month.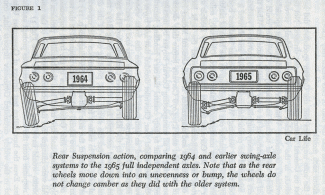 FIGURE 1. Rear Suspension action, comparing 1964 and earlier swing-axle systems to the 1965 full independent axles. Note that as the rear wheels move down into an unevenness or bump, the wheels do not camber as they did with the older system.
But the auto magazines and the Corvair specialists did have an effect on General Motors and its Chevrolet division. Nat that any defects in the vehicle's handling were suddenly revealed to Chevrolet's engineers. Whatever the independent specialists could do by way of testing and modifying, Chevrolet could do better, if only by virtue of its vastly superior resources. What the modifiers and accessory suppliers did was to provide a yardstick which measured the production model Corvair and showed it to come out seriously wanting. When a prosperous business being done by small companies can be built up on the basis of making Corvairs safer, top management takes notice. Obviously, selling greater safety for Corvairs implies that the factory models are dangerous, and implication might seep beyond the tight little world of auto fans and magazines. It took General Motors four years of the model and 1,124,076 Corvairs before they decided to do something for all unsuspecting Corvair buyers by installing standard equipment to help control the cars handling hazards.
For the 1964-model year, Chevrolet decided that any buyer of a Corvair deserved an anti-sway bar between the front wheels and a single-leaf transverse spring under the rear end to perform a function similar to the EMPI Camber Compensator. The 1965 Corvairs borrowed concepts from the Corvette Sting Ray's rear suspension. Out went the swing axles, pivoting only at the differential case, and in came a four-link suspension with universal joints at each end of the axle half-shaft. (See diagram p. 11) In addition there are two lateral stabilizer rods mounted in the rear ahead of the lower link. Other changes in the front suspension assembly, steering, and lire tread had the handling problem in mind. All were changes that the automotive engineer of the nineteen thirties would have seen the need for. (See Fig. 1)
The response from the automobile press was prompt and full of praise. Even the hard-bitten test drivers of Consumers Union reported in the widely circulated Consumer Reports that, compared with previous models, there was a very marked improvement in handling.
The auto magazines generally were ecstatic but they used their lavish compliments of the 1965 model as a permissive relief against which to uncover their long-contained fury over earlier Corvair breeds. In an article entitled "Chevy's All- New Corvair, We Love It!", Car and Driver wrote: "Despite a widespread misconception that the old Corvair was 'almost' a sports car, it was one of the nastiest-handling cars ever built. The tail gave little warning that it was about to let go, and when it did, it let go with a vengeance few drivers could cope with. The rear wheels would lose traction, tuck under, and with the tail end jacked up in the air, the car would swing around like a three-pound hammer on a thirty-foot string. This is not to say that the car was unstable within the limits of everyday, fair-weather driving-just that those limits were none too clearly posted and, once transgressed, you were in pretty hairy territory indeed. The new Corvair handles altogether differently from its predecessors. Final oversteer is still evident (as it must be in every rear-engined vehicle), but getting there is now half the fun, and it's by a new route."
Car Life, in describing the 1965 Corvair's better road manners, began their test drive apprehensively: "We approached this new Corvair with caution, as we have always had to approach Corvairs because of their somewhat unusual handling characteristics." A new and promising car magazine called Road Test, which accepts no automobile advertising, commented: "Previous to 1965. the car was probably the worst riding, worst all-around handling car available to the American public with the exception of the original Pontiac Tempest. Corvairs have a reputation of being 'tricky' cars to drive. Many have been involved in one-car accidents such as [the one] in which television comedian Ernie Kovacs lost his life." Road Test called the 1965 Corvair "one of the sweetest handling automobiles we have ever tested. The new line incorporates modifications the Corvair specialists such as Bill Corey, Bill Thomas and John Fitch have advocated for years."
***
Ever since the Corvair was introduced, General Motors' official reaction to criticisms has been silence. The handling hazards of Corvairs did not proceed from engineering mysteries or the prevalence of one technical "school of thought" over another. The Corvair was a tragedy, not a blunder. The tragedy was overwhelmingly the fault of cutting corners to shave costs. This happens all the time in the automobile industry, but with the Corvair it happened in a big way. What was there for General Motors to say?
The tragedy of the Corvair did not begin that thirtieth day of September in 1959 when it went on display in dealer showrooms. Nor did it begin when Ford test drivers got hold of two Corvairs somewhat prematurely from a dealer in early September and lost control of them at the company's test track. It began with the conception and development of the Corvair by leading GM engineers -- Edward Cole, Harry Barr, Robert Schilling, Kai Hansen and Frank Winchell.
Cole, now a General Motors executive vice president, provided the managerial ignition. He was an old devotee of rear-engined cars and right after World War II became involved with a short-lived experimental Cadillac having a rear engine. A prototype, ponderously bedecked with dual tires at the rear for stability, was soon shelved. To Cole, however, the idea of a rear-engined car remained attractive and he carried it over with him to Chevrolet and developed a project proposal as he rose in that division's hierarchy. In 1955, as chief engineer of Chevrolet, Cole saw a market for a small, "compact" car. Already an unpretentious import with a rear, air-cooled engine and independent suspension was "pre-testing" the American market with rising commercial success. But Cole and his associates were not in any mind merely to produce an American stereotype of the Volkswagen. This was to be a brand new kind of car utilizing the lessons of past models and the advances of the latest automotive technology. When he rose to head Chevrolet division in the summer of 1956, Cole put some of his finest engineering talent to work on preliminary design work. In the spring of 1957, Barr, Schilling, and Hansen made formal presentations before the top-level GM engineering policy committee and the executive committee. It was then that the official go-ahead to build the Corvair was given to Chevrolet. Kai Hansen was made head of the project.
A small, light car project naturally would look to the European experience. This is what Hansen and his associates did before coming up with the Corvair design. To aid in such an evaluation, they had the benefit of one of GM's most creative engineers, Maurice Olley. Originally hailing from Rolls Royce, Olley was a prolific inventor with over twenty-five U.S. patents issued in his name and assigned to General Motors. His field of specialization was automobile handling behavior. In 1953 Olley delivered a technical paper, "European Postwar Cars," containing a sharp critique of rear-engined automobiles with swing-axle suspension systems. He called such vehicles "a poor bargain, at least in the form in which they are at present built," adding that they could not handle safely in a wind even at moderate speeds, despite tire pressure differential between front and rear. Olley went further, depicting the forward fuel tank as "a collision risk, as is the mass of the engine in the rear." Unmistakably, he had notified colleagues of the hurdles which had to be overcome.
Hansen's group was familiar with the risks of its appointed task. Its members knew well the kinds of priorities which would force them to dilute their engineering standards. First, the new automobile had to sell well and make a "target rate of return" on investment, according to GM's unique and well-established policy of guaranteed profits. The way to do this, General Motors' management decided, was to make a small, lighter ear, with fuel economy, which would seat six passengers comfortably and give a ride comparable to a standard Chevrolet passenger sedan. Given the goal of designing a much lighter vehicle, this was no routine task. If these objectives could be achieved, the quest for profit maximization would have reached new frontiers. An automobile representing a reduction of 1,332 pounds of material, or more than one-third the weight of a standard 1960 Chevrolet, that could sell for only about $200 less than standard models would constitute a marvel of production cost efficiency and sales ingenuity.
In January 1960, Hansen told a meeting of the Society of Automotive Engineers: "Our first objective, once the decision was made to design a smaller, lighter ear, was to attain good styling proportions. Merely shortening the wheel base and front and rear overhang was not acceptable. To permit lower overall height and to accommodate six adult passengers, the floor hump for the drive shaft had to go. Eliminating the conventional drive shaft made it essential then that the car have either rear-engine, rear-drive or front-engine, front-drive. Before making a decision, all types of European cars were studied, including front-engine, front-drive designs. None measured up to our standards of road performance."
Chevrolet engineers decided that the best and most "esthetically pleasant" utilization of passenger space dictated the use of a rear-engine, rear-drive design. This decision presented the problem, according to Hansen, of successfully applying the arrangement to a chassis that combines stability with a good ride and easy handling qualities. Hansen's job was to get the various factors working for safer handling-principally, front and rear weight-distribution, tire-pressure differentials and tire design, suspension geometry, and relative dynamic behavior in the front and rear-and still keep a soft ride and maximum cost reduction possible.