INSIDE COVER
"Mr. Nader has produced a wonderful piece of fiction that I'd love to see become nonfiction." -- Tom Peters, author of In Search of Excellence
"With apologies to Winston Churchill, never in the history of human suffering and economic conflict have so few been in a position to do so much for so many. In this eye-opening and mind-expanding work of 'practical utopia,' Ralph Nader uses his unrivaled imagination to show all of us what a difference a few of us can make." -- William C. Taylor, founding editor, Fast Company, coauthor, Mavericks at Work: Why the Most Original Minds in Business Win
NO ONE BUT AMERICA'S FIRST CITIZEN, presidential candidate, and bestselling author Ralph Nader could have written this entertaining, provocative "practical utopia" in which seventeen real-life billionaires and multi-millionaires decide to use their wealth and savvy to equalize the odds on behalf of working people, the environment, clean elections, and the other pressing issues of our times. A work of the imagination, of course, but as Nader knows so well, if you can picture it, and if it's the right thing to do, it can happen.
Picture a world where those who have benefited the most decide to use their vast resources to help their fellow citizens. It won't be easy. Every attempt to make real change will be matched by counterattacks from reactionary forces committed to maintaining the status quo. Even with seventeen of the super-rich on our side now, the outcome can never be assumed.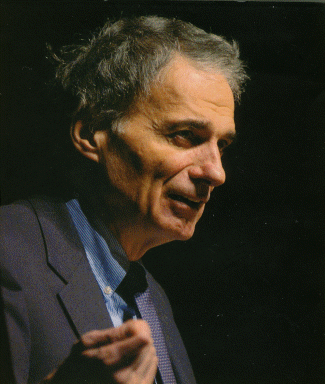 THE NEW YORK TIMES HAS WRITTEN, "What sets Ralph Nader apart is that he has moved beyond social criticism to effective political action." The author who know the most about citizen action here returns us to the literature of American social movements -- to Edward Bellamy, to Upton Sinclair, to John Steinbeck, to Stephen Crane -- reminding us in the process that changing the body politic of America starts with imagination.
Named by The Atlantic as one of the hundred most influential figures in American history, and by Time and Life magazines as one of the hundred most influential Americans of the twentieth century, Ralph Nader and the dozens of citizen groups he has founded have helped us drive safer cars, eat healthier food, breathe better air, drink cleaner water, and work in safer environments for more than four decades.
7 SEVEN STORIES PRESS,
http://www.sevenstories.com
"Since the Progressive era, Ralph Nader has done more than anyone else to protect American consumers. With this utopian fantasy, he shows us how good he thinks things could be." -- Warren Beatty
"As inspired a work of the political imagination as Tom Paine's Common Sense ... The book is a joy to read." -- Lewis Lapham
"A high-spirited visionary romp melding the wisdom, humor and imagination of Ralph Nader. May it inspire action." -- Patti Smith
"This tale has a moral substance and political content that is most relevant for our time!" -- Cornel West
"Ralph Nader's stunning masterpiece provides both a sharp critique and measured remedy for our current world ..." -- Nomi Prins, former managing director, Goldman Sachs, author of It Takes a Pillage
"A breakthrough book that sparks the imagination and inspires us to think about the political economy our country deserves." -- Rose Ann Demoro, executive director, California Nurses Association