Instapundit's "Run Them Down" Tweet Sparks Investigation Glenn Reynolds is Baffled?
by aurabass
Sep 23, 2016
NOTICE: THIS WORK MAY BE PROTECTED BY COPYRIGHT
YOU ARE REQUIRED TO READ

THE COPYRIGHT NOTICE AT THIS LINK

BEFORE YOU READ THE FOLLOWING WORK, THAT IS AVAILABLE SOLELY FOR PRIVATE STUDY, SCHOLARSHIP OR RESEARCH PURSUANT TO 17 U.S.C. SECTION 107 AND 108. IN THE EVENT THAT THE LIBRARY DETERMINES THAT UNLAWFUL COPYING OF THIS WORK HAS OCCURRED, THE LIBRARY HAS THE RIGHT TO BLOCK THE I.P. ADDRESS AT WHICH THE UNLAWFUL COPYING APPEARED TO HAVE OCCURRED. THANK YOU FOR RESPECTING THE RIGHTS OF COPYRIGHT OWNERS.
The University of Tennessee announced that Law Professor Glenn Reynold's "RUN THEM DOWN" tweet has initiated a review. UT College of Law Dean Melanie D. Wilson called Reynold's statement an "irresponsible use of his platform" and the concerns coming into the University from students, staff, and citizens all across the country "serious and legitimate".
UT College of Law Dean Melanie D. Wilson said in a statement Thursday morning that she and university administrators are investigating the matter, calling Reynold's post an "irresponsible use of his platform."

"The university is committed to academic freedom, freedom of speech, and diverse viewpoints, all of which are important for an institution of higher education and the free exchange of ideas," she wrote. "My colleagues and I in the university's leadership support peaceful disobedience and all forms of free speech, but we do not support violence or language that encourages violence."

She called the concerns about the tweet from students and staff, along with those from citizens across the country, "serious and legitimate."

Chancellor Jimmy Cheek released a statement about an hour later supporting Wilson and her comments.

"Wilson's statement about the faculty member's social media post reinforces the university's commitment to fostering a civil and inclusive learning environment," he said in a news release.
SALON MAGAZINE offers the pithiest view of the INSTAPUNDIT's problems:
It is a truth universally acknowledged that the biggest bullies, the ones fondest of meaningless phrases like "social justice warriors" and "special snowflake," have the tenderest sensibilities when their own behavior is challenged or held accountable. So when Twitter actually stepped up and briefly suspended the account of Instapundit's Glenn Reynolds — a man Wonkette has singled out for his distinctive "rank stupidity and willful ignorance" — there were howls of protest. It must be sooooo harrrrrrd to be soooo oppressed when you make violent, inflammatory comments!

Twitter's administration, which has come under increasing demands this year to do better in taming its deluge of abusive, violent commentary, issued a temporary suspension of Reynolds' Instapundit account.

It sounds like the enforcement wasn't handled with the greatest finesse. "I saw it was suspended and didn't know why," Reynolds told the News Sentinel on Thursday. He admitted, "Yes, that was my post. It was brief, since it was Twitter, but blocking highways is dangerous and I don't think people should stop for a mob, especially when it's been violent."
The SALON response to Mr. Reynold's quote? "Yes, and nothing says that you're concerned about violence like suggesting protestors be mowed down." The entire Salon take is a great read. The final closeout is particularly direct:
Guess what? People who aren't psychopaths "disagree with" vehicular homicide. Saying, "Run them down" is not an opinion. It's not "debate." It's a command. And it takes a particularly shoddy, cowardly individual to say garbage like that and then have the gall to be offended about a slap on the wrist and the arrogance to blatantly lie about the intention. And if you change your mind about giving Twitter all that precious "free content" of yours, Reynolds, I'm sure Twitter will somehow manage just fine.
A diary entry last night concerned Glenn Reynolds relationship with his father, a well-loved liberal leader of the Religious Studies Dept. at UT who helped organize the student protest when Richard Nixon chose to visit a Billy Graham Crusade at Neyland Stadium just a few weeks after the Kent State massacre. Dr. Charles Reynolds was arrested with many others for "disrupting a religious service" when approx 700 students with "THOU SHALT NOT KILL" signs attempted a peaceful protest as the Crusade podium was filled with Republican Candidates from across the state. Sen Albert Gore Sr. was in Knoxville but was not invited to attend. The Nixon visit was blatantly political as were his remarks.
Back in May 2010 I shared a story on Daily Kos about the 40th anniversary of Richard Nixon's visit to a Billy Graham Crusade held in Neyland Stadium on the UT Campus —40 YEAR FLASHBACK That diary linked to the 1970 PROTEST & ACTIVISM at UT — 40 YEARS ON website where Dr. Charles Reynolds figures prominently in the story.
Garry Wills — Pulitzer Prize-winning author of Lincoln at Gettysburg wrote the most detailed account of the protest in 1970 organized by Dr. Reynolds. HOW NIXON USED THE MEDIA AND BILLY GRAHAM TO RAP TO THE STUDENTS AT TENNESSEE. subtitled Jesus Wept
A long way from son Glenn's "protest".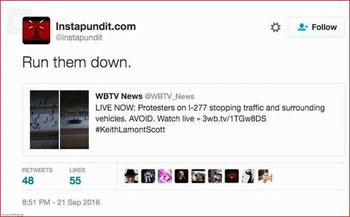 INSTAPUNDIT TWEET — RUN THEM DOWN
But back to Glenn:
Conservative USA Today columnist and University of Tennessee law professor Glenn Reynolds caused an uproar on Twitter when he urged motorists to drive over protesters blocking a highway in North Carolina.

"Run them down," Reynolds, who also produces the Instapundit website, tweeted late Wednesday with an image of the protesters on I-277.
You can read the Huffington Post story on Glenn Reynolds and his tweet here
Glenn Reynolds has issued an 'apology' of sorts saying he meant that only drivers in fear for their lives while surrounded by protesters should "keep driving" or "don't stop". I guess his fingers slipped on the keyboard as he typed "RUN THEM DOWN"instead.