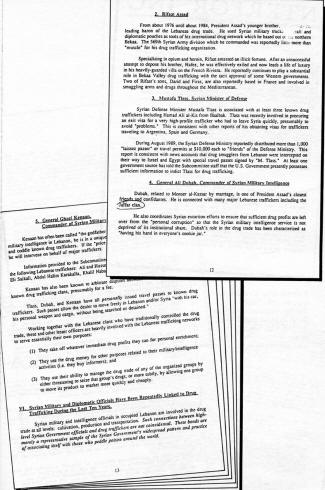 2. Rifaat Assad
From about 1976 until about 1984, President Assad's younger brother, _____, leading baron of the Lebanese drug trade. He used Syrian military trucks, aircraft and diplomatic pouches as tools of his international drug network which he based out of the northern Bekaa. The 569th Syrian Army division which he commanded was reportedly little more than "muscle" for his drug trafficking organization.
Specializing in opium and heroin, Rifaat amassed an illicit fortune. After an unsuccessful attempt to depose his brother, Hafez, he was effectively exiled and now leads a life of luxury in his heavily-guarded villa on the French Riviera. He reportedly continues to play a substantial role in Bekaa Valley drug trafficking with the tacit approval of some Western governments. Two of Rifaat's sons, Darid and Firas, are also reportedly based in France and involved in smuggling arms and drugs throughout the Mediterranean.
3. Mustafa Tlass, Syrian Minister of Defense
Syrian Defense Minister Mustafa Tlass is associated with at least three known drug traffickers including Hamad Ali al-Kis from Baalbak. Tlass was recently involved in procuring an exit visa for a very high-profile trafficker who had to leave Syria quickly, presumably to avoid "problems." This is consistent with other reports of his obtaining visas for traffickers traveling to Argentina, Spain and Germany.
During August 1989, the Syrian Defense Ministry reportedly distributed more than 1,000 "laissez passer" or travel permits at $10,000 each to "friends" of the Defense Ministry. This report is consistent with news accounts that drug smugglers from Lebanon were intercepted on their way to Israel and Egypt with special travel passes signed by "M. Tlass." At least one government source has told the Subcommittee staff that the U.S. Government presently possesses sufficient information to indict Tlass for drug trafficking.
4. General Ali Dubah, Commander of Syrian Military Intelligence
Dubah, related to Monser al-Kassar by marriage, is one of President Assad's closest friends and confidantes. He is connected with many major Lebanese trafficers including the Jaffar clan.
He also coordinates Syrian extortion efforts to ensure that sufficient drug profits are left over from the "personal corruption" so that the Syrian military intelligence service is not deprived of its institutional share. Dubah's role in the drug trade has been characterized as "having his hand in everyone's cookie jar."
Kenaan has also been shown to arbitrate disputes between _____ known drug trafficking clans, presumably for a fee.
Tlass, Dubah and Kenaan have all personally issued travel passes to known drug traffickers. Such passes allow the dealer to move freely in Lebanon and/or Syria "with his car, his personal weapon and cargo, without being searched or detained."
Working together with the Lebanese clans who have traditionally controlled the drug trade, these and other lesser officers are heavily involved with the Lebanese trafficking networks to serve essentially their own purposes:
(1) They rake off whatever immediate drug profits they can for personal enrichment;
(2) They use the drug money for other purposes related to their military/intelligence activities (i.e. they buy informers); and
(3) They use their ability to manage the drug trade of any of the organized groups by either threatening to seize that group's drugs, or more subtly, by allowing one group to move its product to market more quickly and cheaply.
VI. Syrian Military and Diplomatic Officials Have Been Repeatedly Linked to Drug Trafficking During the Last Ten Years.
Syrian military and intelligence officials in occupied Lebanon are involved in the drug trade at all levels: cultivation, production and transportation. Such connections between high-level Syrian Government officials and drug traffickers are not coincidental. These bonds are merely a representative sample of the Syrian Government's widespread pattern and practice of associating itself with those who peddle poison around the world.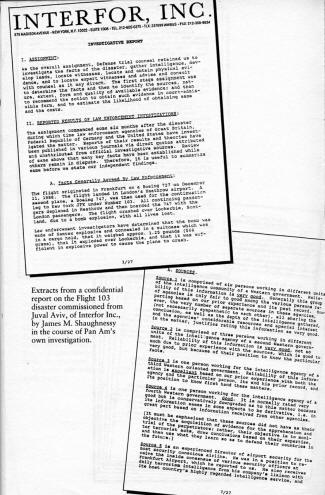 INTERFOR, INC.
575 MADISON AVENUE, NEW YORK, N.Y. 10022, SUITE 1006, TEL. 212-605-0375, TLX: 237699 WWBUS, FAX: 212-3089834
INVESTIGATIVE REPORT
I. ASSIGNMENT:
As the overall assignment, Defense trial counsel retained us to investigate the facts of the disaster, gather intelligence, develop leads, locate witnesses, locate and obtain physical evidence, and to locate expert witnesses and advise and consult with counsel as it may direct. The first stage assignment was to determine the facts and then to identify the sources, nature, extent, form and quality of available evidence; and then to recommend the action to obtain such evidence in court-admissible form, and to estimate the likelihood of obtaining same and the costs.
II. REPORTED RESULTS OF LAW ENFORCEMENT INVESTIGATIONS:
The assignment commenced some six months after the disaster during which time law enforcement agencies of Great Britain, Federal Republic of Germany and the United States have investigated the matter. Reports of their results and theories have been published in various journals via direct quotes attributed and unattributed from official investigative sources. Review of same shows that many key facts have been established while others remain in dispute. Therefore, it is useful to summarize same before we state our independent findings.
A. Facts Generally Agreed by Law Enforcement:
The flight originated in Frankfurt on a Boeing 727 on December 21, 1988. The flight landed in London's Heathrow airport. A second plane, a Boeing 747, was then used for the continuation leg to New York JFK under Number 103. All continuing passengers deplained in Heathrow and then boarded the 747 with the London passengers. The flight crashed over Lockerbie, Scotland, due to a bomb explosion, with all lives lost.
Law enforcement investigators have determined that the bomb was made of Samtex explosive and concealed in a suitcase which was in a cargo hold, that it weighed approx. 1.25 pounds (568 grams), that it exploded over Lockerbie, and that it was sufficient in explosive power to cause the plane to crash.
A. SOURCES.
Source 1 is comprised of six persons working in different units of the intelligence community of a Western government. Reliability of this information is very good. Generally this group of agencies is only fair to good among the various persons reporting based on our prior experience and its past record. However, the very number of separate sources in these agencies (not necessarily sympathetic to each other), all sharing the conclusion, as well as the depth of the intelligence gathered, and the agencies' considerable resources and special interest in the matter, justifies rating this information as very good.
Source 2 is comprised of three persons working in different units of the intelligence agency of a second Western government. Reliability of this information is very good, not so much due to prior experience with the sources, which is good to very good, but because of their position to know the particular facts.
Source 3 is one person working for the intelligence agency of a third Western oriented government. Reliability of this information is excellent based on our prior experience with both the agency and the particular person, its and his prior record, and its position to know first hand these matters.
Source 4 is one person working for the intelligence agency of a fourth Western government. Good. It is normally rated very good but is conservatively downgraded as to this matter because its information seems in some aspects to be derivative, i.e. in great part based on information received from other agencies.
(It must be emphasized that these sources did not have as their objective the acquisition of evidence for the apprehension and trial of the perpetrators; rather, their objective is to monitor terrorist acts, draw conclusions based on their expertise, and then use what they learn so as to defend their countries in the future.)
Source 5 is an experienced Director of airport security for the most security conscious airline. He was in a position to receive the inside consensus of various security officers at Frankfurt Airport, which he reported to us. He also receives daily terrorism intelligence from his company's liaison with its host country's highly regarded intelligence service, and ...
Extracts from a confidential report on the Flight 103 disaster commissioned from Juval Aviv, of Interfor Inc., by James M. Shaughnessy in the course of Pan Am's own investigation.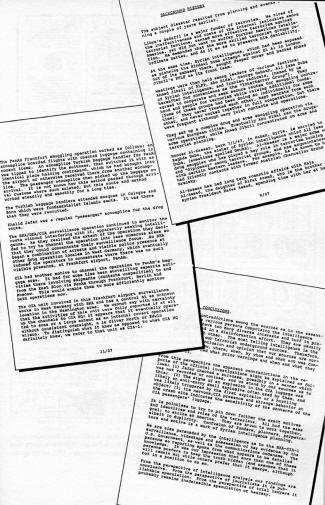 BACKGROUND HISTORY
The subject disaster resulted from planning and events ___ a couple of years earlier.
Libya's Qadaffi is a major funder of terrorism. He tired of the ineffectiveness and costs of the internal jealousies among terrorist factions, wanted more effective terrorism against America, yet did not want to suffer further American retaliation. He demanded that the more skilled terrorist groups coordinate better, and do it so as to preserve his deniability.
At the same time, Syrian intelligence, which had been exposed as planning the Hindawi bomb attempt against El Al in London out of its embassy there, sought deeper cover and backed Ahmed Jibril's PFLP as its front team.
Meetings were then held among leaders of various factions: Ahmed Jibril of PLFP, Abu Nidal, George Habash, Ali Issa Duba of Syrian intelligence, and Iranian radicals, (named by us hereafter for convenience as the "Interterror Group"). They agreed to cooperate and seek secure routs for smuggling contrabad and people for terrorism while raising additional funds. (Some of these groups had been doing so individually for some time). They never trusted each other, kept secrets from each other, and never worked together in full cooperation, but there were frequent although wary joint contacts and operations.
They set up a complex drug and arms smuggling operation via various European cities. Eventually Abu Nidal ran the drugs-arms operations, while Ahmed Jibril concentrated on arms and terrorist planning.
Monzer Al-Kassar, born 7/1/47, in Nabak, Syria, is married to Raghda Duba, the sister of Syrian intelligence chief Ali Issa Duba, (sometimes spelled Douba). Al-Kassar is a major arms and drug smuggler who has played a key role in terrorism banking and "diplomacy" among terrorist groups, and has acquaintances with certain Western leaders. For example, he is known to have had friendly contacts with former Austrian Chancellor Bruno Kreisky.
Al-Kassar has had long term romantic affairs with Raja Al-Assad, the daughter of Rifat Assad, who is the brother of Syrian President Hafez Assad, spending time with her at her ...
***
The PanAm Frankfurt smuggling operation worked as follows: an accomplice boarded flights with checked luggage containing innocent items. An accomplice Turkish baggage handler for PanAm was tipped to identify the suitcase, then switched it with an identical piece holding contraband, which he had brought into the airport or otherwise received there from another accomplice. The passenger accomplice then picked up the baggage on arrival. It is not known how this method passed through arrival customs where such existed, but this route and method worked steadily and smoothly for a long time.
The Turkish baggage handlers attended mosques in Cologne and Bonn which were fundamentalist Islamic sects. It was there that they were recruited.
Khalid Jafar was a regular "passenger" accomplice for the drug route.
The BKA/DEA/CIA surveillance operation continued to monitor the route without interfering with it, apparently seeking intelligence. As they realized the extent of the oepration they decided to try to channel the operation into less numerous areas so that they could concentrate their surveillance focus. So BKA began a combination of arrests and visible police presence at other drug operation locales in West Germany, which eventually induced the operators to concentrate where there was no such visible presence, at Frankfurt airport, PanAm.
CIA had another motive to channel the operation to PanAm's baggage area. It had for some time been surveilling separate activities there involving shipments (contents unspecified) to and from the East Bloc via PanAm through Frankfurt, Berlin and Moscow. This would enable them to more efficiently monitor both operations now.
The CIA unit involved in this Frankfurt airport surveillance works in West Germany with BKA and has a control at an unknown location in the Washington area. We cannot say with certainty that the activities of this unit were fully reported if at all up the channels to CIA HQ; it appears that it eventually operated to some or a large extent as an internal covert operation without consistent oversight, a la Oliver North or Edwin Wilson. To distinguish what it knew as opposed to what CIA HQ definitely knew, we refer to that unit as CIA-1.
***
CONCLUSIONS.
From this perspective the apparent contradictions in the reports of the official investigations might be explained as follows: (1) Jafar checked a suitcase, possibly in a manner which was not recorded or noticed, and we stand by our sources as to this; (2) The signs of an explosion in the CIA luggage was likely an anti-entry small explosive often used by them, and was likely triggered by the first explosion or a hurtling object; (3) the nervous CIA presence and strange behavior at the crash site indicates the sensitivity of the contents of the CIA passengers' luggage.
It is pointless to try to pin down further the exact motives and identities and roles of the terrorists. All had the same goal: to strike at America. They are known to work together, albeit in duplicity. Confusion of funders, planners, perpetrators and motive is a mark of Syrian intelligence planning.
We are also persuaded by the intelligence as to the BKA-CIA-1 surveillance, videotape and possession of key evidence by the U.S. Government, as well as the communications codename. The persons so reporting spoke from what appears to be detailed knowledge. It was our impression that more than one of these persons prefers to keep the truth hidden (and assumes that it will remain so) while others prefer that it emerge, although not in a position to do so.
From the perspective of intelligence analysis our findings are conclusive. From the perspective of journalists it is publishable speculation. From the perspective of trial lawyers it probably remains inadmissible speculation or hearsay.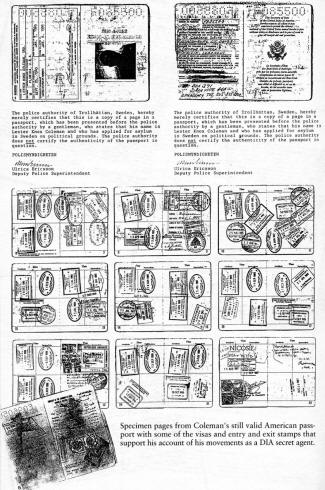 The police authority of Trollhattan, Sweden, hereby merely certifies that this is a copy of a page in a passport, which has been presented before the police authority by a gentleman, who states that his name is Lester Knox Coleman and who has applied for asylum in Sweden on political grounds. The police authority does not certify the authenticity of the passport in question.
POLISMYNDIGHETEN
Ulrica Ericsson
Deputy Police Superintendent
Specimen pages from Coleman's still valid American passport with some of the visas and entry and exit stamps that support his account of his movements as a DIA secret agent.