Mohan Singh Oberoi
by Wikipedia
Accessed: 4/9/19
NOTICE: THIS WORK MAY BE PROTECTED BY COPYRIGHT
YOU ARE REQUIRED TO READ

THE COPYRIGHT NOTICE AT THIS LINK

BEFORE YOU READ THE FOLLOWING WORK, THAT IS AVAILABLE SOLELY FOR PRIVATE STUDY, SCHOLARSHIP OR RESEARCH PURSUANT TO 17 U.S.C. SECTION 107 AND 108. IN THE EVENT THAT THE LIBRARY DETERMINES THAT UNLAWFUL COPYING OF THIS WORK HAS OCCURRED, THE LIBRARY HAS THE RIGHT TO BLOCK THE I.P. ADDRESS AT WHICH THE UNLAWFUL COPYING APPEARED TO HAVE OCCURRED. THANK YOU FOR RESPECTING THE RIGHTS OF COPYRIGHT OWNERS.
Happy, she left Guli to get on the Delhi train taking her to her next engagement, the World Buddhist Conference being held at the Vigyan Bhavan Hall, Delhi's premier conference venue. There she settled herself into a luxury suite at the five-star Oberoi Intercontinental Hotel, as a guest of her close friend and devotee Goodie Oberoi, wife of the owner.

March 28, 1977, the day of her death, was an interesting one....

Throughout the day many people spontaneously turned up to visit Freda, many of them from the Tibetan Friendship Group that Freda had founded. She greeted them all warmly and told them about her new project to sponsor Tibetan children in top Indian public schools, especially girls, who had less chance of receiving a good education than boys....

At six p.m. Freda and Pema Zangmo went for a walk, after which Freda settled down to some letter writing. She then took out some of her own childhood photographs and those of her children, taken in Lahore, before Partition. At ten p.m. Freda woke Pema Zangmo to give her instructions about certain gifts and money she wanted her to pass on to specific people. She brought out some yellow fabric as a gift for her faithful attendant to make into a nun's blouse, and told her to practice Dharma faithfully. Freda then dressed herself in her finest robes, telling the curious Pema Zangmo, "I will need them tomorrow." She then put on a tape recording of H.H. Karmapa, which he had sent her from New York, and sat down to meditate.

Pema Zangmo, who had gone back to sleep a few feet away from Freda, was awakened by the sound of "louder breathing." She got up and went over to Freda, who was still sitting bolt upright in the meditation position, and tapped her on the shoulder. Freda did not move, nor open her eyes. Peering closer, Pema Zangmo could detect no sign of outer life at all. In total panic she ran out into the hotel corridor screaming for help. A doctor was quickly summoned, who officially pronounced Freda dead. The cause: cardiac arrest....

On March 29 Freda's body was taken to Binder's house in Delhi and laid out on a bed of flowers. The Karmapa was deeply shocked, sent messages of condolences, and strongly advised that her body be taken to Rumtek for cremation. The family, however, decided to cremate Freda in Delhi, on the grounds of the Oberois' farm....

"On the fourth day we took her to Goodie Oberoi's farm"....

[T]he funeral on the Delhi farm had its own profound meaning. Near the cremation site, next to a wall of bougainvillea, was a sapling bodhi tree, which had been planted there a month earlier at Freda's suggestion when she had visited the farm with Goodie Oberoi Goodie had wanted to build a small temple there, and Freda felt it would be auspicioiuis to bless the ground with a replica of the tree under which the Buddha had attained enlightenment.

With fortunate synchronicity Freda's funeral coincided with the opening day of the World Buddhist Conference [The World Fellowship of Buddhists]. It was postponed until two p.m. so that the delegates could pay their respects to the woman who had been the close and beloved disciple of the Karmapa, who had been the first nun to achieve the highest bikshuni ordination, who had tirelessly helped the Tibetan refugees in the greatest hour of their need, and who had been such a powerful diplomat of Buddhism around the world.

12th General Conference

Date: 1 – 6 October B.E. 2521 (1978)

Venue: Tokyo and Kyoto, Japan

Theme: Buddhist Contributions to the Future

At this conference practicing of having Declaration at the end of each WFB General Conference was followed from this Conference onwards. Since many resolutions were remained unimplemented, no resolutions with that were of (1) political nature, (2) have difficulties of implementation, and (3) no providing funds to implement to the submitted project; could be proposed to the General Conference.

11th General Conference

Date: 20 - 25 February B.E. 2519 (1976)

Venue: Bangkok, Thailand

Theme: Role of Buddhists in Present Day Society

The conference was to celebrate the 25th Anniversary of the WFB. Princess Poon, the WFB President mentioned of the significant fact on the recognition given by the United Nations (UN) which was glad to cooperate with religions for the sake of peace desired by all. The letter of this recognition was given to the WFB President on 25 October B.E. 2518 (1975) at the UN Headquarters in New York.

-- The World Fellowship of Buddhists (The WFB) [World Buddhist Conference], by http://wfbhq.org

According to Kabir, coaches carrying around a hundred robed delegates arrived -- Buddhist monks from across the world, including representatives from Russia, who were attending the Conference for the first time in history. They stood around the pyre chanting and saying prayers. A white cloth was placed on Freda's body, and Ranga lit the pyre. Rather alarmingly, those standing close by saw beads of sweat appear on Freda's face.

"It was an amazing send-off. We knew her life had been devoted to the spiritual, but I had no idea how big she was in the Buddhist world until she died," said Ranga.

-- The Revolutionary Life of Freda Bedi, by Vicki Mackenzie
Rai Bahadur Mohan Singh Oberoi (15 August 1898 – 3 May 2002) [1] was an Indian hotelier, the founder and chairman of Oberoi Hotels & Resorts, India's second-largest hotel company, with 35 hotels in India, Egypt, Indonesia, UAE, Mauritius and Saudi Arabia
.[2][3][4]
In his obituary the Times of India said that he was acknowledged for putting the Indian hoteliering on the global map by successfully establishing
hotel brands like Oberoi and Trident
worldwide.[5]
Early years
M. S.Oberoi was born in a Punjabi Sikh family in Bhaun, a minor village of Jhelum District (now Chakwal District), Punjab, British India. When he was six months old, his father, a contractor in Peshawar, died, leaving his mother with few resources. After attending schools in his village and nearby Rawalpindi, he passed the Intermediate College Examination in Lahore, but was unable to continue attending classes because of lack of finances. Instead, he learned typing and shorthand.
In 1922, M.S.Oberai came to Shimla to escape from the epidemis of Plague and got a job as front desk clerk, at The Cecil Hotel at a salary of Rs 50 per month. He was a quick learner and took many additional responsibilities. The manager of Cecil, Mr. Ernest Clarke and his wife Gertrude took a great liking to the honesty of a hardworking young Mohan Singh Oberoi.

Mr. Clarke and his wife decided to hand over the responsibility of managing Hotel Carlton now renamed as Clarkes to this impressive young man. During their six months absence, Mr. Mohan Singh Oberoi doubled up the occupancy to eighty percent which gave them enough reason to offer the hotel - on a decided amount to Mr. Mohan Singh Oberoi as they wanted to return to England.

After continuous hard work for five years, on 14 August 1934, Mohan Singh Oberoi became the sole and absolute owner of Hotel Carlton, Shimla. He subsequently named it after Mr. Ernest Clarke.
Business and Politics
As India became independent, M. S. Oberoi built additional hotels, while expanding his base holdings. In 1948, he established East India Hotels, now known as EIH Ltd., whose first acquisition was the Oberoi Grand Hotel in Calcutta.[5] In April 1955 he was elected President of the Federation of Hotel and Restaurant Associations of India, and in 1960 was named President of Honour of the Federation for life. He also participated in legislative politics by winning elections to the Rajya Sabha for two terms
, from April 1962 to March 1968 and from April 1972 to April 1978. He was elected to the fourth Lok Sabha in April 1968, and remained a Member of that House till December 1970.[6]
In 1965, in partnership with international hotel chains, he opened the Oberoi Intercontinental in Delhi, India's first modern five-star, world-class hotel.
Oberoi Group
The Oberoi Group, founded in 1934, employed about 12,000 people worldwide and owned and managed about thirty hotels and five luxury cruisers as of 2012. Oberoi Amarvilas, Agra, ranks amongst the top ten hotel spas Asia-Pacific, Africa, and the Middle East of the Travel + Leisure magazine,[7] and ranked third in Best Hotels in Asia in 2007.[8] Other activities include airline catering, management of restaurants and airport bars, travel and tour services, car rental, project management and corporate air charters. The Group has a number of hotels worldwide, latest hotel additions being in Singapore, Saudi Arabia, Sri Lanka, Nepal, Egypt and Africa,.
Rai Bahadur M.S. Oberoi was the first to employ women in the hospitality sector.
Honours and awards
Throughout his later life M. S. Oberoi received numerous honours and awards from the Indian government and private organizations.
M.S.Oberoi was presented with the title Rai Bahadur (pater familiae) by His Majesty the King of Great Britain in 1943.
The other honors include admission to the Hall of Fame by the American Society of Travel Agents (ASTA); Man of The World by the International Hotel Association (IHA) New York; named by Newsweek as one of the "Elite Winners of 1978" and the PHDCCI Millennium award in 2000.[9]
He was awarded the Padma Bhushan, one of India's highest civilian awards, in 2001.[10]
Centenarian
Almost all publications indicated M. S. Oberoi's year of birth as 1898 and his age at death as 103. In his own autobiographical sketch - How M S Oberoi became India's greatest hotelier,[11] however, he gave 1900 as his birth year, a fact attesting to his having lived to 101. However, New York Times obituary, the date is given as 1898 and the following was written: "He was 103, although for years he said he was born in 1900 because he did not want to be seen as dating from the 19th century."
Personal Life and Family
M.S Oberoi married to Ishran Devi in 1920, the daughter of Shri Ushnak Rai belonged to his village. They had two sons and two daughters. Eldest son Raj Tilak Singh Oberoi (1924) known as Tikki Oberoi and second son Prithvi Raj Singh Oberoi (1929) better known to the world as Bikki Oberoi.
Tikki Oberoi married Leela Naidu on 16 July 1956; he was 33, she 17. Her father was a nuclear physicist, Science Director for UNESCO for South East Asia.
They had twin daughters, Priya Oberoi and Maya Oberoi.
Bikki Oberoi married Goodie in 1959, the daughter of a Punjabi landowner of Lyalpur.
They had a son Vikram Oberoi and daughter Natasha Oberoi.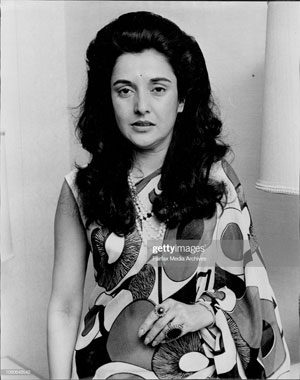 Goodie Oberoi
Oberoi's daughter Swaraj married Gautam Khanna in 1950. Youngest daughter Prem married Captain KK Mehra in 1957.
Tikki married in 1964 Jutta, the Teuton daughter of Ludwig Mittel Huber. They had a son Arjun Singh Oberoi.
Oberoi nephew Brij Raj Oberoi also called as "Diamond Oberoi" (nickname given by M.S Oberoi) consciously followed M.S Oberoi footsteps and continued on the family business, by operating several Heritage hotels in the Himalayas.[12]
Many other relatives of Mohan Oberoi have followed his footsteps and have worked in the hospitality industry, notably for the Oberoi group.
Further reading
• Dare to Dream: a Life of Rai Bahadur Mohan Singh Oberoi, by Bachi J Karkaria. Viking, 1992. ISBN 0-670-84723-2.
• 216: M.S. Oberoi. 333 Great Indians, who is who & who was Who, from the Remotest Past to the Nearest Present: Philosophers, Politicians, Diplomats. Edited by Om Parkash Varma. Published by Varma Bros., 1963. Page 189
• Rai Bahadur Mohan Singh Oberoi: Father of the Indian Hotel Industry. by Chathoth, P. K. Chon, K. K. S. JOURNAL OF HOSPITALITY AND TOURISM EDUCATION, 2006, VOL 18; NUMB 1, pages 7–10. USA. ISSN 1096-3758.
References
1. Mohan Singh Oberoi Britannica.com.
2. Mohan Singh Oberoi, 103, A Pioneer in Luxury Hotels New York Times, 4 May 2002.
3. The centennial Man Times of India, Sept 1, 2001.
4. Mohan Singh Oberoi - Founder Chairman - Official Biography Oberoi Hotels & Resorts
5. Noted hotelier M S Oberoi passes away Times of India, 3 May 2002.
6. Obituary Rajya Sabha debates.
7. Top 10 Hotel Spas Asia-Pacific, Africa, and the Middle East Travel + Leisure.
8. Oberoi Amarvilas Travel + Leisure.
9.
http://www.iloveindia.com/indian-heroes/ms-oberoi.html
10. "Padma Awards" (PDF). Ministry of Home Affairs, Government of India. 2015. Retrieved July 21, 2015.
11. How M S Oberoi became India's greatest hotelier by M S Oberoi, Rediff.com, 21 October 2005.
12. [1]
External links
• How M S Oberoi became India's greatest hotelier by M.S. Oberoi, with note by Dr. Gita Piramal, Managing Editor, The Smart Manager. Rediff.com
• M.S. Oberoi dies at 103 (2002) The Hindu Business Line.
• Rai Bahadur M S Oberoi - A Tribute To The Founding Father (2000) Indian Express.
• MS Oberoi:A Century Of Hospitality the-south-Asian, September 2000.