Buddhism in London
by Diamond Way Buddhism: Karma Kagyu Lineage
Accessed: 10/29/19
NOTICE: THIS WORK MAY BE PROTECTED BY COPYRIGHT
YOU ARE REQUIRED TO READ

THE COPYRIGHT NOTICE AT THIS LINK

BEFORE YOU READ THE FOLLOWING WORK, THAT IS AVAILABLE SOLELY FOR PRIVATE STUDY, SCHOLARSHIP OR RESEARCH PURSUANT TO 17 U.S.C. SECTION 107 AND 108. IN THE EVENT THAT THE LIBRARY DETERMINES THAT UNLAWFUL COPYING OF THIS WORK HAS OCCURRED, THE LIBRARY HAS THE RIGHT TO BLOCK THE I.P. ADDRESS AT WHICH THE UNLAWFUL COPYING APPEARED TO HAVE OCCURRED. THANK YOU FOR RESPECTING THE RIGHTS OF COPYRIGHT OWNERS.
Did you know that Buddhism has had a presence in London for over 120 years? This article overviews the historical context of our current London Buddhist Centre at the Beaufoy.
Early Buddhist influences on London
Japanese Pure Land Buddhists (1840–1907) established the first Buddhist "mission" in the West in 1889 in the central London home of a pioneering Irish Buddhist, Charles Pfoundes.
The mission however was short-lived, as Pfoundes emigrated to Japan three years later.
Around 1863, newly arrived in Japan, Charles changed his surname to Pfoundes, learned Japanese and developed a passion for studying Japanese customs and culture. He subsequently made a career for himself as an East-West middleman, based mainly in Japan but with a thirteen-year period (1879-1892) in London where he gave innumerable talks on Japan and other topics and in 1889 founded the 'Buddhist Propagation Society'; the first-ever Buddhist mission to the West (Bocking et al. 2014).

As far as we know Charles never met, nor indeed wanted to contact, his brother Elam or his father James after he left them in Ireland in 1854. He did however spend time, though hardly quality time, with his mother on several occasions. In 1874 Caroline travelled to Tokyo, where Pfoundes held a responsible position in a major shipping company. That visit ended, according to Caroline's later testimony in a Dublin courtroom in 1877, with Charles forcibly taking from her all the money she had brought with her to Japan, so that she was obliged to rely on the assistance of friends to get home. Caroline was in court because Charles, who in 1877 was travelling the world prior to settling, as he planned, in London, had visited Caroline in her own home in Dublin in May 1877 when she was in her early 60s and physically assaulted her when she did not give him back some Japanese ornaments he wanted. In October he returned and threatened to attack her again if she did not give him some papers. Pfoundes only avoided jail by paying sureties to keep the peace towards his mother for 12 months

('A Strange Case' 1877; 'Extraordinary case' 1877).

-- Mrs Pounds and Mrs Pfoundes: A Futuristic Historical Essay in Honour of Professor Ursula King [Charles James William Pounds Pfoundes] [Excerpt], by Brian Bocking
The next figure in the introduction of Buddhism in London was
Allan Bennett
(1872–1923). He was the second Englishman to become a Buddhist monk in the Theravada tradition (the first died shortly after his ordination in 1899). Bennett inspired many Londoners to explore Buddhism.
A former occultist
, he was a friend of Aleister Crowley, with whom he shared an interest in Buddhism. Bennett lived in a poor area of London. He was tormented by illness, which compelled him to use morphine and other drugs. He stayed with Crowley for a short time at a flat in Chancery Lane in central London, where they pursued their passion for mysticism.
After falling out with Crowley, in 1900 Bennett took a ship to Asia to dedicate himself to Buddhism. First he travelled to Ceylon, and later Burma where he received monastic vows and the name Ananda Metteyya "Bliss of Loving Kindness". After returning to London, in 1908 Bennett started to promote Buddhism. He faced difficulties in upholding monastic rules in London, for example he was not allowed to ride behind a horse but London's public transport was horse-drawn; he could not handle money so could never travel alone; and couldn't share a house with a woman. However he managed to generate much attention.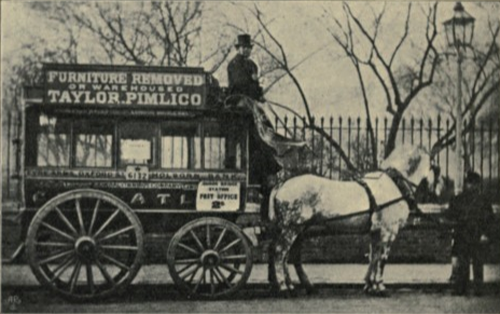 Transport in London in the early 1900s
Another key figure in Buddhism making its mark on London was
Christmas Humphreys
, QC (1901–1983), considered the most eminent of all 20th Century British Buddhists. A barrister, he prosecuted several controversial cases in the '40s and '50s, and later became a judge at London's Old Bailey.
Humphreys' interest in Buddhism developed at Cambridge University, where he joined the Theosophical Society.
He was influenced by
Ananda Metteya [Charles Henry Allan Bennett]
and other early British Buddhists, such as the Pali Text Society's founder, T. W. Rhys Davids.
Humphreys organised a group that developed into the "Buddhist Lodge" of the Theosophical Society, which by 1926 had seceded to become the Buddhist Society in London, which is now the UK's longest-standing Buddhist institution.
In Humphrey's spirit of non-sectarianism, the Buddhist Society has promoted the teachings of all Eastern Buddhist traditions, supported the development of Buddhism in London and the UK, and has hosted many prominent teachers. Of particular relevance to the history of the Karma Kagyu school of Tibetan Buddhism was the welcoming of H.H. the 16th Karmapa at the Buddhist Society on his visit to London in 1977.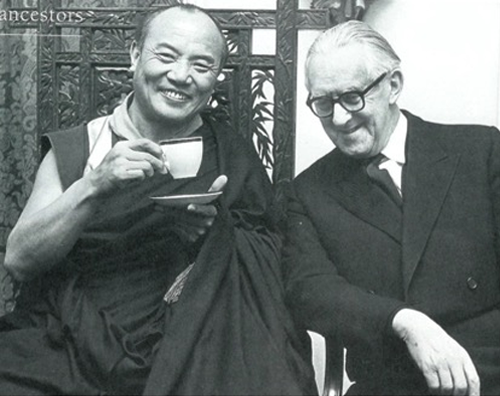 The 16th Karmapa and Christmas Humphreys in London, 1977
Proliferation of Buddhist Centres in London
In the latter half of the 20th Century a number of actual and nominal Buddhist organisations appeared and made their mark on London's Buddhist landscape. Theravada Buddhist institutions such as Chithurst and Amaravati Monasteries in north London gradually emerged from the fledgling
English Sangha Trust
, founded in London in 1956 by the English monk
Bhikkhu Kapilavaddho (William Purfurst)
to provide residences for monks and establish an authentically British monastic community. Temples catering predominantly for ex-patriot Buddhist communities of Sri Lanka and Thailand took shape respectively with the London Buddhist Vihara (West London) and Buddhapadipa Temple (Wimbledon). Other smaller temples and centres have similar offerings for London's diverse Eastern Buddhist communities.
Chronology [of the English Sangha Trust]

1879 Edwin Arnold published a biographical poem about the Buddha called

The Light of Asia

1881

Founding of The Pali Text Society by Dr Rhys Davids

1907

The Buddhist society of Great Britain and Ireland was formed

(3rd November) in order to facilitate a visit by

Ananda Metteyya [Charles Henry Allan Bennett]

1908 Ananda Metteyya arrived on 23rd April, creating the first recorded Buddhist mission to England

1909 The Buddhist Review was published on the 1st January; it was the first Buddhist periodical to appear in this country (Buddhist Society of Great Britain and Ireland)

1923 From 8th Jan to the 28th May Francis Payne gave a series of lectures at the Old Essex Hall, Strand, London, in an attempt to revive a flagging Buddhist Society

June 1924 The Buddhist Centre within the Theosophical Society was started by Christmas Humphreys later to become The [Buddhist] Lodge and then the present Buddhist Society (CH p17)

1926 On the 25th October the Buddhist Lodge within the Theosophical Society "divorced" the Theosophical Society and became independent (CH p27)

Nov 1926 The Buddhist Society of Great Britain and Ireland was dissolved (CH p28)

1928 The first Vihara connected with the birth of the British

Maha Bodhi Society

was founded by the Anagarika Dharmapala in Regents Park

1947 Venerable U Ṭhittila became librarian of the Buddhist Society and a leading exponent of Buddhism (CH p46)

1948 On 18th April 1948, certain members of the Buddhist Society and others founded the Buddhist Vihara Society in England with the object of expediting the founding of a Vihara in London where bhikkhus might live, teach and form a nucleus of the Theravada Sangha (CH p51) (see Sri Lankan Buddhism)

1951 The inaugural meeting of the Manchester Buddhist Society (27th May) (MBS)

Aug 1952 First Buddhist Summer School at St Anne's College, Oxford (CH p53)

Nov 52 Samaṇera Dhammananda helped start Birmingham Buddhist Society (MBS) (MW 54/55)

Aug 1953 3 Grosvenor Square became the permanent home of the Manchester Buddhist Society (MBS)

Aug 1953 Samaṇera Dhammananda helped form Cambridge and Brighton Buddhist Societies (MBS)

May 1954 On the 17th the Sri Lankan Temple was opened at 10 Ovington Gds, Knightsbridge. The Venerable Narada Mahathera was the first incumbent

Aug 1954 Summer school held at Roehampton. Miss Horner and the Venerable Narada Mahathera attended (MBS)

Nov 1954 Venerable Kapilavaddho returned to England on the 12th, and stayed briefly in Manchester. He then moved to the London Buddhist Vihara (Sri Lankan temple) in Ovington Gds, Knightsbridge on the 15th. He was joined by Bhikkhus Guṇasiri and Mahanama, the Venerable Narada having already left. He set up the Dana fund (for the use of members in distress, for the maintenance of bhikkhus and for the expenses of lecturers) and the Buddhist summer school both of which were later taken over by the Buddhist Society (R&B)

April 55 On the 8-11th the first intensive practice course lead by Venerable Kapilavaddho. 15 attended held at Milton hall, Buxton (MBS)

Sept/Oct 55 A two week course was held at Ipping (AP)

Aug 1956 "The English Sangha Association is a new formation. It was founded at Oxford on 11/18 August 1956 by a group of sixteen people who had just completed a strenuous and continuous course in the practice of samadhi (concentration) and vipassana (insight) lasting a week under instruction of the Venerable Kapilavaddho." (MW Nov 56) (M-EST First annual report by Dir. 30 April 57)

10 Oct 56 Buddhist Society moves to 58 Eccleston Sq (MW-55/56) (CH p59)

Oct 1956 EST leased 50 Alexandra Rd, London N.W.8. (M-EST First annual report by Dir. 30 April 57)

Dec 1956 First Sangha Magazine produced (S Dec 56)

28 Oct 62 131 Haverstock Hill was inaugurated. Mr Walshe, Chairman of EST (S Dec 62)

May 1963 Between February and May,

Biddulph Old Hall was bought

(S May and June 63)

1963 129 Haverstock Hill was purchased. The property was rented to provide an income for the Vihara

April 1964 Ananda Bodhi returned and went to Biddulph and taught samadhi and vipassana, Wat Paknam method. (S Mar 64)

April 1964 London Buddhist Vihara moved from 10 Ovington Gds, Knightsbridge to 5 Heathfield Gds, Chiswick. Venerable Saddhatissa Mahathera was the incumbent

1964 Lease of Sangha House, Alexandra Street finished

[1965/1966/1967]

Venerable Ananda Bodhi returned to England in the Fall of 1961, at the invitation of the English Sangha Trust, becoming the Resident Teacher of the Camden Town Vihara. He was a special guest speaker at the Fifth International Congress of Psychotherapists in London, where he met

Julian Huxley

, Anna Freud and R.D.Laing, among others.

For the next three years he taught extensively throughout the UK, founding the Hampstead Buddhist Vihara in London and the Johnstone House Contemplative Community—a retreat centre in southern Scotland. During this period he also joined a Masonic lodge. In 1965, when he decided to move to Toronto with two of his British students, Johnstone House was entrusted to Venerable Chogyam Trungpa Rinpoche and Akong Tulku, becoming Kagyu Samye Ling—the first Vajrayana centre to be established in the West.

-- Ven. Namgyal Rinpoche [Venerable Ananda Bodhi/Leslie George Dawson], by Dharma Centre of Winnipeg

Ananda Bodhi, senior incumbent of the English Sangha Vihara and founder of a Buddhist contemplative centre in Scotland called Johnstone House, proposed turning the direction of the House over to myself and Akong. At once the fresh air and beautiful rolling hills of Dumfriesshire invigorated me and filled me with joyous expectation. After a series of further visits, Johnstone House was finally turned over to us and we moved in, giving it the name of Samye-Ling Meditation Centre.

-- Epilogue: Planting the Dharma in the West, from "Born in Tibet," "by" Chogyam Trungpa

Biddulph Old Hall. Source: Sangha Magazine, May 1963

May 1963 Between February and May, Biddulph Old Hall was bought (S May and June 63)
Nov 1963 Ananda Bodhi to Thailand
1963 129 Haverstock Hill was purchased. The property was rented to provide an income for the Vihāra
April 1964 Ananda Bodhi returned and went to Biddulph and taught samadhi and vipassana, Wat Paknam method. (S Mar 64)
10 Jan 67 Maurice Walshe asked John Garry to manage Biddulph. He also found Richard Randall (previously Mr Purfurst and Venerable Kapilavaddho) and asked him to return
Biddulph Old Hall sold (S Nov 69)-- Honour Thy Fathers: A Tribute to the Venerable Kapilavaddho ... And brief History of the Development of Theravāda Buddhism in the UK, by Terry Shine

Well,

I met him in 1966.

And at that time I was married to an Irish actress named Jacqueline Ryan, or Jackie. We had rather a stormy relationship....

I began making the aspiration in my mind, "May I connect with a realized master in the practice lineage."...

So one day in my mind I was making this aspiration, and I had this sudden thought come to my mind, "Go to the phone book and look up 'Tibet.'" And I thought, "That's crazy. What's that going to do?" And I thought, "Yeah, yeah, but what have you got to lose?" So I went to the phone book, and I looked up "Tibet." Now in London, there's 12 million people, the phone book is in four volumes, but I looked up in the "T's," and there was only one entry that began with the word "Tibet." And that was "

The Tibet Society of the United Kingdom ... and noted down the address -- I think it was 58 Eccleston Square

." ...

[S]o I got in the car, and I knew where Eccleston Square was, and I managed to find a parking place there without having to use the reverse. And it was sort of a Victorian townhome. And I went up the steps and there was a brass plate that said, "Buddhist Society." And I thought, "Ha, that's a good sign." And underneath it it said, "Tibet Society." So I pressed that bell push, the buzzer sounded, the door opened, and I went in.

And there was an arrow pointing down to the basement. So I went down to the basement, full of anticipation that there was going to be something very esoteric -- I was sure about that – "Tibet Society!" And there was this middle-aged English woman with her hair in a bun, typing away on an old manual typewriter, looking at me at the top of her glasses and saying, "How can we help you?" And I said, "Well, tell me about the Tibet Society." And she said, "Oh, it's a charitable organization, raising money for Tibetan refugees in India. Would you care to make a donation?" I thought, "This is crazy." And I think I gave her 10 shillings, and I was about to leave, thinking that this was a total waste of time. And at that moment, a young woman came in the door, and she kind of pulled me aside and she said, "If you don't mind me asking, 'what are you doing here'?" I said, "Well, it's really hard to explain, but I'm really interested in the teachings of the Kagyu order of Tibetan Buddhism." She said, "Oh, you know there are two Tibetan lamas in this country, and they belong to that Kagyu order." And then she reached into her purse and she pulled out a photo, and she pointed to the one on the left and she said, "That's Trungpa. That's the one you want to meet." I said, "Yes. Okay." And then she proceeded to give me the address and phone number. They were living in Oxford....

And I rushed home, and I phoned the number in Oxford, and asked to speak to Venerable Trungpa, and someone with a weird foreign accent said, "Oh, he no here right now. Better you write to him." And then they gave me an address of some place called

Biddulph in Staffordshire

, Biddulph Old Hall in Staffordshire.

And so I sat down and wrote a letter, "Dear Venerable Trungpa. I'd very much like to come and meet you, and study under your guidance. And I'd be willing to meet you any time or place that would be suitable to you."...

So I sent off the letter, and of course, the first day there's no response. The second day there's no response. The third day, now by that time you could get an answer, because in England you could send a letter one day and it would get there the next day, and you could get a reply the day after that. But on the third day there was still no answer. On the fourth day there was still no answer. Now I was getting antsy. And on the fifth day still no answer. And I thought, "Well, I can't wait any longer. I'm just going to go." And I had the address of this place,

The Biddulph Old Hall, Biddulph, Staffordshire

. And I had a road atlas. So I found this place Biddulph. It was like a dot on the map, it was just this little village. And I decided I was going to go....

And I finally found this little village called "Biddulph" in Staffordshire. It's kind of in the middle of England. And then I stopped in the village, and got directions to the Old Hall. And it's a beautiful stone manor house....

And this place had a kind of iron knocker on the door. And I knocked, and a young man came to the door and said, "How can we help you?" And I said, "Well, I came to see

the Venerable Trungpa

." And he said, "Ah, you must be Richard. He told us you'd be arriving today." And I said, "What?," because I had not had any answer to my letter....

So I stayed there for a week, and I met with him regularly on a one-to-one basis....

So at the end of the week, I went back to London. And a day or two afterwards I was having dinner – I was with my wife Jackie – and she said to me, "I have a feeling you don't really need me anymore." And I said, "Yeah, maybe you're right." And she said, "I'm going to be leaving you." And I said, "What?" And I didn't really say much about it. But when I woke up the next morning – we had this big king-size bed, and there was this big empty space next to me -- she was gone. And I was kind of surprised, although she had said that, because it was so sort of sudden. And I remember calling up Trungpa Rinpoche in Oxford and saying, "You'll never guess what happened. My wife left me." He said, "Oh, yes." And I said, "I have the feeling that if I contacted her, and asked her to come back, she probably would." And he said, "Well, I wouldn't do that if I were you." And I said, "No, I'm not going to."....

And then a couple of days later we set out for Scotland.

-- Richard Arthure on Meeting Chogyam Trungpa, by The Chronicles of Chogyam Trungpa Rinpoche

In 1967, the two Rinpoches named their centre after Samye, the first successful Buddhist establishment in Tibet. They were soon joined by master-artist Sherapalden Beru and the monk Samten. By 1970, Trungpa Rinpoche had departed for the USA and His Holiness the 16th Karmapa firmly encouraged Akong Rinpoche to take a leadership role in developing Samye Ling.

-- A Brief History of Kagyu Samye Ling, by Kagyu Samye Ling

1 Aug 1966 The Thai temple opened at 99 Christchurch Road, East Sheen (S-Feb 72). Venerable Chao Khun Sobhana Dammasuddhi was the first incumbent. The King and Queen of Thailand attended, as did Bhikkhu Khantipalo (A) (CH p68)

10 Jan 67 Maurice Walshe asked John Garry to manage Biddulph. He also found Richard Randall (previously Mr Purfurst and Venerable Kapilavaddho) and asked him to return

Nov 1969 A meditation block comprising three "cells" and a shower room in the rear garden of 131 Haverstock Hill are nearly completed. In addition there is a wooden shed also used as a Kuṭi.

Biddulph Old Hall sold (S Nov 69)

4 Dec 71 "Oaken Holt Buddhist centre, Farmoor, near Oxford, opened by owner U Myat Saw: - A Buddhist Centre has been opened at Oaken Holt, Farmoor, near Oxford. The first public event, on 4th December 1971, was a lecture entitled "What Buddhism has to Offer to the West", by V.R. Dhiravaṃsa (the former Chao Khun Sobhana Dhammasudhi) of the Vipassana Centre at Hindhead. The lecture was preceded by a religious ceremony when seven bhikkhus chanted the scriptures; there was also a Dana ceremony. Over a hundred people came for the opening day, and of these more than a half came from London and places further away.

The centre has meditation facilities for those wishing to undertake strict practice. There is also a retreat house for those who wish to spend varying periods observing Sila in a religious atmosphere and quiet country surroundings. There is a Vihara nearby, where Buddhist monks will be in residence. Those who are interested may communicate with the Secretary, The Buddhist Centre, Oaken Holt, Farmoor, near Oxford." (MW 71/72)

"It is with great pleasure that we can now announce that Dhammapadipa (Hampstead Vihara) will shortly assume its original status as a Vihara — a place of residence of bhikkhus in the dispensation of the Buddha. Our Administrator and Meditation Master Dr Michael Clark will shortly be returning from Thailand, where he will take up residence at Wat Dhammapadipa." (S Vol. 4 No 6 -74)

April 1979 Haverstock Hill properties were sold at auction (26th)

June 1979 The Sangha moved to Chithurst (22nd)

-- Honour Thy Fathers: A Tribute to the Venerable Kapilavaddho ... And brief History of the Development of Theravada Buddhism in the UK, by Terry Shine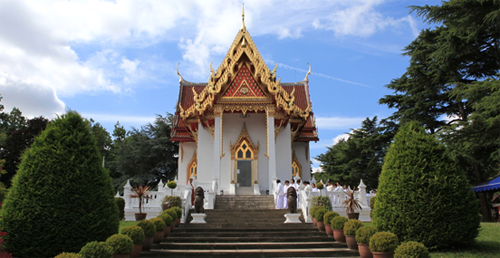 The Buddhapadipa Temple in Wimbledon, south London
Other Western or "modern" Buddhist organisations emerged in the late 20th Century and established their centres in London, some attracting attention to Buddhism for unfortunate reasons.
Tibetan Buddhism in London
By the early 21st Century, the popularity of Buddhism amongst those from both ethnically Buddhist cultures and Western practitioners had led to a proliferation of centres, temples and groups in and around London, offering access to virtually every brand, tradition, school or lineage of Buddhism, with Eastern roots or otherwise. Among this expansion, all of the four main schools of Tibetan Buddhism found representation. The Gelug School of the Dalai Lama is established in the Foundation for the Preservation of the Mahayana Tradition's (FPMT) Jamyang Centre in Lambeth; the teachings of the Sakya School are accessible through the Sakya Dechen Ling centre in Notting Hill of the British Buddhist master, Lama Jampa Thaye; the Nyingma School may be encountered at the Palyul Centre in Islington; and the Karma Kagyu School in the London Diamond Way Buddhist Centre in Lambeth.