Buzz Bissinger on the Abu-Jamal Controversy: The Famous and the Dead
by Buzz Bissinger
Vanity Fair, August, 1999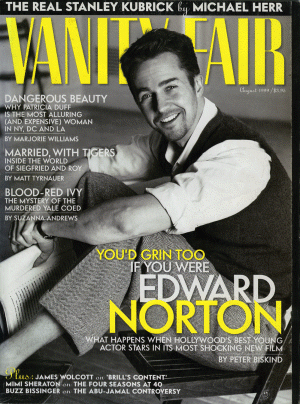 'What are the stars?' said O'Brien indifferently. 'They are bits of fire a few kilometres away. We could reach them if we wanted to. Or we could blot them out. The earth is the centre of the universe. The sun and the stars go round it.'

Winston made another convulsive movement. This time he did not say anything. O'Brien continued as though answering a spoken objection:

'For certain purposes, of course, that is not true. When we navigate the ocean, or when we predict an eclipse, we often find it convenient to assume that the earth goes round the sun and that the stars are millions upon millions of kilometres away. But what of it? Do you suppose it is beyond us to produce a dual system of astronomy? The stars can be near or distant, according as we need them. Do you suppose our mathematicians are unequal to that? Have you forgotten doublethink?'

Winston shrank back upon the bed. Whatever he said, the swift answer crushed him like a bludgeon. And yet he knew, he knew, that he was in the right. The belief that nothing exists outside your own mind -- surely there must be some way of demonstrating that it was false? Had it not been exposed long ago as a fallacy? There was even a name for it, which he had forgotten. A faint smile twitched the corners of O'Brien's mouth as he looked down at him

'I told you, Winston,' he said, 'that metaphysics is not your strong point. The word you are trying to think of is solipsism. But you are mistaken. This is not solipsism. Collective solipsism, if you like. But that is a different thing: in fact, the opposite thing. All this is a digression,' he added in a different tone. 'The real power, the power we have to fight for night and day, is not power over things, but over men.' He paused, and for a moment assumed again his air of a schoolmaster questioning a promising pupil: 'How does one man assert his power over another, Winston?'

Winston thought. 'By making him suffer,' he said.

'Exactly. By making him suffer. Obedience is not enough. Unless he is suffering, how can you be sure that he is obeying your will and not his own? Power is in inflicting pain and humiliation. Power is in tearing human minds to pieces and putting them together again in new shapes of your own choosing. Do you begin to see, then, what kind of world we are creating? It is the exact opposite of the stupid hedonistic Utopias that the old reformers imagined. A world of fear and treachery is torment, a world of trampling and being trampled upon, a world which will grow not less but more merciless as it refines itself. Progress in our world will be progress towards more pain. The old civilizations claimed that they were founded on love or justice. Ours is founded upon hatred. In our world there will be no emotions except fear, rage, triumph, and self-abasement. Everything else we shall destroy everything. Already we are breaking down the habits of thought which have survived from before the Revolution. We have cut the links between child and parent, and between man and man, and between man and woman. No one dares trust a wife or a child or a friend any longer. But in the future there will be no wives and no friends. Children will be taken from their mothers at birth, as one takes eggs from a hen. The sex instinct will be eradicated. Procreation will be an annual formality like the renewal of a ration card. We shall abolish the orgasm. Our neurologists are at work upon it now. There will be no loyalty, except loyalty towards the Party. There will be no love, except the love of Big Brother. There will be no laughter, except the laugh of triumph over a defeated enemy. There will be no art, no literature, no science. When we are omnipotent we shall have no more need of science. There will be no distinction between beauty and ugliness. There will be no curiosity, no enjoyment of the process of life. All competing pleasures will be destroyed. But always -- do not forget this, Winston -- always there will be the intoxication of power, constantly increasing and constantly growing subtler. Always, at every moment, there will be the thrill of victory, the sensation of trampling on an enemy who is helpless.

If you want a picture of the future, imagine a boot stamping on a human face -- for ever.'

He paused as though he expected Winston to speak. Winston had tried to shrink back into the surface of the bed again. He could not say anything. His heart seemed to be frozen. O'Brien went on:

'And remember that it is for ever. The face will always be there to be stamped upon. The heretic, the enemy of society, will always be there, so that he can be defeated and humiliated over again. Everything that you have undergone since you have been in our hands -- all that will continue, and worse. The espionage, the betrayals, the arrests, the tortures, the executions, the disappearances will never cease. It will be a world of terror as much as a world of triumph. The more the Party is powerful, the less it will be tolerant: the weaker the opposition, the tighter the despotism. Goldstein and his heresies will live for ever. Every day, at every moment, they will be defeated, discredited, ridiculed, spat upon and yet they will always survive. This drama that I have played out with you during seven years will be played out over and over again generation after generation, always in subtler forms. Always we shall have the heretic here at our mercy, screaming with pain, broken up, contemptible -- and in the end utterly penitent, saved from himself, crawling to our feet of his own accord. That is the world that we are preparing, Winston. A world of victory after victory, triumph after triumph after triumph: an endless pressing, pressing, pressing upon the nerve of power. You are beginning, I can see, to realize what that world will be like. But in the end you will do more than understand it. You will accept it, welcome it, become part of it.'

Winston had recovered himself sufficiently to speak. 'You can't!' he said weakly.

'What do you mean by that remark, Winston?'

'You could not create such a world as you have just described. It is a dream. It is impossible.'

'Why?'

'It is impossible to found a civilization on fear and hatred and cruelty. It would never endure.'

'Why not?'

'It would have no vitality. It would disintegrate. It would commit suicide.'

'Nonsense. You are under the impression that hatred is more exhausting than love. Why should it be? And if it were, what difference would that make? Suppose that we choose to wear ourselves out faster. Suppose that we quicken the tempo of human life till men are senile at thirty. Still what difference would it make? Can you not understand that the death of the individual is not death? The party is immortal.'

--

Nineteen Eighty-Four (1984), by George Orwell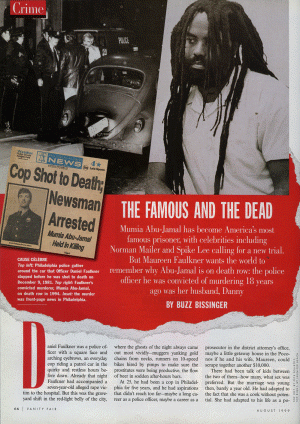 CAUSE CELEBRE: Top left: Philadelphia police gather around the car that Officer Daniel Faulkner stopped before he was shot to death on December 9, 1981. Top right: Faulkner's convicted murderer, Mumia Abu-Jamal, on death row in 1994. Inset: the murder was front-page news in Philadelphia.
THE FAMOUS AND THE DEAD
Mumia Abu-Jamal has become America's most famous prisoner, with celebrities including Norman Mailer and Spike Lee calling for a new trial. But Maureen Faulkner wants the world to remember why Abu-Jamal is on death row: the police officer he was convicted of murdering 18 years ago was her husband, Danny.
BY BUZZ BISSINGER
Daniel Faulkner was a police officer with a square face and arching eyebrows, an everyday cop riding a patrol car in the quirky and restless hours before dawn. Already that night Faulkner had accompanied a seven-year-old alleged rape victim to the hospital. But this was the graveyard shift in the red-light belly of the city, where the ghosts of the night always came out most vividly -- muggers yanking gold chains from necks, runners on 10-speed bikes hired by pimps to make sure the prostitutes were being productive, the flow of beer in sodden after-hours bars.
At 25, he had been a cop in Philadelphia for five years, and he had aspirations that didn't reach too far -- maybe a long career as a police officer, maybe a career as a prosecutor in the district attorney's office, maybe a little getaway house in the Poconos if he and his wife, Maureen, could scrape together another $10,000.
There had been talk of kids between the two of them -- how many, what sex was preferred. But the marriage was young then, barely a year old. He had adapted to the fact that she was a cook without potential. She had adapted to his life as a policeman: the crazy hours of shift work, the nagging queasiness that every police wife endures, knowing that something unexpected could always happen.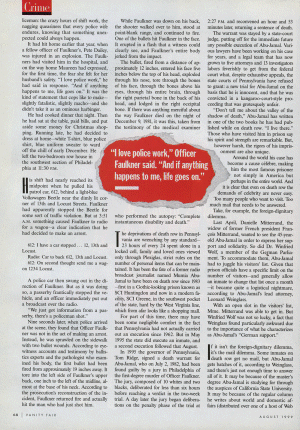 It had hit home earlier that year, when a fellow officer of Faulkner's, Pete Dailey, was injured in an explosion. The Faulkners had visited him in the hospital, and on the way home Maureen had expressed, for the first time, the fear she felt for her husband's safety. "I love police work," he had said in response. "And if anything happens to me, life goes on." It was the kind of statement that cops like to make -- slightly fatalistic, slightly macho -- and she didn't take it as an ominous harbinger.
He had cooked dinner that night. Then he had sat at the table, paid bills, and put aside some money for Christmas shopping. Running late, he had decided to dress at home -- white T-shirt, blue police shirt, blue uniform sweater to ward off the chill of early December. He left the two-bedroom row house in the southwest section of Philadelphia at 11:30 P.M.
His shift had nearly reached its midpoint when he pulled his patrol car, 612, behind a light-blue Volkswagen Beetle near the dimly lit corner of 13th and Locusts Streets. Faulkner had apparently stopped the Beetle for some sort of traffic violation. But at 3:51 A.M. something caused Faulkner to radio for a wagon -- a clear indication that he had decided to make an arrest.
612: I have a car stopped ... 12, 13th and Locust.

Radio: Car to back 612, 13th and Locust.

612: On second thought send me a wagon 1234 Locust.
A police car then swung out in the direction of Faulkner. But as it was doing so, a passerby frantically stopped the vehicle, and an officer immediately put out a broadcast over the radio.
"We just got information from a passerby, there's a policeman shot."
Nine seconds later, when police arrived at the scene, they found that Officer Faulkner was not in the act of making an arrest. Instead, he was sprawled on the sidewalk with two bullet wounds. According to eyewitness accounts and testimony by ballistics experts and the pathologist who examined his body, the first bullet had been fired from approximately 19 inches away. It tore into the left side of Faulkner's upper back, one inch to the left of the midline, almost at the base of his neck. According to the prosecution's reconstruction of the incident, Faulkner returned fire and actually hit the man who had just shot him.
While Faulkner was down on his back, the shooter walked over to him, stood at point-blank range, and continued to fire. One of the bullets hit Faulkner in the face. It erupted in a flash that a witness could clearly see, and Faulkner's entire body jerked from the impact.
The bullet, fired from a distance of approximately 12 inches, entered his face five inches below the top of his head, exploded through his nose, tore through the bones of his face, through the bones above his eyes, through his entire brain, through the right parietal bone in the back of his head, and lodged in the right occipital bone. If there was anything merciful about the way Faulkner died on the night of December 9, 1981, it was this, taken from the testimony of the medical examiner who performed the autopsy: "Complete instantaneous disability and death."
The deprivations of death row in Pennsylvania are wrenching by any standard -- 23 hours of every 24 spent alone in a locked cell, family and loved ones viewed only through Plexiglas, strict rules on the number of personal items that can be maintained. It has been the fate of a former radio broadcast journalist named Mumia Abu-Jamal to have been on death row since 1983 -- first in a Gothic-looking prison known as SCI Huntingdon and now in a modern facility, SCI Greene, in the southwest pocket of the state, hard by the West Virginia line, which from afar looks like a shopping mall.
For part of this time, there may have been some negligible comfort in the fact that Pennsylvania had not actually carried out an execution since 1962. But in May 1995 the state did execute an inmate, and a second execution followed that August.
In 1995 the governor of Pennsylvania, Tom Ridge, signed a death warrant for Abu-Jamal, who on July 2, 1982, had been found guilty by a jury in Philadelphia of the first-degree murder of Officer Faulkner. The jury, composed of 10 whites and two blacks, deliberated for less than six hours before reaching a verdict in the two-week trial. A day later the jury began deliberations on the penalty phase of the trial at 2:27 P.M. and reconvened an hour and 63 minutes later, returning a sentence of death.
The warrant was stayed by a state-court judge, putting off for the immediate future any possible execution of Abu-Jamal. Various lawyers have been working on his case for years, and a legal team that has now grown to five attorneys and 13 investigators labors feverishly to get from the federal court what, despite exhaustive appeals, the state courts of Pennsylvania have refused to grant: a new trial for Abu-Jamal on the basis that he is innocent, and that he was convicted in a kangaroo-court-style proceeding that was grotesquely unfair.
"Don't tell me about the valley of the shadow of death," Abu-Jamal has written in one of the two books he has had published while on death row. "I live there." Those who have visited him in prison say his spirit and strength are remarkable. But, however harsh, the rigors of his imprisonment are also unique.
Around the world his case has become a cause celebre, making him the most famous prisoner not simply in America but perhaps in the entire world. And it is clear that even on death row the demands of celebrity are never easy. Too many people who want to visit. Too much mail that needs to be answered.
Take, for example, the foreign-dignitary dilemma.
Last April, Danielle Mitterrand, the widow of former French president Francois Mitterrand, wanted to see the 45-year-old Abu-Jamal in order to express her support and solidarity. So did Dr. Winfried Wolf, a member of the German Parliament. To accommodate them, Abu-Jamal had to juggle his visitors' list. Given that prison officials have a specific limit on the number of visitors -- and generally allow an inmate to change that list once a month -- it became quite a logistical nightmare, according to Abu-Jamal's lead attorney, Leonard Weinglass.
With an open slot in the visitors' list, Mme. Mitterrand was able to get in. But Winfried Wolf was not so lucky, a fact that Weinglass found particularly awkward due to the importance of what he characterizes as Abu-Jamal's "German support."
If it isn't the foreign-dignitary dilemma, it's the mail dilemma. Some inmates on death row get no mail, but Abu-Jamal gets batches of it, according to Weinglass, and there's just not enough time to answer all of it. It may be because of the master's degree Abu-Jamal is studying for through the auspices of California State University. It may be because of the regular column he writes about world and domestic affairs (distributed over one of a host of Websites dedicated to his cause on the Internet). It may be because of the prodigious reading that he does.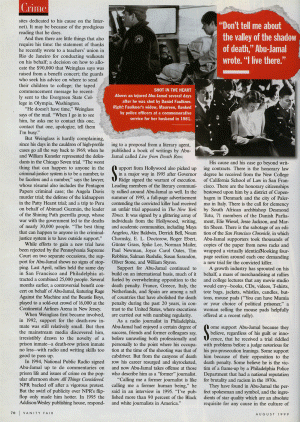 SHOT IN THE HEART. Above: an injured Abu-Jamal several days after he was shot by Daniel Faulkner. Right: Faulkner's widow, Maureen, flanked by police officers at a commemorative service for her husband in 1981.
And then there are little things that also require his time: the statement of thanks he recently wrote to a teachers' union in Rio de Janeiro for conducting walkouts on his behalf; a decision on how to allocate the $90,000 that Weinglass says was raised from a benefit concert; the guards who seek his advice on where to send their children to college; the taped commencement message he recently sent to the Evergreen State College in Olympia, Washington.
"He doesn't have time," Weinglass says of the mail. "When I go in to see him, he asks me to contact this one, contact that one, apologize, tell them I'm busy."
But Weinglass is hardly complaining, since his days in the cauldron of high-profile cases go all the way back to 1969, when he and William Kunstler represented the defendants in the Chicago Seven trial. "The worst thing that can happen to anyone in the criminal-justice system is to be a number, to be faceless and a number," says the lawyer, whose resume also includes the Pentagon Papers criminal case; the Angela Davis murder trial; the defense of the kidnappers in the Patty Hearst trial; and a trip to Peru on behalf of Abimael Guzman, the leader of the Shining Path guerrilla group, whose war with the government led to the deaths of nearly 30,000 people. "The best thing that can happen to anyone in the criminal-justice system is to have outside support."
While efforts to gain a new trial have been rejected by the Pennsylvania Supreme Court on two separate occasions, the support for Abu-Jamal shows no signs of stopping. Last April, rallies held the same day in San Francisco and Philadelphia attracted a combined 25,000 people. Several months earlier, a controversial benefit concert on behalf of Abu-Jamal, featuring Rage Against the Machine and the Beastie Boys, played to a sold-out crowd of 16,000 at the Continental Airlines Arena in New Jersey.
When Weinglass first became involved, in 1992, support for the death-row inmate was still relatively small. But then the mainstream media discovered him, irresistibly drawn to the novelty of a prison inmate -- a death-row prison inmate no less -- with radio and writing skills too good to pass up.
In 1994, National Public Radio signed Abu-Jamal up to do commentaries on prison life and issues of crime on the popular afternoon show All Things Considered. NPR backed off after a vigorous protest. But the swirl of publicity over NPR's flip-flop only made him hotter. In 1995 the Addison-Wesley publishing house, responding to a proposal from a literary agent, published a book of writings by Abu-Jamal called Live from Death Row.
Support from Hollywood also picked up in a major way in 1995 after Governor Ridge signed the warrant of execution. Leading members of the literary community rallied around Abu-Jamal as well. In the summer of 1995, a full-page advertisement contending the convicted killer had received an unfair trial appeared in The New York Times. It was signed by a glittering array of individuals from the Hollywood, writing, and academic communities, including Maya Angelou, Alec Baldwin, Derrick Bell, Noam Chomsky, E.L. Doctorow, Roger Ebert, Gunter Grass, Spike Lee, Norman Mailer, Paul Newman, Joyce Carol Oates, Tim Robbins, Salman Rushdie, Susan Sarandon, Oliver Stone, and William Styron.
Support for Abu-Jamal continued to build on an international basis, much of it fueled by overwhelming opposition to the death penalty. France, Greece, Italy, the Netherlands, and Spain are among a raft of countries that have abolished the death penalty during the past 20 years, in contrast to the United States, where executions are carried out with numbing regularity.
As a radio journalist in Philadelphia, Abu-Jamal had enjoyed a certain degree of success, friends and former colleagues say, before unraveling both professionally and personally to the point where his occupation at the time of the shooting was that of cabdriver. But from the canyons of death row his career resurged and skyrocketed, and now Abu-Jamal takes offense at those who describe him as a "former" journalist.
"Calling me a former journalist is like calling me a former human being," he said in an interview in 1995. "I've published more than 90 percent of the Black and white journalists in America."
His cause and his case go beyond writing contracts. There is the honorary law degree he received from the New College of California School of Law in San Francisco. There are the honorary citizenships bestowed upon him by a district of Copenhagen in Denmark and the city of Palermo in Italy. There is the call for clemency by South African archbishop Desmond Tutu, 71 members of the Danish Parliament, Elie Wiesel, Jesse Jackson, and Martin Sheen. There is the sabotage of an edition of the San Francisco Chronicle, in which Abu-Jamal supporters took thousands of copies of the paper from news racks and wrapped a virtually identical-looking four-page section around each one demanding a new trial for the convicted killer.
A growth industry has sprouted on his behalf, a mass of merchandising at rallies and college lectures that any movie studio would envy -- books, CDs, videos, T-shirts, tote bags, jackets, whistles, candles, buttons, mouse pads ("you can have Mumia or your choice of political prisoner," a woman selling the mouse pads helpfully offered at a recent rally).
Some support Abu-Jamal because they believe, regardless of his guilt or innocence, that he received a trial riddled with problems before a judge notorious for his pro-prosecution leanings.
[Albert F. Sabo, Philadelphia County Court] I'm going to help them to fry the nigger!

--

Mumia: Long Distance Revolutionary. A Journey With Mumia Abu-Jamal, directed by Stephen Vittoria -- Illustrated Screenplay & Screencap Gallery
The unfairness of Jamal's 1982 trial was almost guaranteed once it was assigned to Judge Albert Sabo (who declines to comment on the case). The short, white-haired judge, who is said to be genial and informal off the bench, was undersheriff of Philadelphia County for 16 years, and a proud member of the Fraternal Order of Police, before taking the bench in 1974. Sabo, now 74 and semiretired, has sent 32 defendants (27 blacks, two Asians, two whites, and one Latino) to death row -- far more than any other judge in the nation. He is notoriously pro-prosecution -- a cop on the bench.

--

Guilty and Framed, by Stuart Taylor, Jr.
Some support him because of their opposition to the death penalty. Some believe he is the victim of a frame-up by a Philadelphia Police Department that had a national reputation for brutality and racism in the 1970s.
The backdrop: Philadelphia, a city of racial tensions, police brutality and police corruption

The shooting of Officer Daniel Faulkner in 1981 and Mumia Abu-Jamal's trial the following year took place in Philadelphia, a city fraught with tension between the predominately white authorities and the African American and other minority communities. Both before and since that time, numerous instances have come to light of police brutality and the use of disproportionate force with lethal consequences; of the corruption of police officers and the fabrication of evidence against those suspected of criminal acts.

In 1973, a federal judge for the US District Court stated that police abuse occurred with such frequency in Philadelphia that it could not be "dismissed as rare, isolated instances" and that city officials did "little or nothing" to punish or prevent police abuse.

In 1979, the US Department of Justice filed a lawsuit against the then-mayor of Philadelphia, Frank Rizzo, and other city officials for condoning police brutality. The lawsuit listed 290 persons shot by the city's police officers between 1975 and 1979, the majority of whom were from ethnic minorities. During Frank Rizzo's eight years as mayor, fatal shootings by Philadelphia police officers increased by 20 per cent annually. In the year after he left office, 1980, fatal shootings declined 67 per cent. Mayor Rizzo appeared to tolerate police misconduct. In 1978, he told an audience of 700 police officers "Even when you're wrong, I'm going to back you".

An investigation in 1978 by the Pennsylvania House of Representatives Sub-Committee on Crime and Corrections found that a small but significant number of Philadelphia police routinely engaged in verbal and physical abuse of citizens to a degree the subcommittee considered "lawless". The investigation concluded that the level of police abuse had reached that of homicidal violence and that Philadelphia lacked the necessary police leadership to control the lawlessness.

--

A Life in the Balance: The Case of Mumia Abu-Jamal, by Amnesty International
They have found in Abu-Jamal the perfect spokesman and symbol, and the ingredients of star quality which are an absolute requisite for any cause in the culture of today, a Madison Avenue dream of the death-row inmate whose image can sell and sell big -- a man with a radio voice as tranquil as a lullaby, a man who can write with a clarity made all the more remarkable by the fact that he has spent nearly 20 years of his life in incarceration, a man of clear sex appeal with that interesting chemistry of sultry eyes and hanging dreadlocks, a man who laces his writings with just the right dash of revolutionary spice so as to be provocative. In the past 12 months, more than $200,000 in donations poured in to just one of his many support groups.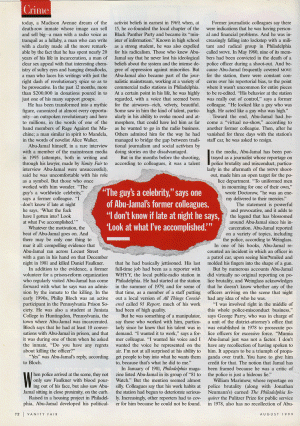 He has been transformed into a mythic figure, canonized at almost every opportunity -- an outspoken revolutionary and hero to millions, in the words of one of the band members of Rage Against the Machine; a man similar in spirit to Mandela, in the words of novelist Alice Walker.
Abu-Jamal himself, in a rare interview with a member of the mainstream media in 1995 (attempts, both in writing and through his lawyer, made by Vanity Fair to interview Abu-Jamal were unsuccessful), said he was uncomfortable with his role as a symbol. But those who once worked with him wonder. "The guy's a worldwide celebrity," says a former colleague. "I don't know if late at night he says, 'What the fuck have I gotten into? Look at what I've accomplished.'"
Whatever the motivation, the beat of Abu-Jamal goes on. And there may be only one thing to mar it all: compelling evidence that Abu-Jamal ran across Locust Street with a gun in his hand on that December night in 1981 and killed Daniel Faulkner.
In addition to the evidence, a former volunteer for a prison-reform organization who regularly visited Abu-Jamal has come forward with what he says was an admission by the inmate to the killing. In the early 1990s, Philip Bloch was an active participant in the Pennsylvania Prison Society. He was also a student at Juniata College in Huntingdon, Pennsylvania, the town where Abu-Jamal was incarcerated. Bloch says that he had at least 10 conversations with Abu-Jamal in prison, and that it was during one of them when he asked the inmate, "Do you have any regrets about killing the officer?"
"Yes" was Abu-Jamal's reply, according to Bloch.
Two mainstream news outlets reported on the case of Pennsylvania death row inmate Mumia Abu-Jamal, claiming to present new evidence pointing to Abu-Jamal's guilt. But the evidence that both outlets rely on -- testimony of a supposed confession made eight years ago -- is questionable on its face, and an old letter that has subsequently surfaced suggests that this star witness is lying about Abu-Jamal.

The major news in both ABC 20/20's July 11 broadcast and the August 1999 issue of Vanity Fair is the testimony of Philip Bloch, a former prison volunteer who now claims to have heard Abu-Jamal confess to the 1981 murder of Philadelphia police officer Daniel Faulkner. During a conversation in 1991, Bloch claims that he asked Abu-Jamal if he had any regrets about shooting Faulkner, to which Abu-Jamal allegedly replied, "Yes."

Why has Bloch waited 8 years? Vanity Fair's Buzz Bissinger doesn't ask (or at the very least doesn't share his curiosity), and ABC's Sam Donaldson, in a virtual re-run of 20/20's 12/9/98 report, explains only that Bloch "felt no need to come forward," since "his friend was already on death row."

But Bloch's story has some serious problems, and new evidence casts considerable doubt on his credibility. A 1993 letter from Bloch to Abu-Jamal -- two years after the "confession" -- ended with the following passage: "So -- it is possible to get justice from a jury -- not always -- but sometimes. So, when you get a new trial -- I think that there is a good chance of acquittal." Why would one write that to a confessed murderer?

But even without this documentary contradiction, Bloch's tale is too dubious for a responsible journalist to run with. Over 18 years of imprisonment, Abu-Jamal has consistently refused to answer questions about the night of the shooting. Journalism professor Linn Washington, Jr. explained Abu-Jamal's stance (Philadelphia Tribune, 7/20/99), describing an interview conducted under circumstances similar to those Bloch had described: "During an interview, I asked Mumia a question regarding the shooting of Faulkner. He refused to respond, giving two reasons: (1) his lawyers told him not to discuss that incident; and (2) the cubicle was bugged."

--

The Media & Mumia: Were ABC and Vanity Fair Taken for a Ride?, by Fairness & Accuracy in Reporting
When police arrived at the scene, they not only saw Faulkner with blood pouring out of his face, but also saw Abu-Jamal sitting in close proximity, on the curb.
Nowhere have I read how police found me, lying in a pool of my blood, unable to breathe, and then proceeded to punch, kick and stomp me, not question me. I remember being rammed into a pole or a fireplug with police at both arms. I remember kicks to my head, my face, my chest, but I have read no press accounts and have heard tell of no witnesses. Where are the witnesses to a police captain or an inspector entering the wagon and beating me with a police radio, all the while addressing me as a black motherfucker! Where are the witnesses?

--

Mumia: Long Distance Revolutionary. A Journey With Mumia Abu-Jamal, directed by Stephen Vittoria -- Illustrated Screenplay & Screencap Gallery
Raised in a housing project in Philadelphia, Abu-Jamal developed his political-activist beliefs in earnest in 1969, when, at 15, he co-founded the local chapter of the Black Panther Party and became its "minister of information." Known in high school as a strong student, he was also expelled for his radicalism. Those who knew Abu-Jamal say that he never lost his ideological beliefs about the system and the intense degree of oppression against minorities. But Abu-Jamal also became part of the journalistic mainstream, working at a variety of commercial radio stations in Philadelphia. At a certain point in his life, he was highly regarded, with a voice that seemed born for the airwaves -- rich, velvety, beautiful. Some saw in him the kind of talent, particularly in his ability to evoke mood and atmosphere, that could have led him as far as he wanted to go in the radio business. Others admired him for the way he had managed to bridge the gap between traditional journalism and social activism by doing stories on the disadvantaged.
But in the months before the shooting, according to colleagues, it was a talent that he had basically jettisoned. His last full-time job had been as a reporter with WHYY, the local public-radio station in Philadelphia. He had started at the station in the summer of 1979, and for some of that time, as a member of a staff putting out a local version of All Things Considered called 91 Report, much of his work had been of high quality.
But he was something of a manipulator, say those who worked with him, particularly since he knew that his talent was in demand. "I wanted it to work," says a former colleague. "I wanted his voice and I wanted the voice he represented on the air. I'm not at all surprised at his ability to get people to buy into what he wants them to, because that's what he did to me."
[Saro Solis] Mumia flirts with a career in television, and is offered what today would be a six-figure salary on a Philadelphia network affiliate …

[DaJuan Johnson] … but he turns it down because the station makes it mandatory for him to cut off his dreadlocks.

[Lydia Barashango, Mumia's Sister] He said, "My hair is not the biggie here. My concern is once I begin to compromise, will I compromise other things? And he decided he wasn't taking the position. I said, "That's mighty damn big of you." You know, it's like ...

oh!!!!

--

Mumia: Long Distance Revolutionary. A Journey With Mumia Abu-Jamal, directed by Stephen Vittoria -- Illustrated Screenplay & Screencap Gallery
In January of 1981, Philadelphia magazine listed Abu-Jamal in its group of "81 to Watch." But the mention seemed almost silly. Colleagues say that his work habits at the station had begun to deteriorate seriously. Increasingly, other reporters had to cover for him because he could not be found.
Former journalistic colleagues say there were indications that he was having personal and financial problems. And he was increasingly falling into lockstep with a militant and radical group in Philadelphia called MOVE. In May 1980, nine of its members had been convicted in the death of a police officer during a shoot-out. And because Abu-Jamal frequently covered MOVE for the station, there were constant concerns over his reportorial bias, to the point where it wasn't uncommon for entire pieces to be re-edited. "His behavior at the station was really out of control," says a former colleague. "He looked like a guy who was high. He acted like a guy who was high."
Toward the end, Abu-Jamal had become a "virtual no-show," according to another former colleague. Then, after he vanished for three days with the station's staff car, he was asked to resign.
In the media, Abu-Jamal has been portrayed as a journalist whose reportage on police brutality and misconduct, particularly in the aftermath of the MOVE shoot-out, made him an open target for the police department. "To uniformed men in mourning for one of their own," wrote Doctorow, "he was an enemy delivered to their mercies."
Like prosecutors, police officers are tasked with making our society safe. Sometimes their zeal leads them to cross the line and use the power of their badges to make a case that otherwise would not be triable. Especially when a brutal and senseless crime occurs, the zeal to see justice done can actually lead to great injustice. Other officers are often reluctant to report police misconduct because of the loyalty they feel for their fellow officers. The proliferation of cell phone cameras have allowed citizens to record and report police misconduct. Although, in the past, most police misconduct stories were assumed to be false, now, a quick search on Youtube.com results in hundreds of videos exposing incidents of police misconduct. One example of a compilation of news and amateur video about the problems inherent in this system is BrasscheckTV's Youtube page.

--

Police Misconduct, by California Innocence Project
The statement is powerful and provocative, and it adds to the legend that has blossomed around Abu-Jamal since his incarceration. Abu-Jamal reported on a variety of topics, including the police, according to Weinglass. In one of his books, Abu-Jamal recounted an incident in which an officer in a patrol car, upon seeing him, smiled and molded his fingers into the shape of a gun.
But by numerous accounts Abu-Jamal did virtually no original reporting on police brutality, and Weinglass acknowledges that he doesn't know whether any of the officers arriving on the scene that night had any idea of who he was.
"I was involved right in the middle of this whole police-misconduct business," says George Parry, who was in charge of a unit of the district-attorney's office that was established in 1978 to prosecute police officers for excessive force. "Mumia Abu-Jamal just was not a factor. I don't have any recollection of having spoken to him. It appears to be a triumph of propaganda over truth. You have to give him credit for that. The notion that Jamal has been framed because he was a critic of the police is just a hideous lie."
[Loudon] You're lying.

[Nikki] How do you know?

[Loudon] Your lips are moving.

--

Who's That Girl?, directed by James Foley, starring Madonna
George Wallace was a candidate for the American Independent Party. Very, very right wing, although he probably wouldn't be considered very right wing in terms of America's political context today, would he? We were black kids, teenagers, from North Philadelphia. And this avowed white supremacist, this racist from the depths of the South, dared to come to our city. Well, we went down to the Spectrum, there were tens of thousands of white people waving flags. You had George Wallace making his standard stump speech. At that time we weren't very original, so the only thing we said was ungawa – black power – ungawa – black power. Ungawa, ungawa, black power. They shouted, [inaudible] white power, and send those niggers back to Africa. We shouted, "Black power, ungawa." Don't ask what "ungawa" means. We didn't know. All we knew was that it had a helluva ring to it. The police surrounded us in a matter of moments, and escorted us, rather roughly I should say, out of The Spectrum. There were people spitting on us, "nigger this, nigger that." I remember being pummeled, being beaten to the ground. And I remember looking around and I saw a pant leg, it was blue and had a stripe on it, so it told me this was a cop. So doing what I was taught to do all of my life, I said, "Yo, help, police." And I remember the guy walking over very briskly and his foot going back and kicking me in the face. And I've always said thank you to that cop because he kicked me straight into the Black Panther Party. -- Mumia Abu-Jamal, "Death Row Notebook"

***

[United States Department of Justice, Federal Bureau of Investigation, WESLEY COOK]

***

[BLACK PANTHER PARTY

At the time of SCHELL's arrest by the FBI, officers of the Philadelphia Police Department, Civil Disobedience Unit, observed ROLANDO HEARN in the Web Bar and arrested him on a bench warrant for Contempt of Court and Failure to Appear. HEARN is the BPP Breakfast for Children Coordinator. The Philadelphia police detained the following BPP officers for investigation as they followed the arresting agents out of the Web Bar:

1. CLARENCE PETERSON: BPP Minister of Finance

2. WESLEY COOK: BPP Minister of Communications]

***

[Michael Tarif Warren, Attorney, 1995 ] This is a document that reflects a request that was made by the FBI back in 1972 for this photo, and guess who that request was made to? The Philadelphia Police Department.

[C. Clark Kissinger, Former Nat'l Secretary, Students for a Democratic Society] There were reports being written on him since he was 14 years old.

[Michael Tarif Warren, Attorney, 1995 ] This is an enlarged photo – they call him Wesley Cook, we call him Mumia Abu Jamal.

[C. Clark Kissinger, Former Nat'l Secretary, Students for a Democratic Society] Interestingly, one of the photographs that was obtained, had handwritten across the back of the photograph, "Dead."

***

[Narrator] On December 4, 1969, Chicago police raided the apartment of Black Panther Fred Hampton, and then executed him while he slept, a sleep induced by a barbiturate cocktail courtesy of the Federal Bureau of Investigation. Local authorities claim the Panthers opened fire on the police, but clearcut evidence later emerged that told a much different story, that the Chicago police, along with the Cook County Attorney's Office and the FBI, planned to assassinate the 21-year-old Hampton. Shortly thereafter a delegation of Panthers from Philadelphia visited the crime scene. Mumia Abu Jamal was part of that delegation.

[Terry Bisson, Author, Mumia Biographer] There was a memorial service in a church in Philadelphia right after that. And Mumia was actually one of the primary speakers. What Mumia said on that day was said in many memorial services across the country, which was that the police had just assassinated one of the bright lights of the Black movement.

[Linn Washington, Journalist] It foreshadowed what he became known for, and that is telling good stories about those events and incidents which the mainstream media just ignored, flat ignored.

[Eric Davis] And during his speech that day, Mumia used the famous quote often attributed to Mao Tse Tung, that political power grows out of the barrel of a gun."

[Dynamite! Black Power. Use the gun. Kill the pigs everywhere."

Included in the introduction to an article appearing in the October 5, 1968, edition of "The Black Panther" is the statement, "... we will not dissent from American Government. We will overthrow it."

Issues of "The Black Panther" regularly contain quotations from the writings of Chairman MAO Tse-tung of the People's Republic of China and feature MAO's statement that "political power grows out of the barrel of a gun".

The national headquarters of the BPP is located at 3106 Shattuck Avenue, Berkeley, Calif. Branches have been established at various locations throughout the United States.]

[Michael Parenti, Political Scientist, Historian] Mumia was recognizing the fact that the ultimate authority in any state is the mobilization of force and violence.

[Terry Bisson, Author, Mumia Biographer] This statement was later used in his trial to condemn him as if he was talking about Panthers shooting police, when in fact it was quite the contrary.

--

Mumia: Long Distance Revolutionary. A Journey With Mumia Abu-Jamal, directed by Stephen Vittoria -- Illustrated Screenplay & Screencap Gallery