Part 1 of 2
Dmitry Merezhkovsky
by Wikipedia
Accessed: 7/22/18
NOTICE: THIS WORK MAY BE PROTECTED BY COPYRIGHT
YOU ARE REQUIRED TO READ

THE COPYRIGHT NOTICE AT THIS LINK

BEFORE YOU READ THE FOLLOWING WORK, THAT IS AVAILABLE SOLELY FOR PRIVATE STUDY, SCHOLARSHIP OR RESEARCH PURSUANT TO 17 U.S.C. SECTION 107 AND 108. IN THE EVENT THAT THE LIBRARY DETERMINES THAT UNLAWFUL COPYING OF THIS WORK HAS OCCURRED, THE LIBRARY HAS THE RIGHT TO BLOCK THE I.P. ADDRESS AT WHICH THE UNLAWFUL COPYING APPEARED TO HAVE OCCURRED. THANK YOU FOR RESPECTING THE RIGHTS OF COPYRIGHT OWNERS.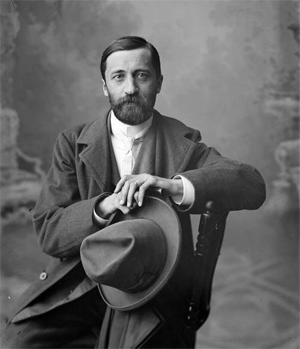 Dmitry Merezhkovsky
Born Dmitry Sergeyevich Merezhkovsky
August 2, 1866
St Petersburg, Imperial Russia
Died December 9, 1941 (aged 75)
Paris, France
Occupation Poet, writer, literary critic
Nationality Russian
Alma mater Saint Petersburg State University
Period 1888–1941
Genre Poetry, historical novel, philosophical essay
Literary movement Russian symbolism
Notable works Christ and Antichrist (trilogy)
Spouse Zinaida Gippius
Relatives Konstantin Mereschkowski
Dmitry Sergeyevich Merezhkovsky (Russian: Дми́трий Серге́евич Мережко́вский, IPA: [ˈdʲmʲitrʲɪj sʲɪrˈɡʲejɪvʲɪtɕ mʲɪrʲɪˈʂkofskʲɪj]; 14 August [O.S. 2 August] 1866 – December 9, 1941) was a Russian novelist, poet, religious thinker, and literary critic. A seminal figure of the Silver Age of Russian Poetry, regarded as a co-founder of the Symbolist movement, Merezhkovsky – with his poet wife Zinaida Gippius – was twice forced into political exile. During his second exile (1918–1941) he continued publishing successful novels and gained recognition as a critic of the Soviet Union. Known both as a self-styled religious prophet with his own slant on apocalyptic Christianity, and as the author of philosophical historical novels which combined fervent idealism with literary innovation, Merezhkovsky was nine times a nominee for the Nobel Prize in literature, which he came closest to winning in 1933.[1][2][3]
Biography
Dmitry Sergeyevich Merezhkovsky was born on August 2, 1866, in Saint Petersburg, the sixth son in the family. His father Sergey Ivanovich Merezhkovsky served as a senior official in several Russian local governors' cabinets (including that of I.D.Talyzin in Orenburg) before entering Alexander II's court office as a Privy Councillor.[4] His mother Varvara Vasilyevna Merezhkovskaya (née Tcherkasova) was a daughter of a senior Saint Petersburg security official. Fond of arts and literature, she was what Dmitry Merezhkovsky later remembered as the guiding light of his rather lonely childhood (despite the presence of five brothers and three sisters around). There were only three people Merezhkovsky had any affinity with in his whole lifetime, and his mother, a woman "of rare beauty and angelic nature" according to biographer Yuri Zobnin, was the first and the most important of them.[5]
Early years
Dmitry Merezhkovsky spent his early years on the Yelagin Island in Saint Petersburg, in a palace-like cottage which served as a summer dacha for the family.[6] In the city the family occupied an old house facing the Summer Gardens, near Prachechny Bridge. The Merezhkovskys also owned a large estate in Crimea, by a road leading to the Uchan-Su waterfall. "Fabulous Oreanda palace, now in ruins, will stay with me forever. White marble pylons against the blue sea... for me it's a timeless symbol of Ancient Greece," he wrote years later.[7] Sergey Merezhkovsky, although a man of means, led an ascetic life, keeping his household 'lean and thrifty'. He saw this also as 'moral prophylactics' for his children, regarding luxury-seeking and reckless spending as the two deadliest sins. The parents traveled a lot, and an old German housekeeper Amalia Khristianovna spent much time with the children, amusing them with Russian fairytales and Biblical stories. It was her recounting of saints' lives that helped Dmitry to develop fervent religious feelings in his early teens.[8]
In 1876 Dmitry Merezhkovsky joined an elite grammar school, the St. Petersburg Third Classic Gymnasium.[9] Years spent there he described later by one word, "murderous", remembering just one teacher as a decent person – "Kessler the Latinist; well-meaning he surely never was, but at least had a kindly look."[10] At thirteen Dmitry started writing poetry, rather in the vein of Pushkin's "Bakhchisarai Fountain" as he later remembered. He became fascinated with the works of Molière to such an extent as to form a Molière Circle in the Gymnasium. The group had nothing political on its agenda, but still made the secret police interested. All of its members were summoned one by one to the Third Department's headquarters by the Politzeisky Bridge to be questioned. It is believed that only Sergey Merezhkovsky's efforts prevented his son from being expelled from the school.[7]
Debut
Much as Dmitry disliked his tight upper-lipped, stone-faced father, later he had to give him credit for being the first one to have noticed and, in his emotionless way, appreciate his first poetic exercises. In July 1879, in Alupka, Crimea, Sergey Ivanovich introduced Dmitry to the legendary Princess Yekaterina Vorontzova, once Pushkin's sweetheart. The grand dame admired the boy's verses: she (according to a biographer) "spotted in them a must-have poetic quality: the metaphysical sensitivity of a young soul" and encouraged him to soldier on.[11] Somewhat different was young Merezhkovsky's encounter with another luminary, Fyodor Dostoyevsky, staged by his well-connected father again. As the boy started reciting his work, nervous to the point of stuttering, the famous novelist listened rather impatiently, then said: "Poor, very poor. To write well, one has to suffer. Suffer!" – "Oh no, I'd rather he won't – either suffer, or write well!", the appalled father exclaimed. The boy left Dostoyevsky's house much frustrated by the great man's verdict.[9] Merezhkovsky's debut publication followed the same year: Saint Petersburg magazine Zhivopisnoye Obozrenye published two of his poems, "Little Cloud" and "The Autumn Melody". A year later another poem "Narcissus" was included in a charity compilation benefiting destitute students, edited by Pyotr Yakubovich.[12]
In Autumn 1882 Merezhkovsky attended one of the first of Semyon Nadson's public readings and, deeply impressed, wrote him a letter. Soon Nadson became Merezhkovsky's closest friend – in fact, the only one, apart from his mother. Later researchers suggested there was some mystery shared by the two young men, something to do with "fatal illness, fear of death and longing for faith as an antidote to such fear." Nadson died in 1887, Varvara Vasilyevna two years later; feeling that he's lost everything he'd ever had in this world, Merezhkovsky submerged into deep depression.[13]
In January 1883 Otechestvennye Zapiski published two more of Merezhkovsky's poems. "Sakya Muni", the best known of his earlier works, entered popular poetry recital compilations of the time and made the author almost famous. By 1896 Merezhkovsky was rated as "a well known poet" by the Brockhaus and Efron Encyclopedic Dictionary. Years later, having gained fame as a novelist, he felt embarrassed by his poetry and, while compiling his first Complete series in the late 1900s, cut the poetry section down to several pieces.[4] Nevertheless, Merezhkovsky's poems remained popular, and some major Russian composers, Rachmaninoff and Tchaikovsky among them, have set dozens of them to music.[14]
University years
In 1884–1889 Merezhkovsky studied history and philology at the University of Saint Petersburg where his PhD was on Montaigne. He learned several foreign languages and developed strong interest in the French literature, the philosophy of positivism, theories of John Stuart Mill and Charles Darwin. Still, his student years were joyless. "University gave me no more than a Gymnasium did. I've never had proper – either family, or education," he wrote in his 1913 autobiography.[6] The only lecturer he remembered fondly was the historian of literature Orest Miller, who held a domestic literature circle.[15]
In 1884 Merezhkovsky (along with Nadson) joined the Saint Petersburg's Literary Society, on Aleksey Pleshcheyev's recommendation. The latter introduced the young poet to the family of Karl Davydov, head of the Saint Petersburg Conservatory. His wife Anna Arkadyevna became Merezhkovsky's publisher in the 1890s, their daughter Julia – his first (strong, even if fleeting) romantic interest. In Davydov's circle Merezhkovsky mixed with well-established literary figures of the time – Ivan Goncharov, Apollon Maykov, Yakov Polonsky, but also Nikolay Mikhaylovsky and Gleb Uspensky, two prominent narodniks whom he regarded later as his first real teachers.[16]
It was under the guidance of the latter that Merezhkovsky, while still a University student, embarked upon an extensive journey through the Russian provinces where he met lots of people, notably religious cults leaders. He stayed for some time in Chudovo village where Uspensky lived, and both men spent many sleepless nights discussing things like "life's religious meaning," "a common man's cosmic vision" and "the power of the land." At the time he was seriously considering leaving the capital to settle down in some far-out country place and become a teacher.[7]
Another big influence was Mikhaylovsky, who introduced the young man to the staff of Severny Vestnik, a literary magazine he founded with Davydova. Here Merezhkovsky met Vladimir Korolenko and Vsevolod Garshin, and later Nikolai Minsky, Konstantin Balmont and Fyodor Sologub: the future leaders of the Russian Symbolism movement.[16] Merezhkovsky's first article for the magazine, "A Peasant in the French literature", upset his mentor: Mikhaylovsky spotted in his young protégé the "penchant for mysticism," something he himself was averse to.[17]
In the early 1888 Merezhkovsky graduated from the University and embarked upon a tour through the South of Russia, starting in Odessa. In Borjomi he met 19-year-old poet Zinaida Gippius. The two fell in love and on January 18, 1889, married in Tiflis, making arguably the most prolific and influential couple in the history of Russian literature.[16][18] Soon husband and wife moved into their new Saint Petersburg house, Merezkovsky's mother's wedding present.[19]
Late 1880s to early 1890s
Merezhkovsky's major literary debut came with the publication of Poems (1883–1888). It brought the author into the focus of the most favourable critical attention, but – even coupled with Protopop Avvacum, a poetry epic released the same year, could not solve young family's financial problems. Helpfully, Gippius unexpectedly reinvented herself as a prolific fiction writer, starting to churn out novels and novelettes she couldn't later even remember the titles of. Sergey Merezhkovsky's occasional hand-outs also helped the husband and wife to keep their meagre budget afloat.[20]
Having by this time lost interest in poetry, Dmitry Merezhkovsky developed a strong affinity to Greek drama and published translations of Aeschylus, Sophocles and Euripides in Vestnik Evropy.[21] These and some of his later translations from Ancient Greek (like prosaic version of Daphnis and Chloe, 1896), almost unnoticed by the contemporary critics, later came to be regarded (according to biographer Yuri Zobnin) "the pride of the Russian school of classical translation."[22]
In the late 1880s Merezhkovsky debuted as a literary critic with an essay on Anton Chekhov entitled "A Newly-born Talent Facing the Same Old Question" and published by Severny Vestnik. Having spotted in his subject's prose "the seeds of irrational, alternative truth," Merezhkovsky inadvertently put an end to his friendship with Mikhaylovsky and amused Chekhov who, in his letter to Pleshcheev, mentioned the "disturbing lack of simplicity" as the article's major fault.[23] Merezhkovsky continued in the same vein and thus invented (in retrospect) the whole new genre of a philosophical essay as a form of critical thesis, something unheard of in Russian literature before. Merezhkovsky's biographical pieces on Pushkin, Dostoyevsky, Goncharov, Maykov, Korolenko, Pliny, Calderon scandalized the contemporary literary establishment. Later, compiled in a volume called The Eternal Companions, these essays were pronounced modern classics, their author praised as "the subtlest and the deepest of late XIX – early XX Russian literary critics" by literary historian Arkady Dolinin. The Eternal Companions became so revered a piece of literary art in the early 1910s that the volume was officially chosen as an honorary gift for excelling grammar school graduates.[24]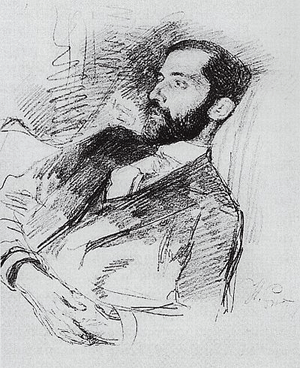 Merezhkovsky in 1890s. Portrait by Ilya Repin
In May 1890 Liubov Gurevich, the new head of the revamped Severny Vestnik, turned a former narodnik's safe haven into the exciting club for members of the rising experimental literature scene, labeled "decadent" by detractors. Merezhkovsky's new drama Sylvio was published there, the translation of Edgar Allan Poe's The Raven followed suit. Other journals became interested in the young author too: Russkaya Mysl published his poem Vera (later included in his The Symbols compilation), hailed as one of the Russian Symbolism's early masterpieces, its colourful mysticism providing a healthy antidote to narodniks's "reflections" of the social life. Bryusov "absolutely fell in love with it," and Pyotr Pertsov years later admitted: "For my young mind Merezhkovsky's Vera sounded so much superior to this dull and old-fashioned Pushkin".[6][25]
Russkaya Mysl released The Family Idyll (Semeynaya idillia, 1890), a year later another symbolic poem Death (Smert) appeared in Severny Vestnik. In 1891 Merezhkovsky and Gippius made their first journey to Europe, staying mostly in Italy and France; the poem End of the Century (Konetz Veka) inspired by the European trip, came out two years later. On their return home the couple stayed for a while in Guppius' dacha at Vyshny Volochyok; it was here that Merezhkovsky started working on his first novel, The Death of the Gods. Julian the Apostate. A year later it was finished, but by this time the situation with Severny Vestnik has changed: outraged by Akim Volynsky's intrusive editorial methods, Merezhkovsky severed ties with the magazine, at least for a while. In the late 1891 he published his translation of Sophocles' Antigona in Vestnik Evropy, part of Goethe's Faustus (in Russkoye Obozrenye) and Euripides' Hyppolite (in Vestnik Evropy again). The latter came out in 1893, after the couple's second trip to Europe where their first encounter with Dmitry Filosofov occurred. Merezhkovsky's vivid impressions of Greece and the subsequent spurt of the new ideas provided the foundation for his second novel.[7][10]
The Symbolism manifests
In 1892 Merezhkovsky's second volume of poetry entitled Symbols. Poems and Songs came out. The book, bearing E.A.Poe and Charles Baudelaire's influences but also tinged with the author's newly found religious ideas, became a younger readership's favourite. Of the elder writers only Yakov Polonsky supported it wholeheartedly.[26] In October 1892 Merezhkovsky's lecture "The Causes of the Decline of the Contemporary Russian Literature and the New Trends in it" was first read in public, then came out in print. Brushing aside the 'decadent' tag, the author argued that all three "streaks of Modern art" — "Mystic essence, Symbolic language and Impressionism" — could be traced down to the works of Lev Tolstoy or Dostoyevsky, Russian Modernism, therefore, being a continuation of the Russian literature's classic tradition. Coupled with Symbols, the lecture was widely accepted as Russian symbolism's early manifest.[2][7] The general reaction to it was mostly negative. The author found himself between the two fires: liberals condemned his ideas as "the new obscurantism," members of posh literary salons treated his revelations with scorn. Only one small group of people greeted "The Causes" unanimously, and that was the staff of Severny Vestnik, which welcomed him back.[27]
In 1893–1894 Merezhkovsky published numerous books (the play The Storm is Over and the translation of Sophocles' Oedipus the King among them), but the money all this hard work brought were scant. Now writing his second novel, he had to accept whatever work was offered to him. In the late 1893 Merezhkovskys settled in Saint Petersburg again. Here they frequented the Shakespearean Circle, the Polonsky's Fridays and the Literary Fund gatherings. Then the pair started their own home salon with Filosofov and Akim Volynsky becoming habitués. All of a sudden Merezhkovsky found that his debut novel was to be published in Severny Vestnik after all. What he didn't realise was that this came as a result of a Gippius' tumultuous secret love affair with Akim Volynsky, one of this magazine's chiefs.[28]
1895–1903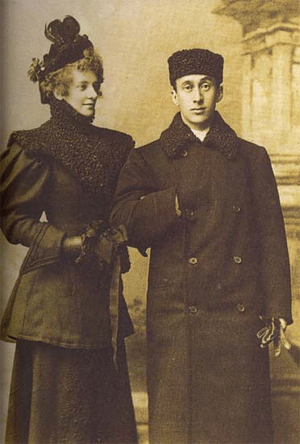 Gippius and Volynsky, 1890s
The Death of the Gods which came out in 1895 (Severny Vestnik, Nos.1–6) opened the Christ & Antichrist trilogy and in retrospect is regarded as the first Russian symbolist novel. Sceptics prevailed (most of them denouncing the author's alleged
Nietzscheanity
), but the allies were ecstatic. "A novel made for eternity," Bryusov marveled. Five years later Julian the Apostate was published in France, translated by Zinaida Vasilyeva.[10][21]
Merezhkovsky's relationship with Severny Vestnik, though, again started to deteriorate, the reason being Akim Volynsky's jealousy. In 1896 all three of them (husband still unaware of what was going on behind his back) made a trip to Europe to visit Leonardo da Vinci's places. Several ugly rows with Volynsky finally prompted Gippius to send her scandalous-minded lover home. Volynsky reacted by expelling his ex-lover's husband from Severny Vestnik (some sources[29] say it was the Merezhkovskys who withdraw their cooperation with the "Severny Vestnik" a year before the magazine shut down in 1898, along with Minsky and Sologub), made sure the major literary journals would shut the door on him and published (in 1900[30]) under his own name a monograph Leonardo da Vinci, written and compiled by his adversary.[31]
The scandal concerning plagiarism lasted for almost two years. Feeling sick and ignored, Merezhkovsky in 1897 was seriously considering leaving his country for good, being kept at home only by the lack of money. For almost three years the second novel, Resurrection of Gods. Leonardo da Vinci (The Romance of Leonardo da Vinci – in English and French) remained unpublished. It finally appeared in Autumn 1900 in Mir Bozhy under the title "The Renaissance". In retrospect these two books' "...persuasive power came from Merezhkovsky's success in catching currents then around him: strong contrasts between social life and spiritual values, fresh interest in the drama of pagan ancient Athens, and identification with general western European culture."[3]
By the time of his second novel's release Merezhkovsky was in a different cultural camp – that of Dyagilev and his close friends – Alexandre Benois, Leon Bakst, Nikolay Minsky and Valentin Serov. Their own brand new Mir Iskusstva (World of Art) magazine, with Dmitry Filosofov as a literary editor, accepted Merezhkovsky wholeheartedly. It was here that his most famous essay, L. Tolstoy and Dostoyevsky was published in 1900–1901, coinciding with the escalation of Tolstoy's conflict with the Russian Orthodox church.[4][32] Tolstoy invited the couple to his Yasnaya Polyana estate in 1904 and, to both parties' delight, the visit proved to be friendly.[33] Behind the facade, there was little love lost between them; the old man confessed in his diary that, he just couldn't "force himself to love those two," and Merezhkovsky's critique of what he saw as "Tolstoy's nihilism" continued.[4][23]
The God-seekers and Troyebratstvo
In the early 1900s Merezhkovskys formed the group called the Religious-Philosophical Meetings (1901–1903) based on the concept of the New Church which was suggested by Gippius and supposed to become an alternative to the old Orthodox doctrine, "...imperfect and prone to stagnation."[7] The group, organized by Merezhkovsky and Gippius along with Vasily Rozanov, Viktor Mirolyubov and Valentin Ternavtsev, claimed to provide "a tribune for open discussion of questions concerning religious and cultural problems," serving to promote "neo-Christianity, social organization and whatever serves perfecting the human nature." Having lost by this time contacts with both Mir Iskusstva and Mir Bozhy, Merezhkovskys felt it was time for them to create their own magazine, as a means for "bringing the thinking religious community together." In July 1902, in association with Pyotr Pertsov and assisted by some senior officials including ministers Dmitry Sipyagin and Vyacheslav von Plehve, they opened their own Novy Put (New Path) magazine, designed as an outlet for The Meetings.[34]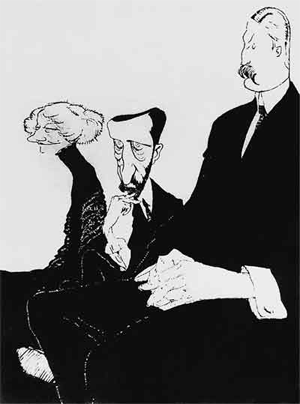 Troyebratstvo (Gippius, Merezhkovsky and Filosofov) in the early 1910s. Caricature by Re-Mi (Nikolai Remizov)
After the 22nd session, in April 1903, the Meetings of the group (by this time known as Bogoiskateli, or God-seekers) were cancelled by the procurator of the Holy Synod of the Russian Orthodox Church Konstantin Pobedonostsev's decree, the main reason being Merezhkovsky's frequent visits to places of mass sectarian settlements where God-seekers' radical ideas of Church 'renovation' were becoming popular.[4] In Novy Put things changed too: with the arrival of strong personalities like Nikolai Berdyayev, Sergey Bulgakov and Semyon Frank the magazine solidified its position, yet drifted away from its originally declared mission. In the late 1904 Merezhkovsky and Gippius quit Novy Put, remaining on friendly terms with its new leaders and their now highly influential 'philosophy section'. In 1907 the Meetings revived under the new moniker of The Religious-Philosophical Society, Merezhkovsky once again promoting his 'Holy Ghost's Kingdom Come' ideas. This time it looked more like a literary circle than anything it had ever purported to be.[32][35]
The couple formed their own domestic "church", trying to involve miriskusniks. Of the latter, only Filosofov took the idea seriously and became the third member of the so-called Troyebratstvo (The Brotherhood of Three) built loosely upon the Holy Trinity format and having to do with the obscure 12th century idea of the Third Testament. Merezhkovsky developed it into the Church of the Holy Ghost, destined to succeed older churches – first of the Father (Old Testament), then of the Son (New Testament).[32] The services at Troyebratstvo (with the traditional Russian Orthodox elements organized into a bizarre set of rituals) were seen by many as blasphemy and divided the St. Petersburg intellectual elite: Vasily Rozanov was fascinated by the thinly veiled eroticism of the happening, Nikolai Berdyaev was among those outraged by the whole thing, as were the (gay, mostly) members of Mir Iskusstva. Sergei Diaghilev accused Filosofov of committing 'adultery'. The latter in 1905 settled down in Merezhkovskys' St. Petersburg house, becoming virtually a family member.[23][32]
In 1904 Peter and Alexis, the third and final novel of Christ and
Antichrist
trilogy was published (in Novy Put, Nos.1–5, 9–12), having at its focus the figure of Peter the Great as an "embodied Antichrist" – an idea the author shared with Russian raskolniki. The novel's release was now eagerly anticipated in Europe where Merezhkovsky by this time has become a best-selling author, Julian the Apostate having undergone ten editions (in four years) in France.[10] But when the Daily Telegraph described the novelist as "a heir to Tolstoy and Dostoyevsky's legacy," back in Russia critics denounced this praise so unanimously that Merezhkovsky was forced to publicly deny having had any pretensions of this kind whatsoever.[9]
1905–1908
After the Bloody Sunday of January 9, 1905, Merezhkovsky's views changed drastically, the defeat of the Imperial Russian Navy by the Imperial Japanese Navy helping him see, as he put it, "the anti-Christian nature of the Russian monarchy." The 1905 Revolution was now seen by Merezhkovsky as a prelude for some kind of a religious upheaval he thought himself to be a prophet of. The writer became an ardent supporter of the civil unrest, writing pro-revolutionary verse, organizing protest parties for students, like that in Alexandrinsky theatre. In October 1905 he greeted the government's 'freedoms-granting' decree but since then was only strengthening ties with leftist radicals, notably, esers.[36]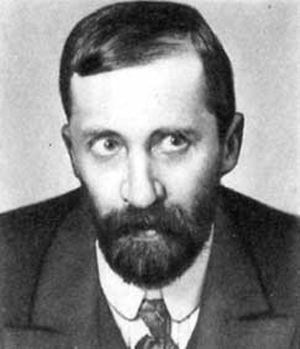 In The Forthcoming Ham (Gryadushchu Ham, 1905) Merezhkovsky explained his political stance, seeing, as usual, all things refracted into Trinities. Using the pun ("Ham" in Russian, along with a Biblical character's name, meaning 'lout', 'boor') the author described the three "faces of Ham'stvo" (son of Noah's new incarnation as kind of nasty, God-jeering scoundrel Russian): the past (Russian Orthodox Church's hypocrisy), the present (the state bureaucracy and monarchy) and the future – massive "boorish upstart rising up from society's bottom." Several years on the book was regarded as prophetic by many.[36]
In spring 1906, Merezhkovsky and Filosofov went into a self-imposed European exile in order to promote what they termed "the new religious consciousness." In France they founded Anarchy and Theocracy magazine and released a compilation of essays called Le Tsar et la Revolution.[37] In one of the articles he contributed to it, Revolution and Religion, Merezhkovsky wrote: "Now it's almost impossible to foresee what a deadly force this revolutionary tornado starting upwards from the society's bottom will turn out to be. The church will be crashed down and the monarchy too, but with them — what if Russia itself is to perish — if not the timeless soul of it, then its body, the state?" Again, what at the time was looked upon as dull political grotesque a decade later turned into grim reality.[9][16]
In 1908 the play about "the routinous side of the revolution," Poppy Blossom (Makov Tzvet) came out, all three Troyebratstvo members credited as co-authors. It was followed by "The Last Saint" (Posledny Svyatoy), a study on Seraphim Sarovsky, this time Merezhkovsky's own work.[21] More significant were two of his socio-political/philosophical essays, "Not Peace But Sword" and "In Still Waters". In them, working upon his concept of "the evolutionary mysticism," Merezhkovsky argued that revolution in both Russia and the rest of the world (he saw the two as closely linked: the first "steaming forward," the latter "rattling behind") was inevitable, but could succeed only if preceded by "the revolution of the human spirit," involving the Russian intelligentsia's embracing his idea of the Third Testament. Otherwise, Merezhkovsky prophesized, political revolution will bring nothing but tyranny and the "Kingdom of Ham."[9]
Among people whom Merezhkovskys talked with in Paris were Anatole France, Rudolf Steiner, Bergson, leaders of the French Socialists.
Disappointed by the general polite indifference to their ideas, husband and wife returned home in the late 1908, but not before Merezhkovsky's historical drama Pavel the First (Pavel Pervy) was published. Confiscated and then banned by the Russian authorities, it became the first part of the trilogy The Kingdom of the Beast (Tsarstvo zverya). Dealing with the nature and history of the Russian monarchy, the trilogy had little in common with the author's earlier symbolism-influenced prose and, cast in the humanist tradition of the 19th-century Russian literature, was seen later as marking the peak of Merezhkovsky's literary career.[4] The second and the third parts of the trilogy, the Decembrists novels Alexander the First and December 14 came out in 1913 and 1918 respectively.[16]
1909–1913
In 1909 Merezhkovsky found himself in the center of another controversy after coming out with harsh criticism of Vekhi, the volume of political and philosophical essays written and compiled by the group of influential writers, mostly his former friends and allies, who promoted their work as a manifesto, aiming to incite the inert Russian intelligentsia into the spiritual revival. Arguing against vekhovtsy's idea of bringing Orthodoxy and the Russian intellectual elite together, Merezhkovsky wrote in an open letter to Nikolay Berdyaev:
Orthodoxy is the very soul of the Russian monarchy, and monarchy is the Orthodoxy's carcass. Among things they both hold sacred are political repressions, the [ultra-nationalist] Union of Russian People, the death penalty and meddling with other countries' international affairs. How can one entrust oneself to prayers of those whose actions one sees as God-less and demonic?[38]
Some argued Merezhkovsky's stance was inconsistent with his own ideas of some five years ago. After all, the Vekhi authors were trying to revitalize his own failed project of bringing the intellectual and the religious elites into collaboration. But the times have changed for Merezhkovsky and – following this (some argued, unacceptably scornful)[39] anti-Vekhi tirade, his social status, too. Shied by both former allies and the conservatives, he was hated by the Church: Saratov bishop Dolganov even demanded his excommunication after the book Sick Russia was published in 1910.[14] For the Social Democrats, conversely, Merezhkovsky, not a "decadent pariah" any-more, suddenly turned a "well-established Russian novelist" and the "pride of the European literature." Time has come for former friend Rozanov to write words that proved in the long run to be prophetic: "The thing is, Dmitry Sergeyevich, those whom you are with now, will never be with you. Never will you find it in yourself to wholly embrace this dumb, dull and horrible snout of the Russian revolution."[40]
In the early 1910s Merezhkovsky moved to the left side of the Russian cultural spectrum, finding among his closest associates the esers Ilya Fondaminsky and, notably, Boris Savinkov. The latter was trying to receive from Merezhkovsky some religious and philosophical justification for his own terrorist ideology, but also had another, more down to Earth axe to grind, that of getting his first novel published.[41] This he did, with Merezhkovsky's assistance – to strike the most unusual debut of the 1910 Russian literary season. In 1911 Merezhkovsky was officially accused of having links with terrorists. Pending trial (which included the case of Pavel Pervy play) the writer stayed in Europe, then crossed the border in 1912 only to have several chapters of Alexander the First novel confiscated.[42] He avoided being arrested and in September, along with Pirozhkov, the publisher, was acquitted.[21]
1913 saw Merezhkovsky involved in another public scandal, when Vasily Rozanov openly accused him of having ties with the "terrorist underground" and, as he put it, "trying to sell Motherland to Jews." Merezhkovsky suggested that the Religious and Philosophical Society should hold a trial and expel Rozanov from its ranks. The move turned to be miscalculated, the writer failing to take into account the extent of his own unpopularity within the Society. The majority of the latter declined the proposal. Rozanov, high-horsed, quit the Society on his own accord to respond stingingly by publishing Merezhkovsky's private letters so as to demonstrate the latter's hypocrisy on the matter.[43]
1914–1919
For a while 1914 looked like it was going to be the first ever relatively calm year for Merezhkovsky. With the two Complete Works Of editions released by the Wolfe's and Sytin's publishing houses, academic Nestor Kotlyarevsky nominated the author for the Nobel Prize for literature.[21] Then World War I broke out. Merezhkovskys expressed their skepticism as to the Russian involvement in it and the patriotic hullabaloo stirred up by some intellectuals. The writer made a conscious effort to distance himself from politics and succeeded almost, but in 1915 was in it again, becoming friends with Alexander Kerensky and joining the Maxim Gorky-led Movement of the patriotic left calling for Russia's withdrawal from the War in the painless possible way.[44]
Alexander Fyodorovich Kerensky (Russian: Алекса́ндр Фёдорович Ке́ренский, IPA: [ɐlʲɪˈksandr ˈkʲerʲɪnskʲɪj]; Russian: Александръ Ѳедоровичъ Керенскій; 4 May 1881 – 11 June 1970) was a Russian lawyer and revolutionary who was a key political figure in the Russian Revolution of 1917. After the February Revolution of 1917 he joined the newly formed Russian Provisional Government, first as Minister of Justice, then as Minister of War, and after July as the government's second Minister-Chairman. A leader of the moderate-socialist Trudoviks faction of the Socialist Revolutionary Party, he was also vice-chairman of the powerful Petrograd Soviet. On 7 November, his government was overthrown by the Lenin-led Bolsheviks in the October Revolution. He spent the remainder of his life in exile, in Paris and New York City, and worked for the Hoover Institution....

-- Alexander Kerensky, by Wikipedia
A couple of new Merezhkovsky's plays, Joy Will Come (Radost Budet) and The Romantics were staged in war-time Petrograd theaters. The latter was successful, hit, but for the mainstream critics its author remained a "controversial author." "All in all, the Russian literature is as hostile to me as it had always been. I could as well be celebrating the 25th anniversary of this hostility," the author wrote in his short autobiography for Semyon Vengerov's biographical dictionary.[10]
1917: February and October
1917 for Merezhkovskys started with a bout of political activity: the couple's flat on Sergiyevskaya Street looked like a secret branch of Russian Duma (that was when the seeds of a rumour concerning the couple's alleged membership in the Russian freemason community were sown).[7] Merezhkovsky greeted the February anti-monarchy revolution and described the Kerensky-led Provisional government as "quite friendly." By the end of the spring he had become disillusioned with the government and its ineffective leader; in summer he began to speak of the government's inevitable fall and the Bolshevik's tyranny coming. The late October saw Merezhkovsky's worst expectations coming to life.[45]
For Merezhkovsky the October Socialist revolution was a catastrophe. He saw it as the Coming of Ham he wrote about a decade later, the tragic victory for, as he choose to put it, Narod-Zver (The Beast-nation), the political and social incarnation of the universal Evil, putting the whole human civilization to danger. Merezhkovsky and Gippius tried to use whatever influence they retained upon the Bolshevist cultural leaders to ensure the release of their friends, the arrested Provisional government ministers. Ironically, one of the first thing the Soviet government did was lift the ban from anti-monarchist Pavel Pervy play and it was staged in several Red Russia's theaters.[9]
For a while Merezhkovskys's flat served as an esers' headquarters but this came to an end in January 1918 when the so-called Uchredilovka was dissolved by Vladimir Lenin. In his 1918 diary Merezhkovsky wrote:
How fragrantly fresh our February and March were, with their bluish, heavenly blizzards, what a beauty human face shone with! Where is it all now? Peering into the October crowd, one sees that it is faceless. Not the ugliness of it, but facelessness is what's most disgusting. [...] Strolling down the Petersburg streets, I recognize a Communist face at once. What frightens most in it – the self-satisfaction of a satiated beast, animalistic obtuseness? No, the most horrible in this face is its dreariness, this transcendental dreariness, found only in Paradise that's been found on Earth, the Antichrist's Kingdom Come.[7]
In 1919, having sold everything including dishes and extra clothes, Merezhkovskys started collaborating with Maxim Gorky's new World Literature publishing house, receiving salary and food rations. "Russian Communists are not all of them villains. There are well-meaning, honest, crystal clear people among them. Saints, almost. These are the most horrible ones. These saints stink of the 'Chinese meat' most," Merezhkovsky wrote in his diary.[7][note 1]
After news started to filter through of Yudenich, Kolchak and Denikin's consequent defeats, Merezhkovskys saw their only chance of survival in fleeing Russia. This they did on December 14, 1919, along with Filosofov and Zlobin (Gippius' young secretary), having obtained Anatoly Lunacharsky-signed permission "to leave Petrograd for the purpose of reading some lectures on Ancient Egypt to Red Army fighters."[7][16]