Six: Red Prophecy on the March: Mongolia to Tibet
Two kinds of medicinal herbs grow on the mountains there. One, called tujanaya, is very sweet and has sharp thorns, leaves like the teeth of a battleax, and red flowers the color of sunset. It always grows on rocks that face toward the south.

-- Taranatha, description of a route to Shambhala
In concealment lies a great part of our strength. For this reason we must cover ourselves in the name of another society. Do you realize sufficiently what it means to rule -- to rule in a secret society? Not only over the more important of the populace, but over the best men, over men of all races, nations and religions.

-- Adam Weishaupt, founder of the Illuminati, 1770s
On October 29, 1920, in Irkutsk, Southern Siberia, in a thick cloud of cheap tobacco smoke in a spacious downtown house, a group of young people, mostly former students in their twenties, was making a revolution. The house, recently confiscated from a rich lady merchant, accommodated the headquarters of the Siberian branch of the Bolshevik Party, which set aside a few rooms for its Eastern Secretariat, a bureaucratic structure affiliated with Comintern. The secretariat was a motley crowd of Jewish, native Siberian, and Russian revolutionaries working to incite the Asian masses to revolt against colonial oppression and then to turn them toward Communism.
For the whole day, the group had been struggling to figure out how to bring Communism to Mongolia. They wanted to make sure the Mongol nomads themselves took an active part in the enterprise, knowing all too well they could not just impose their secular ideology on that country. Fortunately, there was a good opportunity to rally the nomads around the Bolshevik cause. Mongolia was occupied by Chinese troops, and the runaway White general Roman von Ungern-Sternberg threatened an invasion. So first the revolutionaries would help the nomads liberate Mongolia. Then they would link their cause to the religion of Buddha to reach out to illiterate shepherds and lamas, and bring this backward country into the golden age of Communism.
Like many other revolutionaries, those present liked to talk, dreaming aloud about how they would build the commonwealth of free toilers of the Orient. The talks went on and on; it was getting dark, and they could not come to a conclusion of what would be a better option: to storm into Mongolia right away before Ungern took it over or to wait and see when the nomads were ripe for a revolt.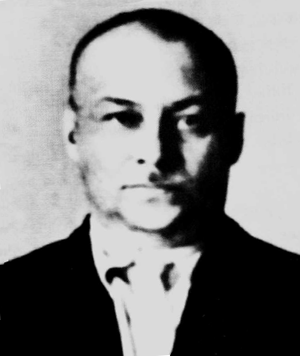 Figure 6.1. Sergei Borisov, head of the Mongol-Tibetan Section of Comintern. In 1925, disguised as a Tibetan Buddhist monk, he ventured into Tibet, trying to woo the thirteenth Dalai Lama to Red Russia's side.
It was time to wrap up the debates. Naum Burtman, a dropout student who had just returned from a reconnaissance trip to Mongolia and was chairing the meeting, had to interrupt one speaker after another. He was nervously playing with an empty pistol, tossing it like a top. At least everybody agreed that the liberation of the country should be done with as much Mongol involvement as possible. That was the key to success. The most flamboyant speaker, who dominated the podium, was Sergei Borisov, a leader of the secretariat's Mongol-Tibetan Section. This intelligent tough-looking man with Asiatic features was the son of a famous Christian missionary priest, Stephan Borisov. He had come from the Altai, land of the Oirot, to study at Irkutsk Teachers College. Yet, like many of his comrades, he quickly caught the revolutionary fever and dropped out, devoting his life to bringing paradise on earth to the common people. Now, dressed in a workingman's blouse, Borisov, whose incipient baldness made him look older than his peers, insisted that they should immediately send Red Army troops to storm Mongolia before the counterrevolutionary Ungern snatched it.
Finally, around midnight, Burtman stepped in: "I ask all present to ask questions. Any questions? No questions. Do we consider it necessary to send the troops? Everybody agrees with the stipulation. Who is against it? Nobody. I suggest that Comrade Borisov, who came up with this idea in the first place, outline clearly the best way to bring the troops to Mongolia." Borisov explained that the invasion was to be presented as an indigenous Mongolian project and that the Mongols were to be an essential part. To accomplish this goal, the secretariat agreed to set up a Mongolian autonomous government and to mute for a while all talk about Communism, focusing instead on national liberation. Burtman again stepped in and finalized the debate in a high-pitched voice: "Thus, we all agree it is necessary to establish a provisional government from influential Mongols even though they are nationalists." [1]
Bolshevik Plans for Red Mongolia
In 1920 when the Reds were freely advancing through Siberia, finishing off pockets of the crumbling White resistance, the revolutionary frenzy among the Bolsheviks was so high that they were ready to roll immediately beyond Russian borders to liberate all Oriental people. The Eastern Secretariat set up by Boris Shumatsky and his Bolshevik brethren was the product of this revolutionary idealism. Soon this impromptu project of Siberian Bolsheviks was merged with Comintern and began to receive orders from Moscow. Four sections established within the new bureaucratic structure-Korean, Japanese, Chinese, and Mongol- Tibetan -- were entrusted with igniting revolutionary fires in their respective regions.
The guidelines of the Mongol- Tibetan Section were clear: radicalizing the Mongol-Tibetan masses, extending the influence of Soviet Russia on those masses, and involving them in the struggle in Asia with world imperialism. Yet the same guidelines prescribed that the section's agents take into consideration cultures and traditions of the area. Because social and class sentiments were still dormant in these remote areas, Communism was not an immediate item on the Bolshevik agenda; Comintern agents were instructed to play on nationalism. The first task was hijacking national liberation movements to help oppressed nationalities win their freedom, to educate them, and to build up their industries. Only then would it be possible to turn the populace toward Communism.
The short-term goal for Mongolia was to "master ideologically the national movement of the Mongol popular masses, safeguarding and cleansing it of harmful layers that might shadow its social side." Muting their Communist zeal and restricting themselves to the national liberation of the Mongols from the Chinese and White Russians, Comintern agents were not to antagonize Mongol princes and especially lamas. Only when the country was free would Bolshevik fellow travelers step in and empower themselves by rallying common people and simultaneously phasing out princes and rich lamas. In the meantime, agents of the Mongol-Tibetan Section were to travel all over Mongolia and Tibet, educating people about the revolutionary prophecy from the north, building the network of Com intern cells, and recruiting new adepts. [2]
Elbek-Dorji Rinchino and Borisov, who ran this section, were socialists, but first of all they were ardent nationalists who dreamed about the liberation of their own people. When they realized that the Reds were winning and were promising self-determination for indigenous people, they cast their lot with the Bolsheviks and evolved from loyal fellow travelers into full-fledged revolutionaries. Rinchino, a Buryat intellectual with a law degree from St. Petersburg University, dreamed of uniting the Buryat and Mongols, who spoke similar languages and shared a similar culture, into a vast pan-Mongol socialist republic that would be a beacon for all Buddhists. In fact, he was the one who had created the Mongol-Tibetan Section, bringing along his friend Borisov. Rinchino would become the first Red dictator of Mongolia, and Borisov, who joined the Bolshevik Party in 1920, became deputy chair of the Eastern Section of Chicherin's Commissariat for Foreign Affairs.
The third leading member of the section, and the only one with hands-on knowledge of Tibetan Buddhism, was Choibalsan, deputy chair of the section and the only leading Mongol in Com intern at that time. As someone who knew how to read and write Mongol and could also speak Russian, this plump twenty-five-year-old was an excellent middleman and a great asset to the Bolshevik cause. Along with his partner Sukhe-Bator, Choibalsan was responsible for propaganda and publishing and was working closely with Rinchino and Borisov to recruit nomads to Red Russia's side.
Choibalsan had apprenticed to a lama as a teenager but tired of the drudgery of monastery life and escaped into the wider world, wandering into Urga, capital of Mongolia. There, by chance, a few compassionate Russians noticed his skill for languages and had him enrolled in the school for interpreters. The youth did not waste this opportunity and worked hard, and he was then sent to the Siberian city of Irkutsk to continue his education. Between 1914 and 1917 in Irkutsk, Choibalsan rubbed shoulders with Leftist students and eventually became close to them. By 1920 he was one of the two most important Mongol revolutionaries. The other was his friend Sukhe-Bator, a flamboyant show-off military man who was banding the nomads into an organized army and liked to pose for Russian photographers artistically holding a cigarette in his long fingers or sitting erect on his horse like an aristocrat observing his warriors from above.
Figure 6.2. Sukhe-Bator, a prominent Bolshevik fellow traveler in Mongolia, 1921.
Choibalsan did not do such foolish things, preferring to stay in the shadows. He still had things to learn from his Buryat, Jewish, and Russian comrades and would rather listen than talk. The modesty played well. His more flamboyant comrades felt it safe to make him a member of the Eastern Secretariat and deputy chief of the Mongol-Tibetan Section, which gave him the pleasant sense of a mission. [3] The former apprentice lama still had a hard time processing what his educated friends Borisov and Rinchino called socialism and Communism, and he could not yet digest some of the books they were reading. But he firmly grasped one simple truth: he was destined to help liberate his country from the hated Chinese and the Whites and then bring a new golden age of prosperity. Surely it would be a fulfillment of the glorious Shambhala prophecy that his monastery tutor had told him so much about. This was enough for now to empower Choibalsan. The details of what Lenin and Marx had to say about this new golden age he could learn later.
The union between the Mongol nationalists and Red Russians was formally consummated in August 1920 when Rinchino brought his friends Sukhe-Bator, Choibalsan, Danzan, Bodo, and several other men to Irkutsk to meet the chief Siberian Bolsheviks, Boris Shumatsky and Phillip Gapon. With Shumatsky as their chaperon, the nomadic revolutionaries then boarded a train to Moscow, where Lenin, Commissar for Foreign Affairs Georgy Chicherin, and other Bolshevik dignitaries welcomed them, promising to back up their nationalism and to deliver arms and ammunition. The visitors were pleasantly surprised when Chicherin greeted them wearing a traditional Mongol robe. These Bolsheviks surely could be good allies!
It was shortly after this that the young Bolshevik revolutionaries in Irkutsk, at Borisov's instigation, voted to send Red troops into Mongolia. In the meantime, Rinchino and several other Comintern agents were already in the field contacting discontented Mongol nomads and lamas. When everything was set up for a quick invasion and liberation of Mongolia, Shumatsky, as head of the Eastern Secretariat and the man who called the shots for Siberian Bolsheviks, changed everything. Returning from Moscow, he ordered the revolutionary young Turks to hold on. Everyone was surprised. How could he leave Mongolia defenseless when Ungern, the mad White baron, was ready to roll into and take over the country? Wait and see, was Shumatsky's answer. This turned out to be a brilliant strategy. Shumatsky correctly assumed that by fighting each other Ungern's Whites and the Chinese would weaken themselves, and Mongolia would fall into the hands of Red Russia like a ripe fruit. His plan would work better than he expected.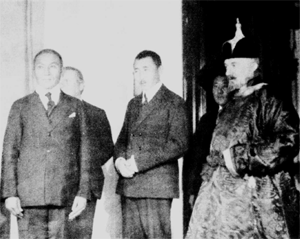 Figure 6.3. Commissar for Foreign Affairs Georgy Chicherin (r.), who worked hard to woo Asians to the Bolshevik side, is shown wearing a Mongol robe during a reception for Mongol delegates.
Ungern's suicidal plans to restore the Chinese monarchy and to drag Mongolia into a war with Bolshevik Russia soon alienated the Mongols, and they turned away from the White general. The Bolsheviks quickly jumped in to encourage Mongol nationalism and help get rid of the "homeless Russians." the name the nomads gave to the emigre White Russians. In the meantime, Mongol soldiers who originally sided with the baron began to talk openly about switching sides and joining the Red Mongols. Bodo, Choibalsan, Danzan, Sukhe-Bator, and twenty other radical nationalists who had already been attracted to the message of national and social liberation coming from Moscow gathered in the borderland town of Kiahta. There, groomed by Borisov, Rinchino, and other Comintern agents, they were able to raise a small army of five hundred nomadic warriors. This indigenous detachment, the nucleus of the future Red Mongol army, embodied the Comintern strategy of "using Mongol national feelings for the defense of Mongol independence under the flag of a Mongol army." To give additional stimulus to the revolutionary spirit of this ragtag crowd of shepherds, drifters, and junior lamas, Borisov gave them food, warm underwear, and tobacco. [4] Simultaneously, assisted by Choibalsan and Sukhe- Bator, he worked hard to organize those who had at least some elementary education into the Mongol People's Revolutionary Party (MPRP). Beefed up by Buryat and Kalmyk revolutionaries imported from Siberia, MPRP was to become a Comintern tentacle ensuring that the nomadic masses were moving in the correct direction.
The Bolsheviks' plans proceeded smoothly. The Red Mongols' efforts received a handy theological backup when, at the end of 1920, Gutembe, a prominent lama oracle, conveniently went into a trance and came up with a prophecy that the Mongol state needed urgent help from outside. Comintern folk became so excited that they dispatched three Mongol agents to confirm the prophecy and to secure its power for the Red cause. Gutembe turned out to be very helpful, informing the visiting revolutionaries that just before their arrival one of the avenging gods had entered his body, told him how rotten the present state of society was, and also issued guidelines. As a special favor for the Red Mongols, the oracle went into trance again to ask the god more questions. Lighting his oil lamp and incense, reciting a ritual text, and brandishing a sword, he began raving and foaming from the mouth. After an assistant poured a glass of vodka into his mouth, the oracle relaxed a little and assured the Red Mongols that soon they would succeed. [5]
Meanwhile, Borisov was moving back and forth cementing and equipping the Red Mongols gathering on the Russian-Mongolian border ready for action. In 1921, the operational budget of the Mongol-Tibetan Section, which became the headquarters of the Mongol revolution, reached $112,000 Mexican dollars. [6] Of this amount, the bulk ($100,000) was spent to acquire weapons and supplies for the Mongol revolution. Borisov himself delivered much of this cargo in a caravan that reached the border in February of 1921. In addition, the Oirot revolutionary officially set aside $6,000 for bribes to be paid to various Mongol and Chinese headmen to smooth field trips of Comintern agents through Mongolia. Borisov neatly called it a special "engagement and counterintelligence fund" for "materials payments and gifts to people who are not yet revolutionized by our propaganda:'? Bringing the Red Shambhala kingdom to Mongolia was not a cheap business.
The Triumph of Red Shambhala in Mongolia
On June 22, 1921, when Ungern was defeated and captured, the small Mongol army, beefed up by Buryats and Kalmyks, was already marching deep into Mongol territory. The arrival of the Red Mongol troops in Urga on July 7, 1921, was announced by the piercing sounds of trumpeters marching in front, blowing into traditional Buddhist shells. The trumpeters were followed by the Mongol cavalry in two lines. The squadron on the left rode with a red banner, while the one on the right carried a yellow banner. To nomadic revolutionaries the whole scene was very symbolic. The red banner stood for the rivers of blood they spilled in the cause of national liberation, which would eventually lead people to the "golden age kingdom;' symbolized by the yellow. [8] The ceremony culminated in the ritual sacrifice of a White officer named Filimonov, chief of Ungern's counterintelligence service, to one of the avenging god-protectors of the Buddhist faith. His blood was used to smear the banners of the Red Mongols -- an ancient ritual to appease the wrathful gods and secure new victories. [9]
The Shambhala army was coming again from the north, just as the legend said. Only now it was Red Shambhala. It was now time to engage old prophecies. Choibalsan, Sukhe-Bator, and rank-and-file Red Mongols were happy to portray the victory as a triumph of the prophetic Shambhala kingdom. In fact, when the five hundred nomadic warriors were waiting on the Russian-Mongolian border before the attack, they put together a song, "The War of Northern Shambhala;' calling Mongol soldiers to rise up in a holy war against aliens, particularly the Chinese. One of the lines went, "Let us all die in this war and be reborn as warriors of Shambhala." [10] The nomadic warriors were convinced that if they participated in the sacred war they would be able to liberate themselves from samsara (the cycle of reincarnations) and end up in the happy Shambhala dreamland.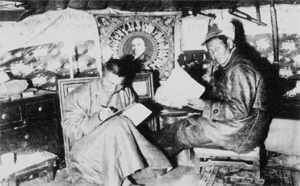 Figure 6.4. "Red lama" commissar of new Mongolia with his scribe, 1928. Note the sacred tanka scroll in the background with the face of Lenin, which replaced Maitreya and other Buddhist deities in the new Mongol iconography.
In the early 1920s, not only Shambhala but the entire Buddhist faith and existing prophecies were used by the Red Mongols to entrench themselves among the populace. For a while, Communism linked to Buddhism was advertized as some sort of Bolshevik liberation theology customized for common shepherds and lamas. Until at least 1928, Choibalsan, Rinchino, Sukhe- Bator, and their comrades deliberately tied their political and social reforms to messianic and prophetic sentiments popular among Inner Asian nomads. [11] Moreover, the political system of Red Mongolia briefly became a strange hybrid of Communism and Buddhism. In this Red theocracy, the Bogdo-gegen acted as the formal head of the country, while the government was run by Bolshevik fellow travelers, many of whom themselves came from the ranks of Buddhist clerics.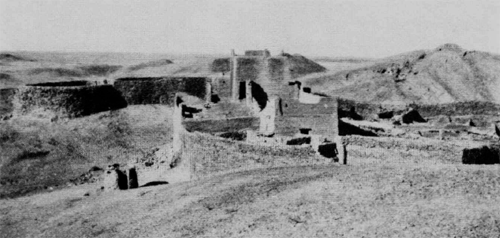 Figure 6.5. Remains of Ja-Lama's magnificent fortress in the Gobi Desert, 1928.
A major headache for the new Red Mongol regime was that the western part of their country was only loosely connected to Urga. There the notorious Ja-Lama, who had returned to "his people" in 1917 from his exile in Russia, was still running wild and free. The Avenging Lama and self-proclaimed grandson of the legendary Amursana had gotten a second wind. Ja-Lama held up a rich caravan of fifty Tibetan traders loaded with gold and silver, which gave him startup capital to build another fiefdom and to lure supporters. [12] Soon with a small army of three hundred warriors, he settled in a desert area conveniently located near a trading route on the border between Inner and Outer Mongolia. Following his totalitarian dreams, Ja-Lama was turning this area into an orderly desert oasis, using slave labor of prisoners captured during his raids to erect a magnificent fortress. Canals and wells were dug, and aqueducts built. A group of Chinese prisoners tended opium fields, one of Ja-Lama's major sources of revenue.
At first Shumatsky, Borisov, and Rinchino had high hopes for Ja- Lama and thought about making him a guerrilla commander who could help them finish off pockets of White resistance. At one point, the Mongol-Tibetan Section sought "to establish urgently a formal connection with the partisan movement of western Mongolia by sending Dambi-Dzhamtsyn [Ja-Lama] a responsible representative of the [Mongol] people's party, who would steer this movement ideologically in a correct direction." [13] The Bolsheviks even offered the "lama with a gun" the official title of a national leader, Commander of Western Mongol Revolutionary Forces, and sent symbolic gifts: a Russian military cap and two small hand grenades. [14] Yet the reincarnation of Amursana was not a fool. As a former Russian subject who had rubbed shoulders with Marxist revolutionaries during his Siberian exile, he could easily figure out the Bolsheviks' true intentions. Besides, obsessed with a totalitarian dream of his own, Ja-Lama did not want to share power with anybody. His plan was to set up a large modern theocracy that would unite the Altai, western Mongolia, and western China -- areas that had composed the glorious seventeenth-century Oirot confederation. So Ja-Lama flatly rejected the advances of Com intern agents.
Despite all his experience and cunning, the ruthless lama did not know how devious and imaginative his opponents could be. Unable to tame the unfriendly reincarnation, Shumatsky, Borisov, and their Mongol comrades decided to beat "Amursana" on his own spiritual ground by making up their own reincarnation in order to split Ja-Lama's flock and confuse local nomads. For the role of Red Amursana, the Bolsheviks picked Has Bator, a young lama priest and new convert to the Red Mongol cause, who, after a short training and indoctrination in Irkutsk, was sent to western Mongolia with two dozen Comintern agents and one thousand Red Mongol and Buryat troops. The goal of this "military-political expedition;' as Shumatsky labeled it, was to put local anti-White and anti-Chinese guerrilla units under the Comintern wing. [15]
Bolsheviks and their Mongol fellow travelers initiated a sophisticated game of image making to bill Has Bator as the new and better reincarnation. They made him three luxurious felt tents decorated inside with antique weapons. Simultaneously, word was spread that the real Amursana had finally come from his northern land. Part of the game was creating an aura of mystery around the newly anointed one. Every day Red Amursana received mysterious packages from somewhere.I6 Several nomadic communities embraced this message and left Ja-Lama for Has Bator. Unfortunately, the new Amursana was not able to live up fully to Bolshevik expectations, lacking the courage to play his part well in a life-or-death situation. At one point, surrounded by a renegade band of cutthroat Whites, he lost his nerve, literally peed in his pants, and deserted his comrades by escaping into the fields, where the counterrevolutionaries quickly caught and shot him. The Whites chopped off the head of the poor revolutionary reincarnation and carried it around as proof that the Red pretender was destroyed.
The person who helped finish Ja-Lama was his own comrade-in-arms Hatan Bator (Hard Hero) Magsarjav (1878-1927). Ja-Lama and Hard Hero fought the Chinese together in 1913. Later General Magsarjav aided the Red Mongols to such an extent that they named him secretary of war in the new revolutionary Mongolia, which eventually secured him a spot in the pantheon of Mongol Communist heroes. What made the newly minted revolutionary general a dangerous opponent of Ja-Lama was that he was an oracle endowed with large spiritual power of his own. Hard Hero frequently went into a trance, predicting the dates and outcomes of his battles. Magsarjav was believed to be invincible to his enemies, and like his former friend Ja-Lama, he did not miss a chance to "prove" it. After a military clash, Magsarjav could be seen pulling from inside his robe a bullet or two that had "hit" him and was still warm. Like other oracles, during his trances Magsarjav merged with avenging Buddhist deities, building up his anger to fight enemies of the faith and nation. Besides, Hard Hero was equally ruthless and did not shy away from chopping off the heads and ripping open the chests of his opponents, whose blood he used to smear revolutionary banners. [17]
The Bolsheviks did not want to waste their time storming the totalitarian paradise erected by Ja-Lama. In 1923, the OGPU secret police along with State Internal Protection (GVO), its sister organization in Mongolia headed by Khaian Khirva, developed a special operation to dispose of Ja-Lama once and for all. Acting as religious pilgrims, a Mongol secret police agent named Nanzan, along with two other Red "lamas" went to Ja-Lama's headquarters to receive blessings. While talking to Ja-Lama, Nanzan suddenly pulled out a revolver and shot him point-blank a few times in the head. Like many others Mongols, the agent was under the impression that Amursana might somehow be invincible to bullets, so to make sure the notorious lama was finished, with trembling hands Nanzan emptied his Colt into Ja-Lama's neck and chest, severing his head.
The sudden execution of Ja-Lama so stunned and demoralized his flock that nobody offered any resistance, and the secret police pilgrims triumphantly left the compound carrying the head. Nanzan dropped it into a bucket filled with vodka for preservation and carried it to one of the major towns in western Mongolia, where it was placed on a lance at a central plaza to prove the famous Ja-Lama was finally gone. The new masters explained to the local populace that the new Red order in Mongolia was a fulfillment of the old Amursana prophecy.
In other parts of the country, Bolshevik fellow travelers similarly milked other epic tales and legends. "But of greatest appeal was the promise of achieving an earthly utopia with the aid of an apocalyptic army from the unearthly realm of Shambhala," as historian Larry Moses reminds us. [18]
Bolsheviks at the Gates of Lhasa
The romantic expectations of the coming worldwide revolutionary holocaust and their stunning success in Mongolia inspired the Bolsheviks to roll on southward to Tibet and farther to storm the Himalayan heights on the way to India. So Tibet was the next item on their agenda. Ideally, the goal was to replay in the Forbidden Kingdom the Mongol scenario: find a national liberation cause to latch onto, use existing prophecies, build up revolutionary cells, and stir the indigenous folk to rebel against an oppressor. In Mongolia, the oppressors were the Whites and Chinese merchants. In Tibet, the major candidate for this role was to be England.
In their revolutionary geopolitics, the early Bolsheviks never separated Siberia and Mongolia from the rest of Inner Asia. In their dreams, a map of the entire area was soon to be painted red. Chicherin, Commissar for Foreign Affairs, envisioned Mongolia as "a solid jumping ground in the advancement of revolutionary ideas to Tibet and India." [19] In this game of setting Inner Asia on fire, Sergei Borisov was again destined to become one of the major players. By 1921, senior Bolshevik comrades noticed the zeal of this Oirot fellow traveler, made him a member of their party, and, on top of this, awarded him a position of consultant at Chicherin's commissariat.
In fact, Tibet and her environs were already on the Bolshevik agenda as early as the fall of 1920, before Ungern stormed into Mongolia. The guidelines set by Comintern for the Mongol-Tibetan Section directed its agents "to gather data about the situation in Tibet and her relations with China and England, political sentiments, armed forces, and the extension of foreign influence:' Comintern agents were also instructed "to find among Tibetans who live in Mongolia, particularly in Urga, persons who by their political convictions can be used by the section as interpreters both in Irkutsk and in Urga, and also be sent to Tibet for propaganda work." The next set of guidelines issued two weeks later instructed the agents to "urgently establish connections with Tibet" and to "urgently find among Tibetans who live in Mongolia" qualified people for propaganda work. [20] The Bolsheviks clearly shared a naive belief that all Tibetan Buddhist areas would soon fall easily into their hands.
Although the Bolsheviks were still working to secure their victory in Mongolia, Chicherin, Shumatsky, and Borisov were already contemplating a reconnaissance expedition to Tibet in the summer of 1921. In early July, amid information about progress in Mongolia and the capture of Ungern, Shumatsky reported in a secret cable to Chicherin and Meer Trilisser (then a Com intern boss, later chief of the foreign intelligence branch of OGPU): "We are now thinking about the best route for the expedition and gathering all necessary gear. As far as the machine gun is concerned, do not send it. I will get it here. If I receive all the items I requested from you, the Tibetan expedition will depart no later than August 1." [21]The most important item, which Shumatsky and Borisov were impatiently awaiting, was a wireless radio set they planned to leave with the Dalai Lama to set up a direct line of communication between Lhasa and Moscow. Two young Kalmyk revolutionaries, who were undergoing a crash radio course, were expected to stay and operate the device in Lhasa.
Yet the expedition had to be postponed because the silver set aside for the Tibetan venture was spent for urgent Mongolian needs. A few more months passed before Shumatsky raised new funds to get the project going. Finally the radio set arrived in Irkutsk, and the polyglot Bolshevik cabled Chicherin: "The radio transmitter has been received. I easily delivered it here by myself. Please make sure that those chaps who study radio and cable communication in Moscow know how this particular model works in order to be able to start it right away upon arrival in Tibet." [22] The former Dalai Lama tutor Agvan Dorzhiev, who was with Shumatsky and Borisov all this time, whetted the Bolsheviks' Tibetan appetites, trying to sell them his cherished project of uniting all Tibetan Buddhists into a large theocratic state under Red Russia's protection.
But Tibet turned out to be a tough nut. It was not so easy to crack as Mongolia, and the Dalai Lama was not as submissive as the Bogdogegen. The Bolsheviks operated under a false impression that in Tibet they could easily milk the English threat, stretching out their helping hand and drawing the populace to their side. Unfortunately, the hated English imperialists did not even want to take over Tibet, preferring instead to keep it as a buffer between India and Russia-China. It took Moscow three expeditions to realize that there was no imminent threat to Tibet from England and that the Dalai Lama was simply a shrewd diplomat who skillfully played China, Russia, and England against one another without allowing any of them to get a foothold in his country. Given the traditional isolation of the Forbidden Kingdom, it was not hard for the Lhasa ruler to pursue this policy. After all, still in effect was the 1870s' decree, "If somebody penetrates our country, whoever he is, all possessions of this person shall be confiscated, and he shall be sewed into a skin bag and thrown into a river." [23] Even though the Dalai Lama used some knowledge of the English to make his nation a bit more modern, he always kept them at bay.
To reach out to Tibet, the Reds used two approaches. First, they tried to lure the Dalai Lama to their side. Second, they wanted to identify within the Tibetan populace discontented groups they could incite to ignite a revolutionary holocaust. First and foremost, the Bolsheviks needed reliable information about Tibet, which still remained terra incognita for Moscow revolutionaries. From Dorzhiev, Shumatsky found out that one of the secretaries of the Dalai Lama was a Kalmyk monk named Sharap Tepkin. This prompted Shumatsky, with some hesitation, to chose Vasilii Khomutnikov, a Red Army cavalry officer of Kalmyk origin who had fought against the Whites during the Civil War and then helped the Red Mongols build up their army, to lead the first mission to Lhasa. Although he was crude and could barely write, he was loyal to the cause and, most important, was a Kalmyk, which the Bolsheviks expected would ease access to the Lhasa ruler.
On September 13, 1921, Khomutnikov, with nine Kalmyk and Buryat comrades, traveled as part of a caravan of "peaceful" Mongol pilgrims and merchants, carrying fifteen hundred rifles, one million cartridges, machine guns, and grenades. This impressive arsenal had been seized from the bloody Baron Ungern. On top of this, using expedition funds, Khomutnikov continued to purchase rifles from local people en route. As a military man, he might have reasoned that soon his comrades would need all these weapons to bring revolution to the Himalayan kingdom. Alarmed by such hazardous cargo, Tibetan border guards blocked the pilgrims on the border, but a reference letter from Dorzhiev to the Dalai Lama unlocked the doors. Once in Lhasa, Khomutnikov did not hide his Bolshevik identity and openly tried to sway the Dalai Lama to his side. Yet, despite generous gifts of silverware, a golden clock, and a mysterious talking machine (the wireless radio), the Lhasa ruler was apprehensive about the cavalier advances of the Red emissary and did not want to take sides. Only after Khomutnikov repeatedly assured the Dalai Lama that the Bolsheviks respected Buddhism did he warm a bit and even asked the Moscow visitor for Red Russia to send military instructors and to help organize the manufacturing of gunpowder. (Creating a well-equipped modern army was a major concern of the Dalai Lama.) Khomutnikov answered that his government would be happy to accommodate the military needs of the Lhasa ruler. Still, the cautious Dalai Lama wanted to have more time to think this over, so it was decided to talk further about military cooperation as well as about establishing diplomatic relations during a second expedition from Soviet Russia to Tibet. Khomutnikov also received permission to look around, and he talked with several people from the government and with monks, some of whom expressed strong anti-English feelings. Encouraged by these talks and by the Dalai Lama's promises, the Bolshevik ambassador, who spent almost three weeks in Lhasa, left the Tibetan capital on April 9, 1922.
Comintern Agent Borisov Becomes a Lama Pilgrim
The Bolsheviks' hopes for Tibet rose in 1924 when they learned about clashes between reformers (a military faction) who favored England and conservative lamas who resisted modernization. Chicherin and Borisov saw this as the beginning of a class war in the Himalayan kingdom between the pro-English "capitalist" faction and "progressive" clergy. So it was time to send a second mission to find out what was going on in Tibet and to try again to win over the Dalai Lama. Borisov, now done with his job of turning Mongolia Red, could devote himself to Tibetan matters.
To smooth this new Lhasa mission, the atheist Borisov was to act like an influential Buryat lama pilgrim on a mission to reach out to His Holiness on behalf of both his Siberian brethren and the Soviet government. Updating the Soviet elite about the coming expedition, Commissar for Foreign Affairs Chicherin stressed, "Comrade Borisov and his travel companions will conduct this expedition in the capacity of religious pilgrims." [24] Besides Borisov and a few other fake lamas, the party was filled out with several genuine Buddhist pilgrims to make the masquerade more credible. The whole Buddhist showmanship was intended to hide Red Russia's advances into Inner Asia. A year earlier, aggressive efforts of the Bolsheviks to push the revolutionary tide to the Indian border had prompted the English government to threaten Moscow with shutting down all trade with Red Russia. In response, the Bolsheviks, hungry for Western technology and goods, promised to mute their revolutionary zeal.
In 1927, two years after his trip to Lhasa, Borisov revealed the details of this second Tibetan venture in a talk at the Communist University of the Toilers of the East (KUTV), which trained revolutionary activists for Eastern countries. Shumatsky, who headed this university in 1926-27, invited his old comrade-in-arms to share his experiences. Borisov stressed that, besides his attempts to draw the Dalai Lama to the Bolsheviks' side, he tried to court monks from several large monasteries that openly challenged Lhasa's modernization efforts. It was not a totally flawed strategy. Aside from the Panchen Lama's Tashilumpho, the hub of separatism that numbered four thousand monks, there were three other major monasteries, Drepung, Sero, and Ganden, that did not want to pay taxes either and hated to lose their privileged status. This conservative priesthood refused to cooperate with the Lhasa government, pointing out to His Holiness that universal taxation, the army reform, and the opening of an English school and a power station went against traditional Buddhism. [25]
Borisov found this monastery-grounded opposition very useful for the Bolsheviks: "Some of these heretical spiritual movements sometimes move as far as rejecting the holiness of the Dalai Lama. These lingering sentiments always existed, and monks are very susceptible to them." Under these circumstances, continued the Red Oirot, "the only thing that remains to be done is to make sure these sentiments move in an appropriate direction, become organized, and develop along revolutionary lines." [26] Borisov believed that planting revolutionary cells among junior-rank lamas was the way to organize them. In fact, he attempted to wiggle into the Drepung monastery, which had a large Buryat-Kalmyk colony with pro-Russian sentiments. The plan was to turn the monastery into a base for future Bolshevik operations.
The Borisov expedition left the Mongol capital at the end of January 1924 and after a long six-month trip finally reached Lhasa. Despite their Buddhist disguise, English intelligence agents quickly spotted and figured out the Red pilgrims through their own Kalmyk agents. After Khomutnikov's cavalier attempt to sway the Dalai Lama to the Bolsheviks' side, the English had become paranoid and started to monitor visitors coming from Red Mongolia. The person assigned to ward off Red pilgrims from this area was British intelligence agent Lt. Colonel Frederick Bailey, Political Officer in Sikkim from 1921 to 1928. The man was perfectly cut for this type of job. A fluent speaker of Tibetan and basic Russian, he was a born explorer and a daring adventurer. Among his hobbies were mountain climbing and butterfly collecting. In fact, he immortalized his name by discovering during his Asian ventures a few unknown specimens of butterflies. All in all, Bailey was a classical gentleman spy of the Victorian Age. A seasoned shadow warrior, he had already rubbed shoulders with his Moscow opponents, penetrating Russian Central Asia right after the 1917 revolution to find out what was going on in the Bolsheviks' backyard. Bailey did not restrict himself to gathering intelligence, but also took part in organizing White resistance to the Reds. At one point, playing with fire, through a trusted contact he was even able to get taken on as an agent for the Bolshevik secret police and was sent on a clandestine mission to Bukhara, a Muslim fiefdom challenging the Bolsheviks. One of his assignments was searching for the whereabouts of the English spy Bailey! [27]
Like his predecessor, upon arrival in Lhasa Borisov showered the Dalai Lama with various gifts: porcelain vases, golden cups, silver plates, and many other items. Although Tibetan authorities realized those in the party were not true Buddhist pilgrims, they let the visitors wander around, take hundreds of pictures, and film military installations, gun workshops, communications, and other strategic places. The Dalai Lama did not mind playing the Russian card for a short while to tease his English neighbors a bit. He even called these "pilgrims" harmless. Worried about such a reckless attitude, Bailey worked hard, trying to use his intelligence information to wake up the Lhasa ruler to the danger. But the Dalai Lama had his own game to play. He received the Bolshevik ambassadors, smiled at them, assured his friendship, and gave numerous promises, but he did not bind himself by any agreement establishing military ties, as the Red Russians hoped. Thus, despite his long stay in Lhasa and persistent attempts to tie His Holiness to Moscow, Borisov returned to Moscow empty-handed in May of 1925.
It was obvious that the Dalai Lama's sympathy for Soviet Russia and the revolutionary potential of the Forbidden Kingdom were the Bolsheviks' wishful thinking. His Holiness, who never trusted the Red Russians, simply used them as a counterbalance to British and Chinese advances. Strange as it may sound, some in Moscow continued to believe in the Dalai Lama's friendly disposition to the very end of the 1920s. In a 1928 memo the chief of the Eastern Department of the OGPU secret police still insisted that the "masses of Tibetan population" and their ruler looked favorably at Russia and Mongolia. [28]
Before he had to flee, the young Dalai Lama had a number of meetings with the "Great Chairman" and was very impressed by him. As he shook Mao Zedong by the hand for the first time, the Kundun in his own words felt he was "in the presence of a strong magnetic force" (Craig, 1997, p. 178). Mao too felt the need to make a metaphysical assessment of the god-king: "The Dalai Lama is a god, not a man", he said and then qualified this by adding, "In any case he is seen that way by the majority of the Tibetan population" (Tibetan Review, January 1995, p. 10). Mao chatted with the god-king about religion and politics a number of times and is supposed to have expressed varying and contradictory opinions during these conversations. On one occasion, religion was for him "opium for the people" in the classic Marxist sense, on another he saw in the historical Buddha a precursor of the idea of communism and declared the goddess Tara to be a "good woman".

The twenty-year-old hierarch from Tibet looked up to the fatherly revolutionary from China with admiration and even nurtured the wish to become a member of the Communist Party. He fell, as Mary Craig puts it, under the spell of the red Emperor (Craig, 1997, p. 178). "I have heard chairman Mao talk on different matters", the Kundun enthused in 1955, "and I received instructions from him. I have come to the firm conclusion that the brilliant prospects for the Chinese people as a whole are also the prospects for us Tibetan people

; the path of our entire country is our path and no other" (Grunfeld, 1996, p. 142)...

The Fourteenth Dalai Lama and communism:

The Kundun's constant attestations that Buddhism and Communism have common interests should also be seen as a further currying of favor with the Chinese. One can thus read numerous statements like the following from His Holiness: "The Lord Buddha wanted improvement in the spiritual realm, and Marx in the material; what alliance could be more fruitful?" (Hicks and Chogyam, 1990, p. 143); "I believe firmly there is common ground between communism and Buddhism" (Grunfeld, 1996, p. 188); "Normally I describe myself as half Marxist, half monk" (Zeitmagazin 1988, no. 44, p. 24; retranslation). He is even known to have made a plea for a communist economic policy: "As far as the economy is concerned, the Marxist theory could possibly complement Buddhism..." (Levenson, 1992, p. 334). It is thus no wonder that at the god-king's suggestion, the "Communist Party of Tibet" was founded. The Dalai Lama has become a left-wing revolutionary even by the standards of those western nostalgics who mourn the passing of communism.

Up until in the eighties the Dalai Lama's concern was to create via such comments a good relationship with the Soviet Union, which had since the sixties become embroiled in a dangerous conflict with China. As we have seen, even the envoy of the Thirteenth Dalai Lama, Agvan Dorjiev, was a master at changing political fronts as he switched from the Tsar to Lenin without a problem following the Bolshevist seizure of power. Yet it is interesting that His Holiness has continued to make such pro-Marxist statements after the collapse of most communist systems. Perhaps this is for ethical reasons, or because China at least ideologically continues to cling to its communist past?

These days through such statements the Kundun wants to keep open the possibility of a return to Tibet under Chinese control. In 1997 in Taiwan he explained that he was neither anti-Chinese nor anti-communist (Tibetan Review, May 1997, p. 14). He even criticized China because it had stepped back from its Marxist theory of economics and the gulf between rich and poor is thus becoming ever wider (Martin Scheidegger, speaking at the Gesellschaft Schweizerisch Tibetische Freundschaft [Society for Swiss-Tibetan Friendship], August 18, 1997).-- The Shadow of the Dalai Lama: Sexuality, Magic and Politics in Tibetan Buddhism, by Victor and Victoria Trimondi
Phuntsog Wangyal (far left) with the Dalai Lama, Chen Yi, and the Panchen Lama in Lhasa,1956

"Phunwang showed that you could be a true Communist while at the same time proud of your Tibetan heritage," stated the Dalai Lama.

-- Phuntsog Wangyal - obituary, by The Telegraph
"Mongol Embassy" to Lhasa and Cold Reception
In 1925, the Dalai Lama dismissed his war secretary, Tsarong Shape, head of the pro-English military faction, and several of his associates whom His Holiness suspected of plotting a conspiracy. This gave the Bolsheviks a second wind, and they were ready to continue their Tibetan advances. Chicherin optimistically predicted "the defeat of the Anglophile clique" and hoped that this time the Soviets would sway the Lhasa ruler to their side. To take advantage of the favorable political situation, a third mission would be sent to Tibet. Chicherin did not want to procrastinate with this project. The timing was too good to be missed: "An uprising has erupted in Tibet against the Anglophile clique which seized all power in the country. If we don't hurry up, some more developments might take place, so that Britain, by means of bribes and by attracting the material interests of the [Tibetans], can usurp power again." [29]
Learning from the previous experience of poor disguises, Chicherin and Borisov wanted to play it safe, keeping Red Russia out of the picture. Now, instead of playing Buddhist pilgrims from Siberia, the Bolsheviks were to become a Mongol religious mission sent to establish an embassy in Lhasa and discuss an important theological issue. The plan was to obtain Lhasa's permission to open a Mongol embassy, which the Bolsheviks could later use to organize a shipment of military hardware and to gradually hijack the Tibetan army by infiltrating it with loyal Kalmyk, Buryat, and Mongol advisors.
To lead this 1927 expedition, Chicherin and Borisov chose Arashi Chapchaev (1890-1938), a Kalmyk schoolteacher and recent graduate of the three-year Marxist program at the Communist Academy. Soviet dictator Joseph Stalin personally approved this choice. Since the Kalmyk Bolshevik was an educator, he would pose as a Buddhist teacher under the assumed name Tsepag Dorji. Dressed in a red robe, he was to travel with his lama apprentice -- the role assigned to another Kalmyk Bolshevik, Matstak Bimbaev. The party, which numbered fifteen people, included several other "Mongols," among them Jigme-Dorji Barduev, a Buryat lama priest who had taken part in the Borisov expedition, and Shagdur Landukov, a Kalmyk military advisor to the Mongol Red Army. At the same time, a few genuine Red Mongol fellow travelers with a good knowledge of Tibetan Buddhism were added to make the mission more credible.
A formal cover for the Mongol embassy was found in the important theological issue of recognizing a new reincarnation of the Bogdogegen, head of the Mongol-Tibetan Buddhists. When the old Bogdo had died from old age and numerous ailments in 1924, the Red Mongols and their Moscow patrons immediately sensed that this was a perfect occasion to end the Buddhist theocracy in Mongolia and replace it with a normal Red dictatorship. They forbade the search for a new reincarnation: lamas and the nomadic populace were surprised to find out that the deceased reincarnation was to be the last. The Red Mongols explained that Bogdo was now reborn as a great general in Shambhala, and there was no point in searching for a new reincarnation since henceforth Bogdo's permanent abode would be this magic kingdom, not the earthly realm. [30] Shrewd Red Mongols like Rinchino were not convinced their magic trick would work. Not wishing to completely antagonize the populace and the large number of lamas, they suggested an option to resolve the issue. Because all Bogdo's earlier reincarnations were traditionally found in Tibet and approved by the Dalai Lama, they would go to Lhasa and discuss this important matter with His Holiness. The Mongol embassy delegation headed by Chapchaev pursued this theological scheme when they arrived in Lhasa in April 1927. When the flattered Dalai Lama, who did not care much anyway about his junior counterpart (the deceased Bogdo had lived a rowdy life as a heavy drinker and womanizer), seemed to welcome this plan, the Bolsheviks thought they might kill two birds with one stone: pacifying Buddhist clerics in Mongolia and simultaneously receiving another chance to get a foothold in the Forbidden Kingdom.
The Lhasa ruler expected genuine religious pilgrims but, to his dismay, found out from his own sources and from Bailey that this group of pilgrims armed with twenty rifles and two Lewis machine guns were not even Mongols but once again Bolsheviks from Russia. Infuriated, the Dalai Lama at first refused to give Chapchaev a formal reception. The Red pilgrims were kept under constant surveillance and could not even relieve themselves without being watched. All their movements were now monitored by a double spy ring: the Dalai Lama's agents and Bailey's Kalmyk and Tibetan spies.
The situation was even worse than with the Borisov party. It did not help that the atheist Chapchaev and his friends were particularly lousy actors. Lhasa monks noticed that the visitors had a hard time following tedious Buddhist rituals. [31] Yet it was not entirely bad acting that showed up their Mongol disguise. One of them, Gomojitshin, a Buryat from Siberia working for the Mongol Department of Foreign Affairs, began having doubts about the Red cause. Disgusted with their pathetic Buddhist masquerade, he solicited and received a secret private audience with the Dalai Lama, during which he revealed the covert goals of the embassy. [32]
To make things worse, the most devastating and unexpected blow to the Bolshevik scheme was leveled by Dorzhiev, the Tibetan ambassador to Russia, whom both Chicherin and OGPU considered a loyal Bolshevik fellow traveler. By the mid-1920s, this old lama with sad eyes who dreamed about a vast Buddhist theocracy under Soviet protection had become increasingly frustrated with the Bolsheviks. For a short while, he had allied himself with them, hoping Communism could help return Buddhism to its original roots. Yet quite soon Dorzhiev saw that his faith did not gain anything from this alliance. Tibetan Buddhism in Russia was on the decline, and Bolshevik authorities in Siberia constantly harassed his brethren. Realizing that the Bolsheviks were simply using him to split the Buddhist community in Russia, the old monk started a double game. While still pretending to be loyal to the Bolsheviks, Dorzhiev secretly decided to do everything to safeguard his fellow believers in Tibet from Soviet advances.
In his formal letter introducing Chapchaev, Dorzhiev praised Russia and Mongolia for their treatment of Buddhists and asked the Dalai Lama to give the "Mongol pilgrims" the best treatment. Yet simultaneously, through a trusted merchant, he smuggled to His Holiness another letter in which he wrote: "I am an old man and will die very soon. Mongolia is not a peaceful country as it was formerly. The government is deadly against religions and monks, and they are helpless. Please don't have anything to do with the mission. I had to write a letter at their dictation to Your Holiness for these Bolshevik agents to take with them, but please do not take any notice of that letter." [33]
Although the Dalai Lama was angry, he did not dismiss Chapchaev and his company right away but, as always, played a good diplomat. After all, he did not want to endanger the large Tibetan community in Mongolia. Besides, the Lhasa ruler still held a large amount of money in the Mongol central bank and did not want to lose it. Still refusing to receive Chapchaev, the Dalai Lama nevertheless allowed the visitors to wander around, gather intelligence, and socialize with local Mongol and Buryat monks. Yet all their movements were monitored. Finally, the Mongol diplomats were permitted to have an audience with His Holiness. But in exchange for this favor, as the stunned visitors learned, they were to promise to leave Lhasa immediately after they finished their talk.
During this meeting, the Lhasa ruler played his favorite game of expressing friendship without promising anything. Trade between Mongolia and Tibet? Sure, let us trade; we might buy Mongol horses, they will be good for our cavalry. We Tibetans might even want to buy gunpowder from you. Opening a permanent Mongol mission in Lhasa? We would like to do it, but England, which does not have an embassy either, might be mad. Let us continue talking about it, and we will see. Chapchaev tried this and that, but he was not able to accomplish the major goal of the expedition-opening a permanent Mongol embassy. At the same time, the Dalai Lama repeatedly shifted the conversation to the conditions of Buddhists in Siberia and Mongolia, surprising the Bolshevik visitors with his detailed knowledge of the situation. Chapchaev sensed that somebody had filled in His Holiness very well. Yet he never could figure out who.
Thus, the Bolshevik plan to tie Tibet to Red Russia through Mongolia completely fell through. Red pilgrims again had to leave Lhasa empty-handed. If they still had some expectations about the Dalai Lama before coming to Lhasa, now they realized that His Holiness could not be duped, played, or manipulated. The Lhasa ruler did not feel at all that his budding nation needed Russian, or for that matter English or Chinese, presence.
In December 1927, two months before the humiliated Chapchaev and his "Mongols" departed from Tibet, a messenger brought to Lhasa unpleasant news from the governor at Nagchu on the northern border: another group of pilgrims coming from Mongolia was about to enter the country. Not again, Lhasa officials might have thought in desperation. Yet there was something odd about this new party, which stood out among real and false pilgrims coming from Siberia and Mongolia. The head of the party, a sage-looking man with a trim beard, insisted that he and his European friends were Buddhists from the West. They also traveled under a strange flag covered with stars and stripes and called themselves Americans. Still, trusted people reported to His Holiness that the man in charge was a Russian. The Dalai Lama was also surprised to hear that this strange expedition carried another flag, a familiar sacred scroll with an image of Buddha Maitreya. The sage-looking man insisted that he and his people came to consummate the union between Western and Eastern Buddhists under His Holiness's leadership.
Who was this man? Whom was he working for? Was he a genuine ambassador or, like these recent Red Mongol visitors, a wolf in sheep's clothing? Welcome to the world of Nicholas Roerich, Shambhala warrior and one more pilgrim on a mission to unlock the Forbidden Kingdom.