In Unsealed Documents, Cosby Admits Giving Drugs to a Woman
by Lizzy McLellan, Gina Passarella and Max Mitchell
The Legal Intelligencer
July 6, 2015
NOTICE: THIS WORK MAY BE PROTECTED BY COPYRIGHT
YOU ARE REQUIRED TO READ

THE COPYRIGHT NOTICE AT THIS LINK

BEFORE YOU READ THE FOLLOWING WORK, THAT IS AVAILABLE SOLELY FOR PRIVATE STUDY, SCHOLARSHIP OR RESEARCH PURSUANT TO 17 U.S.C. SECTION 107 AND 108. IN THE EVENT THAT THE LIBRARY DETERMINES THAT UNLAWFUL COPYING OF THIS WORK HAS OCCURRED, THE LIBRARY HAS THE RIGHT TO BLOCK THE I.P. ADDRESS AT WHICH THE UNLAWFUL COPYING APPEARED TO HAVE OCCURRED. THANK YOU FOR RESPECTING THE RIGHTS OF COPYRIGHT OWNERS.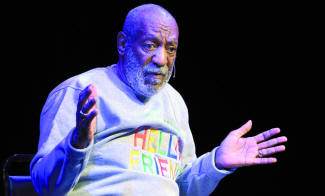 ON THE DEFENSE: Entertainer Bill Cosby faces allegations that he drugged and ­molested women throughout his career.
AP / Phelan M. Ebenhack
A federal judge has unsealed a number of documents revealing information about Bill Cosby's 2006 settlement with Andrea Constand over allegations of sexual assault and other claims.
The documents, which include motions and answers from both sides, contain portions of Cosby's deposition. According to one motion, Cosby testified he obtained seven prescriptions for Quaaludes, a depressant, and he answered that he intended to use Quaaludes to have sex with a woman.
U.S. District Judge Eduardo C. Robreno of the Eastern District of Pennsylvania issued an order Monday granting a motion from The Associated Press to intervene and obtain access to documents filed under seal. The court lifted a seal on 16 documents in the docket.
Cosby is currently facing a lawsuit in Massachusetts federal court by three women, Tamara Green, Therese Serignese and Linda Traitz, who each have said Cosby assaulted them in three separate incidents in the 1970s. That suit alleges that Cosby is vicariously liable for defamation because his representatives denied the accusations of assault by the three plaintiffs.
Constand's motion concerning conduct of defendant's deposition and motion for sanctions, filed by plaintiffs attorney Dolores M. Troiani, includes portions of Cosby's September 2005 deposition, but alleges that attorney Patrick J. O'Connor deliberately obstructed the deposition.
According to the portion of the deposition quoted, Cosby answered "yes" when Troiani asked, "When you got the Quaaludes, was it in your mind that you were going to use these Quaaludes for young women that you wanted to have sex with?" But later, according to the deposition, Cosby said he misunderstood and thought Troiani said "woman," referring to one particular accuser, rather than "women."
"Having unequivocally said that he gave the Quaaludes to 'other people' upon hearing counsel's thinly veiled clues, the deponent changed his testimony to a claim of having misunderstood the word women for woman," the motion said. It listed a number of ways in which O'Connor allegedly interfered with the deposition.
Later in the deposition, according to the motion, O'Connor acknowledged Cosby's "candid admission that in 1976 he gave this T---- Quaaludes."
O'Connor filed to strike that motion, arguing the court had already opined that both parties conducted themselves appropriately during depositions. He said the plaintiff's motion was "little better than hypocrisy," and called it "a determined effort to put defendant's deposition transcript in the public record."
According to another unsealed document, Cosby's Dec. 6, 2005, response to Constand's motion to compel, Cosby said Constand wanted a "limitless, speculative inquiry" into his personal life, including his "consensual sex life," finances and medical history.
According to that response, in which Cosby took issue with a number of the questions Constand sought answers to, Cosby said he testified that he offered Quaaludes to Serignese and that she knowingly took them. Cosby testified he did not give Quaaludes to Constand, according to the response.
A memo filed by Constand in January 2006 supported the lifting of a seal on the case. It argued that, by sealing the court documents, Cosby was "simply attempting to manipulate media coverage by picking and choosing which portions of his account may be revealed."
"The fact that defendant has admitted breaking the law in the 1970s by purchasing Quaaludes to dispense them illegally to women with whom he hoped to 'party' is particularly relevant," the memo said. "Not only does it support plaintiff's claims that defendant gave a substance more potent than Benadryl, as he had given to other women before, it is evidence of defendant's state of mind. Moreover, having told the public himself that he gave plaintiff Benadryl, the public has a right to know the contradictory information."
According to Robreno's opinion, the court entered a temporary seal on the docket while the Constand litigation was ongoing, pending a full hearing on whether they should be sealed permanently. But the parties settled before that matter was decided. Nearly a decade later, the AP requested that the documents be made available to the public.
Cosby "has donned the mantle of public moralist and mounted the proverbial electronic or print soap box to volunteer his views on, among other things, childrearing, family life, education, and crime. To the extent that defendant has freely entered the public square and 'thrust himself into the vortex of th[ese] public issue[s],' he has voluntarily narrowed the zone of privacy that he is entitled to claim," Robreno said, citing Gertz v. Robert Welch.
Robreno also said the AP, and the public by extension, has a legitimate interest in obtaining Cosby's depositions.
In the ongoing Massachusetts litigation, Green, Serignese and Traitz served a subpoena on Constand's lawyer, Troiani, on May 28 seeking any documents that concern or relate to them. Cosby filed a motion to quash the subpoena in the Eastern District of Pennsylvania. U.S. District Judge John R. Padova decided to hold Cosby's motion to quash the subpoena in abeyance until Cosby's motions to dismiss the underlying cases in Massachusetts federal court were addressed.
Joseph Cammarata and Matthew W. Tievsky of Chaikin, Sherman, Cammarata & Siegel in Washington, D.C., and Andrew Abraham of Abraham & Associates in Boston, are representing the plaintiffs. Robert L. Sachs Jr. of Shrager, Spivey & Sachs is representing the plaintiffs in Pennsylvania.
According to Cammarata, Serignese was a Jane Doe in the Constand case.
"It's an exciting development and an important day for the Cosby victims," Cammarata said. "If he's admitting to getting prescription drugs and using them with women, that's an important revelation."
George M. Gowen of Cozen O'Connor is representing Cosby in the Eastern District, and Robert P. LoBue of Patterson Belknap Webb & Tyler and Francis D. Dibble Jr., Jeffrey E. Poindexter and Elizabeth S. Zuckerman of Bulkley, Richardson and Gelinas are Cosby's counsel in the District of Massachusetts litigation. Gowen did not return a call seeking comment. O'Connor also could not be reached for comment.
Lizzy McLellan can be contacted at 215-557-2493 or
lmclellan@alm.com
. Follow her on Twitter @LizzyMcLellTLI.
Gina Passarella can be contacted at 215-557-2494 or at
gpassarella@alm.com
. Follow her on Twitter @GPassarellaTLI.
Max Mitchell can be contacted at 215-557-2354 or
mmitchell@alm.com
. Follow him on Twitter @MMitchellTLI.