CATCH-22
by Joseph Heller
Copyright © 1955, 1961 by Joseph Heller
Copyright renewed © 1989 by Joseph Heller
Preface to the special edition of Catch-22 copyright © 1994 by Joseph Heller
NOTICE: THIS WORK MAY BE PROTECTED BY COPYRIGHT
YOU ARE REQUIRED TO READ

THE COPYRIGHT NOTICE AT THIS LINK

BEFORE YOU READ THE FOLLOWING WORK, THAT IS AVAILABLE SOLELY FOR PRIVATE STUDY, SCHOLARSHIP OR RESEARCH PURSUANT TO 17 U.S.C. SECTION 107 AND 108. IN THE EVENT THAT THE LIBRARY DETERMINES THAT UNLAWFUL COPYING OF THIS WORK HAS OCCURRED, THE LIBRARY HAS THE RIGHT TO BLOCK THE I.P. ADDRESS AT WHICH THE UNLAWFUL COPYING APPEARED TO HAVE OCCURRED. THANK YOU FOR RESPECTING THE RIGHTS OF COPYRIGHT OWNERS.
"You mean there's a catch?"

"Sure there's a catch," Doc Daneeka replied. "Catch-22. Anyone who wants to get out of combat duty isn't really crazy."

There was only one catch and that was Catch-22, which specified that a concern for one's own safety in the face of dangers that were real and immediate was the process of a rational mind. Orr was crazy and could be grounded. All he had to do was ask; and as soon as he did, he would no longer be crazy and would have to fly more missions. Orr would be crazy to fly more missions and sane if he didn't, but if he was sane he had to fly them. If he flew them he was crazy and didn't have to; but if he didn't want to he was sane and had to. Yossarian was moved very deeply by the absolute simplicity of this clause of Catch-22 and let out a respectful whistle.

"That's some catch, that Catch-22," he observed.

"It's the best there is," Doc Daneeka agreed.

-- Catch--22, by Joseph Heller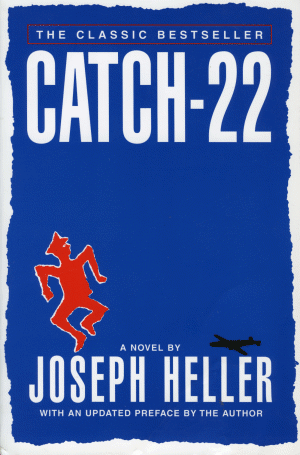 To Candida Donadio, literary agent, and Robert Gottlieb, editor. Colleagues.

THERE WAS ONLY ONE CATCH ... AND THAT WAS CATCH-22.

This island of Pianosa lies in the Mediterranean Sea eight miles south of Elba. It is very small and obviously could not accommodate all of the actions described. Like the setting of this novel, the characters, too, are fictitious.
Table of Contents:
• Preface to the Special Edition of Catch-22
• Chapter 1. The Texan
• Chapter 2. Clevinger
• Chapter 3. Havermeyer
• Chapter 4. Doc Daneeka
• Chapter 5. Chief White Halfoat
• Chapter 6. Hungry Joe
• Chapter 7. McWatt
• Chapter 8. Lieutenant Scheisskopf
• Chapter 9. Major Major Major Major
• Chapter 10. Wintergreen
• Chapter 11. Captain Black
• Chapter 12. Bologna
• Chapter 13. Major -- de Coverley
• Chapter 14. Kid Sampson
• Chapter 15. Piltchard & Wren
• Chapter 16: Luciana
• Chapter 17: The Soldier in White
• Chapter 18: The Soldier Who Saw Everything Twice
• Chapter 19. Colonel Cathcart
• Chapter 20. Corporal Whitcomb
• Chapter 21. General Dreedle
• Chapter 22. Milo the Mayor
• Chapter 23. Nately's Old Man
• Chapter 24. Milo
• Chapter 25. The Chaplain
• Chapter 26. Aarfy
• Chapter 27. Nurse Duckett
• Chapter 28. Dobbs
• Chapter 29. Peckem
• Chapter 30. Dunbar
• Chapter 31. Mrs. Daneeka
• Chapter 32. Yo-Yo's Roomies
• Chapter 33. Nately's Whore
• Chapter 34. Thanksgiving
• Chapter 35. Milo the Militant
• Chapter 36. The Cellar
• Chapter 37. General Scheisskopf
• Chapter 38. Kid Sister
• Chapter 39. The Eternal City
• Chapter 40. Catch-22
• Chapter 41. Snowden
• Chapter 42. Yossarian