CHENEY'S REIGN OF TERROR -- THE RULES OF QUAIL HUNTING WITH DICK CHENEY, by Charles Carreon
March 14, 2006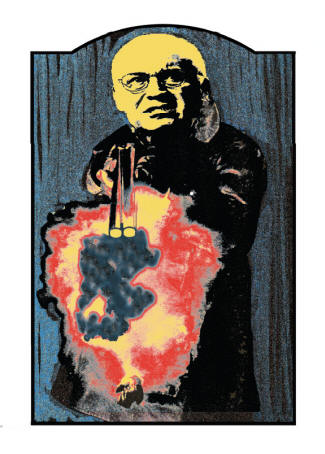 Artwork by Joshua Carreon
The Rules of Quail Hunting With Dick Cheney
Hunting accidents happen, yes — but not among the best sportsmen. So, it was surprising when Dick Cheney came within a hairsbreadth of killing a perfectly good member of his lawyer posse, Harry Whittington, mistaking him for a flurry of quail. In Whittington, the people of Texas stood to lose their industry-loving Funeral Service Commissioner. But imagine if the target of Cheney's misdirected blast had been Scooter Libby, or the President himself. In the first case, he'd be accused of trying to silence a witness, in the second, of paving his way to the Oval Office with a little accident. I can imagine the brouhaha in Congress as he tried to swear himself in with Justice Roberts at his side, while Ted Kennedy is hauled from the chambers in a foaming fit, and Cindy Sheehan sets herself ablaze on Pennsylvania Avenue. Finally, imagine if the fortunes of the hunting buddies had been reversed, and Whittington had blasted Cheney with a snootful of birdshot. No doubt Whittington's corpse, riddled with the .40 caliber and 9 millimeter rounds favored by the Secret Service, would ultimately have received a state funeral, once his status as a security risk had been dealt with through standard operating procedures. After all, Cheney's bodyguards would be faulted for allowing Whittington to take a second shot.
That so many humorous and Strangelovian scenarios can be spun from a few stray pieces of birdshot speaks volumes about the man who is their focus. As the dust settles, a few new pieces of the Cheney puzzle have fallen into place as well, and the picture that emerges is more than disquieting. Cheney can no longer be perceived as merely a robust specimen of American manhood, because engaging in incompetent gunplay is not the sort of behavior you expect from a robust executive. Withdrawing like a beast into his lair, Cheney lurked in radio silence until the taunts of late-night comedians drew him forth to make a statement on home ground – Rupert Murdoch's Fox network. When he spoke, Cheney told us that it was the worst day in his life. What about Harry Whittington's life? He lay in a hospital with a sphere of metal lodged in his heart, causing him to suffer little heart attacks now and then. Enjoying the benefits of a double standard has clearly become a way of life for Dick Cheney, and he has been sorely put upon by those who charge that he uses his office to flaunt the law, and dares anyone to interfere. With an ever-loyal President at his back, Cheney has succeeded in having his cake, and eating everybody else's, too.
The Friendly Fire Was A Little Fierce
While initial reports from the hospital were delayed, it is now clear that after he was felled by Cheney's shotgun blast, Whittington was within an ace of his life. Although Kathryn Armstrong, who hosted the hunting party on her Texas ranch, told the news that Whittington's injuries were minor and he wouldn't have been hospitalized but for the convenient presence of the Vice President's entourage, this was a blatant lie. By Cheney's own account given four days later, Whittington fell to the ground immediately upon being shot. Armstrong said she thought Whittington had a heart attack. Perhaps if he'd been hit by a truck she'd have considered that an attack of the flu, but no matter, all are agreed he went down like a sack of potatoes. At that moment, no one knew whether the man would live or die. He was helicoptered first to a local hospital, and once he was stabilized, to a larger hospital where he was attended by top level specialists in intensive care. Two days into his stay, it was reported that a piece of birdshot had migrated into his heart, causing a minor heart attack. Reportedly, if all goes well, Whittington will have this souvenir of the event for the rest of his life. When he checked out of the hospital on Friday, he looked such that no one would want to trade places with him. There was yellow bruising all over the right side of his face, purple bruises on his neck and hidden below his high collar. He had a half-dozen puncture wounds on his right cheek and in the eye socket. With what we know about the perforation to his chest cavity that has impinged on the operation of his heart, he looked pretty far from being a happy camper.
Could A Real Prosecutor Please Stand Up?
Whittington might not be happy, but he's still a team player, and he didn't suffer brain damage, so he still knows what side of his bread is buttered. So he knew better than to make a fuss by demanding an investigation, say, just for the sake of the insurance claim. There was no police investigation of this near-fatal shooting of the Texas Funeral Service Commissioner, and the law never talked to the shooter. The Secret Service kept Cheney safely behind bars the night of the shooting, turning away a deputy who came to see him, and it is clear that Whittington has done nothing to encourage an investigation. Without the benefit of any evidence, the local District Attorney, who might as well have been born without clearly discernible genitalia, cleared Cheney of all criminal culpability.
Some things, we say in the law, are "res ipsa loquitur" – the thing speaks for itself – but that could hardly be said of this situation, where everything hangs from the shooter's mental state at the time of the shooting. Apparently, to the local DA, it is impossible for the Vice President to possess the requisite criminal mental state to commit a gun crime, for it is clear he committed the physical act of shooting another person. In legal terms, Cheney unquestionably committed the "actus reus," the wrongful act of shooting Whittington, and the only remaining issue would be whether he possessed the "mens rea," a wrongful state of mind, when he shot him. Such cases are not only charged, but also prosecuted to conviction, quite frequently, because people handling guns, which are deadly weapons, have a duty to handle them with great care and never when under the influence of alcohol. Accordingly, many people have been convicted of homicide after shooting friends with what they believed were unloaded guns, and in all such cases, the shooter's use of alcohol before the shooting would count as evidence of guilt. As you can see, this is not much different from mistaking your friend for a flurry of quail. When a shooting does not result in death, careless shooters may be convicted of reckless wounding or assault. Finally, it is notable that after a shooting, it is considered mandatory to cooperate with a police investigation, and very few accidental shooters attempt to secret themselves away and avoid questioning, fearful of drawing suspicion by avoiding contact with police.
Just A Minute, I Think I Have A Judge Here In My Pocket
If Harry Whittington had been run over by a carhop in the parking lot of The Million Dollar Saloon in Dallas, he would've certainly demanded a police report. You can sue the valet parking company and the saloon. But there really isn't much point in suing Dick Cheney. Ask the Office of Management and Budget. They still haven't gotten any information in response to the subpoenas they served on Cheney five years ago to discover what he, Ken Lay, and numerous other energy magnates talked about when they crafted the nation's energy policy. No matter that Cheney's energy policy has given car owners the highest gas prices, and oil companies their highest profits in history – the Bush appointees on the D.C. Circuit Court agree with Cheney that it would impede his freedom to discuss important matters with his corporate cronies if he had to disclose those matters to the OMB. Cheney has made a lot of smart investments in people, and as a result, is about as free to tread on other people's toes as a man can be without actually having, like James Bond, a license to kill.
Cheney's Little Row With The Intelligence Community
Cheney would give our real James Bonds licenses to torture "terror suspects," if he could, so convinced is he that our anti-terrorist forces would use such license discreetly. Then again, it's possible that the CIA has construed its mission differently from Cheney, who believes in staffing every government agency with yes-men from top to bottom. When it appeared, for example, that Ambassador Joe Wilson, a State Department employee, had dared to write an article for the New York Times disclosing that the President lied to the nation in his State of Union address during the run-up to the liberation of Iraq, Cheney's office put out the smear that Wilson had no real knowledge, and had merely gone to Niger for fun on a trip engineered by his wife, Valerie Plame, the "well-known" CIA agent.
The Plame Leak occurred in July and August 2003, shortly after US Ambassador Joe Wilson published an article in the New York Times criticizing the President for saying in his State of the Union address that Saddam Hussein bought yellowcake uranium from Niger, when Wilson's own investigation had determined that the story was bogus. Wilson's story got lots of attention, because this particular lie had gotten very stale from overuse, and it was simply embarrassing that Bush was caught using it months after Condoleezza Rice got the word that the Niger story was kaput. As we now know, this embarrassing kickoff for our thoroughly modern Crusade to liberate Iraq, like so much other garbage that was fed to the nation via broadcast media, was part of Cheney's plan to keep using lies even when they had worn out. While some of his advisers might have advised him to simply make up new lies, Cheney is the master of The Big Lie, and his handling of the Plame affair showed why. Getting a lie off the ground isn't as easy as it seems, and once you've got it going, you don't want to destroy your credibility by admitting it was a lie. No, you've got to stand by your lies, or soon nobody will believe them.
Wilson's story threatened to become a bigger story than Iraq itself. Cheney worked for Nixon, and he knows how dangerous it can be when everyone's running around saying, "The President is a liar." Then, just as Wilson's story, drawing strength from his personal credibility as a career diplomat, picked up steam, putting Bush and company in a very bad light, suddenly "everyone in the press" knew all at once that Valerie Plame, Joe Wilson's attractive blonde wife, was a CIA agent, and some people were saying that Wilson's trip to Niger was just a diplomatic safari. Scooter Libby, indicted now by Special Prosecutor Mike Fitzgerald for obstructing his investigation into the sources of the leak, has now disclosed in legal filings, that his "superiors" put him up to it. Since Scooter Libby was the top slime-slinger in Cheney's office, that should put Cheney himself directly in the crosshairs of Special Prosecutor Mike Fitzgerald.
The President Flees Washington To Escape The Stink
The explosive potential of what Scooter Libby knows, and might reveal, was evident back when the news broke at the start of last November. Trying to escape the stink wafting from Cheney's office, Bush went as far as Argentina, from whence the news networks aired repetitive footage of violent demonstrations at an international trade conference. Even Fox gave extensive air time to the anti-imperialist declamations of Hugo Chavez, President of Venezuela, and Chavez is no Fox network favorite. He's the type of leader who says no to Bush's economic plans for the region, and last week responded to Condoleezza Rice's saber rattling in the Caribbean by telling an elated audience of Venezuelans — "Hey babe, don't even try it!" Ordinarily, he would not be given twenty-one inches of TV screen to make objectionable points, but with the name "Scooter Libby" on every reporter's lips, the networks decided that keeping The Big Lie in place required a different strategy at this treacherous moment, when someone might trace the vile odor emanating from the West Wing first to Cheney's very own person, and perhaps, to other people, even higher up the food chain.
There could be only one reason why the networks would bury us in footage of Argentines rioting against Bush and adoring Chavez. Because, hidden like a bulging boil under the surface of the President's thin skin, lay the toxic deposit of Libby's indictment, an unhealthy condition that the Commander in Chief was eager to avoid discussing. The obliging media outlets therefore showed only a few seconds of Bush's agonizing press conference in Rio de la Plata, where the traveling press pool peppered him exclusively with questions about Rove and Libby. The spectacle of masked men hurling gasoline bombs in the streets interested the press corps far less than what Karl Rove knew, and when he knew it. Questioned about how he planned to correct a situation where a majority of registered voters question his personal honesty, Bush characteristically declined to be pushed around by public opinion. Finally, realizing that the reporters would not drop the Rovegate questioning-style, he launched into a stock outline of his antiterrorism, disaster recovery and prosperity agenda and ran out the clock, waving off the last Rove-related question to create the shot that all the news agencies ran that night. The truncated exchange eliminated all the tasty shots of the President dodging fire like an agile elephant.
A High-Flying Conspiracy
What all the reporters wanted to know, but none directly asked, was this – "Why is Karl Rove still be working in the White House when he was aboard Air Force 2 on July 13, 2003, with Dick Cheney and Scooter Libby, when the three very likely agreed to blow the cover on a CIA agent?" The answer is probably a simple aeronautical and legal fact – when he's in Air Force 2, flying 30,000 feet above the United States, Dick Cheney is literally above the law. I believe Attorney General Alberto Gonzales wrote a memo about that for Dick. But for this legal exemption, we would call the meeting of these three top politicians a "criminal conspiracy" to commit high treason, for which all the participants could likely be imprisoned for life, maybe even tortured to learn the identities of their co-conspirators. The word "conspiracy" is just Italian for "breathing the same air," which would certainly be the case in the elegant cabin of AirForce 2, where the air is constantly recirculated. Lately, there's started to be some talk about whether Cheney had the power to unilaterally "declassify" the information about Plame's undercover status, so perhaps there's some question about the reliability of the AG's "above the law" analysis, but let's take the easy approach and not bother our pretty little heads about it. Leave it to the liberal nutcases to hurl horrible epithets like "traitor," "conspirator," and "dirtbag."
We could quibble about the facts of this airborne conspiracy, but it would take a mind utterly innocent of the Hobbesian realities of Washington to conceive of any scenario in which the AirForce 2 conspirators intended anything other than to destroy Wilson and his wife for having the temerity to contradict the President's lies. Feeling betrayed by Wilson, the conspirators sought to repay Wilson in his own coin – by betraying his wife. After all, why were the conspirators talking about Wilson's wife? Perhaps Scooter, who like Cheney's wife and other elite deviants, enjoys writing pornography, had suggested sending him a kinky anniversary present. No, they were talking about Valerie because they were looking for a way to break Wilson's knees. What was the cover story for this act of treason? One that only Cheney, with his love of brazen outrageousness, could have orchestrated. They would just claim that "everybody knew" Valerie Plame was a CIA agent. To create that "suddenly everyone knew" effect, the conspirators leaked the news to Richard Novak, Chris Matthews, Judith Miller, and perhaps several other reporters near-simultaneously. Doubtless these reporters knew they were treading on thin ice, inviting criminal sanctions for breaching national security, but they devoured Valerie Plame like a female sacrifice, apparently certain that the Vice President would protect them from liability. Which undoubtedly Cheney intended to do.
The Worm Turns
Cheney should have known better than to initiate a vendetta with the CIA, because the agency was mad already about all the dung they had to swallow over the last five or six years. First they were excoriated after 9/11 for being caught flat-footed by the attackers. Then the agency was swallowed by Homeland Security, had its rules rewritten to authorize torture, and was tasked with the job of inventing and marketing a nonexistent Iraqi weapons threat to fuel the push to war. The agency was further humiliated when George Tenet, the CIA head, took the fall for the "bad intelligence" that caused the President to repeat the lie that Iraq had obtained uranium from Niger in his State of the Union address. Tenet got the Medal of Honor for taking an exquisite dive, just like Paul Bremer received the same high honor for completely abandoning his job as the transitional czar of the American occupation of Iraq. But individual CIA agents got no medals, and the outing of Valerie Plame was the last straw, and a little bit more. As the old saying goes, you can push a worm, that is to say a dragon — only so far – and then it will turn.
The AirForce 2 conspirators misjudged CIA culture. Spying is built on deception. Deception is based on secrecy. Secrecy is ensured by loyalty, and intra-Company loyalty is supposed to be an absolute article of faith. Undercover CIA agents who die in action are supposed to remain anonymous even after death, honored only in a secret book kept at CIA headquarters. (See "The Book of Honor" by Ted Gup.) Yup, the Cheney team, comprised only of sold-out courtiers equipped with greasy palms, greatly miscalculated the mettle and institutional loyalty of the CIA. The humiliated spooks decided to do more than get mad – they decided to get even, and demanded appointment of an independent prosecutor to investigate the source of the leak. In response, the President stood up like a tin soldier, saluted, said he didn't know who the leaker was and he would like to know and the White House would fire anyone responsible for it. Now he explains that he will fire anyone who is convicted of leaking, which in lawyer-speak means, anyone who is convicted, whose criminal appeals have failed, and who is somehow ineligible for a Presidential pardon. Under those circumstances, Karl Rove might be fired. It is probably more likely that Karl will be stuffed into a 2.5 liter soda bottle and fired into low-earth orbit.
Betrayed by The Fickle Media
No, breaking the law is not Cheney's problem, nor is the President his problem, nor are his sleazy friends and their unethical schemes. It is the fact that his pet reporters in the media might roll on him. Right after the offal began striking the turbine, reporter Robert Novak cut a deal, and even though Miller did over eighty days in jail, she got out by agreeing to testify and thereafter lost her job and a lot of credibility points when she claimed she had forgotten who told her that Valerie Plame was a CIA agent, even though she wrote the name "Valerie Flame" on a notepad while she was talking to Rove. The loss of a scumbag like Miller is a grievous one for Cheney. Before the Iraq war that Cheney so deeply desired to incite, Miller worked the bellows at the New York Times, channeling anti-Saddam rhetoric and false intelligence churned out by Cheney's office. Miller and the New York Times gave credence to WMD fantasies propagated by international criminal Achmed Chalabi. Miller stoked the neocon fantasy that our soldiers would be welcomed as heroes, liberating Arab people for the very first time. Now, she's on the sidelines, nursing her wounds, of no use to anyone but her detractors.
Yes, aside from Bill O'Reilly, Republican media personalities confronted with Cheney's slime-trail Republican these days barely have the courage to unload their usual barrage of abusive epithets. Perhaps they are afraid that one day soon, being Dick Cheney's friend could turn into a liability. Perhaps they realize that TV viewers are beginning to catch on to the verbal tricks and sleight-of-camera the media uses to cloak a lawless thug like Cheney with impunity. Certainly they want to avoid the possibility that one day, having opened their mouths to publish another batch of pro-Cheney propaganda, their smarmy lies might be greeted by a volley of hurled TV remotes smacking screens hard enough to break them, accompanied by the massed voice of an enormous viewing audience shouting "Shut up!"
Listen to Dick Cheney's Folsom Prison Blues
or on March 8th podcast of The Hour of Dave at
http://dave.ashlandfreepress.com
.