HEY DUDE, WHERE'S MY SILVER MINES?, by Charles Carreon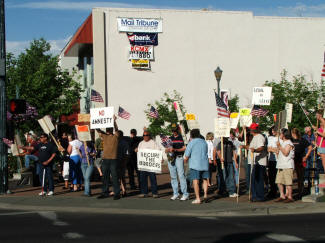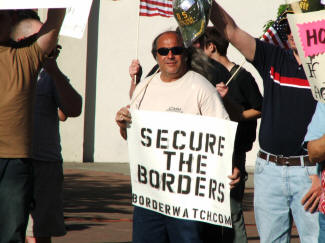 A Family of Gascons
My mother was named Eloisa Ainsa, and her sisters were named Filomena and Perla. Her brothers were named Juan and Alfonso. The Ainsa family were miners, and the town of Ainsa is in the foothills of the Pyrenees, just south of the French border region called Gascony. The people there, called Basques in Spain, and Gascons in France, were never conquered by either nation. D'Artagnan, the hero of Dumas' great adventure, "The Three Musketeers," was a Gascon, to which Dumas attributed his inclination "to fight on all occasions." The Basque separatist political group recently agreed to abandon violent resistance in pursuit of their goal to separate from Spain. The Basques are miners, sheepherders, makers of wine, good cheeses, hams, and the excellent fish they pull from the Cantabrian sea. They are descendants of the first cave painters of Altamira, who rendered their prey, the giant bison, with faultless artistry, making the first crayons by filling the marrow holes in bison bones with colored clay and animal fat. They were among the first toolmakers, creating bone needles to stitch skin clothing. If they had a religion, nobody knows what it was.
The Ainsa family migrated to New Spain in the 1700s, when they came to the New World to extract ore for the King of Spain. The line of the Ainsas blended with that of the famed explorer, Francisco de Anza, the founder of both Los Angeles and San Francisco, and the first man to ever lead an expedition of "white people" across the Mohave Desert. A plaque in front of the Santa Barbara Courthouse, placed by the Daughters of the American Revolution commemorates de Anza's arrival at the location on July 4, 1776. Thus, my relatives were busy settling the west coast for the King of Spain, while the Mayflower descendants were telling George the First to piss off. De Anza was apparently a tough and literate man. Although rarely seen without two pistols and a sword, kept a detailed diary of his travels up the California coast. He was also an effective manager of men and women and skillful negotiator. On the entire trip from what is now the Arizona-Sonora border, through territory peopled by Yaquis, Comanches, Apaches, and Mohaves Indians, they recorded no pitched battles with the natives, and only one of his band of settlers died. The final head count in Los Angeles was the same as when the party started out however, as on the way, one child was born.
The Arizona Story
They were all raised in a town called Morenci, Arizona, which was then the site of the world's largest open pit copper mine. The Phelps-Dodge mining company owned the entire town, down to the dirt and everything below it, all the way to hell. All of the miners were Mexicans, all the houses were owned by Phelps-Dodge, and my grandfather Juan collected the rent from the Mexican miners. You didn't have to be a citizen to work in the sweltering mine, or to man the hellish smelters where fires raged night and day, billowing sulfur-filled smoke that generated acid rains and snows so toxic that nothing green was seen for miles around.
The family was as proper as any you can imagine. They had indoor plumbing, and all three girls learned to play the piano and assimilated well. Filomena became "Phil," and went to work for the State of Arizona. My mom became "Eloise," and also became a secretary for the Highway Department. Perla became "Pearl," and became a gifted schoolteacher. Both brothers enlisted in the Army. Alfonso stormed the beach in Italy on D-Day. Johnny was a supply guy who kept the other GI's stocked with materiel. When the war was over, they came home, got educated on the GI Bill, and married their sweethearts. They assimilated further, moving to the suburbs of Phoenix, Arizona.
My father was born Conrado Santiago Carreon, on a little ranch north of Tucson, Arizona, near the Catalina Mountains that he loved with a passion. Tragedy stalked his early life. At the age of three or four, the flu epidemic of the thirties took both his parents, and he was adopted by a Swiss-Italian couple, whom he called "Mama and Papa Buzzini." He had a little brother who was taken in by a Chinese family, and my dad remembered how the little boy developed a Chinese accent to his Spanish. It was heartbreaking to hear Dad tell med the story of the last time he saw his brother in the Tucson Chinatown. The little boy told him, "You bring another mama back here." He wasn't able to do that, because the flu killed both the Buzzinis a few years later.
My father was transferred to live with some relatives in Los Angeles, but the family was poor and already ha three sons, and they treated him so badly that he left. From the age of twelve to his late teens, Dad shined shoes for the people of Los Angeles, and slept in twenty-four hour movie theaters, "the nickelodeons," he called them, where a boy could watch W.C. Fields, Jimmy Cagney, Clara Bow, and get a little rest in the back row. Early on, he took refuge in amateur boxing, "Golden Gloves," as it was then called, and fought his first professional prize-fights before he was an adult. Ambitious and not afraid to over-train to fight in a variety of weight classes, he could gain or lose up to thirty pounds for a match. The training practically killed him. At twenty-one, he was dying of tuberculosis, for which there was no cure. The surgeons cut out one lung, and told him if he could do without morphine, survive the pain, and stay flat on his back for two years, he might live. He followed their instructions, and lived to ninety-two with one lung. Along the way, he had two sons by his first wife in LA, and two sons by my mother, Eloise.
After leaving behind the ring, Dad learned bookkeeping and went to work for the tax assessor in Phoenix, Arizona. He met my mom, then in her mid-twenties and projected to become an old maid because of her love for reading, and a great romance began. He adopted her family as his own, and hit it off very well with my Grandpa and Grandma. Dad was the kind of guy who would win a big poker game and give all the winnings to Grandma, who would bless him with the words, "May God give you more." God gave him more, and he kept giving it away in a life of public service. He became the first member of the Arizona State House of Representatives with a Spanish surname, and served for two-year terms, authoring laws to make a better state, including the law that put women on juries, and another law, among the first of its kind in the entire nation, that made it a felony to kill someone with a car while driving drunk. Prior to that time, drunks pretty much ran over anyone they wanted, and paid modest fines for the privilege. When his legislative career was over, he put in eighteen years as a contracting specialist for the U.S. Department of Labor. For over ten years he lived in Washington, D.C., while my mother lived in Phoenix, Arizona. It was what was needed to pay for the education of my brother and myself. He was immensely proud of his photograph shaking the hand of the great Texan who then ran the country, Lyndon Johnson.
Talkin' 'Bout My Generation
My Dad spared no expense in the education of his sons. I had to learn Spanish perfectly, so I went to summer schools in Mexico City. I also had to learn to speak English "without an accent." My father emphasized that I had the advantages necessary to succeed in Anglo society – fair skin and no accent. While I should never abandon my heritage, I should not disadvantage myself by sounding like a foreigner. Although he despised violence and refused to own a gun, he sent me to a Catholic military school in Virginia for three years, which meant I lived with him in Washington, D.C. on vacations, and thus learned about segregation, bigotry, and racial violence when the city exploded in flames after the murder of Martin Luther King in 1965, when police and snipers traded fire in the streets of the nation's capital.
My Dad's plans paid off. It took me longer than he expected, but I became a lawyer, which caused my Dad to remark, one day as we stood, dressed in our business suits, on Bunker Hill in downtown Los Angeles, the skyscrapers rising around us and the traffic flowing by, "Son, you've really made it. I wish your mother could see you now." Alas, she could not, having died suddenly during my last year of college at Southern Oregon State College, but he told me she had said to him, perhaps in a moment when he was lamenting how I was wasting my talent meditating in the woods, "Someday honey, that boy will really do something." I'm still trying.
My older brother Aaron also became a lawyer, and he's been a prosecutor for the City of Phoenix for thirty years, accounting for thousands of drunk driving convictions in a town where drinking and driving still seem to go together. He married a lawyer, Gloria Aguilar, and their daughter Aubre attends Wellesley. I married a blonde from a Mormon family, which brought out my Dad's latent prejudice. He said he didn't approve of the marriage because Mormons had two undeniable defects – they were liars and hypocrites. They were liars because as farmers, they cheated their Mexican laborers. They were hypocrites because they owned bars and didn't drink. Little did I know that my Mormon relatives weren't pleased with their blonde daughter marrying a Mexican. Meanwhile, Tara and I were unaware of racial issues at all. We were hippies.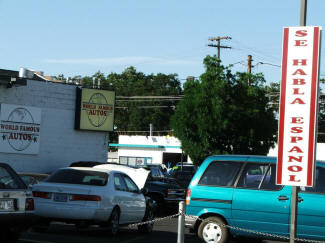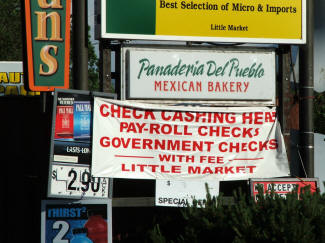 The "Immigrant Problem"
Recently, there has been a great hue and cry about the "immigrant problem." I have no idea what immigrant problem they are talking about. I was in Medford yesterday, and saw people holding signs saying stuff like, "I'll Mow My Own Damn Lawn," and "No Amnesty." None of them looked mean or nasty. The skinheads were friendly as hell as Tara leaned out the window to snap their pictures. I can only conclude that someone has decided that race hatred is a good thing to feed at home, as well as abroad. Perhaps their attitude was best explained by Ross Davis, former Chief Judge of the Jackson County Circuit Court. I tried my first case in Jackson County in 1994. I was a new prosecutor, and had just won a conviction in my first DUII trial in front of a Medford jury. Judge Davis liked me, and said, "You'll do all right here. The thing to remember is that people here are so stupid, when the Republicans tell them that the poor are trying to steal from the rich, they think they're the rich!"
My Prejudices and Yours
I have lots of experience with prejudice, even though most people think I'm "white." In Mexico, I was called a "gringo," and treated badly. In Washington D.C., I was called a "honky" by black people. Innumerable "white people" have asked me what I "am." When I answer, "I'm a Mexican," they often reject the idea, telling me "Oh no, you're Spanish." To which I respond that once the Mexicans and Spaniards got in bed together, it got hard to tell. In the blood of my family, there are many people called Native Americans – two hundred years in the desert will erode a lot of race purity – but my Mom, whose own mother was obviously a tiny woman of indigenous origins, never thought of herself as "an Indian." Blindness is in the eye of the beholder.
I've traveled around the world with Tara. I was in Turkey, Iran, Pakistan and Afghanistan when it was still safe for Americans to go there. Islamics didn't hate Americans then, so I'm not sure who taught them to do so – perhaps it was our own government, with all its hate speech toward Islamic peoples, pursuing a stealth agenda to court Israelis without favoring Jews. Or maybe the Ayatollah did it all by himself. I traveled up and down the length of India, where people are divided by caste, Brahmins won't touch you, and "untouchables" won't even look at a Brahmin. Everywhere, people are made of flesh and blood, love their children, and need shelter, food, clothing, health care, and education. As a lawyer, I have convicted and defended people of every race, except Asians, who are just too rare in Southern Oregon to get in trouble in large numbers. I have represented white men who robbed banks to pay the mortgage, and a white boy who robbed a bank that was owned by the man across the street, because he had to buy cocaine. I have represented many Mexicans who were in jail solely for being on the wrong side of a border that wasn't there when my ancestors first arrived. I represented a redneck meth dealer who candidly told me it was just bait for blondes.
The people who treat me most like family are Spanish and Mexican. When I first came to Southern Oregon in 1976, I picked fruit with the other Mexicans in Talent and Medford, and they treated me like a brother, albeit a little brother who could barely pick fruit. Sometimes they'd throw a bag of pears in my bin just out of pity. I also get pretty fair treatment from Jews, and most of the affluent people I've known socially were Jewish. Anglo lawyers didn't open up socially, so I only saw them at official firm parties. Most of the Texans I have known were swindlers. People from LA lie with the greatest facility, but it's not that hard to tell. New Yorkers act like your stuff is theirs, but that's because legally, it is. Florida people are mostly New Yorkers who move south, where their lack of scruples is fully appreciated. People all over Arizona hate to think. People in Oregon sort into two groups – those who live in Ashland, Eugene, Salem and Portland, and those who live everywhere else. These kinds of generalizations may be funny, or you might find them irritating. They are my prejudices, and I apply them in life and business. A Portland jury is not like a Grants Pass jury, or a Medford jury, or an LA jury, or a San Diego jury. A Portland jury most resembles a San Francisco jury, and a Medford jury most resembles a San Diego jury. A Grants Pass jury is a creature like no other.
I trust my prejudices for my own purposes. It's easier to manipulate rednecks if you adopt a southern accent, which is why the president uses words like "nucular," and is "keerful" about his way of "tawkin." It's sad the way Mexican immigrants get suspicious when you try to help them, and would rather give up their rights than try their luck in the legal system. It's sad the way hippies from good families pretend they are going to redeem a world in which they can't buy food without a government card. Further, I enjoy all of these people, usually because of their characteristic foibles, and not despite them.
While my prejudices may be accurate, they are not a basis for law. My Dad was disappointed when I married a Mormon, but he wouldn't have made a law against marrying them. He thought it was better for society if women stayed at home and took care of the kids, but he passed a law to put women on juries. Prejudice is here to stay, in my mind and yours, based in thousands of years of history. Black people, Native Americans, and Latinos have no reason to trust Anglos (aka "whites"). Nevertheless, we can't get rid of them. When we make laws based on prejudice we simply ratify and compound the mistakes of our ancestors. If I were to demand historic justice, I could demand the return of all the silver and gold mines the Ainsas and Anzas once had, before the Mexican-American war destroyed those holdings, turning New Spain to the western United States. But what would I say to the Yaquis and the Apaches, who lived in Sonora and Arizona long before my people arrived? I don't want anything more than my Dad got – a fighting chance to live a decent life in the country where I was born. Whatever the anti-immigrant protesters think, most "Mexicans" want nothing different.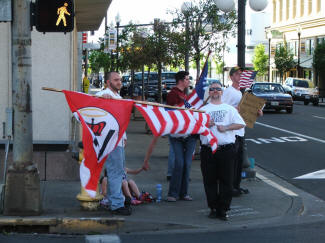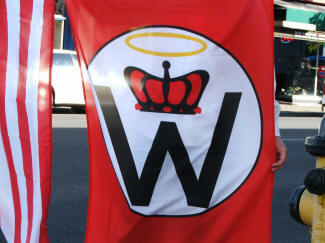 What To Remember, What To Forget
Recently, I called my Aunt Pearl down in Phoenix, where she's been laid up with a broken leg. She told me proudly that my brother Aaron and his wife Gloria were out in the streets protesting the anti-immigrant laws being proposed in Congress. She laughed that there were a hundred thousand people in the streets, and "all of them are citizens." Yes, we're citizens – citizens of the United States, as our ancestors were once citizens of New Spain. Before that, we were Gascons, and before that, cave dwellers in Altamira. The question is, what heritage will we claim?
Balthasar Gracian, the fifteenth century Spanish Jesuit philosopher, said, "Most people remember precisely what they should forget, and forget precisely what they should remember." Those who raise hatred against other people, based on skin color or language or national origin, are reminding us of "exactly what we should forget." We can nourish the memory of all the nasty epithets our ancestors hurled, or had hurled at them. We should remember the hard work our ancestors did, the way they got along with their neighbors, the way they mined the earth together, were educated together, even fought wars against other nations together. We should keep scrubbing away at the tradition of bigotry that stains the history of this, our present nation, and fight fearlessly to be sure that no one, not one single person, is treated like less than a human being, from sea to shining sea.