LINCOLN'S HEAD, by Charles Carreon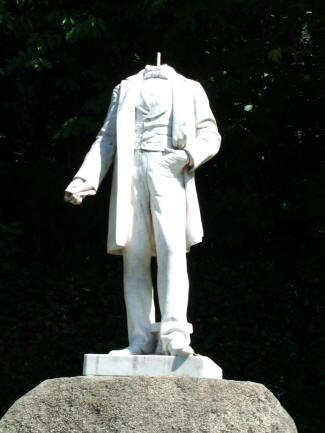 Down at the entrance to Lithia Park
To the left by the stairs at night it gets dark.
Just like Prescott Bush stole Geronimo's skull,
Some Oregon crackers gave Lincoln's the pull.
You might try to imagine what it looked like,
The beard, the head, in the lovely moonlight
But it's gone, my friend, there's nothing to see,
Those assholes done broke it and left it ugly.
Right by the plaza, where police are now
Cracking down on dangerous feral panhandlers,
City officials were too busy being responsive
To note the Great Emancipator's radical haircut.
Hundreds and hundreds of times civil servants
Drove by in City vehicles, went to meetings, and
Performed important jobs, none of which involved
Replacing the former president's missing dome.
The City budget doesn't include replacing the heads on
Historical statuary, and perhaps removing the Proclamation
From the hand of the Great Assassinated One
Was an attempt at recycling.
Freed slaves take note, we haven't allocated
Any funds to replace Lincoln's vandalized visage
And probably we'll just haul the whole
Damn decapitated politician to the dump
John Wilkes Boothe would sure
Get the last laff around these parts.