LOCAL MUSICIAN SPOTLIGHT: BOB MINER, by Charles Carreon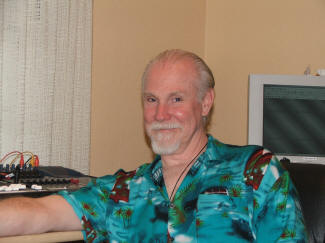 What do you say about a guy who can hold his own in any musical company? Who can belt off an oratorio from centuries past, get funky like Stevie Wonder, sing labor tunes like Pete Seeger, and listen to Iggy Pop somewhat appreciatively, all in the matter of an hour? That would be Bob Miner, a multi-faceted sonic powerhouse whom I recently saw performing at the Camelot Theatre in the role of a vainglorious major in Steven Sondheim's "A Little Night-music." Bob played a pompous but virile stuffed shirt who alternates between seeking revenge over the honor of his mistress and being put out that his wife finds him disgusting — exuding old-world charm and detestable chauvinism in a single breath.
Bob's next appearance on the intimate Camelot stage will be in the role of Edward Rutledge, South Carolina's silken-mannered representative to the First Continental Congress, in a production of the remarkable musical 1776, scheduled to run during the patriotic time period from June 21st through July 23rd. Rutledge was the man who brought the Declaration of Independence to a vote, without the anti-slavery language his fellow-slavers found offensive. Rutledge's big number is "Molasses, To Rum, To Slaves," one of the most unforgettable songs in the musical, that commemorates the profitable and ignominious "Golden Triangle" that ran from the Caribbean sugar plantations to the ports of Europe to the African coast, maintaining an endless flow of profit and misery for three hundred years. Slaves farmed sugar cane, from which they extracted molasses, that was shipped to European distilleries, that shipped rum to Africa, where it was traded for slaves, and so on, a "golden triangle," indeed. Not a pretty piece of our national history.
As Bob tells me about the role, he fills me in on the history, interspersing his observations with lines from the libretto, shifting smoothly from a speaking to a singing voice and back to natural speech. For a moment, our conversation turns into an exchange of historical knowledge of the revolutionary era, but it's clear he has the upper hand, and I settle back to listen as he tells me how John Adams was the man who knew we needed a Declaration of Independence, and wanted to include anti-slavery language. Adams wasn't well-liked, however, so Ben Franklin got Thomas Jefferson to write it, and recruited Richard Henry "Liberty or Death" Lee, a well-liked scion of Virginia to propose the Declaration to the entire body. Lee's championing of the document prompted Rutledge to remark, "When a gentleman proposes it, attention must be paid." The arrogance, the courtliness of Rutledge waft from Bob's rendering of the line like perfumed powder from the shoulders of a southern gentleman.
Speaking in his own voice, Bob tells me, "This is a story that needs to be told today." I agree, remembering how the last time I saw the play, it was in downtown Phoenix, Arizona. Lyndon Johnson was president, and the daily bill for bombing Vietnam was $50 Million. A Paris-educated revolutionary called Ho Chi Minh was said to be our problem, and our friends were supposed to be the out-of-touch Catholic puppet leader Nguyen Cao Ky and his wife, Madame Ky. The Golden Triangle of those days was the heroin triarchy of Laos, Cambodia and Burma. We sacrificed around 50,000 red-blooded American men, and turned many times that number into wrecked individuals who wandered the streets of our largest cities, addicted forever to numbing the pain of their days in hell. Those days were similar to the present time, when traitors sit in the highest seats of power, spend on war without restraint, ordering soldiers and paying mercenaries to kill innocent foreign civilians, while running a new Golden Triangle of military adventurism, oil production, and gasoline over-consumption.
So we turn again turn to an uplifting, positive production like 1776. When the strong voices of our community join together in music that celebrates the courage our ancestors showed in forming our nation, we experience nostalgia. Nostalgia for what? Let us hope we experience nostalgia for the freedom our people once enjoyed before the militarists hijacked it with dreams of foreign conquest and the never-too-ancient-to-be-reactivated poison of race hatred. 1776 reminds us also that ideals are fulfilled one step at a time – by ordinary people who see their duty clearly and work together to achieve it. So when you go see Bob and his pals perform 1776, as I heartily recommend you do, take along a real revolutionary attitude.
Wait a minute, I hear readers exclaiming — I thought this was a musician spotlight – let's get back on track! Here in Ashland, we try and keep the musicians light and entertaining, like the pliable players who tramp on and offstage in a Shakespeare play at the king's command. But with a few more singers and musicians like Bob in Ashland, we'll be able to challenge that slavish cliché. Bob is a consummate performer who channels the creative power on both sides of the performer-audience polarity. Rather than teaching aspiring singers and actors how to sound as good as he does, he teaches them how to sound like themselves. An audience that is addressed in this fashion experiences their own natural enjoyment of the process, and the result is a successful performance.
When Bob teaches voice, he comments on the emotions and thoughts underlying our habits of speaking and singing. Working with Bob means experiencing the whole spectrum of your voice, including the strangled tones and flattened registers. It's often not easy to do. My singing voice, for example, is timid and restrained, while my speaking voice easily fills a courtroom. Everyone has such limitations, and for each of us, the question arises – why? Bob helps us acknowledge the limitations that dampen our expressive spirit, and pretty soon, we're hearing a sound we haven't heard in a long time – our own, natural voice.
Bob Miner's website is at
http://www.youramazingvoice.com
, and his phone number is 541-482-4784.