FRIDA AND DIEGO OVERHEARD AT STARBUCKS, by Charles Carreon
July, 2006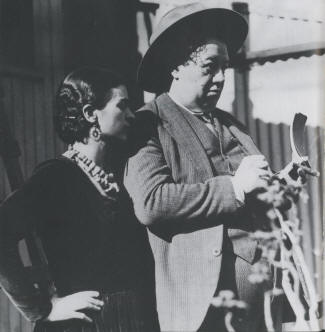 What if
Diego Rivera
and
Frida Kahlo
came to town? They might have a conversation like this:
Frida: Diego, I like this town. The gringos are so friendly.
Diego: I don't like it.
Frida: Why not? Aren't there enough beautiful girls for you to cheat on me with?
Diego: Oh no, there are plenty of those, maybe even more than other places, but they have stupid laws.
Frida: Really, like what?
Diego: They have laws against the size of a sign that a restaurant can have, and they have nosy inspectors who go around and take signs from the shopkeepers.
Frida: The sign on this Starbucks is really big. I bet they don't take it away.
Diego: Of course, they are big capitalists, so they have big signs, and no one would take them away.
Frida: So what, are you a sign painter?
Diego: No, Frida, why are you teasing me? You know I'm the great muralista.
Frida: Yes, and when are you going to get to work? I notice a lot of blank walls around here that don't have any murals. There's that Coca Cola sign on the wall of the Peerless, but it's so commercial. How about a mural of the massacres of the local natives, the destruction of the forests, and the suburbanization of agriculture? It would be beautiful, and awaken the conscience of the local people. They seem so depressed.
Diego: That's what I'm trying to tell you! They won't let me paint anything here. Like that big empty wall in the parking lot of that youth hangout over there, that Evo's place. I heard the owner of the building wanted a mural, and I would be glad to do it, but the political bosses here won't allow it.
Frida: It's the same as in Mexico. Corruption everywhere.
Diego: Of course, mi amor, corruption. Are you going to finish eating that cookie?