BURNT, MAN, by Charles Carreon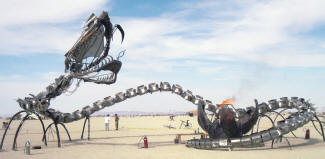 The apocalypse is a tricky subject to deal with creatively. Once, down in LA, I was enthusing to my friend Mike, a sharp-tongued northeasterner, about Road Warrior, Mel Gibson's most enduring epic. Mike's response was as sharp and swift as a towel-snap in a locker room – "Oh God, stoopidest movie I ever saw. So stupid I couldn't watch the whole thing. I mean, here the whole world is running out of gas, and they're standing around revving their engines!" Well, that put paid to my enthusiasm for a movie that is all about what happens when you loose a bunch of crazy Australian gearheads in the desert with a budget. I'm still trying to figure out how they pulled that scene where the idiot biker tries to punch a hole in a spinning truck tire, and he gets swept under the rig in a trice, his bike reduced to pig iron in seconds.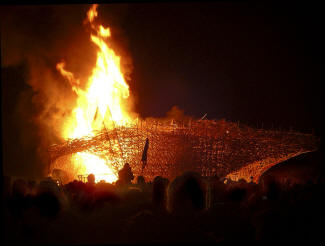 All this by way of saying that high-speed misbehavior is something with which I greatly sympathize. Acceleration is a stimulant that mixes badly with youth, alcohol, and other inebriants, but I fancy I can handle it now, after three motorcycle accidents in a riding career that spans twenty-three years. Nevertheless, I have not been to Burning Man, and am not going, no matter how many friends invite me.
My friend John wrote a fantastic poem about how to have the Burning Man experience without leaving home, but he just did that for me, since he must make his yearly pilgrimage to the Nevada sands, his excuse being that it's an easy place to find sexual partners. I don't know about that. I say quality before quantity, and the smell of body paint and sweat has never qualified as an aphrodisiac in my hierarchy of pheromonal favorites. Personally, I think if John just stayed put in Boston, and gave away the entire amount of his plane fare five dollars at a time in Harvard Yard, he'd get laid just as much and by a better cut of person. In fact, I have it on good authority that on Venice Beach, if you straightforwardly ask every person who seems like an attractive sex partner if they would like to have sex right now, you will get a "yes" one out of twenty times. The point is, hoping to have sex with one of our modern temple prostitutes isn't a good enough reason to go to Nevada.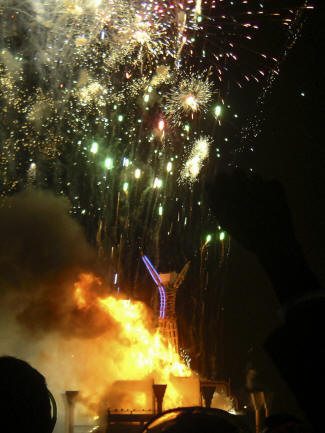 Before you go to Burning Man, you should consider that it does take place in Nevada, where marijuana possession is still a felony, and Linda Ronstadt got pitched out of the Aladdin casino for trying to dedicate a song to Michael Moore after the audience rioted. It is a place that was literally shaped in the cradle by the mob, where gambling, mining and prostitution are major industries. It is a place where Wayne Newton is considered a big entertainer, and a synthetic volcano belches heat on the main drag while down the street pirates and pirate wenches duel with cutlasses to a pounding disco beat, taking big falls from the rigging into the artificial lake below, twice a night. It is also a place where the heat is as bad as Arizona, but there are fewer rivers and less shade.
But, people say, it is such an awesome scene. Take the art vehicles, for instance. The art vehicles? You mean the tricked-out Winnebagos made up to be rolling nightclubs? Why not got to Vegas itself, where they have great DJs, air-conditioning, painted women, and lightshows produced by people who work for Cirque de Soleil during the week? Maybe I skipped a chapter in modern history, but aren't Winnebagos some of the supersized detritus of suburban life, symbols of the "freedom" to burn gas like a petroleum-mad Neanderthal, the chosen vehicle for those who are ostentatiously "spending their children's inheritance?" These rigs are parked under tarps all over middle America, while their tires dry out and water accumulates in their gas tanks, because the day of the gas hog is over. But as P.T. Barnum said, "there's a sucker born every minute," and there's no idea so bad that someone won't buy it. So hell yeah, let's lavish a bunch of decorating skills on an old dinosaur and pay fifty cents a mile to drive it to Burning Man! Who thinks this stuff up? Dick Cheney?
Since most Burning Man attendees strive to be politically correct, let's consider the political correctness of having a party focused on burning huge piles of stuff in the desert while global warming takes hold. Nor is the folly all one side of the gender divide. Just to prove that having a clitoris doesn't mean you can think clearly, a group of Bay Area women called something like "the Flaming Lotus collective" burned seven-thousand gallons of propane to fuel a fire-belching dragon, producing a chorus of oohs and ahs, setting off some passionate lovemaking in various art vehicles, and permanently contributing to the greenhouse gases now choking our planet. Talk about a sacrifice for the sake of art! We are all grateful to donate a few breaths of oxygen to the cause. And since it's a good idea to make fires in the desert, the Burning Man organizers should promote carbon burning by honoring famous carbon burners from around the globe. Saddam Hussein would get the first award, for his awesomely punk act of setting all the oil wells ablaze in Kuwait, an event notable both for its size, and for the fact that he did it with someone else's oil! Talk about sticking it to the man! Yeah!
I haven't even gotten to the fact, of course, that you have to pay some serious bucks to get into this festival of pyromania that takes place in a desert so devoid of natural resources that the native Utes and Pah-Utes were the poorest of all Native Americans. For your money, you will get next to no amenities -- there so few toilets, showers and water sources that everyone goes around constipated, dusty and thirsty for the duration. In the end, all of the entertainment is provided by people who are either part of some art commune that you have to pay to be part of, or who just show up and pole dance for free. The people who organized this are geniuses – soon they'll be charging people to masturbate in public while charging other people to watch and encourage them. And people thought Vegas was a rip!
No, this Burning Man thing is utter bullshit, and the more approval it gets from the mainstream press, the less I like it. The world, people, is on fire already. Instead of helping to burn it down, grab a bucket! Instead of marinating in "art," lend a hand to your fellow-human. At least, for god's sake, don't add to the problem under the guise of just having fun, just getting laid, or just wasting time. There is no time to waste.