HIGH TIMES FOR HIGH CRIMES AND MISDEMEANORS, by Charles Carreon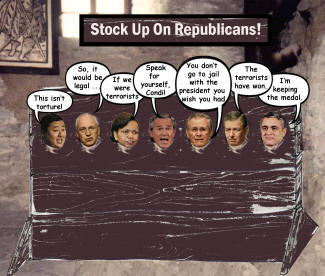 Stock Up On Republicans!, by Tara Carreon
The Tidings Has An Obvious Epiphany
Wow, for a moment I thought I was reading the wrong website.
The Ashland Daily Tidings
has gone and blown the lid off the journalistic ban on talking about the gigantic, unanswered questions about 9/11! This shows how nimble a corporate colossus like Dow Jones Newspapers can be when the winds of change have blown with a clear and sustained direction, as they appear to have done in this period of exultant Democratic upheaval. All things are possible! Mountains are there to be moved! The Tidings labored and brought forth the obvious.
Dow Jones Did Not
The Tidings "called for an investigation," a call in which the Ashland Free Press would loudly join, if it had not been informing its readers about sloppy 9/11 investigations and Bush/Cheney coverups for years, as our back issues will show. But that is not to take the wind out of The Tidings' sails. In these times, bold proclamations will issue from unfamiliar quarters, and we must take everyone seriously. Of the 23 newspapers owned and operated by the Ottaway Community Newspapers, a wholly-owned subsidiary of Dow Jones, this is the only one that is "calling for an investigation." Ashland certainly should congratulate itself on having shown such a progressive vein that Ottaway would allow this sort of editorial expression, because I'm sure those are not the kind of proclamations that are issuing from other Ottaway newspaper websites. For example, today I surfed over to the Press Republican, that serves upstate New York, and the cover article was about how Plattsburg State University was getting ROTC on campus! I promise, however, to take the Tidings' proclamation more seriously when the central Dow Jones newspaper, The Wall Street Journal, issues the same call. Otherwise, it's just more small town spin.
Watch Us Spin
If there is to be media spin of the Democratic win, and of course there will be spin, spin, spin, it will be of the sort intended to lull us into contentment, so that we shall be easily governable citizens. Calls for investigations are such lovely things, like trumpets heard in the distance, signaling that the hunt is on, but we must be ever vigilant that the precious governing body of our nation is not distracted from the business of governing. The ship of state is dangerously listing, spending is out of control, and we are still in the grip of a demented war cooked up by religious zealots.
Memo to Congress: Please Don't Screw Up The 9/11 Prosecution
Congress should avoid getting bogged down in a 9/11 investigation that will be a vehicle for exonerating the culprits by grants of immunity as was the case in the sham Iran/Contra investigation, that didn't slow down North or Poindexter one bit. Poindexter came back in 2002 as the "Total Information Awareness" czar, and North was just down in Nicaragua giving his old foe Daniel Ortega grief yesterday. The mud of Iran/Contra washed off easily because they both beat their felony convictions on appeal despite all of Special Prosecutor Walsh's proof of their overwhelming guilt, because Congress had allowed North and Poindexter to exclude their confessions before Congress from the criminal case because of the grants of immunity Congress gave in the interests of getting "full disclosure." We don't need full disclosure. We need convictions of the 9/11 murderers. We do not need Congress to misuse its investigative power to grant absolution for tyrannical conduct in defiance of the Constitution and law of the land, which is what happened with Iran/Contra, and with the first 9/11 Commission, and will happen with any other investigation run by politicians, of whatever party persuasion. Pelosi is wise to steer clear of this morass, although it took me a while to get the wisdom of her position.
David Boies, This Is Your Moment
Fortunately, Congress can give the work to someone else with the stroke of a pen. Just write a new Independent Counsel Act, appoint David Boies to convict all of the murderers, whether they're found in Saudi Arabia, in Pakistan, or in a bunker with his thumb on the nuclear trigger. I can give him a really big lead on his investigation, too. Shortcut everything, and go straight to Larry Silverstein. He lost three buildings that day in exactly the same way and made out like a bandit. Definitely he has a lot of explaining to do, since he admitted that he deliberately agreed to destroy Building 7 in consultation with a bunch of bigwigs, because there "had been such a loss of life."
Memo To The Tidings: Plenty of 9/11 News You Haven't Touched Yet
It's good that the Tidings mentions Building 7 in its investigation-call, but for a daily newspaper, there is a great deal more to say about Building 7. More than asking for Congress to mount one more whitewash investigation the Tidings just needs to start publishing the facts of 9/11 – the ones that are out there, everywhere on the Internet, but still not breaking through the front pages of America's daily papers. Start publishing the stifled speech of people who have been silenced by the FBI, and the FBI and CIA agents themselves who cannot speak what they know. The fall of the three towers was a huge conspiracy, obviously accomplished by people far more skilled than the box-cutter-wielding type of folks who have soaked up the blame, along with poor Mr. Moussawi, who's so crazy he aided in his own conviction, claimed he deserved the death penalty, and mocked the jurors as softheaded fools for sparing his life. Justice demands the appointment of an Independent Prosecutor with a commission to convict the perpetrators – financial, strategic, and operational, regardless of who they know or how much money they have. Obviously, this Independent Prosecutor will need capable bodyguards, and a huge witness protection fund will have to be established. All good business for big lawfirms and small, so Congress should be happy to send the business to their friends who sent campaign contributions. The fruit of their labors will be far more satisfying than the blunderings of a Congress eager to not step in something.
High Times for High Crimes & Misdemeanors
What Congress should do is impeach Bush and Cheney for high crimes and misdemeanors, and remove Alberto Gonzales, the perfidious greaser of imperialist fantasies, from his position as the Torturer General. The articles of impeachment have already been set forth quite nicely by thoughtful prosecutors looking ahead to the day when justice will receive its due from these arch-war-criminals. Polls show that 87% of Americans want this from Congress, and it is precisely work that only Congress can do. Any lawyer can prosecute murders. It takes the House to impeach, and the Senate to try an impeachment. So let them put their hands to the work that the people want done, and not delude themselves that we will be satisfied with anything else. John Conyers has the fire in the belly needed to take these bastards down. Let the games begin. Impeach!