CHICKEN -- IT'S WHAT'S FOR DINNER, by Charles Carreon
01/10/07
(Artwork by Joshua Carreon)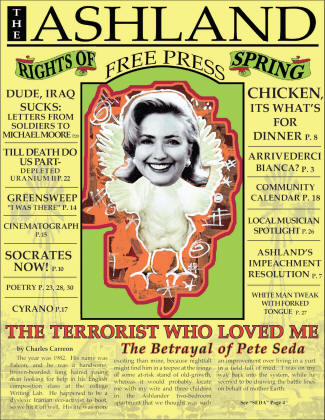 Dick Cheney likes quail, but your average Republican eats a lot of chicken. What is great about chickens is that they all roost together, they never fight back when you capture one for the cooking pot, and they never catch on or organize against you. Just grab the next one, wring its neck, pluck it, and it's ready for the stewpot. The last five years have been an endless feast of chicken dishes for our rancher-president. He snapped Al Gore's rooster neck like a twig, broke Kerry's beak, and has Hillary so tame she follows him around, pecking at every little bit of feed he drops. And he keeps collecting all those billions of dollars worth of eggs they keep laying in that chicken coop they call the Halls of Congress.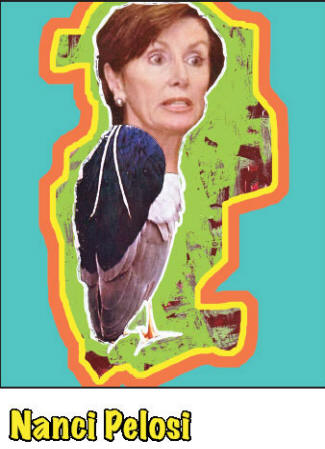 Nanci Pelosi
The two-party system, I learned in school, is the best system for voting in qualified candidates for public office in a representative democracy. One party rule is tyranny, three party rule is chaos, and two party rule is just right. Most of us don't question this until later in life, when we realize that two is hardly enough politicians to choose from, especially when they are in agreement about most everything that matters to you.
Today, politicians of both parties are nearly indistinguishable on issues of important. They virtually all voted the President the authority to invade Iraq, none of them want to do anything to challenge his authority, the secret prisons are still open, the lies in and to Congress about weapons of mass destruction are no more than a passing embarrassment, the out of control spending on everything the president wants continues apace.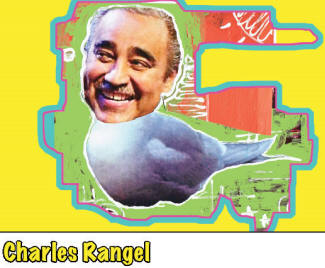 Charles Rangel
I for one am glad that John Kerry was not elected, because he would have continued all the same policies and performed a fantastic job of absorbing the blame for the wrongs his fellow Skull&Bones-man had committed. Our withdrawal from Iraq will very likely happen sooner than if Kerry were in office, and while it is painful having a dimwitted phony in the Oval Office, it would be more depressing to have a phony liberal pretending to be a "war president," and repackaging imperialist oppression as a Kennedy-esque mission to spread liberty around the world. That's what we're getting from Bush anyway.
In the last five years, politicians of both parties have been pressured to stand united behind the president, rubber-stamping his edicts, ratifying his misdeeds, and failing to take effective action to stem a rising tide of civil rights abuses at home and abroad. Utterly cowed by our leader, who mercilessly uses the megaphone of mass media to induce mass braying in his bully flock of angry jackasses, the Democrats have been boxed into the strategies created by Rove and Cheney to make them look like traitors if they question the president. They are each terrified that they will be pilloried by some version of the mugging the media gave Howard Dean after he emitted his famous scream. The death of privacy, the experience of living splayed out like a butterfly in a collecting case, seems to have frozen politicians into immobility.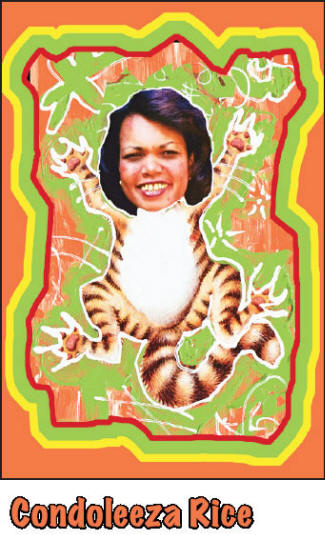 Condoleezza Rice
Meanwhile, armies of neocon lawyers have worked high-speed, no-stop to crank out huge volumes of repressive legislation, giveaways for Cheney's cronies, regulatory rollbacks that will enrich industry and despoil the environment, all against the backdrop of a mythicalization of the Bush mystique as the man who should be king. Overwhelmed by the onslaught, lawmakers now sign everything they are presented, asking few questions. When they are seen, liberals are most often caught frozen in the gunsights of some conservative talk host, who is pumping them full of lead. Because on the networks, chicken is what's for dinner.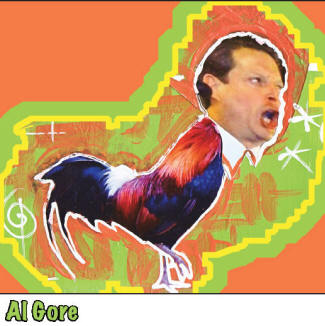 Al Gore
There's no need to go over the serial betrayals by Gore and Kerry at length. Gore proved to everyone that he was a terrible negotiator by first conceding, then attempting to unconcede. Memo to Al: never give up if you hope to win. Kerry proved to everyone that he was a dang fool, dragging around his rich wife with her Swiss accent, letting her open speeches for him, trying to play the war hero and promising to "kill terrorists." Still, I was willing to swallow it all, as long as he would keep his promise to not concede until "the last vote was counted." Instead, he conceded while the polls in Ohio were actively cheating people out of the right to vote, and completely defused Democratic focus on the possibility that widespread voting fraud was re-electing the president. Memo to Kerry: Fuck you.
What could cause Democrats to lose their ignominious plumage and turn into real fighting birds? Easy, a radical, new agenda directed toward the largest class of non-voters with a large influence base – single mothers and poor couples with children. Yep, if Hillary wants to get votes, she needs to promise one thing – not universal health care, not prescription drug benefits, not more funds to rebuild midtown Manhattan. If Hillary, or Barak Obama, for that matter, wants to get votes, they should promise universal health-care and day-care for working parents. There are millions of single, black mothers working two jobs in the big cities to care for families of children that the mass media wants to turn into gangsters and whores to populate the prisons and shopping malls of America. There are thousands of mothers in Jackson County who make dinner out of a jar of peanut butter, who can't keep a job or get an education because there's no one to take care of the kids. One thing – you'll probably have to get them registered, because many have never voted in their lives.
Certainly the recruitment of the unrepresented to join the Democratic party would be easy if the platform offered something for poor, working parents. And if the movement toward treating women and children decently became a Democratic standard, you can bet that large numbers of people would get the message, and crazy agendas like bombing Iraq to save it would get the dirty-Pampers treatment. The next generation of Democratic voters would be raised in preschools and in homes that were made decent with the money and dignity that come from living in a home built with hard work. And young women, standing straight and tall with a wallet full of cash and a refrigerator stuffed with healthy groceries, could tell their child it was all thanks to the Democrats.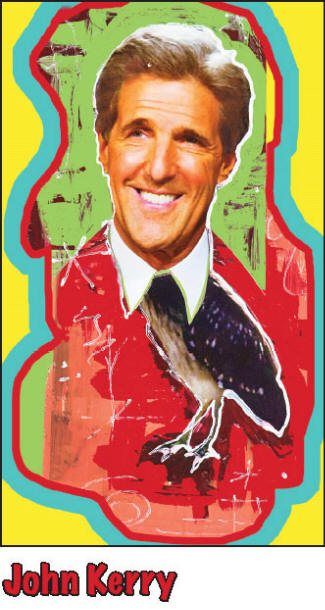 John Kerry