ARRIVEDERCI BIANCA? -- THE CITIZENS OF ASHLAND REJECT THE CHIEF'S RESIGNATION, by Charles Carreon
01/10/07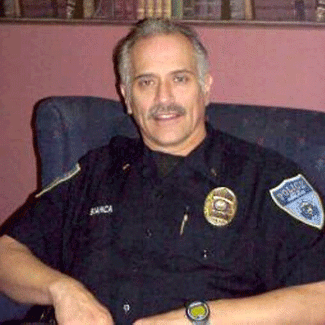 On Tuesday, April 4th, the last hours of Mike Bianca's tenure as Ashland Chief of Police were ticking away. The rumor was everywhere that he had been fired or would resign. Young people were speaking about the departure of the popular Chief in somber tones. One young many stated his feelings bluntly — "I'm scared the cops are gonna get rougher." There was more than enough shock and surprise to go around. Most solid citizens thought that the Chief's position was secure, and that a team of consultants hired by the City were working out problems in management at the APD.
Sure, this was probably naïve, but the City had been all reassurances as part of cleaning up the highly public mess made last year by APD officers and their off-duty boosters, who went public with groundless complaints against the Chief in what appeared to be a bungled attempt to oust a popular City officer. The City hired consultants, the answer to every problem in governance, to iron things out within the APD, or at least that was the story. Anybody who ever worked at a large corporation knows that if your bosses hire consultants to help manage your department, the consultants have been hired to tell your bosses how to get along without you. It's common sense – in an organization, the organization can never be the problem – it's always the individual who is at fault. But people in Ashland are idealists, not realists, and they particularly put on their rosy lenses when viewing local politics. Good thing, too, otherwise the corpselike hue of corruption would depress them.
The Tuesday City Council meeting on April 5th was the natural flashpoint for widespread citizen anger about Bianca being forced out. As per its usual stealth methodology, the Council hadn't put any item on the agenda that remotely related to Mike Bianca, but agenda item or no, folks who knew and cared geared up for one more showdown with a City government that seems bent on showing citizens that the job of governing is a party to which they are not invited.
As shadows stretched across the town under cloudy skies, a small group of Bianca's supporters gathered in front of City Hall to oppose his rumored resignation. At around six o'clock, an hour before the scheduled City Council meeting, the Chief came out to speak to the group, and announced his resignation. Asked whether the Chief's brief announcement took the fight out of the crowd, one observer said that Chief Bianca himself appeared to have little fight left in him. That tallied with my own observation of the Chief when I spoke with him briefly at another City Council meeting about a month ago. However, he said nothing about resigning, and instead said he was looking forward to making a presentation in May that would review the status of his Department and his achievements. Asked how the personnel problems were working out, he responded with only a touch of bitterness – "I just wish people would spend as much time working for the community as they spend fighting with me."
City Councilor Cate Hartzell rose to the occasion by writing an extensive and candid essay on the lynching of the popular Chief, and no doubt this heartened his supporters, almost entirely a thoughtful, older crowd. These type of people are hard to buffalo, but that doesn't mean the Mayor can't try. As usual when a popular item crams the Council Chamber with citizens, the Mayor was at his most indulgent with allowing extensive discussion on every other agenda item until the time came for the Public Forum. Then the pace of the proceedings accelerated like Charlie Chaplin's factory clock in "Modern Times" when the lunch hour comes around. A dozen speakers, all speaking in the Chief's favor, were given only two minutes each, and Mayor Morrison absorbed their testimony with a stony visage.
One after another, the witnesses retraced the route to betrayal that the Mayor and other undisclosed parties had followed – giving reassurances of due process for the Chief that have proven false, making promises to allow citizen involvement that have not been fulfilled, and scheduling future proceedings to reach a community solution that has now been aborted. And never, ever, ever a peep out of the Council or the Mayor that Chief Bianca's wagon was rumbling toward the guillotine.
Rarely do City Council meetings ring with eloquence like the polished presentation of Ralph Temple, a former ACLU lawyer from Washington D.C. Ralph presented a simple case against the Mayor's unilateralist action, revealing the entire process for the backroom deal it obviously is, and closing with a moving plea for a reversal of the decision to demand, and then accept, the Chief's resignation. Providing historical precedent for rejecting resignations of good people, Mat Marr informed the City Council that "Abraham Lincoln rejected the resignation of Samuel Chase seven times." As applause rolled in for Ralph, Mat, and other speakers, Mayor Wet-blanket rigidly adjured the citizens to hold their applause. He just hates hearing people say they disagree with him, especially when he's made up his mind to ignore them. But serious faces don't deter John Dowd, who handily ticked off every occasion when the Chief had garnered support from citizens during the summer and fall of last year, including the letters to the newspaper, the rallies, the six pages of signatures on the petition that John circulated personally. He sounded like someone who knows how to demand customer service when he pointedly asked the Council, "Weren't you listening?" The audience was behind him as he declared, "The citizens of Ashland reject Chief Bianca's resignation!" But the issue seemed clearest when Linda Richards stepped forward with a slender blade of sharp insight that slid through the Mayor's chain mail — "If you do not reverse this decision, I will always think that something corrupt happened." Wow! That got their attention!
Well, it was déjà vu all over again as Cate Hartzell raced toward the end zone with one thing on her mind — to delay the outcome. She moved the Council to delay voting on the matter of the Chief's resignation until at least an Executive Session of the Council at 4 pm on Thursday. That's after press time, so we'll have to report later on what means were deployed to subvert the public will.
If I'm wrong about the outcome, which seems predestined in spades, I will gladly eat this page of the Ashland Free Press. After all, it's not about Mike Bianca – it's the principle of the thing. If you let the people have a police chief who treats them like people, they'll get used to it, and that's not only dangerous, it's disrespectful of a police officer's right to be superior to ordinary citizens in all things. The power to stop people, search them, muscle them around, put them in handcuffs, and threaten to shoot them is not small stuff. All those personal, physical interactions raise a cop's testosterone level, and that makes them moody, truculent, confidently paranoid. Their work allows them to bolster their self-image by carrying deadly weapons. They get paid good money to separate themselves from the rest of us and bond with each other by wearing uniforms, driving hopped-up cars, speeding down the main drag for no reason, and landing like a pack of dogs on any of the usual suspects they so easily find. Being policed by such people at least means we tolerate their juvenile behavior for our own safety, and cut them some slack, officially and personally, because we understand their position. But some people want to go much farther, insulating police from citizens, letting them live in an enclave of paramilitary narcissism, and uniformly backing them in any dispute with a citizen. For those who spit bile in Chief Bianca's direction, his big defect is that he listens to citizens, and gives them the idea they matter. For this, some of his subordinates think he's a traitor who encourages citizens to mutiny against the overlords. One look at Morrison's stone face will tell you what side of the argument he's on, and one look at Bianca's back will tell you whose dagger is lodged there.