IT'S TIME TO CAN ALBERTO GONZALES, by Charles Carreon
03/14/07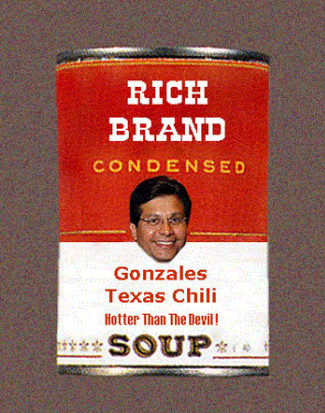 Okay, it's time to remove the ten pounds of ugly fat disfiguring the area between Alberto Gonzales' shoulders. Fortunately, it can be recycled by shipping the product back to Texas, where they've been eating this garbage for years. Let's not just blog about it, though. Write to Congress. It's the only way they can tell you care, unless you can send money. (When will Congress start taking PayPal?) Here's the letter I sent to my lobbyist-appeasing, pork-dealing, rights-stealing representatives. Feel free to copy any parts of it that seem useful to you, and
click here
to send them to your representatives. (That's the easiest part!) Libby's got his, but when they're runnin' it's time to really open fire. Once we get rid of Gonzales, the next one to aim at is Cheney. Then mister pud-whacker himself. Then I'll say, "Mission Accomplished!"
Dear Senator / Congress-person:

As one of your voting constituents, I would like to be heard on the issue of the Attorney General scandal. It is time for Alberto Gonzales to return to Texas. He has done enough damage in Washington to merit pulling him off the field. You have a good memory, no doubt, but to refresh my own recollection, and explain my position, allow me to recap some of Mr. Gonzales' "greatest hits."

Legalizing Torture

My dissatisfactions with Mr. Gonzales began when I read some of the memoranda that he approved, urging President Bush to apply a hyper technical, absurd definition of "torture" to skirt the obvious meaning of the term. While the "Geneva Conventions" have been the focus of the flap in the public eye, the focus of John Yoo's memo to Mr. Gonzales on the subject was 18 USC § 2340, that makes it a felony to commit torture under color of law outside the United States, and a capital offense to kill someone while torturing them. The attempt to circumvent the obvious effect of US law in order to give US soldiers and interrogators immunity to do what Congress declared repugnant was truly shocking.

Offshoring Justice

I was further disturbed by Mr. Gonzales' use of a strategy to assert that the executive branch could avoid the jurisdiction of the US Courts by holding "enemy combatants" in Cuba. This is a new use for a Communist jurisdiction that would truly make Mephistopheles clap his hands in glee! In olden times, the Devil merely quoted scripture. Nowadays, with Mr. Gonzales' assistance, he would simply create his own Holy Writ.

Spying on Americans

Along with Sen. Specter, I became disturbed about NSA spying, and suffered disappointment when nothing came of his rhetoric. All of this spying hasn't turned up any real terrorists anywhere. Oregon attorney Brandon Mayfield got an apology and a settlement of $2 Million after his home and office were sneak-searched by the FBI, and he was secretly interned at who-knows-what location. Fortunately he wasn't sent to Syria, like poor Mr. El-Masri, and fortunately his lawsuit wasn't filed in the Fourth Circuit, or he would have gotten nothing. Mr. Mayfield has received a measure of vindication. But where will our nation go to recover its honor?

Justifying the Abuse of National Security Letters

Now we have FBI Director Mueller tossing out mea culpas over the abuse of National Security Letters. Congress had an opportunity to return the nation to somewhat of the civil rights status quo when National Security Letter legislation was about to expire back at the end of 2005, but Congress renewed this power. The Dept of Justice fought and won a lawsuit that would've required a more detailed accounting of the FBI's use of NSL's, because the people are supposed to "trust." Now we discover, no surprise, that trust has been grossly abused. As Congressman Barr said back in 2005:

"The beef with the NSLs is that they don't have even a pretense of judicial or impartial scrutiny. There's no checks and balances whatever on them. It is simply some bureaucrat's decision that they want information, and they can basically just go and get it."

No surprise to discover that without judicial oversight, the bureaucrats have gone hog-wild. And please don't tell me nobody has been harmed. Can you imagine the harm you would suffer, without even discovering the cause of the harm, if one of our "Men In Black" went to your employer, bank, business associates, local police, Internet service provider and cell phone company, and gave them a letter that required them to turn over your records? In a small town in Oregon, that could be the end of your business reputation, and you would never know why.

Discarding the Good Prosecutors, Keeping the Corruptible

Now, we have the newest scandal – the firing of seven – not just one, but seven US Attorneys. I have practiced in Federal Court for twenty years. US Attorneys are generally considered unassailable, and for good reason. Prosecutors like Patrick Fitzgerald make the nation proud, and cleanse the system of corruption, unless they are themselves purged. These seven US Attorneys who were fired are also just the tip of the iceberg. They are only the ones who fought the corrupting pressures that were brought to bear upon them! What tainted acts were others forced to commit in order to avoid losing their positions? And Mr. Gonzales calls it an "overblown personnel matter." Well, speaking of personnel matters, it's high time he received an exit interview!

Time for An Exit Interview

Mr. Gonzales has been at the helm next to our Chief Executive during six years of sailing ever farther into strange and hazardous waters. Congress must not stand idle while he pilots us even farther away from the safe harbor of justice and fair play. As my representative, and that of all Americans who are alert to the threats to our freedom and dignity as a nation "of laws, not men," I implore you to call for Mr. Gonzales to resign his office immediately.
March 15 -- Today's Letter to Ron Wyden
I sent this email to Sen. Ron Wyden today. I am one of those who believes that, when you cannot achieve your goal directly, you proceed incrementally. That means that, in order to impeach Bush, we must destroy all of his foundations. Does anyone play chess? You don't give up the game because you can't checkmate immediately. You plan, you strategize, you penetrate the adversary's defenses, and you chip away at every vulnerability. What you do not do is rest. You work, and work, and work. That's how bad people win, and that's how good people win. Lazy people do not win. Don't be lazy. Write a letter to your Congresspersons and Senators. Make a phone call. And tell them "No campaign dollars until you perform your promises. Out of Iraq. Now."
Please act with alacrity to get to the bottom of US Attorney-gate. Congress must subpoena former White House Counsel Harriet Myers to testify concerning her efforts to purge the entire United States attorney corps, and her conspiracy with Mr. Sampson to engage in a targeted campaign to destroy obstacles to vote manipulation. The claim that the discharged US Attorneys were unwilling to pursue "vote fraud" cases is as familiar as Jim Crow, the Poll Tax, and the KKK.

Let's face it, the Republicans, under the leadership of Karl Rove and Dick Cheney, were trying to rig the 2008 election, by pursuing dirty tricks in crucial electoral states, in an effort to subvert the popular will. This was a "Plot Against America," and you must either expose it, or allow it to continue.

Power-intoxicated criminals have their hands on the throat of the American people, and they will not rest, as the Declaration of Independence states, until we are "reduced to a state of absolute subjection." The American people have already endured "a long train of abuses" aimed at achieving this repugnant goal.

Let us dig up the entire graveyard, and put the skeletons on view! Courage is required at this time, of course, but nothing like the courage our Founding Parents showed when they faced the wrath of George III. Think nothing for your career, and abandon diplomacy — this is the time for heroic action. Make a bet on freedom. Take a risk, and you will take the pot.

Keep your spirits up. The American people are behind all of your best impulses. You are a good man, and many of us are counting on you.

Very truly yours,
Charles Carreon
Attorney at Law