HELP WRITE JOHN YOO'S PINK SLIP OR RENAME BOALT HALL "TORTURE U", by Charles Carreon
04/11/08: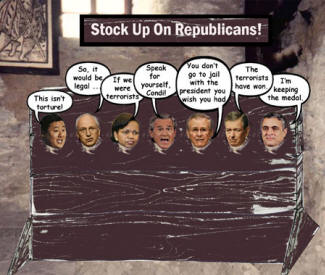 I finally got something I've been waiting for a long time — an email from somebody trying to get John Yoo fired from his post as a professor at Boalt Hall, the highly prestigious Berkeley School of Law, operated with California State Funds. That's him in the picture above, the baby face declaiming that being put in the stocks is not torture. By his definition, it certainly wouldn't be, as long as they took you out of them before you died. But let's give credit where credit is due. According to John Yoo, even if something is torture, it's still okay! Check out this chilling little extract from his recently-revealed spine-chilling Torture Memo:
"Self-defense is a common-law defense to federal criminal offenses, and nothing in the text, structure or history of [the Federal Torture Statute] precludes its application to a charge of torture ... If hurting him is the only means to prevent the death or injury of others put at risk by his actions, such torture should be permissible ..."
Click here to read all of The Torture Memos at the Altruistic World Online Library
Well, thanks to Steve Fox of Democracy In Action for getting this needed ball rolling. It didn't take long to hammer out a quick hate note, and here's a copy of it.
As a proud graduate of UCLA Law School, and a supporting alumni of my old UC school, I have been shocked at the fact that the faculty of Boalt School of Law is sheltering a war criminal, John Yoo. Even if Mr. Yoo were not the architect of a doctrine that sought to legalize the violation of human rights and immunize war criminals from prosecution, he would still be a terrible legal scholar. His writing, if emulated by young lawyers, will likely get them in hot water with judges wherever they go. Mr. Yoo ignores contrary precedent, trades in fallacious reasoning, and clips together holdings in a way that no judge would tolerate. He was only able to sell this stuff as work product because his bosses were looking for an intellect so lacking in self-respect that it would stoop to any level to provide support for a legal position that is insupportable.

I could go on, but why? No doubt you have many other emails like this one to read before you sign Mr. Yoo's pink slip. Best get on with it.

Charles Carreon
UCLA Law, Class of 1986
Member California Bar
Alumnus, Morgan, Lewis & Bockius Litigation Section (LA)
Former Jackson County, Oregon Deputy District Attorney
Currently, CEO Online Media Law, PLLC