WHAT HOWARD STERN NEEDS TO LEARN FROM LAURA BUSH, by Charles Carreon
1:30 pm, May 16, 2005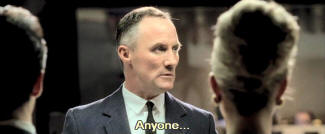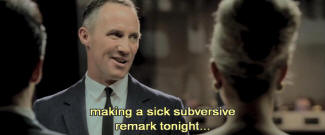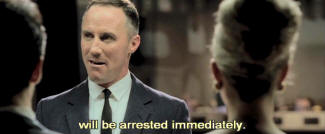 Confessions of a Dangerous Mind, directed by George Clooney, Starring Sam Rockwell, Drew Barrymore and Julia Roberts
First Lady Talks About Horse Penises, Harvests Accolades
Who has Laura Bush been talking with, that she is now able to toss off one-liners suggesting that the president gave a horse a handjob when he thought he was milking a cow? And who was she talking to, that they didn't choke on their rubber chicken? If I had attempted to deliver a joke about my wife masturbating the livestock at any venue other than the seediest bar in town, my taste, even my sanity, would probably be called in question.
"Bill Berkowitz at TomPaine.com"

The most outrageous joke described the president's early arrival at the ranch in Crawford, Texas: As a graduate of Andover and Yale, which "don't have real strong ranching programs," the president was ill-prepared. He was so out of his element that he tried to milk a horse—a male horse.

The first lady's string of one-liners have been widely repeated in the weeks since the event. She started by interrupting the president—as per the script—and seizing the platform. Then, she mixed some light-hearted lines—"I am married to the president of the United States, and here's our typical evening: Nine o'clock, Mr. Excitement here is sound asleep, and I'm watching 'Desperate Housewives', with Lynne Cheney" —with several sexed-up jokes — "Ladies and gentlemen, I am a desperate housewife. I mean, if those women on that show think they're desperate, they ought to be with George. One night, after George went to bed, Lynne Cheney, Condi Rice, Karen Hughes and I went to Chippendales,"—the home of buffed male strippers.
Answering the first question, where did she learn to talk like she needs her mouth washed out with soap? I think she's just been hanging out with the Cheneys too much. Mrs. Cheney's bodice-ripper novel, Sisters, about horny sluts in Renaissance outfits, is currently out of print after the administration nixed the reprinting deal, because the book wasn't Mrs. Cheney's "best work." That's an interesting reason for pulling the publication, I'd say. Graded on that basis, most writers wouldn't have more than one book in print, and I'm not sure what her "best work" might be, but I bet you it wasn't on a par with Don Quixote. Perhaps we should put all her work out of print if none of it turns out to be better than "Sisters." Of course, unlike most other authors, she doesn't have any pressing financial need. Oil sells better than books.
Answering the second question, Laura let fly her bon mots at the annual White House Correspondents' Association dinner late last month, and according to the toadying press, the First Lady's crudity hit their funny bone. You'd think they'd be jealous. The President's wife gets to say stuff they'll lose their jobs for trying. Loose talk about penises is what caused the FCC to fine Howard Stern off the air for, right?
"Roman Bystrianyk and Meryl Barr at oped.com"

On February 26, [2005] Clear Channel Communications pulled Howard Stern off its six stations that carry his syndicated show as part of the radio giant's new "zero tolerance" policy against indecency on the airwaves. As a reason for the action, Clear Channel cited Stern's interview on Tuesday with Rick Solomon, the man who was filmed having sex with hotel heiress and Fox reality star Paris Hilton in a video widely distributed on the Internet. According to a transcript released by Clear Channel, Stern asked Solomon about his sexual practices and referred to the size of certain body parts. Using a racist term, a caller asked Solomon if he had ever had relations with any famous black women. "It was vulgar, offensive and insulting, not just to women and African-Americans but to anyone with a sense of common decency," said chief executive officer John Hogan.
What Howard Stern Needs To Learn
Stern was run off the air by Clear Channel because he talked about human penises. As an attorney, I'm not advising you to start a bestiality website, but in the search for a principled legal distinction, I'm forced to say that there appears to be greater tolerance for jokes about animal sex. Clearly it would be off-base to suggest that different standards of "decency" might be applied to the First Lady's words than those of a "Shock Jock" like Howard. As for whether it's safer to discuss having sex with a horse than having sex with Paris Hilton, perhaps we could ask Alberto Gonzales for guidance — he's helped so much to legitimize bondage by raising the bar on what constitutes torture, perhaps he can help us to develop some bright-line rules on where to draw the line on bestiality.
Looking at business opportunities here, as I always do, inquiring minds want to know: Does this open the way for celebrity sites showing pictures of the First Lady indulging in a little revenge sex with her groom — a male who isn't asleep at 9 p.m.? Is it open season for photoshop projects showing a clueless president "milking a cow," i.e., masturbating a stallion? Are these the next Hot domain names:
PresidentHorseFucker.com? BestialPresident.com? FirstPerv.com? Ah, for that kind of advice, you have to pay!