PORNOGRAPHERS INFRINGE EMILY TRADEMARK AND MATTEL IS SILENT -- HOW SWELL IS THAT?, by Charles Carreon
05/19/09
Barbie's Neglected Cousin Lacks A Champion
Will the real Emily Doll please stand up?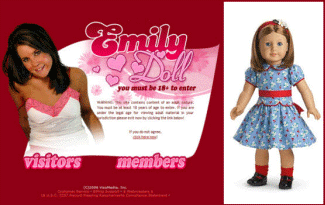 Remember the slogan, "You can tell it's Matell — It's Swell!" Well, it doesn't seem very swell that young girls who do an online search for "Emily Doll" on Google, get this result — after the one paid spot, the first three entries are for porn sites!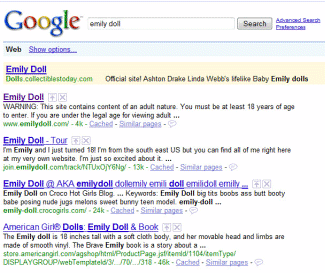 The first two Google links go to the EmilyDoll.com website, that is owned by the same guy who owns TeenDolls.com.


The TeenDolls.com website is the mothership for EmilyDoll.com and other sites like it -- AlyssaDoll.com and BaileyDoll.com. This image below has been modified with a couple of clouds to conceal what is revealed at EmilyDoll.com, and it would take only a few clicks for a young girl curious enough to explore the mysteries of EmilyDoll.com to discover a new role model.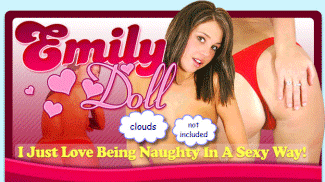 I've got to say John Albright has more nerve than sense. After all, there's a Federal law, the The Truth In Domain Names Act of 2003, authored by no less an eminence than Senator Orrin Hatch, that seems to address this sort of conduct. Thinking perhaps this might be of importance to Mattel, I sent the following email to Mattel's trademark lawyer: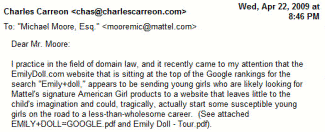 Strangely enough, this email drew no response from Mr. Moore. Two weeks later, I called and left a message with his secretary, one of those detailed messages whereby you communicate the gravity of your concerns. But like a coin dropped down an exceedingly deep well, my inquiries werereciprocated by the silence of the tomb. Finally, I put my blogger's hat on, and sent him a letter with a few questions, explicitly referencing the cybersquatting law and Truth In Domain Names Act: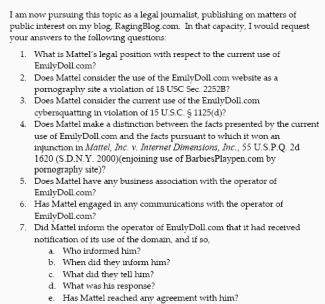 I was particularly surprised by Mattel's laissez faire attitude to the infringement of its registered trademark, because Barbie has always been such an aggressive litigator. Like in that BarbiesPlaypen.com case — it's a landmark case, and Mattel's rep for kicking the stuffing out of any clown stupid enough to play porn games with the Barbie name is legendary. See Ellen Rony's comments on the topic in the Domain Name Handbook. But when I looked on the US Patent & Trademark website and found that Mr. Moore was the trademark godfather for both of these young ladies — Emily and Barbie — I couldn't help but wonder — why doesn't Emily merit any protection? Is it only the slender-hipped, bullet-bra type that gets any respect in Hollywood? Is a little girl not worthy of a little trademark muscle from the company legal department?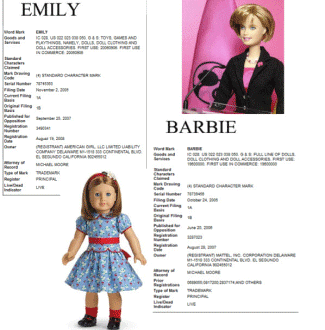 Well, if Mattel's just going to play Humpty Dumpty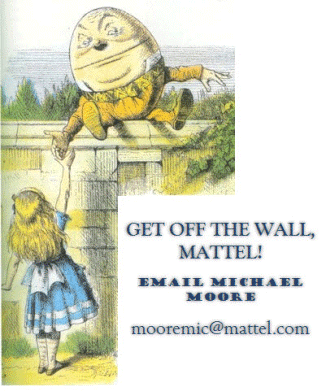 and sit on the wall while unscrupulous operators lure little girls into the skin trade, you might want to give them a hand to get off it. Adult websites certainly have their place in our world, but not at the top of a search page for "Emily Doll," with a design and typestyle that is clearly meant to lure young girls into viewing what the law classes as harmful material.
U.S. Code

TITLE 18 > PART I > CHAPTER 110 > § 2252B

§ 2252B. Misleading domain names on the Internet

How Current is This? (a) Whoever knowingly uses a misleading domain name on the Internet with the intent to deceive a person into viewing material constituting obscenity shall be fined under this title or imprisoned not more than 2 years, or both.

(b) Whoever knowingly uses a misleading domain name on the Internet with the intent to deceive a minor into viewing material that is harmful to minors on the Internet shall be fined under this title or imprisoned not more than 10 years, or both.

(c) For the purposes of this section, a domain name that includes a word or words to indicate the sexual content of the site, such as "sex" or "porn", is not misleading.

(d) For the purposes of this section, the term "material that is harmful to minors" means any communication, consisting of nudity, sex, or excretion, that, taken as a whole and with reference to its context—

(1) predominantly appeals to a prurient interest of minors;

(2) is patently offensive to prevailing standards in the adult community as a whole with respect to what is suitable material for minors; and

(3) lacks serious literary, artistic, political, or scientific value for minors.

(e) For the purposes of subsection (d), the term "sex" means acts of masturbation, sexual intercourse, or physcial [1] contact with a person's genitals, or the condition of human male or female genitals when in a state of sexual stimulation or arousal.
--------------------------------------------------------------------------------

[1] So in original. Probably should be "physical".
I can't seem to get Michael Moore's interest, but if some other people, like angry moms, started filling his inbox with complaints, it might make a difference.
And there's always the government. A quick search of "enforcement of truth in domain name act of 2003″ lead me to a link where I found this:
DEPARTMENT OF JUSTICE, NATIONAL CENTER FOR MISSING & EXPLOITED CHILDREN LAUNCH EFFORT AIMED AT MISLEADING DOMAIN NAMES

WASHINGTON, DC - April 20, 2004 - As part of an ongoing effort to crack down on websites that deceive minors into viewing pornographic and obscene materials, the U.S. Department of Justice and the National Center for Missing & Exploited Children (NCMEC) announced today that the National Center's CyberTipline, a reporting mechanism for child sexual exploitation, will now feature the ability to receive reports from the public on misleading Internet domain names.

The new reporting feature was added today to the National Center's CyberTipline, accessible at

http://www.cybertipline.com

, or by calling 1-800-THE LOST (1-800-843-5678). The addition was prompted by a DOJ initiative, led by the Child Exploitation and Obscenity Section of the Criminal Division, to crack down on misleading domain names following enactment of the Prosecutorial Remedies and Tools Against the Exploitation of Children Today Act (the "PROTECT Act") on April 30, 2003.

Among other things, the PROTECT Act created a new federal law, codified at Title 18, Section 2252B of the United States Code, that makes it a crime to knowingly use a misleading domain name on the Internet with the intent to deceive a minor into viewing material that is harmful to minors on the Internet. This crime carries a penalty of up to four years in prison and/or a fine. An offender might commit this crime, for example, by using a domain name that features the name of a popular children's cartoon character, purposefully misspelled, and leads to a website featuring materials harmful to minors. The new law also makes it a crime to use a misleading domain name on the Internet with the intent to deceive any person into viewing obscenity, which carries a penalty of up to two years imprisonment and/or a fine.

"The Department of Justice and the National Center for Missing and Exploited Children are taking this step today to protect children from dangerous and inappropriate experiences on the Internet," said Attorney General John Ashcroft. "Now, alert and concerned parents can help law enforcement identify and dismantle these misleading Internet sites that are set up to lure their children into viewing obscene materials."

"This new feature will allow the public to take an even more active role in helping law enforcement clean up the Internet and protect our children," said Assistant Attorney General Christopher A. Wray of the Criminal Division.

"Though the Internet is full of educational and fun experiences for kids, there are individuals who misuse the Web to prey upon children's vulnerabilities," stated NCMEC President Ernie Allen. "We now have the means to combat this threat to kids, and with the public's help the CyberTipline will be even more effective as a bridge between law enforcement and concerned citizens."

The Department of Justice continues to prosecute violators of the Truth In Domain Names provisions of the PROTECT Act. In February 2004, John Zuccarini was sentenced by a federal judge in Manhattan to 30 months in prison on charges that he created and used misleading domain names on the Internet to deceive minors into logging on to pornographic websites. Those domain names included close misspelling of domains names that are popular with children, such as "www.dinseyland.com," (a variation on Disney Land's website) and "www.bobthebiulder.com," and "www.teltubbies.com" (variations on the websites for "Bob the Builder" and "Teletubbies").

The new feature has been added to the CyberTipline, which already provides members of the public a means to report child exploitation crimes, including the trafficking of child pornography, online enticement of children, child prostitution, child sex tourism, non-family child sexual molestation, and obscenity sent to children. Since its inception in March 1998 through April 2004, the CyberTipline has processed more than 230,000 reports of child exploitation crimes, a large number of which have been sufficient to refer to law enforcement for investigation.

CONTACT:

http://www.usdoj.gov

CRM 202-514-2008

TDD 202-514-1888
And Don't Forget The Importance of Statistics
If anyone asks you how you know that young people under the age of 18 are being lured into EmilyDoll.com, tell them that according to QuantCast.com, 11% of the thirty-five hundred visitors to EmilyDoll.com every month are between the ages of 12 and 17. That would be 350 a month, or more than ten per day, or one every couple of hours. See the chart below and click it for more information at the main quantcast.com website.