UNDERCAPITALIZED AUGUSTA RESOURCES CAN MINE COPPER?, by Charles Carreon
2/21/10
I live in Tucson, Arizona, where Augusta Resources is getting all the permitting done to put in an open pit copper mine. Allowing a company to dig an open pit copper mine in our vicinity is like a marriage that will require total commitment on the part of both partners.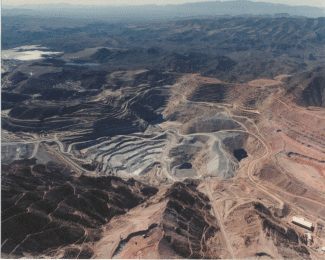 At the very least, you are going to be left with one big hole in your countryside, and huge mountains of "tailings," which is waste washed out of the ore. In the case of Augusta, they're planning on dumping their tailings on Federal Forest land.
And then there's the humongous amount of water that is required to wash the ore. Then there's the smelters, that consume enormous amounts of energy and generate sulfur dioxide that turns into sulfuric acid and rains down on the land. Check out these tailing ponds, basically acid lakes — colorful but toxic!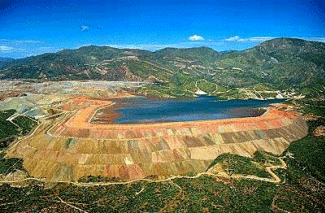 Before entering into such a relationship, Arizonans should take a good, hard look at the suitor that is so zealous to take control of our assets.
Many people assume that the proposed Rosemont copper mine is being pursued by a well-established mining company with experience in the field of mineral extraction and a huge capital base that will enable it to accomplish what it promises. This is not the case.
Augusta Resources has never mined an ounce of minerals in any country. It is a Canadian paper creation powered by paperwork that is not highly regarded by the investment community. Let's look at the financial numbers that are publicly available. In a July 21, 2009 press release, Augusta stated that it "strongly believes the project can sustain debt financing of 65%–70% of the total project capital cost, which amounts to approximately $625 million." It "has no revenues from operations and does not expect to generate any revenues from operations in the foreseeable future," and "the funds for the planned activities in 2009 and 2010 are expected to be raised from additional debt and equity financings." It is currently living entirely on borrowed money. As of September 2009, it had only $14 Million in cash on hand and total liabilities of $40 Million, and recently raised $32.5 Million in an offering of common stock to fund its operations.
Meanwhile, Augusta has taken advantage of Arizona's pro-mining water law to start drilling wells just south of Tucson that will very likely deprive thousands of residents and the City of Tucson of water for basic living purposes. Augusta will be able to pump 6,000 acre-feet of water a year, that's 2 Billion gallons a year — worth about $5 Billion dollars when sold a gallon at a time to thirsty Arizonans. Augusta's wells will deprive us of that water and provide nothing like a fair return on its value. Supposedly, Augusta will "recharge" the wells with CAP water, but what guarantee is there that it will ever perform this promise?
With 70% debt financing, if Augusta can't meet its obligations, there is a great risk it will simply melt away, leaving Tucson poorer in copper, water, and quality of life. If Augusta is serious about pursuing this project, it should be required to post a performance bond for the entire cost of remediating all of the environmental damage, water use, and transportation expense that it will bring to the area. But where could they borrow that kind of money?
View
Augusta's Website
, where the financials are available under the
Investor tab
.