ALFRED BESTER'S OVERMAN, GULLY FOYLE, by Charles Carreon
Review of
"The Stars My Destination," by Alfred Bester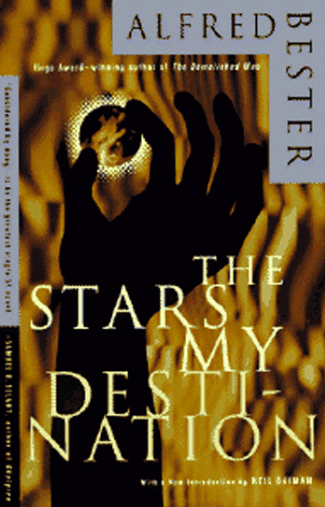 This book by Alfred Bester was published in 1957, and remains a classic of its time. A high-water mark of the imagination in any literary genre, this novel chronicles the revenge-fueled adventures of Gully Foyle, spaceman ordinary, and a pioneer in the evolution of "jaunting." If you have not yet read the book, and thus have no idea what I mean by "jaunting," quickly amend your omission and enjoy two happy days on this earth as you are swept up in its spell.
Jaunting is simply instantaneous teleportation of the human body to a known location by a mental act which can be taught, learned, refined, and extended both in range and accuracy. Most everyone does it, to some degree, except the very wealthy, who don't trouble themselves. Teleporting to work is of course how you get there, in the world of this novel.
Bester ascribes the term "to jaunte" to coincidence -- a man named Jaunte discovers his latent jaunting ability at the turn of the twenty-fourth century due to a fortuitous accident that happened to occur in full sight of a group of labmates. Bester explains it like this:
"A researcher named Jaunte set fire to his bench and himself (accidentally) and let out a yell for help with particular reference to a fire extinguisher. Who so surprised as Jaunte and his colleagues when he found himself standing alongside said extinguisher, seventy feet removed from his lab bench. Teleportation ... the transportation of the self through space by an effort of the mind alone...had long been a theoretic concept, and there were a few hundred badly documented proofs that it had happened in the past. This was the first time it had ever taken place before professional observers."
Of course, this could be nothing more than an amusing speculation in Popular Mechanics, and would have been in the hands of a lesser novelist. Bester uses jaunting to warp his novel into hyperdrive. The hero/villain, Gully Foyle, is abandoned on a spaceship, and acquires a full-face tattoo when his is "rescued" by a tribe of cargo-cult type techie asteroid-dwellers. Attempts to remove the tattoo have a bizarre effect -- the scars that remain behind attract blood and thus whenever he blushes due to strong emotion, the scars all light up in red, giving him a ferocious appearance. Thus, he develops tremendous self-control over his emotions, which makes him a giant in human society and enormously wealthy as Foyle the space-commoner reemerges under the pseudonym "Fourmyle of Ceres," who hosts enormous parties with the most extravagant pageants imaginable in this or any world, and is able to open any lock since he possesses every key.
Bester doesn't waste time in this novel, which vaults into its narrative and runs through the rest of the story like an athlete, an exhibition of grace and style that brims with energy, ratcheting from crescendo to crescendo until the insights are coming fast and furious, one upon the other. The insights are into the character of Foyle and the very nature of ultimate human potential. Character development is of extraordinary depth for a book as short as this -- a mere 258 pages in the Vintage edition I picked up not long ago.