BUSH CORONATION -- AMERICAN-BUDDHA EXAMINES THE 2005 INAUGURATION FOLLIES, by Charles Carreon
Here's the song I'd like to play for the Inauguration Ball, but I'm not invited. If the 2005 Inauguration Follies are looking like rough sailing, we have just the song for all of you ABOL members who want to be their own DJ. Click the eye below to download a .wav file, playable with Winamp, Windows Media Player, and most other ware.
This song, written by the ultimate Goth band of the late eighties, The Sisters of Mercy, commemorates Bush the Elder's reference to "that vision thing ..." as in -- he didn't get it. But his son didn't make the same mistake. The Vision is ON!
So queue it up, crank the speaker, and dance on your desktop with your secretary or xerox person. The people must atone for the sins of the leaders!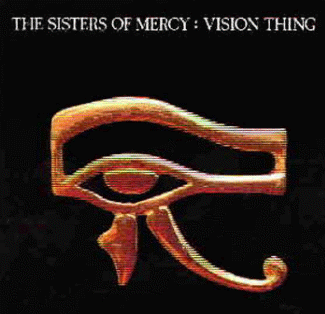 Vision Thing, by Sisters of Mercy

Twenty-five whores in the room next door

Twenty-five floors and I need more

I'm looking for the can in the candy store

Two thousand Hamburg four

And colours I ain't seen before

It's a small world and it smells funny

I'd buy another if it wasn't for the money

Take back what I paid

For another motherfucker in a motorcade

In a long black car

With the prettiest shit

From Panama

When the sirens wail

And the lights flash blue

My vision thing come

Slamming through

It's a small world and it smells bad

I'd buy another if I had

Back

What I paid

For another motherfucker in a motorcade

Slamming through

Slamming through

What do we need to make our world come alive?

What does it take to make us sing?

While we're waiting for the next one to arrive?

One million points of light

One billion dollar Vision Thing

Another black hole in the killing zone

A little more mad in the methedrome

One blinding flash of sense

Just like the president's

Well, I don't mind

Out of my mind

Blizzard king

Bring it on home

It's a small world and it smells bad

I'd buy another if I had

Back

What I paid

For another motherfucker in a motorcade

And a vision thing

And a vision thing

And a ...

Sha la la la

What do we need to make our world come alive?

What does it take to make us sing?

While we're waiting for the next one to arrive?

One million points of light

One billion dollar Vision Thing

Sha la la la

Sha la la la

Sha la la la

Sha la la la

Bring it on home

Vision thing

Bring it on home

Vision thing

Bring it on home, home

Vision thing

Vision thing

Sha na na na

Bring it on home

Sha na na na

Ah ha ha ha ha

Bring it on home!

Bring it on home!

Bring it on home!

When the sirens wail

And the lights flash blue

My vision thing come

Slamming through

It's a small world and it smells bad

I'd buy another if I had

Back

What I paid

For another motherfucker in a motorcade

Slamming through

Slamming through

What do we need to make our world come alive?

What does it take to make us sing?

While we're waiting for the next one to arrive?

One million points of light

One billion dollar Vision Thing
FEAR AND LOATHING IN THE DISTRICT OF COLUMBIA
There is a lot of crime in the District of Columbia, our nation's capital, owing to poor economic conditions, and general shiftlessness in the population. I'm referring to the Congress of course. The Congress is always enacting laws, some very important ones like the Patriot Act, which can get you 20 years for playing with a laser pointer near an airport. Congress and the Federal government parasite off the City of Washington, D.C. as a routine matter. District of Columbia citizens are the ONLY people in the United States who do not have any representation in Congress, either the Senate or the House. They have a rat problem so bad that some guys drive around all day shooting rats, and these are city employees. If the rats are threatening your dog, you call them, and they go git 'em. The City Morgue had a problem like you wouldn't believe, and this summer the City told folks whose water was megatoxic with lead due to a maintenance blunder that there was no money to help them out.
Washington, D.C. is where the Inauguration Follies are taking place. These folks, who can't even field a vote in Congress, are going to be hit with a $17 Million bill to pay from their Emergency Services budget that could be entirely avoided if Bush just decided to have a nice quiet inauguration in the Rose Garden with a few close friends like Karl Rove and Prince Bandar, Condoleeza, Colin, Rummy, Mom and Dad. With a scaled down plan, we could get by with a thousand troops, constant aerial surveillance, a news blackout, and bring the whole thing in way under budget. Send the extra money to Iraqi orphans.
But no, Bush has got to stick his thumb in the eye of the people who live right outside the White House. The poor residents get to see millions of white civil servants scurry into their city, pollute it with their automobiles, buy all their cocaine and sex, and scurry right out every night. And now, to be made to feel more left out, more irrelevant, more ignored and neglected, they are to be assaulted with the sounds of merriment and rejoicing wafting over the castle walls, while armed men patrol the rooftops, "keeping order."
PORNOGRAPHIC EXCESS:
Every now and then, a person suffers a deep affront that is hard to forget, that begs for vengeance. While the matter may appear trivial to an outsider, the affronted person's blood boils, and thoughts of hostility toward the source of the affront refuse to leave the mind, fueling fantasies of retribution.
Sometimes an entire people is affronted by a leader who engages in a vast act of self-worship at massive public expense.
Sometimes military leaders lend their men-at-arms and their nostalgic uniforms, medals, and flags to purify the event with martial solemnity.
Sometimes religious leaders join with political leaders, sanctifying the excess as some sort of primitive potlatch to the Father Deity.
Sometimes such gross displays happen when the nation is engaged in armed predation on defenseless people, to display the depth of the sense of self-assurance and self-righteousness that animates the nation's policies.
Sometime is today. In what will be the most expensive, over-policed act of masturbation ever performed in public, the Republican Roosters will crow louder, expose themselves, short hairs and all, and give the entire nation a money shot right in the face.
The entire event is an insult to every American who has a net worth of less than $50 Million. If you're worth more than that, I hope you contributed to the inauguration, because you owe the rest of us.
Sure, sure, you tell me, it's gross, but that's the way government is. That's the way business is, right? And all these government guys are in business, right? So where's the surprise -- you're lucky they didn't move the inauguration to Vegas.
Well, I'm sure all the Vegas people and the New Jersey people, too, will be in Washington, so same difference.
Okay, okay, you tell me, but they're not breaking any laws, are they?
Well, I'd have to ask how familiar you are with the laws, particularly the Constitution.
Constitutional government is founded upon the complete elimination of all distinctions between the nobility and the rest of us. The Constitution of the United States, Article I, Section 9, provides:
No Title of Nobility shall be granted by the United States: And no Person holding any Office of Profit or Trust under them, shall, without the Consent of the Congress, accept of any present Emolument, Office, or Title, or any kind whatever, from any King, Prince, or foreign State.
Now excuse me, but there can be only one reason for someone to be given an incredible ass-kissing ego-boost of this type, in the course of which he will receive millions of dollars in donations from people who seek to curry favor with him, and advantage for their friends and relations, while taxpayers foot the bill. As the article below in the NYT explains, the poor, overtaxed, abused citizens of Washington D.C. will have to fund over $17 Million dollars of this latter-day Napoleonic orgy of self-adulation. There is only one reason to go overboard like this -- because Bush is crowning himself King. Read it and weep, ladies and gentlemen. Democracy is dead, and there isn't even a democrat left to identify the corpse.
But after you read the news, you should read the old. Carl Sandburg's poem "The People Speak" is a reminder that even when "the czar has eight million men with guns and bayonets," still, the people can change the course of history, sending the czar and his family to their own private Siberia, turning the palaces of the ruling class into the random galleries of chaos. The poem is quoted in full below. Read it out loud to a friend, to a coffeehouse, to a crowd, to a mob, if you can find one!
FROM THE NEW YORK TIMES:
David Johnston and Michael Janofsky wrote:

HIGH LEVEL OF ALERT FOR THE INAUGURATION

The New York Times

January 12, 2005

WASHINGTON - Tom Ridge, the homeland security secretary, said Tuesday that even in the absence of any specific security threat to next week's presidential inauguration, civilian and military forces had been ordered to an extraordinarily high state of alert.

"You can well imagine that the security for this occasion will be unprecedented," Mr. Ridge said at a news conference. "Protective measures will be seen. There will be quite a few that are not seen. Our goal is that any attempt on the part of anyone or any group to disrupt the inaugural will be repelled by multiple layers of security."

In his first detailed outline of inauguration security planning, Mr. Ridge said that more than 6,000 civilian and military personnel trained in crisis response, crowd control and dignitary security would be in place, with thousands more available to respond if necessary.

At the heart of the plan are tightly controlled security zones that will restrict pedestrian and vehicle access to the streets around the Capitol, where Mr. Bush will be sworn in, and over the route of the traditional parade along Pennsylvania Avenue to the White House.

Before the inauguration events, security teams will sweep through hotels and office buildings along the parade route, in some cases barring office workers from sitting near windows overlooking the procession.

Even now, security teams are working to ensure the safety of food that will be served to President Bush and other guests at inaugural events. Caterers are being instructed to arrive for work at 7 p.m. the night before the inauguration.

For next Thursday's swearing-in ceremonies, sniper teams will be in position on rooftops. Specialists in chemical, biological and radiological terrorism will mingle with the crowds, carrying hand-held detection devices designed to pick up any sign of unconventional weapons. Squads of plainclothes agents, with federal prosecutors among them, will move along the parade route scouting for potential problems. Armed Coast Guard boats will patrol the Potomac River.

Security will be tighter than at recent high-profile events like last year's political conventions.

"Our system of government is rooted in the sovereign principle of democratic authority bestowed by the people," Mr. Ridge said. "And the people, both the inauguration participants and city residents, are resolved to go forward with an event that so deeply reflects that ideal."

Mr. Ridge said that the security for the inauguration would cost millions of dollars but that he did not know the total amount.

Costs have created at least one conflict between the federal government and the District of Columbia. The city is underwriting about $17.3 million of the cost, and Washington officials are not happy about it.

Mayor Anthony A. Williams has asked Mr. Ridge and Joshua B. Bolten, director of the Office of Management and Budget, why the city should cover security costs out of federal grants that are otherwise used for everyday needs, like protecting buildings, bridges, subways and waterways, as well as for emergencies and events like the funeral of President Ronald Reagan last year.

City officials say this is the first time that the federal government has not promised to cover all of the district's inauguration expenses, leaving open the possibility that district taxpayers might have to pay.

"We're delighted to be part of this; it's a great honor," said Gregory McCarthy, Mr. Williams's deputy chief of staff. "But we shouldn't be raided for something as predictable as this."

Asked about the issue, Mr. Ridge said that city governments of Boston and New York had agreed to spend federal security money to cover costs associated with protecting last year's political conventions in their cities.

Even as Mr. Ridge emphasized the urgency of preventive steps, several senior security officials said in private that planning for security at inaugurations seemed to be growing beyond the precautions that could be justified based on the threat level.

They also said that security planning for the inauguration was a well-rehearsed responsibility involving agencies whose roles were well known from past inaugurations.

"There's not much about this that we haven't done before," a senior law enforcement official said.

In part, the officials said, the extraordinary security arrangements at this year's swearing-in, parade and related events represented a chance for the nearly 50 federal agencies involved to show newly bought exotic equipment, specially trained anti-terror units and communications networks put into place after the September 2001 attacks.

The military will play a more visible role in this inauguration, with 2,500 troops involved in security, said Maj. Gen. Galen B. Jackman, commander of the Joint Task Force-Armed Forces Inaugural Committee, which coordinates military operations for the inauguration.

"We believe we are ready to deter any type of attack," General Jackman said before Mr. Ridge's news conference.

The general wore camouflage gear as he spoke with reporters in front a group of battle-dressed soldiers who carried automatic weapons.

The security plan for the inauguration is based on a system of overlapping zones. Vehicular traffic will be restricted from an outer zone about six blocks from inauguration sites. Pedestrians will be screened at 22 checkpoints set up around an inner zone perimeter about two blocks from event locations. An even more restrictive area in the vicinity of the swearing-in and the parade bleachers will be closed to anyone without a ticket or an invitation.

In a break with past inauguration parades, protest groups are being assigned specific areas for their demonstrations in a way that protest organizers say will enable law enforcement agencies to exert tighter control over them.

Access to the presidential entourage itself will be limited to people who have been subjected to fingerprinting and criminal background checks.

Security is under the control of the Secret Service, which will manage the event from a central command center, known as the Joint Field Office, in a Virginia suburb. A number of federal agencies will open operations centers in a network being coordinated through 13 subcommittees, each with responsibilities ranging from the processing of drunken revelers to a nuclear attack.

Not everything is working smoothly, officials said. At one training exercise this week designed to test the complex communications network that links federal, state and local agencies, personnel were handed a 10-page phone directory of agencies listed only by acronym. The directory was so confusing -- even to emergency workers -- that officials ordered a new phone book with the names of agencies written out in full.

Mr. Ridge said that the nation's color-coded alert level would not be raised for the inauguration. The alert level is at yellow, for a heightened but not imminent threat.

"This is the most visible manifestation of our democracy," Mr. Ridge said, adding, "So there's very little intelligence, but we're as vigilant as ever."

Mr. Ridge has said that several factors may help explain the absence of threats, among them efforts by the United States and its allies to disrupt terrorist networks overseas and initiatives by the government to reduce the nation's vulnerability to attack.

Some intelligence officials have offered other reasons for the fewer reports of threats, including the possibility that planning for an attack might be going on undetected or that extremists might be turning their attention to other objectives like interfering with Iraqi elections scheduled this month.
CARL SANDBURG'S "THE PEOPLE SPEAK" -- RESONANT TODAY AS EVER:
Bush's inauguration is a military display disguised as security, and an affront to ordinary people of extraordinary magnitude. This insult comes complete with sharpshooters patrolling above the crowds, and security squads evicting people from their own homes and offices on the flimsy excuse that they overlook the parade route! My papa liked to read poetry aloud, and often did so on visiting Sundays when he came to see me out at the Catholic military school where I was interned for three years. He particularly liked this poem by Carl Sandburg, and could read it with real style. Please do read it aloud to someone and revel in the feeling it inspires. Just check out these rhymes:
"Two kaisers backed by ten million bayonets
Had their crowns in the gutter, their palaces mobbed,
In fire, chaos, shadow,
In hurricanes beyond foretelling..."
The gusto my father put into reading this poem epitomized the spirit that was in him, of loving people, of wanting them to prosper and do well, and of knowing that they are just not smart enough. I loved the poem with very little depth of understanding of the concepts involved, and with much fascination with the striding rhythm, the shocking images shot in lightning flashes, the rhythm as of many people marching together. This poem is worth reading over and over, so I commend it to you with much love as an antidote to the seasickness that afflicts one when witnessing something as luridly self-indulgent as this horrific inauguration folly. Mark my words -- the end is nigh.
Carl Sandburg wrote:
THE PEOPLE SPEAK

The people, yes, the people,
Until the people are taken care of one way or another,
Until the people are solved somehow for the day and hour,
Until then one hears "Yes but the people what about the people?"
Sometimes as though the people is a child to be pleased or fed
Or again a hoodlum you have to be tough with
And seldom as though the people is a caldron and a reservoir
Of the human reserves that shape history. . . .

Fire, chaos, shadows,
Events trickling from a thin line of flame
On into cries and combustions never expected.
The people have the element of surprise. . . .

"The czar has eight million men with guns and bayonets
Nothing can happen to the czar.
The czar is the voice of God and shall live forever.
Turn and look at the forest of steel and cannon
Where the czar is guarded by eight million soldiers.
Nothing can happen to the czar."

They said that for years and in the summer of 1914,
As a portent and an assurance they said with owl faces:
"Nothing can happen to the czar,"
Yet the czar and his bodyguard of eight million vanished
And the czar stood in a cellar before a little firing squad
And the command of fire was given
And the czar stepped into regions of mist and ice
The czar traveled into an ethereal uncharted Siberia
While two kaisers also vanished from thrones
Ancient and established in blood and iron
Two kaisers backed by ten million bayonets
Had their crowns in a gutter, their palaces mobbed.
In fire, chaos, shadows,
In hurricanes beyond foretelling of probabilities
In the shove and whirl of unforeseen combustions
The people, yes, the people,
Move eternally in the elements of surprise,
Changing from hammer to bayonet and back to hammer,
The hallelujah chorus forever shifting its star soloists.

The people learn, unlearn, learn,
a builder, a wrecker, a builder again,
a juggler of shifting puppets.
In so few eyeblinks
In transition lightning streaks,
the people project midgets into giants,
the people shrink titans into dwarfs

Faiths blow on the winds
and become shibboleths
and deep growths
with men ready to die
for a living word on the tongue,
for a light alive in the bones,
for dreams fluttering in the wrists . . .

Sleep is a suspension midway
and a conundrum of shadows
lost in meadows of the moon.
The people sleep.

Ai! ai! the people sleep.
Yet the sleepers toss in sleep
and an end comes of sleep
and the sleepers wake.
Ai! ai! the sleepers wake! . . .

The storm of propaganda blows always.
In every air of today the germs float and hover.
The people have the say-so.
Let the argument go on.
Let the people listen.

Tomorrow the people say Yes or No by one question:
"What else can be done?"
In the drive of faiths on the wind today the people know:
"We have come this far and we are going farther yet" . . .

The people will live on.
The learning and blundering people will live on.
They will be tricked and sold and again sold
And go back to the nourishing earth for rootholds,
The people so peculiar in renewal and comeback,
You can't laugh off their capacity to take it.
The mammoth rests between his cyclonic dramas . . .

The people is a tragic and comic two-face:
hero and hoodlum: phantom and gorilla twist-
ing to moan with a gargoyle mouth: " They
buy me and sell me. ..it's a game. ..
sometime I'll break loose ..."

Now the steel mill sky is alive.
The fire breaks white and zigzag
shot on a gun-metal gloaming.
Man is a long time coming.
Man will yet win.
Brother the earth over may yet line up with brother:

This old anvil -- the people, yes
This old anvil laughs at many broken hammers.
There are men who can't be bought.
There are women beyond purchase.
The fire born are at home in fire.
The stars make no noise.
You can't hinder the wind from blowing.
Time is a great teacher.
Who can live without hope?

In the darkness with a great bundle of grief
the people march.
In the night, and overhead a shovel of stars for
keeps, the people march:
"Where to? what next?
Where to? what next?"