BUSH TO NEW ORLEANS: "LET THEM EAT SOUND BITES", by Charles Carreon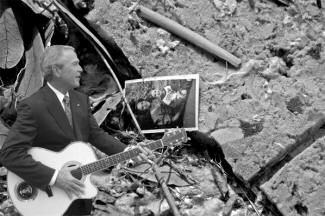 Sep 05, 2005
Bush's handlers are eager to show that their boy is not "out of touch." This becomes more difficult daily, as it becomes apparent that the handlers are also out of touch. The raft of stories coming out of New Orleans shows that FEMA and the Dept of "Homeland Security" are completely out of their element when dealing with a job that demands pasting your ass to a chair, sitting at a desk, and manning the phone lines to direct an enormous logistical effort.
The reason this boondoggle is going to blow up in Bush's face is simply because it is so damned obvious that not only do they not give a flying fuck about New Orleans or its people -- they also view this as an opportunity to prove that you can, in fact, fool all of the voters all of the time. The media has spun this story six different ways from Sunday, but regardless of the spin, the atrocity of contemptful neglect that Bush has demonstrated toward the injured Southerners should chap hides all across America. With Senator Mary Landrieu threatening to punch Bush's lights out if he criticizes Louisiana authorities one more time, Bush could be in for the celebrity death match of his his life.
Pride cometh before the fall, and certainly pride has been the Ace up Bush's sleeve in one surprising deal after another. This time, though, being out of touch can be terminal, as when he joked that New Orleans would rise again and become a place where rich kids can "have too much fun." Yes, and all of the manicured lawns and beautiful golf courses will be restored, and then he'll come back.
I have often thought to myself, "What will Bush's Falklands be?" You'll remember that it was the misbegotten adventurism of an Argentine junta at its wits end for further distractions that led to its destruction. The future history might read like this:
Encyclopedia Liberalica wrote:

"By September 2005, Bush had destroyed the nation's financial solvency, declared war on Islam internationally, sent the entire National Guard to depose Iraq's government, alienated the European nations by feeding the fires of international warfare, invited a trade war with Canada over softwood, and directed his proxy Pat Robertson to announce a jihad against Venezuela. Then G-d decided to open yet another front in the worldwide conflict, and directed his armies of wind and waves to destroy the entire Biloxi staging base for the Iraq war, to destroy New Orleans in one day, to create a huge demand for the absent National Guard, to choke off the nation's supply of crude and refined oil by devastating Louisiana and Mississipp, and killed the Chief Justice of the Supreme Court, all in just over a week. G-d also saw fit to assure the destruction of the Bush junta by hardening the hearts of the Pharaoh's men, so that their TV messages were not at all reassuring, and their sound bites were like stones, and broke the teeth of viewers who sought to consume them. So a great wave of anger rose up in the hearts of the people, and like a tsunami of rage, destroyed the Bush junta."