CHARLES' DRIVE-IN MOVIE THEATRE: MOVIES FOR ALL TIMES, by Charles Carreon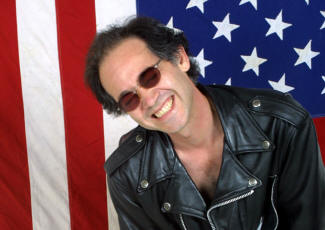 Silver Screen Syndrome
Everybody is growing, and while it is de riguer for people like us to rail on about the power of the media, we are unabashedly children of cinema. Raised on the glass teat and the silver screen, there is no hope for us. We will be image-junkies until the day we die. When I was a young man, I noticed that I loved print media. I would park my ass in a bookstore or newsstand until the cows literally came home, and I also noticed, guiltily, that I read book covers very avidly, more avidly than I read books. I called myself "a child of trash culture," and felt genuine guilt that I was attracted to Frank Frazetta's sword-wielding Conans and well-hindquartered vixens in gleaming breastplates and barbaric furs. A psychedelic high school career didn't help. As an English major, I avoided classes that taught boring works, like early American literature, which seemed to be a bog of pompous asses who wished they'd been born across the pond in the land where being a twit is considered cool. In addition to majoring in English for around eight years, I studied Hoffman's finest, flower power, jesus, mescalito, yoga, zen, tai chi, tantra, and law, in that order. But none of them have affected me as much as movies and video.
Fleeting Memories
Perhaps one of the most common illusory beliefs among modern people is the notion that "I have seen that movie." I most assuredly tell you that if you have only seen it once at regular speed, you haven't seen the half of it. The reason is because the artistry of all the participants, the actors, the script-writer, the director, and the music composer are presented in peak moments that are often quite fleeting. An emotion that runs across an actor's face for just an instant will spark a viewer reaction that can tinge the perception of the entire movie. But we only see that image once, and then pass on. Because of this, the experience of a feature film is fleeting.
Trash Video
What type of video do we get the benefit of seeing repeatedly? You guessed it -- advertising. Not only that, they try to make advertising addictive by injecting it with lots of "technical events" -- video and sound gimmicks that make you want to see the commercial repeatedly, to figure it out. I was strongly drawn to the Taco Bell commercials with the talking chihuahua, many years ago, and I watch no television at all. Briefly, I reconsidered that position, concluding that a virtual rendezvous with a tough-talking chihuahua was not worth changing a lifetime habit over.
Yes, you've discovered it -- I've tried to disguise a worn analogy with a personal story -- I'm comparing advertising for junk food to junk food itself. Americans are being fed a trash video diet, and American Buddha is dead set against it. Many philosophers have advised against the consumption of trash media, including my father, "Smilin' Jim" Carreon, former prizefighter and Arizona legislator, who said succinctly to me on many occasions, "Keep an open mind, but don't let anyone dump garbage in it." Trash video is a mighty hazard to modern humans. It robs us of the will to fight corporate and governmental oppression, makes us feel disempowered in the face of the crisis of planetary survival, and wastes our precious time.
Trash video is what you get if you watch or listen to mainstream broadcast media. If this is what you use your TV for, please take a tip from me and unplug it until you can get a DVD player. You may think you are strong, and have a free mind. You may believe you can make decisions on your own, despite being subjected to innumerable sound bites and technical events that snag your attention more firmly that your girlfriend's tits or your boyfriend's smile, but you are wrong. You are effectively a video illiterate, being moved by forces too subtle for you to perceive, and they will turn you into a powerless spectator, eating bad food, accepting bad government, and watching the planet go to hell while Dick Cheney counts the money. You are an electronic peasant. Here at American Buddha we're stokin' up an Intellectual Uprising that can turn your idiot box into a mental gymnasium, and put you on the road to recovery from terminal 21st Century gloom! Fight the power!
Video Literacy
When I was a kid, I found book covers particularly absorbing because they told stories. This robot is stealing that girl from that guy, or that girl is battling those three giant ants with her sword. The art of telling a story in a picture has always fascinated me. Cinema posters in the fifties and sixties were also very much pieces of narrative graphic art. Sexy depictions of beautiful women were prominent features of these art forms, as were can-do heroes who seemed to be making their way toward a better world, against all odds.
Movies, of course, must function as narrative pictorial art first and foremost. A movie that is well-composed can usually be understood in large part simply by viewing excerpts of the action. To study the art of cinematic composition, it is of immeasurable value to be able to view at leisure the component images that flow by fleetingly in the scenes of a feature film.
The flat screen must be the slate, as surely as the trailer must be the log cabin, where the future Abe Lincoln grows. Those future Abes will be literate in video communication and composition. They will release diatribes, manifestos, and declarations of independence in montages and videos. Just as I type words today, near-future humans will produce movies with ease and elan. Video-editing will be the new literacy.
Image Archives
To nourish the new literacy, American Buddha is adding steadily to the ABOL Cinema archive, a lovingly-collected, ever-expanding quilt of cinema-related web-offerings to feed your questing mind. Ambu's screen-capping index finger has developed tremendous subtlety, and has captured the most fleeting images of some wonderful, rarely-screened classics of cinematic art. Having cast aside the craving for trash video, dip into these presentations to experience the higher regions of your aesthetic spectrum.
Brother Sun, Sister Moon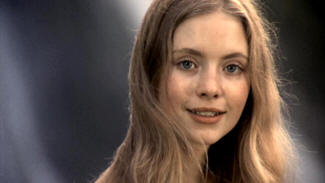 Brother Sun, Sister Moon is Franco Zeffirelli's hymn to youth, innocence, beauty, and the redemption of the soul through love. Who loves not this movie is a beast with no soul, a mere callus protecting brute ignorance from the light of understanding. Recorded through a sun-filled lens that enjoys exploring the opening vistas of the Italian countryside, the movie begins as the young Francesco returns from the war, a traumatized young man tended by his mother and other women with gentle devotion, his fevered brow cooled with damp cloths, gauzy curtains aglow with the pure light of sun shining through linen. After he recovers his health, the young nobleman is shocked by his father's pride in having prospered by war profiteering, and suffers a breakdown in the village church, where the wretched poor are segregated from the rich, armored in jewel-encrusted, cowled robes. Francesco's breakdown is provoked by the image of a Kingly Christ, oppressing all under his authority, which causes him to cry out screaming, "Noooo!" This is just the beginning of poor Francesco's father's problems. Francesco's enthusiasm for the spiritual life is sparked by the beauty of God's world, and the good fortune of merely being alive. When the joy of God gets in him, he leads his father's wretched dye-workers out into the sun for a day off, which is when his father decides to put the fear of God in the boy, with no success. Happy to be exiled from a house of miserable wealth, Francesco rebuilds a ruined chapel to give the poor a place where they can worship with dignity, making humble offerings to each other and to God without shame or guilt. Francesco's charismatic love of humanity proves a better sell than craven greed, and soon the well-off scions of Assisi are joyfully casting off wealth, taking vows of poverty, and walking all the way to Rome to obtain the Holy Father's dispensation to establish their Order. Once there, it takes a miracle to achieve Francesco's mad hope, and it happens. When the debased ecclesiastical courtiers react in horror to the presence of a man of real faith and act to eject him the Holy Father prevents this re-enactment of the Crucifixion, elicits an impromptu sermon from Francesco, and declares in response, "You, in your poverty, put us to shame," before allowing his sad visage to withdraw behind a jewel-encrusted facade.
Eyes Wide Shut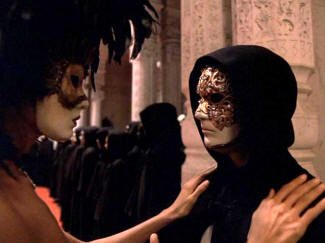 Want to shoot film like Kubrick? Want to look at Nicole Kidman's bum? Want to see Nicole Kidman act stoned and scary, teasing Tom Cruise into jealousy? Want to be the kind of doctor who helps the rich deal with the heroin overdoses of their whores? Want to crash a party full of powerful, mysterious people you've never met? Want to rent a tuxedo at 2 am? Want to catch the tuxedo rental guy's daughter getting molested by a random stranger? Want to see a bunch of real Illuminati-type characters carrying on like Bilderbergers, wearing masks while boning mask-wearing women with model-beautiful bodies? Want to walk down the streets, looking for an attractive prostitute good enough to have sex with a doctor? Want to inject chaos into your life just from a sense of boredom? If you want to do any or all of these things, then EWS is for you.
Fahrenheit 451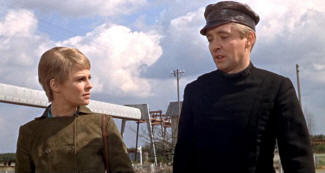 What burns at 451 degrees Fahrenheit? Paper, that's what. As in books, magazines, pamphlets, notations, diaries, biographies, novels, poetry, drama, and so forth. All those things that just make people unhappy, unlike video, which just causes the occasional suicide. Ray Bradbury's novel is beautifully retold in a screenplay by French cinema master Francois Truffaut, Directed by Nicholas Roeg, starring Oskar Werner and Julie Christie. Werner, playing the sensitive "fireman" who ultimately loses the faith and torches his self-obsessed boss instead of a pile of contraband books, is a study in sincerity, a man who can make a hard decision once he knows what it should be. Julie Christie plays two roles in the film, both marvelously. First, she is the socially-conforming wife who makes Werner a television widower, obsessed with her role in a primitive form of interactive television that pretends to elicit her opinion to choose between various options in a fictional script. Second, she is the questioning woman with whom Werner strikes up a relationship of the mind, and with whom he escapes to the realm of the book-people, each one of whom has memorized a book that they can replay from memory for the pleasure of their friends. Our relationships are the key to our own identity. When we select our companions, we select whom we shall be. This movie makes the importance of that choice very clear.
Fahrenheit 9/11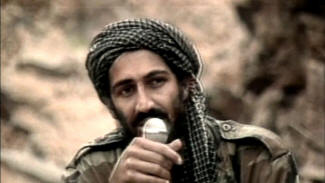 When Michael Moore chose the title for his movie to illustrate the Saudi-Bush alliance, he was giving us a clue to his meaning. The firemen in Fahrenheit 451 are charged with the duty of burning books, i.e., the inconvenient truth. When we see the President reading "MY PET GOAT" in a schoolroom while thousands of Americans are being consumed in a hideous conflagration, and he remains silent as the minutes tick by, each second recording the screaming cries of thousands as their lives were incinerated in a concrete, actual hell, we realize the meaning of "a day that will live in infamy." Thus, Roosevelt described Pearl Harbor, and thus, Bush exploited it, with the media cheering along hysterically, suffering from a case of war fever. Along with the towers, the media burned our collective memory of life before Bush as protective father, and the facts about how long the Saudis have been cultivating a position of power and privilege in the United States. Ambu's screen cap showing Prince Bandar flipping Larry King the bird is priceless, and is one of those things that, on national TV, most everyone undoubtedly missed. But we've got it here for all posterity. Fahrenheit 9/11 opened the eyes of many Americans to facts that, when fully revealed, will make the Bush family name reviled by the common man, in a reversal of fortune that will be fully and widely agreed upon. Even as Nixon ultimately became synonymous with charmless tyranny, so the Bush name will be equated with craven deception. To deepen your knowledge, read House of Bush, House of Saud -- The Secret Relationship Between The World's Two Most Powerful Dynasties, by Craig Unger 2004. (Numerological note: 451 minus one equals 450, which when multiplied by two, equals 900. The remaining one, when "doubled" becomes 11. Adding the two together, gives you 911.)
Ghostbusters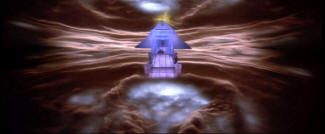 I first saw Ghostbusters at the Culver City Drive Inn in West LA with my wife and three kids, sitting in our recycled church van, back in the late eighties, when such things were still done. We had a great time, I remember, because it was such a lively movie, overstuffed with talent, gadgets, special effects, an accountant who turns into a demonic dog, and ... Sigourney Weaver. Not to mention the soundtrack was so good that the first generation Bush Republicans made it their fucking theme song as they trounced Dukakis -- oi, painful memory -- but I'm trying to convey the whole context of the times. I was a post-hippie, pre-lawyer Tibetan Buddhist with a BA in English, and the fact that Sigourney had a satanic temple in her refrigerator was unbelievably sexy. It was rollicking good times fun, blasting ghosts with backpack-powered nuclear blasters, getting slimed with ectoplasmic goo, confronting escalating horrors, all the way up to the Stay-Puft Marshmallow Man, where, as we put it in Ghostbuster parlance, we "crossed the beams," and made it all come out all right. That's the cool thing about movies.
The Hitchhiker's Guide To The Galaxy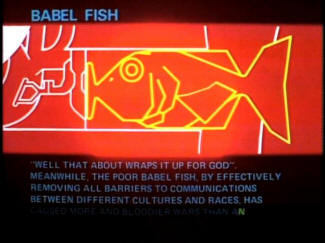 Ford Prefect has just saved Arthur Dent from the universal fate that has just consumed all humanity -- the complete destruction of the planet by a Vogon destructor fleet building a hyperspace bypass through our sector of the Galaxy. Ford is an extraterrestrial -- his name, somewhat like the English version of Ford Taurus, was unusual because Ford was relying on some mistaken inferences about human naming conventions. Nevertheless, he'd passed for an ordinary bloke, and made a friend of Arthur Dent, a good enough fellow, but not particularly adventurous. Nevertheless, he and Ford are the only survivors, unless you count the mice and the dolphins, who often escaped by their own devices. The destruction of the Earth, as it turns out, was all an unfortunate error, which quite annoyed the mice. Which mice, you ask? Well the mice that had been experimenting on humans under the guise of being mice. All things you will understand in due course, in many other times and places, and often, at the Restaurant at the End of the Universe. How will you get there? Be means of the Improbability Drive that powers Zaphod Beeblebrox's spaceship, the one he stole, and now pilots wildly throughout the universe with occasional backup from his lovely assistant, Trillian. Occasional dull commentary from the depressed robot, who has to do horrible things, like wait for everyone forever at the Restaurant at the End of the Universe from just about the beginning of time until the very end of it, a very very dull job, and nothing to look forward to. There will be so many different beings with different languages, but due to it being so unlikely that it would happen, there is a fish called a Bablefish that fits perfectly into your ear and translates any language into another, causing, as one might have anticipated, more wars than any single other cause in human history. So grab up a Bablefish, plug it into your head, and get ready to skitter about the interstices of the known and unknown universe in the care of the hippest captain ever to sail the starry deep -- Zaphod!
Killer Klowns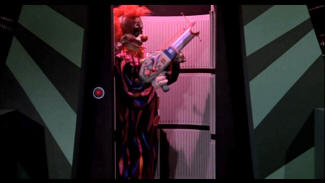 What is not at all funny? Huge, carnivorous clowns that will eat you are not funny, really. Sometimes they do funny things, right before they kill you, to make you laugh, to immobilize you. Usually though, you only get one laugh, then comes the coup de grace. Important features of the Klowns. Ranging six to eight feet tall, dressed in full clown garb, including polkadotted pajamas, big floppy shoes, ruffs, and heavy cake makeup. They look like they may have bad breath, bloody gums, other evidences of consuming an exclusive diet of flesh. Chosen weapons are of the particle-beam variety, usually in a silly, candy-colored design that looks like a toy. The Klowns reproduce by distributing spores that look like popcorn. These can be distributed anywhere, including hampers, ventilation systems, anywhere they can breed, first into long, stringy, dragonlike snapping things, developing very quickly into full-on Klowns. Where did these Killer Klowns come from? No one knows, but their methods have apparently been honed over the vast time periods necessary for interstellar space travel. Perhaps they assume different forms on different planets, according to the dispositions of the natives. Perhaps their investigation showed we would be vulnerable to these forms. What puts people in a receptive, childlike attitude? Circuses and clowns. What could be less likely to provoke a believing response than hysterical people screaming they've witnessed a rampage of murderous clowns? The movie shows how adopting camouflage, which is generally believed to be a defensive tactic, can aid a predator. The same thing is true, one thinks, of corporations. They dress up like friendly buddies, showing every face from Mickey Mouse to Spider Man to Joe Camel and the President, and while you're standing there stunned, they pick your pocket, poison your water, turn your kids against you and send you the bill. Which will all make you want to turn up the volume and scream a little, no doubt. Lucky for you, The Dickies play the title track to the soundtrack. The Dickies were an LA punk rock band of the fin de siecle years who opened religiously for the Ramones during the eighties and early nineties. Ambu capped the video of the band, and the old-fashioned video-toaster effects have retro charm. The lyrics are utterly hilarious, and will keep the movie in mind for years. If you get the CD, which is out of print, there is one other good tune on it.
King of Hearts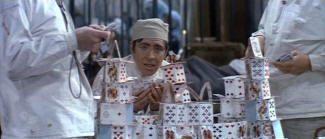 It is the First World War, and we are in the French countryside. Scottish troops are advancing on a French village occupied by Germans. The Germans plant a bomb in the bunker at the center of town, stuffed with ammunition. When the enemy troops take the town, they will enter a time bomb. The bomb will blow at midnight. The Germans leave, after evicting the entire population, except the inmates of the local asylum. A French spy radios a message to the Scots, however, so they know of the danger and do not enter the town en masse. Instead they decide to send the man most skilled in demolitions, linguistic and communications skills, which ends up being the guy who keeps the messenger pigeons, because he speaks French and can send back a pigeon to communicate the all-clear, once he's found and disarmed the bomb. There's little discussion about how he'll accomplish the second task, but that's life in the military. Presumably, everyone expects him to fail, be blown up, and then they'll march into town, but that's not exactly how it goes. He stumbles into town, encounters the Germans haphazardly, and hides in the asylum, where the inmates inadvertently assist to conceal his presence as an interloper, and provoke the searching soldiers to exit hastily, leaving the soldier safe, with the madmen, until midnight. It takes the soldier many crazy encounters before he realizes that the entire town is now populated only by people pretending to be who they appear to be. The prostitute is a mad prostitute, the hairdresser is a mad hairdresser, the distinguished married couple are a mad distinguished married couple, and the exquisite ballerina who is instantly in love with him is mad, too. The soldier cannot disarm the bomb, so he tries to lead the crazy people out of the town to escape the bomb, but they refuse to go, hearing the distant cannonades as a perceptible, immediate danger. So he remains in the town, dallying with the beautiful ballerina, counting down the seconds to destruction, until at last, in a moment of inspired luck, he intuits where the bomb trigger must be, and disables it with a single blow. That would be enough for your usual movie, but this one, having gotten up a head of steam, keeps cranking out meanings. Hang on for an antiwar message you will absorb deeply and carry with your for a long time. This movie is deep, warm, good humored, and big-hearted, not to mention clear-eyed and sobering. King of Hearts is for maturing audiences.
Legend
Ridley Scott makes a movie with Tom Cruise and Tim Curry and nobody remembers it. That may be because it depicted "a world so full of drifting pollen that all hayfever sufferers would've died off long ago," as one reviewer has noted, or because it was shortened in length by Hollywood producers. Nevertheless, it contains excellent unicorns, a pignosed goblin who rhapsodizes about the beauty of garbage, a devil who literally drips evil and sounds like Tim Curry, and Mia Sara as a dimwitted heroine who manages to plunge the world into eternal winter by willfully touching a unicorn. Tom Cruise in shorts, leaping around like Robin Goodfellow, is looking for a better role. Mia Sara has a great moment dancing in a dark wedding dress, a lovely apassionata as she teeters toward the seduction of evil. How does this movie end? When you turn it off. But the screencaps you can stare at forever.
The Hunger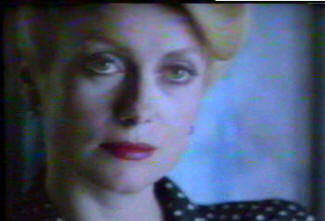 Ridley Scott has a brother named Tony, and Tony directed this film with a superb cast, some cool-ass music, and sets and costumes that make you want to be bad, really bad, for just one night. A still-young Susan Sarandon plays a hematologist (blood-expert) searching for a cure to aging, whose knowledge is sought, rather late in the day, by a vampire played by David Bowie, who has abruptly realized that, after centuries of eating people and having sex with Catherine Deneuve, an ageless beauty whose bloodlines date back to ancient Egypt, he has reached the end of his rope, and finds himself decidedly short of actual immortality. Catherine Deneuve is at the peak of her female animal magnetism, making one feel like making a blood sacrifice of some sort just to quiet the craving, and David Bowie finds himself in an adaptable mood, willing to decay into mummyhood over the course of one very long day. After getting stood up for an appointment with Sarandon, which uses up basically all the time left on his life-meter, Bowie is reduced to the status of a vampiric dotard, and bungles his attack on a roller-skating adolescent whose neck he feebly slashes. In a touching scene, his self control breaks down under the influence of appetite, and he predates upon the young. Perhaps something is being spoken here. After Deneuve puts here hooks into Sarandon, the fever takes hold in Sarandon's guts, and by the time her husband shows up at Deneuve's pad to look for his wife, she's worked up a powerful appetite. One thing leads to another, and you can bet on the redhead or the blonde. The closing scenes will haunt you for years. If you didn't think you could understand a vampire, come on in and sit down. We'll have you lusting for blood in a minute.