DISILLUSIONED BY AUTHORITARIAN DOCTRINES
by Charles Carreon
August, 2003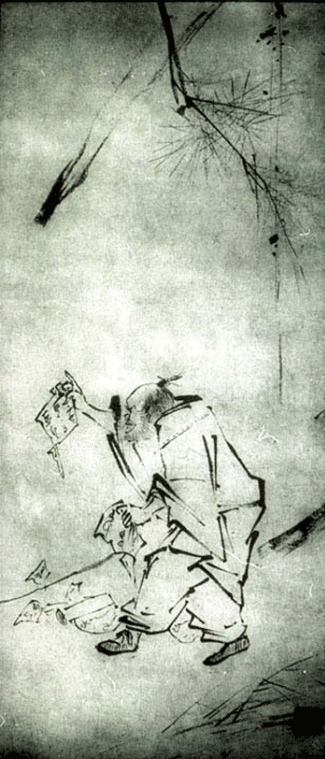 Many of the students who started class early are finishing early. Take Stephen Batchelor, who started out way ahead of the crowd, translating Buddhist texts, chumming around with lamas in Dharamsala, learning the Vajrayana equivalent of the merit badge system. Not only did he understand it, but he could relate it in writing. If anyone seemed destined for the title of "lotsawa" it would certainly have been him.
But somewhere along the way, his sincerity became an obstacle to his growth within the Tibetan Buddhist system. Failing to sufficiently value his opportunities within the hierarchy, he allowed his personal desire for understanding to take precedence. He could have been a khenpo, now people respect him less than a bonpo. What went wrong? He's so low even people who haven't started their ngondro can afford to dislike him without fear of reproach. His books are no longer endorsed by important lamas, his stock is about to be de-listed, and there is certainly nothing in his 401K.
How does this happen? Surely it is Stephen's fault. A deep personality flaw that took its time in manifesting. Previously undetected strata of stony pride and repelling the drill bit of vajra wisdom. A heart unsoftened by devotion, refusing entry to the guru's grace. All things that any Pema-come-lately knows to avoid, and will avoid, as the protectors give them strength. And don't forget to use deodorant, prostrations make you stink like a pig.
While apparently quality people like Batchelor consign themselves to the trash heap of modern Buddhist road-kill, low-lifes continue to move up the ladder. The hereditary low-lifes accept their entitlements with all the aplomb of pampered royalty, knowing better than to question a system that bestows such blessings. Aspiring purchasers of titles have found that generosity is indeed the first perfection to which they must aspire. All other blessings then follow.
Dr. Rick Strassman, the bold and dedicated psychedelic researcher had his license to practice Buddhism summarily revoked when an aging Zen master got wind of his plans to let people explore their minds with chemicals under the rubric of a spiritual quest. Meanwhile, Joan Halifax, ex-wife of Stan Grof and long-time promoter of altered states, tacks "Roshi" onto the end of her name, apparently having found a more accommodating doctrinal perch. Or perhaps it turned out, under questioning, that she didn't inhale.
The search for doctrinal legitimacy is doomed. Buddhists are as sectarian as Baptists, just as convinced that their sect is right and that others, while tentatively entitled to acceptance as sister-sects, would fundamentally be better off changing their beliefs to accord with the Real Truth. The real strengths of the Eastern sects are their incorporation of mass methods of subjugation by the use of powerful symbols. Uniformly patriarchal, skilled in using authoritarian props like thrones, robes, staffs and scepters, the Easterners can control a crowd more reliably than Mick Jagger. And accomplish the same thing -- subjugate all the men, and excite all the women. In this way, both sexes work for free, attempting to work their way up to the pyramid of recognized loyalty and desirableness.
What many aspirants have found is that it's a long way to the top, and there isn't much of a view. When you have collected all of your merit badges and apply for your certificate, it turns out there's not much there. If you want a title, a position where you can work like an indentured servant indefinitely to accomplish things that someone else decided must be done, you may retire in this position. But most people would find a job at the post office more rewarding. The apex of a religious venture is always as detestably twisted as any other human power focus. But it is twice as galling to find yourself there at the end of a quest for self-fulfillment That is where the exiles are coming from, and no one wants to hear what they have to say. They are going down the upstaircase, and are seen as just being old and in the way, poisoned by the wine of sour grapes. But suppose they are like the people heading out of the Two Towers on 9-11? Suppose they are telling everyone to turn around, go back, and return home for their own safety. It will give them no satisfaction to see those who do not listen consumed in the disaster.