EULOGY FOR JOSHUA CARREON, by Charles Carreon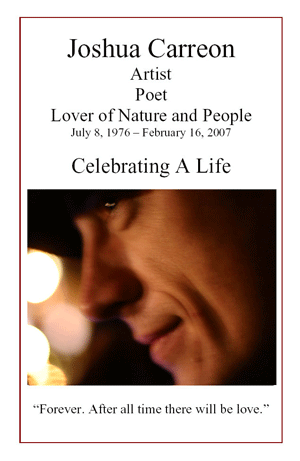 Joshua Carreon
Artist
Poet
Lover of Nature and People
July 8, 1976 - February 16, 2007
Celebrating A Life
"Forever. After all time there will be love."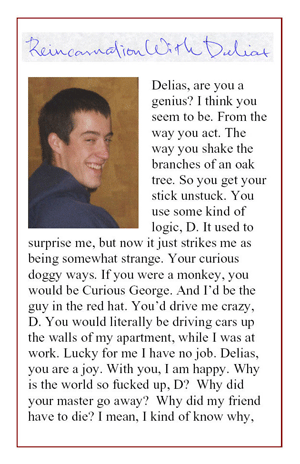 Reincarnation With Delias
by Joshua Carreon
Delias, are you a genius? I think you seem to be. From the way you act. The way you shake the branches of an oak tree. So you get your stick unstuck. You use some kind of logic, D. It used to surprise me, but now it just strikes me as being somewhat strange. Your curious doggy ways. If you were a monkey, you would be Curious George. And I'd be the guy in the red hat. You'd drive me crazy, D. You would literally be driving cars up the walls of my apartment, while I was at work. Lucky for me I have no job. Delias, you are a joy. With you, I am happy. Why is the world so fucked up, D? Why did your master go away? Why did my friend have to die? I mean, I kind of know why ...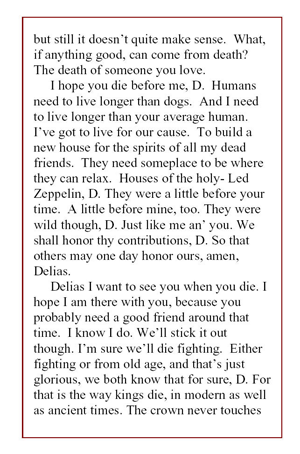 but still it doesn't quite make sense. What, if anything good, can come from death? The death of someone you love.
I hope you die before me, D. Humans need to live longer than dogs. And I need to live longer than your average human. I've got to live for our cause. To build a new house for the spirits of all my dead friends. They need some place to be where they can relax. Houses of the holy -- Led Zeppelin, D. They were a little before your time. A little before mine, too. They were wild though, D. Just like me an' you. We shall honor thy contributions, D. So that others may one day honor ours, amen, Delias.
Delias I want to see you when you die. I hope I am there with you, because you probably need a good friend around that time. I know I do. We'll stick it out though. I'm sure we'll die fighting. Either fighting or from old age, and that's just glorious, we both know that for sure, D. For that is the way kings die, in modern as well as ancient times. The crown never touches ...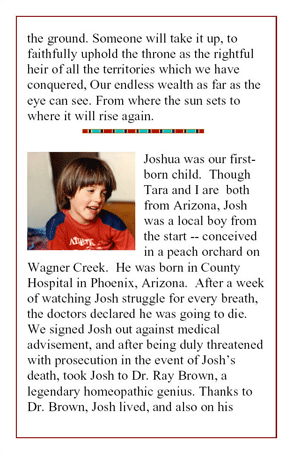 the ground. Someone will take it up, to faithfully uphold the throne as the rightful heir of all the territories which we have conquered, Our endless wealth as far as the eye can see. From where the sun sets to where it will rise again.
--------------------------------------------------------------------------------
Joshua was our first-born child. Though Tara and I are both from Arizona, Josh was a local boy from the start -- conceived in a peach orchard on Wagner Creek. He was born in County Hospital in Phoenix, Arizona. After a week of watching Josh struggle for every breath, the doctors declared he was going to die. We signed Josh out against medical advisement, and after being duly threatened with prosecution in the event of Josh's death, took Josh to Dr. Ray Brown, a legendary homeopathic genius. Thanks to Dr. Brown, Josh lived, and also on his ...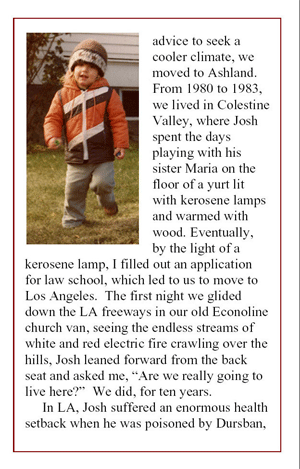 advice to seek a cooler climate, we moved to Ashland. From 1980 to 1983, we lived in Colestine Valley, where Josh spent the days playing with his sister Maria on the floor of a yurt lit with kerosene lamps and warmed with wood. Eventually, by the light of a kerosene lamp, I filled out an application for law school, which led us to move to Los Angeles. The first night we glided down the L.A. freeways in our old Econoline church van, seeing the endless streams of white and red electric fire crawling over the hills, Josh leaned forward from the back seat and asked me, "Are we really going to live here?" We did, for ten years.
In L.A., Josh suffered an enormous health setback when he was poisoned by Dursban ...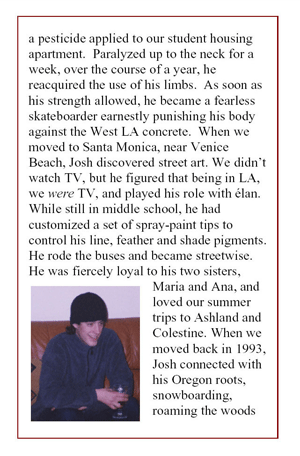 a pesticide applied to our student housing apartment. Paralyzed up to the neck for a week, over the course of a year, he reacquired the use of his limbs. As soon as his strength allowed, he became a fearless skateboarder, earnestly punishing his body against the West L.A. concrete. When we moved to Santa Monica, near Venice Beach, Josh discovered street art. We didn't watch TV, but he figured that being in L.A., we were TV, and played his role with elan. While still in middle school, he had customized a set of spray-paint tips to control his line, feather and shade pigments. He rode the buses and became streetwise. He was fiercely loyal to his two sisters, Maria and Ana, and loved our summer trips to Ashland and Colestine. When we moved back in 1993, Josh connected with his Oregon roots, snowboarding, roaming the woods ...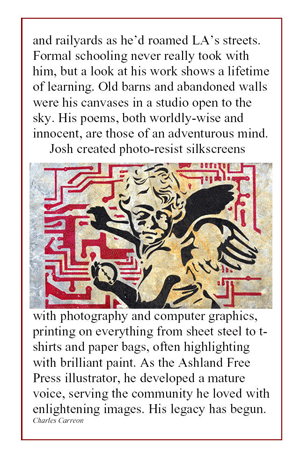 and railyards as he'd roamed L.A.'s streets. Formal schooling never really took with him, but a look at his work shows a lifetime of learning. Old barns and abandoned walls were his canvases in a studio open to the sky. His poems, both worldly-wise and innocent, are those of an adventurous mind.
Josh created photo-resist silkscreens with photography and computer graphics, printing on everything from sheet steel to t-shirts and paper bags, often highlighting with brilliant paint. As the Ashland Free Press illustrator, he developed a mature voice, serving the community he loved with enlightening images. His legacy has begun.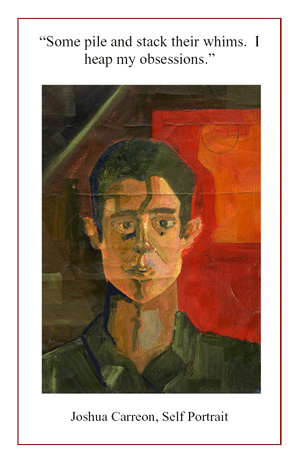 "Some pile and stack their whims. I heap my obsessions."
Joshua Carreon, Self Portrait