IGGY POP BIOGRAPHY, by Charles Carreon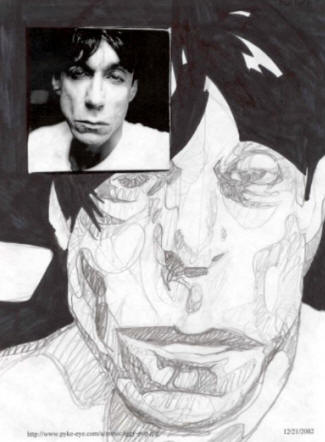 Ink and Pencil, 8" x 10", by Joshua Carreon
Iggy Pop began as a bad joke that couldn't last and ended up being the lasting truth-teller that couldn't be silenced. There aren't too many ways of accurately describing Iggy's music that don't require the use of industrial adjectives like – corrosive, grating, insistent, driving, unabated, and of course, uncompromising. Iggy looks like a guy who would bang a can on his head to hear the sound it made. Far from it. He is a musical genius who can create a symphony out of the noises you normally silence with a pillow over the head. The sounds of the machine age resound in his song, "Cold Metal," where he nails the brave new world of industrial strength in driving chords that alarm with the same force as a submarine loudspeaker blaring "dive!"
Iggy has an ability to get musicians to bring sounds out of their instruments that they normally do not produce. Take Slash, for example, of Guns & Roses former fame. The cuts he played on Iggy's "Brick by Brick" album are better than anything he did with G&R.
Iggy's albums were probably released in small pressings over the years, but as time has gone by, they have continued to be available. It's a good policy to buy all the Iggy CDs you come across, because then you can share. Some of my favorite songs are on "Tell Me A Story" and "Zombie Birdhouse," two completely different albums. Tell Me A Story is easy listening by comparison to Zombie, which has long monotonal interludes, with Iggy chanting poetry in a flat tone. But ultimately, you discover all of the gemlike elements of both albums, and love them equally. Because they all carry that essential Iggy spirit.
The essential Iggy spirit is perhaps laid out most plainly in the very commercial and high-toned, but also very deep and genuine "Brick By Brick" album. The album has a powerful populist theme expressed in lines like "people oughta get respect in front, people oughta live where they want, people oughta get along pretty much o-kay." (Brick-By-Brick, title track.) In "Main Street Eyes," Iggy urges us to "keep your Main Street eyes, trying to do what's decent with our lives." He unpacks our modern pain in a brief soliloquy: "Sometimes, I'm goin' around, I feel a tension under the surface, like people are just about ready to explode. My head keeps trying to sell me ambition, but in my heart, I want self-respect. There's a conflict." He makes us feel all right about being who we are.
But just so you won't think that's a boring mission, Iggy will play the clown and reach into his bag of tricks to make you laugh. He won't let you take it seriously, because that would take all the fun out of it. Listen to Iggy and train to be spontaneous.