IT'S TANTRA BABY, by Charles Carreon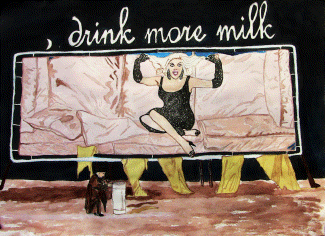 If your life is plagued with discord,
and you can't get out of bed,
If you're hungover with sadness
and wish that you were dead,
If you've got a forty-five
pointed up against your head,
Then you might as well
become a Buddhist
And save a little lead.
Well if you dig the Mahayana
You don't have to cut your hair
And if you chant a little now
You'll have nothing to fear
When death comes strolling down the aisle
And extends his hand to you,
You'll say "my ticket's paid today,
So what more can I do?"
The Dharma's just for losers
At least that's what the Siddha said
When he rolled the final snake eyes
With the eyeballs from his head
And dakinis started cackling
Like buzzards in the sky
Then he clicked his heels
And grabbed his chick
And flew away on high.
It's Tantra, baby, on the hoof
Too hot to try to sell,
And if you don't believe me
We'll discuss it all in hell.
The family is twisted,
That's known around these parts,
The men will steal your car
While the women break your heart.
The crossing signs are switched up
All around this place,
When you play it, it's a Joker,
Though you swore you drew an Ace,
And the hit men play with apple pies
The girls are made of stone
And every word that flies about
Is sure to break a bone.
The guides have all gone crazy
In this place where travel's free,
There's nothing more amazing
Than to see one in a tree,
Laughing like a psycho
With his head inside a box
You'd swear he'd never heard
That little kids get chicken pox.
It's Tantra, baby, grab a bite
And hang on to your hat,
We'll feed you magic potions
And lay you on a mat,
We'll dance around you wildly
With flowers in our hair
And when you wake in our place
You are a billionaire.