JOEY RAMONE, by Charles Carreon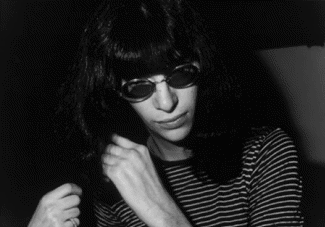 Joey Ramone was an amazing individual with incredible qualities. He developed a form of meditation known as feeling good while listening to punk rock, or playing it, in his case.
Ramones albums had a similarity, each one a blender mix of heavy slammers in a minor key, mixed with a little roadster rock (like Go Lil' Camaro Go, or Surfin' Bird), at least two tales of teenage love, and something psychologically outrageous.
Anyone who saw the Ramones had their faith in love affirmed, their power to survive the outrages of society strengthened, their smiles brightened and their sex lives improved.
When the dark gloomy shadows of the end-time loom, and prophecies of doom shake the marrow of your bones, then is the time to play Rock 'n' Roll High School very loud and dance on your bed getting high on diet coke or whatever. Have faith. There is a heaven, or we could not feel like this.
Joey was the voice of punk rock in America. Wearing a leather jacket and torn jeans, hiding his face behind a pair of sunglasses and thick dark hair, Joey helped define punk's early image and became a countercultural icon.