MORE NEWS THAN IS FIT TO PRINT: DESIGNING COUNT BRUNO DE CAUMONT LAUNDERS PEDOPHILE IMAGERY IN A MASTERSTROKE OF SUBLIMINAL MESSAGING ON THE FRONT PAGE OF THE NEW YORK TIMES "HOUSE & HOME" SECTION, FEBRUARY 3, 2005
by Charles Carreon
One is rarely surprised by what one finds in the New York Times Home section. On Thusday, February 3, 2005, this pattern was broken by a surprising development. The better part of the first page was dominated by a full-color spread with laudatory text about a new up-and-coming designer, Count Bruno de Caumont, whose interior designs are praised as a source of "spiritual comfort," that you can wrap 'round your "hungry soul like a cashmere blanket". Imagine our surprise to discover that the spiritual nourishment comes in the form of a boudoir where any pederast would feel at home.
The alleged focus of the article is the charming Count, whose work creating an "ancien regime salon" is celebrated as evidence that he is one of the "most promising young talents to be watching," because of his ability to "to mix supple antiques with ... girls in black leather, that kind of thing." While few of us have a problem with girls in black leather, antiques and all, the photographic centerpiece of the Times articles is quite another sort of thing.
Allow your eyes to scroll down the page to imbibe this unique New York Times Home section. After a little observation, I concluded that the presentation applies established formulas for inserting subliminal messages into an innocuous scene. In reading the text of the article, I searched in vain for any reference to the subject matter of the picture that appears centrally above the couch-bed, above the fold, on the first page of this presumably wholesome section of the newspaper that proudly proclaims it prints only the news that is "fit to print." In the case of this article, the Times editors seem to have ignored their motto, exposing their reading public to a media presentation with a concealed agenda and precious little news value. While the centrally located picture begs for our attention, the text of the article directs our eyes to the pattern on the fabric wallpaper, to the furniture barely visible at the extreme left of the photograph, indeed, to anything but the picture. The picture itself, in a wooden frame, appears to have been draped with a gauzy fabric of some sort, softening the clear lines of the drawing, making it easier to overlook. Indeed, I almost overlooked it, but found myself drawn to study the picture more closely and then -- wow -- do you see what I see?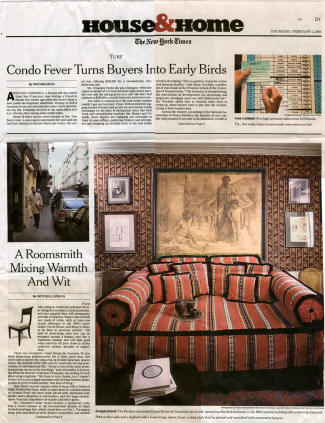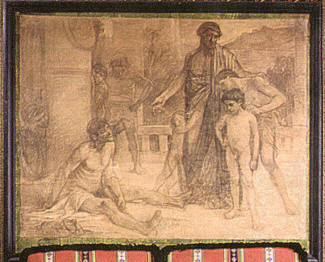 Surely the publishers assumed that people would just gloss over this picture. Most people don't read the Home section. Many people who read the Home section are ... sympathetic to pedophilia? Jarred by the incongruity of the presentation, unable to reconcile the disconnect between the startling nature of the image and the shallow tone of the article, I began a personal quest to discover the purpose of this far-from-random presentation. My Google search began with four words: subliminal + advertising + figure + ground. The search engine hooked me up with an article by "Dr. Lechnar" at
http://www.searchlores.org/realicra/sublimi.htm
that contained some helpful information.
Dr. Lechnar wrote:
... advertisers [who have] done extensive study on how our brains perceives input [have] found that "most print advertising is designed for perceptual exposure time of less than one second." In other words, they are designed for the subconscious mind to absorb completely instantaneously while the conscious mind barely catches the headline. Not everyone perceives an image the same, however. Different perceptions would ultimately affect each person's level of subliminal receptivity. For example, "during a hypnotic trance, many subjects read quite fluently textual material presented to them upside down and even in mirror image-an impossible task for most people while awake." Key later concludes "it appears that individuals trained in linear reasoning, cognitively or quantitatively oriented, have higher [perception] thresholds and also appear more susceptible to substimuli." Advertisers take advantage of the fact that our society and its individual is sexually repressed in order to display sexually oriented subliminal messages.
Advertisers are helping people evade self-repression, supplying veiled images that reveal only to our subliminal awareness that which we secretly desire to consume.
Dr. Lechnar wrote:
This also partially explains why male genitalia is directed toward males in advertisements, and female genitalia toward females. Men would be more reserved in observing male genitalia while they would readily consciously perceive embedded female breasts.
Male genitalia are covertly displayed in the pedophile marketplace picture. One might look at the little boy naked and think -- oh, how classic. But the entire scene clearly depicts only one transaction -- a pimp offering a fresh young boy to an old lecher who leers up at him lustfully, cradling some sort of gourd between his splayed legs, revealing his own genitals in the process. The faces of the boy and the pederast are the clearest images in the scene, drawing them together. At the boy's side, an adolescent seems to be reassuring him about the exchange. Clinging to the pimp, a small child turns away from the scene. Examining this work, one is moved to wonder to what end the display is made on the front page of the Times Home section. The image is decidedly un-homey, except for those who suffer a very unfortunate home life.
One could think -- ah a prank! Someone wanted to give the editor a heart attack. Sabotage, I might say! While the moral decency arm of the administration fines Howard Stern off the air, pedophilia is finding safe refuge in a stylish haven designed by Count Bruno de Caumont, who can not only find a drawing hot enough to excite Aleister Crowley, he is talented enough to put together a room like this one, featured in the NYT online at
http://www.nytimes.com/2005/02/03/garden/03bbox.html
.
Really this is weird. Two articles about this guy in one issue of the NYT? Why didn't they use the picture that was on the print version? Local circulation in the NY Metro area is safe for the Roman hard stuff? Internet gets the softer-core Grecian treatment?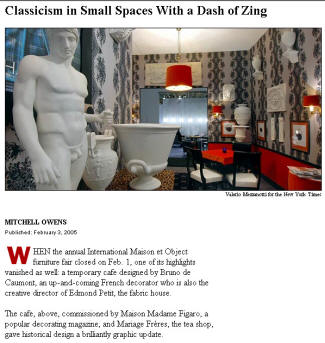 I have come up with a simile for describing the manner of influencing a person without disturbing them. I call it "pulling their string." Everyone has a string by which they can be led. For many people it is obvious, but many strive to conceal it. Still, it can always be found. The string is attached to the person's blind spot. Whatever the person is blind to, that is their string. Obviously, most people are blind to flattery, and all people are blind to really skillful flattery. But people are blind to a lot of other things, too. They are blind to their prejudices, their loves, their hates, their deep, secret desires. And to each blindness is attached a string by which they can be led.
Dr. Lechnar wrote:
Advertisers take advantage of our defense mechanisms to inject subliminal messages into our subconscious mind. By using cultural taboos, our defense mechanisms block sexually explicit images from our conscious mind but our unconscious mind still perceives the image.
Subliminal images enter through the door of unconscious perception, directly into the hidden store of subconscious memory, where they can act upon us secretly.
Dr. Lechnar wrote:
Like conscious perception to subconscious perception, conscious memory is very limited, while subconscious memory has an enormous capacity but lacks the ability to intellectually synthesize and interpret information. The more emotionalized the data, for example sex and death, the more likely it is to be retained in subconscious memory.
Television and movies provide an alternating current of traumatic and stimulating imagery, in the typical sexy action thriller, or in the interplay between sexy advertising, scary news, glittery entertainment, and absurdist real-world drama. These alternating, basic stimuli tenderize the minds of modern humans, opening them to the inculcation of commercial messages.
Dr. Lechnar wrote:
Fear of death, pain, and suffering will warn us from dangerous situations. Since we live in a sheltered society, our primal drives and fears have been altered to fit other forms. These diametrical extremes-the beginning and the end, have been molded into desire for attention, reassurance, acceptance, immortality, and the fear of financial hardship, sexual insecurity, and loss of power. Few of us worry about when our next meal is, and whether we will be living tomorrow. If we are ever thirsty, we approach the nearest water fountain or the vending machine. Despite the fact that our drives and fears are subdued and domesticated, they still exist within us. Advertisers take advantage of this to tempt our deepest drives and scare our morbid fears.
The goal of the advertiser is "drive control," and in our repressed society, sexual appeals must be made furtively. Sexual messages are thus excellent vehicles for directing individuals to associate drive-fulfillment with use of a particular product.
Dr. Lechnar, quoting Carl Moog, wrote:
Some of the most pervasive, sexual imagery in advertising is more symbolic than blatant, although the connotations are far from subtle. The imagery sends a message to the unconscious, granting permission to fulfill sexual wishes and points the way to an attractor that can facilitate the encounter.
Resistance to such messages is low, because if sexual energy is deflected into a product purchase, that does not violate any taboos. Once aroused, sexual energy desires fulfillment. Without any new sexual prospects, which advertising does not help a consumer to find, the best way to relieve the pressure may be to purchase something -- pornography, a book, or a pair of shoes. In a word, the advertised product. Even if the consumer doesn't buy the advertised product, the commercial message has entered their mind and reinforced their tendency to think of themselves as a consumer. Commercialism inflames sexuality, then suggests that we purchase our way out of lust. Substitute acquisition for consummation.
Figure-Ground Relationships Make Efficient Use of Perceptual Capacity
Dr. Lechnar wrote:
To protect the brain from sensory overload, our perceptual defense mechanism distinguishes every perception into figure (foreground, subject) and ground (background, environment). We consciously notice the figure, while the ground floats around it unless something there brings it to the foreground.
The clever text-twirlers at the Times have turned the pedophile flesh-market imagery into the background, reversing the surrounding room into the figures by studiously denying textual attention to the picture, discussing instead personalities, wallpaper, and furniture, concealing the obvious in a welter of peripheral observations.
Six Subliminal Strategies Take Advantage of Ambiguities In Perception
Dr. Lechnar quoting Key, wrote:
... there are six general subliminal strategies: figure-ground reversals, embedding, double entendre, low-intensity light and low-volume sound, tachistoscopic displays, lighting and background sound.
Never Underestimate the Importance of Technology
Dr. Lechnar wrote:
At the dawn of subliminal advertising, graphic artists painted on photographs. That was very difficult to do without ruining the picture. Later, with bigger budgets and better equipment, graphic artists used airbrushes to craft their design onto billboards and then take a picture of it. Now, everything is done digitally on the computer with perfection.
The front page of the Times Home section is possibly the one place in the paper where the art editor gets to have fun, exploiting the four-color format to lighten the weight of the news. The skillful use of high-quality graphics has filled the central photograph with so much information that it is easy to become lost in the particulars of the arrangement, especially with the text directing the reader's attention to every extraneous detail. With attention deflected, the ignored image communicates its message silently to the unconscious.
Syncretistic Illusions Exploit The Mind's Tendency To See Only One of Two Possible Images In An Ambiguous Figure/Background Relationship
Dr. Lechnar wrote:
Perceptual psychologist Dr. E. Rubin created his famous Rubin's Profiles that can be found in almost every psychology text book today. His profiles, the faces and vases, old women and young women, duck and rabbit, are syncretistic (two sided) illusions. Noticing one set of features, you see one thing, while noticing another set of features, you see something else. Advertisers take advantage of this to paint subliminal messages into the picture's background. They are usually cultural taboos, making it even harder for the audience to perceive it.
Is this what was at work in the pedophilia piece in the New York Times? An attempt to place a taboo image in a background position, right where your unconscious can't miss it, but your conscious mind deliberately skates off it, because your cultural taboos tell you not to see it. Your cultural taboos may be telling you that if you see it as interesting, you're sick, and if you see it as inappropriate, you're repressed, so you should probably keep your mouth shut. And the effect of that is to make the topic both taboo and out in the open. How interesting.
Embedding Is Hiding One Image Inside Another
Dr. Lechnar wrote:
Embedding is the process of hiding one image in the form of another. This is a difficult process but if successful, very influential. Key writes, "Embeds enhance perceptual experience of the picture… Emotionalized, repressed information remains in the memory system for long periods, perhaps for a lifetime." Genitalia is one of the most often used images for embedding.
Since the avowed subject of the photograph is, according to the text of the article, everything except the picture, it seems clear that according to the New York Times, this photograph is of a room with great wallpaper and furniture done by a guy with "wit." He also has access to some pretty witty art, and apparently decorates for people who don't mind striking up indelicate matters with their parlor visitors on the large pink couch bed. Indeed, we could imagine the pimp and his brood being quite comfortable getting to know a new friend in such a nice room. If all this isn't subliminally present, well then excuuuuuuse me!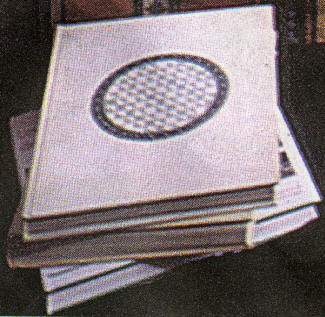 Symbols Bypass Internal Censors
There is a prominent abstract symbol in the photograph -- the circular pattern on the book-cover in the foreground. Enlarging the image, it is clearly a series of overlapping triangles, creating both a pattern familiar in tantric ritual as the Shri Yantra, and invoking the hypnotist's op-art distractions, intended to dazzle the eye and numb attention. This symbol tickles the non-rational part of our mind, creating further openings for the entry of subliminal meanings.
Dr. Lechnar quotes Carl Moog, wrote:
Symbolic communications bypass the layers of logic and cultural appropriateness and head straight for the unconscious, which is then free to find an equivalence between what is symbolized, in this case sexual arousal…
Dr. Lechnar wrote:
Often, graphic artists mosaic SEXes onto textured surfaces or in edges, shadows, and highlights. Just pick up any major magazine, relax, and stare into it for a couple of minutes. You will soon find these SEXes popping out at you. Other commonly used words are FUCK, DIE, and KILL, among other emotionally loaded four letter words.
De-emphasizing An Image With Low Lighting Drops It Below The Perceptual Threshold
Dr. Lechnar wrote:
Another method tachistoscopic displays can use is superimposing the image onto existing image just below the conscious perception level, as Dr. Becker has done. Lighting and background sound adjust the mood of the scenery. In most cases, it reinforces the conscious perception.
The embedded picture has been dimmed down in some fashion, causing it to seem faded and perhaps, unimportant, to the casual eye.
The Eight Hidden Needs Advertisers Consciously Exploit
Dr. Lechnar wrote:
With motivational research, they have found eight hidden needs in the human psyche: emotional security, reassurance of worth, ego-gratification, creative outlets, love objects, sense of power, sense of roots, and immortality.
The embedded picture memorializes in classical forms a tableux of vice, in which a craven adult is delighted to contemplate the abomination he is about to enjoy inflicting upon a child, and all the rest of the world is complicit or suppressed. Does the embedded picture appeal to a hidden desire to satisfy forbidden impulses? Does it invite an "unconscious" indulgence? And for what purpose and to what end?
Perhaps the point is not just to induce tolerance of pedophilia, but more broadly to make us comfortable with bondage, slavery, as the human condition. Maybe that is the taboo that we are to acknowledge and ignore simultaneously. That in this cruel world, people will own people, people with power will bend and fold other people who have no power, and that all the world will stand aside as these perfidies are committed daily upon innocents. Who would advertise that kind of tolerance toward oppression?
No doubt I am repressed, and it is very stylish, very witty to accept this reality of the slave market, and tasteful to reduce it to classic proportions. And I am quite indelicate to make a big deal of it. Fashion should be above politics, I am sure some designer said.