PHIL DICK'S YOGACARA VISION THROUGH HIS EYE IN THE SKY, by Charles Carreon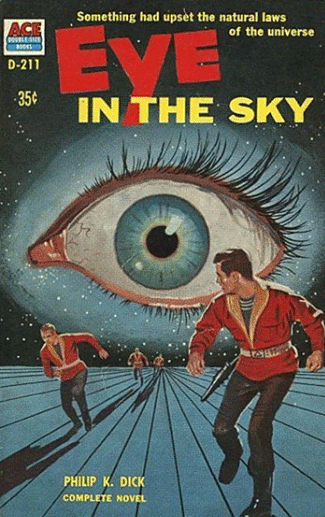 Review of "Eye In The Sky," by Phil K. Dick
The copyright on this book is 1957. Appropriately enough for a sci-fi novel of that era, it was titled by the editor, not the author, and composed in around six days while Phil Dick kept his pump primed with Dexamyl and worked on an old typewriter in a farmhouse with a chilly English wife on the Northern California coast. They had sheep. You should know that Phil didn't really want to be a sci-fi writer. He did that because those books sold. He wrote one serious novel -- it didn't sell. The rest are all rewritings, as he admitted himself, of the same story, over and over again.
Dick retold the same story so many times because his readers loved it. They loved it because through that story he lucidly explored the implications of pure Mind-only Buddhism, aka Yogacara. The first scene in Eye In The Sky takes place at the scientific facility housing the "Belmont Bevatron" on October 2, 1959, when the "proton beam deflector" malfunctioned and "the six billion volt beam radiated upward toward the roof of the chamber, incinerating, along its way, an observation platform overlooking the doughnut-shaped magnet." Eight people "fell to the floor of the Bevatron chamber and lay in a state of injury and shock until the magnetic field had been drained and the hard radiation partially neutralized."
The novel explores the psychological effect of the rogue proton blast on six of these victims. During the brief time while they are falling through the force field, the victims experience what Tibetans would call a "bardo," a gap in ordinary space-time. One by one, each of the participants assumes control of the psychological state of all the others, projecting them into a bizarre world which reflects their inner character. Any Mahayana Buddhist will recognize the six realms, tinged by the respective passions. No twisting or interpreting is required to see this grand outline.
Written at the height of McCarthyism, Eye In The Sky is tinged with interpersonal paranoia and the shadow of thought-crime. Each character has developed a relationship with society that seems far from wholesome. And yet, these characters seem oddly familiar to ourselves. One girl, the small, dark haired archetype that haunts Dick's novels, is an outspoken communist in "real life." But when the other characters are projected into her reality, it is a jackbooted nightmare of fascist domination. Her fear of oppression has hardened into an oppressive internal regime.
The self-destructive effects of paranoia, the self-inflating effects of religionism, and other follies of subjectivity are explored in a narrative that moves at times with heart-pounding swiftness. Perfect for a transcontinental plane flight, this book can be ripped through in five to six hours, and leaves your unconscious ringing. One of Dick's finest, this book is small in size, with exquisite fire -- a major gem.