PIPELINE DREAMS, by Charles Carreon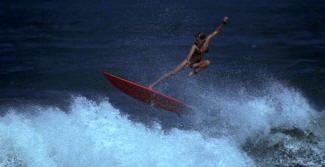 "Blue Crush" is a movie we've seen before, with male characters. It's ably redone for modern female roles. Remember the story about the ball player who has a performance problem? Something happened, and he lost his touch? Someone from his past comes along, won't let it go, just has to goad him about what he coulda been. This boyhood friend gradually helps the hero overcome his obstacle, and get the recognition he deserves.
Change the sex of the characters, crunch the plot into the lifespan of a seventeen-year old girl, and you have Blue Crush. It's a fun film for girls to help develop a can-do attitude. It also casts men in the role of animals, be they amusing teddy bear black guy NFL footballers who spoof themselves, or young Hawaiian toughs with tattoos to here and attitude to there. For Anne Marie's love interest, we get a Ken-doll quarterback with enough sensitivity to scare any reasonable person. Age disparities are notable and unmentioned in this movie, something you may not want your girls to develop a can-do attitude about. Whatever, must be Hawaii, as Ben Morita said in "Honeymoon In Vegas," where the women "all go freaky-freaky."
Somehow, Anne Marie has one hell of a cool old beater, a '58 Chevy Biscayne that reaches out and pulls back from a couple of serious near head-on collisions. The sort of fun thing that leaves all the participants smiling, it's so fun to almost kill everyone. The great thing about a car of that vintage and suspension is that they veer all over the road in a real cool fashion. Don't try this on your home island.
Anne Marie has a past, in the form of her bad boyfriend, Drew or something like that. When Anne Marie, short on cash after being fired by the mean old Asian head of housekeeping at the mega-hotel where she and her two pals work, runs into the quarterback, sparks fly and cash changes hands in a hotel room. Not what you think. That roll of ten C-notes, a cool grand for a kid who sleeps on a bare mattress in a beach hut, is not evidence of a meretricious relationship. It's for surfing lessons.
And Anne Marie delivers, giving the quarterbuck his money's worth all day long, and a little bonus at night. Which leaves Eden, her childhood buddy and surfing coach, played by Michelle Rodriguez (fresh from "Girlfight"), steaming mad. Boy can that girl sulk with those full lips. No it's not a lesbian thing. It's about greatness, achievement, and not turning back from fear.
The next day they're out in the waves, with Eden towing Anne Marie out into some big waves using a jet-ski. First time I ever saw this maneuver (I'm not really a surf fan, more a surf fan dilettante) was in the fantastic surf movie, "In God's Hands," which we will also be sharing here as soon as we get some screen caps. This scene is more about Anne Marie trying to confront her fear of getting killed like she almost did when she smacked her head on an underwater rock, an event she's at a distinct risk of repeating if she keeps trying to surf monster waves.
The ultimate monster beckons -- the Banzai Pipeline women's event. The battle continues inside Anne Marie all through the competition until a red-headed mature woman surfer with a body that's like a coil spring for conducting the whipping energy of the waves, pulls up next to Anne Marie and coaches her past her fear. "Let's get you a wave," she says. It's kind of like a rodeo scene, y'know.
Well Anne Marie catches her wave, and in one of those scenes that is what cinema is made for, she rides the pipeline all the way to a joyful finish.
And what about the quarterback? He was there.