RAMANA MAHARSHI: BIOGRAPHY, by Charles Carreon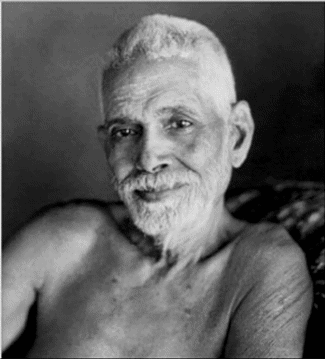 Born in 1879 in a small Indian village, this delightful sage lived until the mid-1930s at his ashram on a hill named Arunachala located in Tiruvannamali, Tamil Nadu. Notable among gurus for not having sought out mystical revelation, he nevertheless had a revelatory experience early in life that he said altered his view of life forever, and which he described as follows:
"It was about six weeks before I left Madurai for good that the great change in my life took place. It was quite sudden. I was sitting alone in a room on the first floor of my uncle les' house. I seldom had any sickness, and on that day there was nothing wrong with my health, but a sudden violent fear of death overtook me. There was nothing in my state of health to account for it, and I did not try to find out whether there was any reason for the fear. I just felt, 'I am going to die' and began thinking what to do about it. It did not occur to me to consult a doctor or my elders or friends; I felt that I had to solve the problem myself, there and then.
The shock of the fear of death drove my mind inwards and I said to myself mentally, without actually framing the words: 'now death has come; what does it mean? What is it that is dying? This body dies.' and at once dramatized the occurrence of death. I lay with my limbs stretched out stiff as though rigor mortis had set in and imitated a corpse so as to give greater reality to the inquiry. I held my breath and kept my lips tightly closed so that no sound could escape, so that neither the word 'I' nor any other word could be uttered. 'Well then,' I said to myself, 'this body is dead. It will be carried stiff to the burning ground and there burnt and reduced to ashes. But with the death of this body am I dead? Is the body I? It is silent and inert but I feel the full force of my personality and even the voice of ht 'I' within me, apart from it. So I am Spirit transcending the body. The body dies but the Spirit that transcends it cannot be touched by death. That means I am the deathless Sprit." All this was not dull thought; it flashed through me vividly as living truth, which I perceived directly, almost without thought process. 'I' was something very real, the only real thing about my present state, and all the conscious activity connected with my body was centered on that 'I'. From that moment onwards the 'I' or Self focused attention on itself by a powerful fascination. Fear of death had vanished once and for all. Absorption in the Self continued unbroken from that time on. Other thoughts might come and go like the various notes of music, but the 'I' continued like the fundamental sruti note that underlies and blends with all the other notes. Whether the body was engaged in talking reading or anything else, I was still centered on 'I'. Previous to that crisis I had no clear perception of my Self and was not consciously attracted to it. I felt no perceptible or direct interest in it, much less any inclination to dwell permanently in it."
Ramana left home shortly after this experience, using some money his brother had given him to buy some schoolbooks for him to catch a train. The experience of spontaneous opening left him adrift in the world, of which he said, "When I left home, I was like a speck swept on by a tremendous flood, I knew not my body or the world, whether it was day or night." His heart carried him to Arunachala Hill, a place long sacred to Lord Shiva. Ramana said it was the center of the world.
After arriving at the Arunchalesvara Temple, he allowed his head to be shaved and threw away the last of the money he had obtained from pawning his earrings. He never handled money again. No one was caring for him very closely, and since all he wanted to do was nothing, he simply hid away from the light in a chamber under the temple, and drifted into complete absorption in inner ecstasy that was so profound he did not notice when his legs were being eaten by ants. After a few months of neglect, people began to take care of him, and he was put up in increasingly nice little places. First a cave, then a room built on to expand the cave, finally a whole temple dedicated to him.
Ramana Maharshi never lost the common touch. It's said that when he noticed that only the inner circle of the temple were served coffee in the temple cafeteria, he never drank coffee again. Also that when he saw a person who had pained legs being forced to draw them up to avoid pointing the soles of their feet in Ramana's direction, that he, who also suffered painful legs due to injuries from the ant problem, insisted on drawing up his feet. "If this one is insulting me by extending her legs, then I am insulting everyone," he insisted, when his disciples tried to explain their dual standard.
Ramana rejected all solicitations to guruhood. When an old man brought him a walking stick for a gift, Ramana declined to accept it, saying that he had no possessions and it would simply be lifted by some random person, the old man seemed agonized that Ramana would not accept the gift. Nevertheless, he stood firm, and would not condescend to the man's projections, agreeing only to touch the stick, which remained the man's own possession.
Ramana is said to have had the power to liberate people and even animals who were dying, placing his hand over the dying person's physical heart and guiding their spirit to stillness in the very center of the spiritual heart. He said he could sense the final achievement of liberation like the ringing of a tiny silver bell, and performed this feat of kindness memorably for his mother and for the much-beloved ashram cow, Lakshmi. The monkeys who lived in the trees nearby him loved him deeply, and Ramana commented that the head of the monkey tribe was a profound, kingly spirit.
Ramana taught a simple practice derived from his own experience, in order to obtain the same understanding he possessed. Simply ask yourself, "Who am I?" Use this inquiry to point your mind at your self, at the core of your existence. This practice gives rise to an intuition. Follow that intuition.